Laser Products Industries Earns a Place on Inc. 5000 List for Second Consecutive Year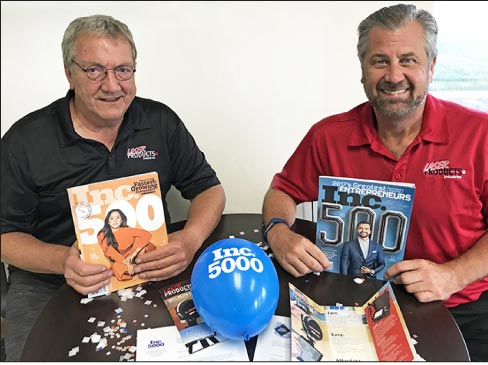 Laser Products Industries CEO and founder Dan Louis (left) and President Rich Katzmann (right) celebrate the company's inclusion in the Inc. 5000 for the second consecutive year.
Laser Products Industries (LPI) has made the 2018 Inc. 5000 list of the fastest-growing private companies in the United States for the second-consecutive year. LPI has experienced nearly 70 percent sales growth over the last three years and joins an elite group of repeat companies on the Inc. 5000 list.
"Of the tens of thousands of companies that have applied to the Inc. 5000 over the years, only a fraction have made the list more than once," said James Ledbetter, editor in chief of Inc. Media. "A mere one in three have made the list two times."
According to Ledbetter, companies that have made the list, on average, have grown six-fold since 2014 during a stretch when the economy grew around 11 percent. Collectively, revenue from companies on this year's list is up 158 percent from 2014, a trend that LPI continues to follow.
"It's a tremendous honor and achievement for LPI to be named to the Inc. 5000 for the second straight year," said LPI president Rich Katzmann. "We continue to invest in all aspects of our business to ensure we not only continue providing the best quality of products and services, but also innovate and develop new solutions for new markets and the evolving needs of our customers. We have some big things planned between now and the next few years that are pretty exciting."
LPI was founded in 1994 by Dan Louis, who was a 2017 inductee into the National Kitchen and Bath Association Hall of Fame. Over its 24 years, LPI has been recognized by customers, peers and associations worldwide as a leader in laser measuring products for several industries including countertop, cabinet and woodworking. The company has several new products in development that will launch over the next couple years to accompany its popular LT-2D3D Laser Templator.
Founded in 1994, Laser Products Industries (LPI) develops laser measuring equipment and technology solutions for various industries, including countertop, cabinet, glass and construction. LPI has sold over 5,000 lasers to more than 3,000 companies in over 35 countries. LPI products are used by both the world's leading automated fabricators, as well as smaller, manual shops. LPI has earned a spot on the Inc. Magazine Inc. 5000 "Fastest Growing Private Companies in America" in 2017 and 2018, and as one of the top 10 fastest-growing private manufacturers in Illinois.