Gecko Solid Surface Solutions
Peter Marcucci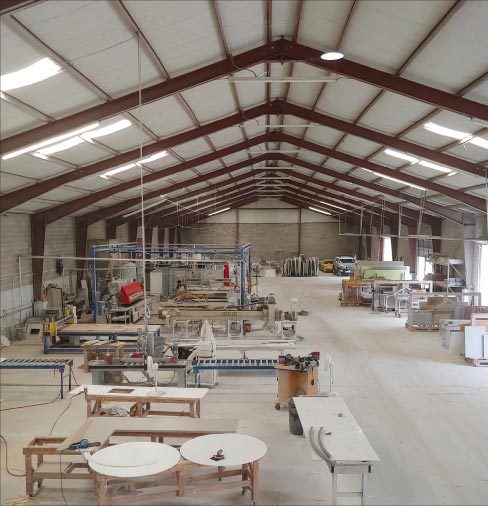 Gecko Solid Surface Solutions production facility in San Antonio, Texas, is a model of green efficiency. Run by 106 solar panels using an inverter to create single-phase 120 and 240 volt, and three-phase 480 volt power, the facility generates its own electricity – and more.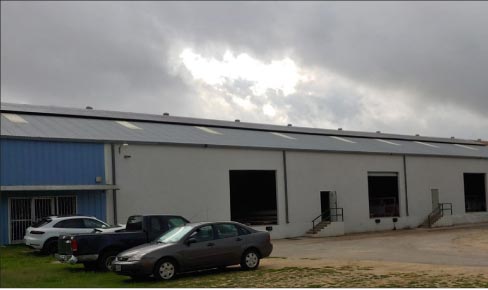 Gecko Solid Surface Solutions takes their granite cutouts and makes pavers, backsplashes, stepping stones and more. Says Chavez, "Will I make my money back doing this? Probably not! But when I see all these pavers being used for fire pits and stepping stones and backsplashes instead of in a landfill, it makes me happy."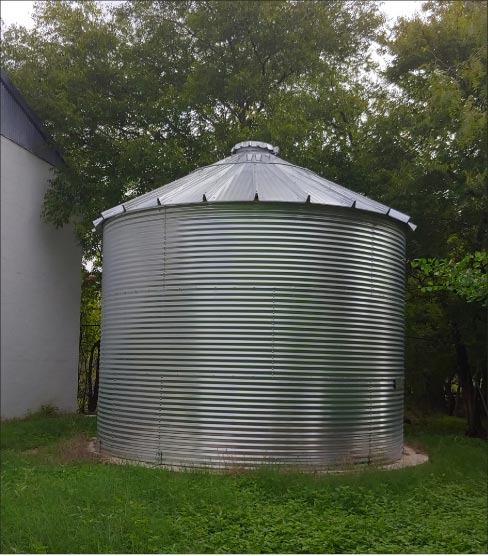 A 14,500 gallon cistern uses collected rainwater for their wet fabrication.
Photos Courtesy Gecko Solid Surface Solutions
Few fabrication shop owners can testify that the success of their newly formed companies were due to commercial work, while even fewer can add that it was partly due to using eco-friendly techniques.
If you're wondering where that statement is leading, we're going to visit the shop of Augie Chavez. Augie is the president and founder of Gecko Solid Surface Solutions, and San Antonio, Texas, was the perfect location for his sun-powered shop.
"I was a college student living in California when I took a part-time job as a shop guy for a company making countertops out of this stuff called Corian," explains Augie. "I really liked working there, because I had always enjoyed working with my hands and thought Corian was a super-cool product. That was in the mid-1980s. I then moved to San Antonio, Texas, in 2001, and by 2005 had started Gecko Solid Surface Solutions."

Going Commercial Out of the Starting Gate
When Augie started the company, it was just him wearing many hats: templater + estimator + project manager + shop guy, basically doing it all. He simply had no choice and had to go it alone, but only for a short while, explained the visionary. "At about the three- month point, I was finally able to start hiring people, but didn't have the room or finances to fabricate natural stone, so started with solid surface fabrication. At the time, most fabricators were doing residential work and not commercial, so I began doing local offices, schools and stadiums. At about the year and a half point, we were doing so well that we were able to move into a new facility, which allowed me to have enough space for a bridge saw for stone."

Green is the New Black
It wasn't until seven years later that production using ecologically friendly methods would be realized, continued Augie. "Our current facility was purchased in 2012, and it wasn't until that point that I could begin our move to green production. Of course, like most other shops, we had been recycling our water, but it wasn't until we moved into this building that I could even think about solar power. The first thing I did before we even moved in was install the 106 solar panels to power the facility. I had always thought using sustainable methods was important because I feel we have a social responsibility. But I didn't own my previous locations and couldn't spend the time or money for greener methods, knowing that I wouldn't be there for very long."
Unlike most residential solar electric installations where the solar panels (known as photo voltaic or PV for short) output DC current into a battery storage bank, which then converts it to AC using an inverter to create single-phase 120 and 240 volts, Augie's system uses no battery storage; only an inverter to create single-phase 120 and 240 volts, and three-phase at 480 volts. As a plus, when the company isn't fabricating, such as on the weekends, those 106 PV panels are making money by sending power into the grid, adding to their bottom line and reducing their carbon footprint, explained Augie.
"Either we are using the power, or it is going into the grid. Even today, with some clouds, the panels are still generating. Our electric company is local, and they only pay pennies on the dollar for our power, but I'm okay with that, because on the weekends, our panels aren't doing anything anyway except getting a sun tan. Our monthly average electric bill is $175.00, and that's running everything, including the air conditioning in our offices. But best of all, of course, using eco-friendly methods feels good. Every morning when I pull up to the shop and see our solar panels, I get a warm feeling that we are not using something that someone else can be using in their household. So as an environmentally conscious manufacturing facility, we are doing our part to eliminate waste, and from a business point, the solar panels are a money-saving no-brainer, and we are way ahead.
"In the beginning, the electric company even gave us a rebate for doing it. So in our situation, it was a win–win."

Facility & Equipment
The Gecko all-under-one-roof facility measures 18,500 square feet and sits on two acres. Shop equipment consists of a five-axes Sasso bridge saw, a five-axes Sasso waterjet, a Sasso edge machine and a Sasso backsplash polisher, while materials are safely moved throughout using one of the company's three-axis or jib cranes. 90 percent of Gecko Solid Surface Solutions' work is polished-edge, while anything other than that is routed using a Fab King. Production on the solid surface side of the building is a little bit different, using both large and small tools and equipment for cutting, shaping and composites.
A Pristine Environmental water recycling system supplies clean water to the array of equipment, while water loss, due to evaporation, is supplemented by a 14,500 gallon cistern that collects rainwater from one side of the building. According to Augie, payback on this system is long-term, but again he stressed, it's not about the money; it's about doing the right thing.
There's also one more eco-friendly 'right thing' that's been addressed by Augie, and that's the scraps that many fabricators throw away, he explained. "We also take our granite cutouts and stamp pavers out of them. Will I make my money back doing this? Probably not! But when I see all these pavers being used for fire pits and stepping stones and backsplashes instead of landfill, it makes me happy. So the point is, we didn't dump all this material into the trash and made something nice, instead."
Also, according to Augie, customers have a super positive response to his eco-friendly methods. "Customers appreciate the fact that we are doing this, and most of them are surprised that more companies don't do it. So, whether it's an architect or homeowner visiting us, they are blown away that we've done this. Architects especially like it, and they tell their clients that they are using a company that is very green and very responsible. I do think that we can do more, but just the fact that we are Eco-conscious goes a long way for us."

Gecko primarily uses Sasso machinery for their production, including a 5-axes waterjet saw, an edge machine, and a backsplash polisher.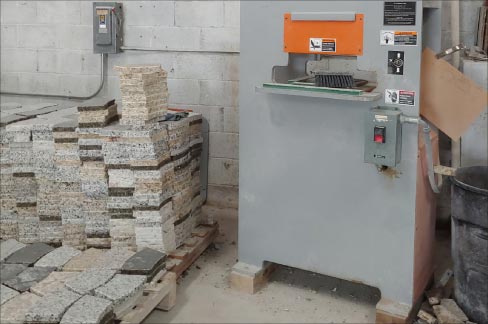 Above: Stacks of granite remnants in the form of pavers and firepit sections await a more useful future instead of being discarded in a landfill – all part of Gecko's emphasis on running a green, environmentally conscious shop.
Above: 90 percent of Gecko Solid Surface Solutions' work is polished-edge. They rely heavily on their Sasso Flying Flat manually programmable edge polisher, and a Fab King for their routing jobs.
Thoughts on Big Box, Commercial and Residential
Gecko Solid Surface Solutions covers all points throughout Texas, but will install anywhere if needed. Commercial work accounts for 75 percent of the company's earnings, while big box customers account for 10 percent, with the remainder being high-end residential. They have no quarry assets, do occasionally buy containerized materials, and mostly buy locally from AGM and Cosentino. About 90 percent of their stone work is fabricated using engineered stone brands.
Their big box business services Lowes, but Augie is slowly moving away from this type of work, looking more at other markets, he said. "We continue to do big box stores, which is a very small segment of what we do, and continue to gain in the high-end residential market where the client wants something very tricked-out and very special. We are known as the guys that don't say no, and always say, 'Yeah, we can do that!' So, we find ourselves in the realm of commercial work and high end residential, but treat them equally.
"In the commercial world, there is a lot that goes into being commercial. When the market took a drop in 2008, we really weren't hurt. The other shops in the area that had been doing builder and residential work did get hurt and began considering doing commercial work. But commercial is not like residential. You've got to pay for your materials up front and then wait 90 days to get paid, unlike residential work where when you're done you get paid reasonably soon.
"Secondly, in the commercial world when you roll up to the jobsite, you have to have safety vests, hard hats, safety glasses – all your personal protection with you.
"Do you have the correct insurance for your truck and to do commercial work? We carry a two-million dollar insurance umbrella just to get on the jobsite.
"Much of the time we've had to submit our own safety program to the general contractors, showing we have a program in place. Do you have proper cords with no frays and GFIs? If not, they will come and shut you down, saying you cannot use that cord.
"Even using grinders with no guards will get you in trouble. So it goes much further than just saying you're going to do commercial work. It's even gotten to the point where just to do work in a hospital, my guys had to get a Tuberculosis test. Sometimes you have to show drug testing. I get that, but a TB test? Okay, I get that, too, but that really threw me for a loop. So there are all these requirements, and we provide everything our guys need to do installations safely and efficiently, including cranes in our trucks to load our carts."

People: The Heart and Soul of the Company
"I think the heart and soul of our company is its culture and what makes us different, special and great," continued Augie. "I love coming to work and love being with my 15 employees. They are really my friends more than anything else. If someone has a baby, we all celebrate; if someone's family member passes away, we all mourn together. We are a tight-knit group, and every morning I literary shake everybody's hand. They are amazing, they are a great crew, and I don't ever need to go out into our shop, but I do just do because I love being out there. I could be running the CNC and somebody will walk behind me and tag me on the back and say, 'How's it going?' They know what they are doing, they know what needs to get done, and they all have respect for each other, and I love being with them."
As for the safe-keeping of his 15 employees, safety is number one, continued Augie. "Being a business major, I learned that first, it's got to be safe; second, it's got to be profitable; and third, it has to be fun. I can live without the last two, but every month we have a safety meeting, and I let different guys conduct it. Everyone picks a different subject, and then we document it. We give forklift training, we've had the fire department here training our people, and we stay very close to our insurance company. About a year and a half ago, we actually did voluntary dust and noise testing with our insurance company. It wound up helping us with our premiums and assured us that our dust and noise was compliant with safe standards. We do everything wet, so we were good.

Words of Wisdom for Going Green
"Every eco-friendly thing we've done is because I feel a social awareness about what we are producing and consuming, and to not consume something that we don't have to. So if you're thinking about going green, all I can say is, 'Just do it!' If you're doing it because it is good for the earth and its people and you want to feel good, definitely just do it."

A Clear & Clean Path into the Future
"I have always tried to keep my company just where it's at with no more than 20 employees. Any more than 20, you change the dynamics and have to hire another person to handle that many people. Fewer than 20, and one person can handle it. So about adding more people? I don't think so.
"As far as machinery goes, we are really, really good with what we have, but I say that, and the next thing I know is that I'm at StonExpo and see a machine and think, 'Wow! That's cool!' But do we really need that new machine? Not necessarily, and not since we bought our waterjet.
"As far as expansion in the market, we want to do more commercial work and more high-end residential. I also want to continue to keep our quality and expertise to the highest standards. I think we can always do better and don't like the phrase, 'It looks good enough for me.' What's important is that it's good enough for the client that is paying us to do this. That's what I'm concerned about, and I want to make sure that the client is happy, whether it's an office or a residence. We are very much quality-oriented.
"It's funny, but sometimes commercial work is almost frowned on by people, thinking that anything goes and nobody cares when it comes to quality. 'No, no, no,' I say. 'Just because it's commercial work, it gets the same quality as Mrs. Jones' kitchen.' Thousands of people look at our commercial work, and it's got to look good, and that's the approach we take. We have to care, it's leaving your shop with your name on it, and your client has paid good money for it, and anything less is not honest or ethical.
"We are also proud of the fact that we stick to deadlines and commitments and work very hard to meet those. We are not the least or most expensive, but we are going to get the job done on time. A lot of times, this is more important to our clients than getting the cheapest price, and the fact that they can open up their dentist office or stadium on time is more important than saving a dollar here and there."
Gecko Solid Surface Solutions is a member of the Natural Stone Institute, the local Hispanic Chamber of Commerce and the International Surface Fabricators Association (ISFA), where Augie sits on the board of directors.
Past notable projects include the AT&T Center (home of the Spurs), Alamodome, University hospitals and the Methodist Hospitals. The company also donates their services to Veterans or Wounded Veterans.

For more information, contact Gecko Solid Surface Solutions at 210-227-3100.