Tips for Caesarstone Fabrication and Engineered Quartz Installation
Brian Brutting
Caesarstone
Above: Burns on dark quartz show up as a dull white patina.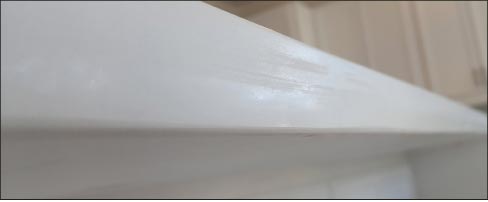 Above: Burns and streaks on light-colored material. The streaks or burn lines are often the result of insufficent waterfeed and too much pressure while polishing.
Above: Don't use wax or color enhancer to "fix" burned edges. It is not a permanent solution, will last maybe a year, and will lead to very unhappy former customers.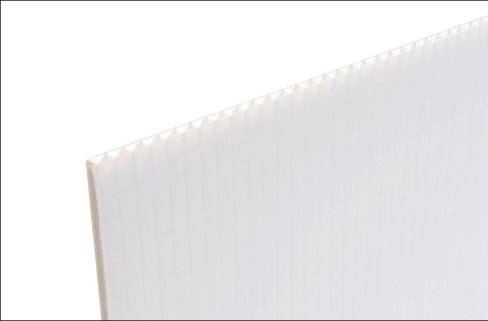 Coroplast is available in 48 x 96 inch sheets x 0.157 inches thick. Basically, it is white corrugated plastic. Polyfoam can also be used as a cushion on a saw bed when cutting vitreous (glass and porcelain) materials.
What is the most common mistake made when working with quartz or solid surfaces? Assuming they work and polish like granite. We asked Brian Brutting, Caesarstone trainer and stone industry educator for some tips on getting perfect results when working with Caesarstone, techniques that will apply to most quartz surfaces.

Clean Water
Use clean water, and lots of it, not water recirculated from a sump pit. Sump pit water will contain grit, which can scratch or damage the surface you are trying to polish.

Quartz-Specific Tools
Use good polishing pads. There are now pads made just for quartz, like the Talon 4-Step Quartz sold by Braxton-Bragg. The polisher you use is also important. I recommend a variable speed, center water feed tool, not one that is fed from a hose strapped to the tool that drips water over the surface. Without water distributed to the center of your polishing target, your pad will create a burn line.

Adjust Your Technique
Ease up on the pressure. Polishing quartz is different than polishing granite. Don't bear down on the polisher with as much pressure as you normally use for granite.
Use a slower speed for quartz. When polishing, I recommend starting at half the speed you would use for natural stone. When cutting Caesarstone or quartz with a bridge saw, slow your feed rate or cutting speed. Many manufacturers give you the RPM speed / feed rate you should use on a quartz blade or pad. Pay attention to the speed they recommend!
Manufacturers like Alpha, Braxton-Bragg and Terminator have done extensive testing with their blades and pads, and cutting and polishing speeds, so you can get the best results from their products.

Countertop Protection
Countertop protection is an important part of today's offering when completing an installation. All too often, I hear about damage done by other trades after a job is complete, and the fabricator is blamed because they didn't talk about or offer a countertop protection post installation. In today's marketplace, margins are tight, and having to remake a countertop due to someone else's fault is a huge loss for most small businesses.
There are two important steps that can and should be taken to institute a countertop protection program.
Offer countertop protection at the point of sale or contract, for a cost if needed,

or require a signature that the end user and / or general contractor will provide their own countertop protection.


At installation time, having protection is only good if a decision maker is present to look over the installed counters with you and verify there are no defects. Take your time with this part, so you don't get the dreaded "I just noticed this bad scratch" phone call.

What offers the best protection?
Cellular products like rosin paper are not the most effective product to use, as they can allow liquids to pass through. A sheet of thin plastic or film can get pinholes, which can allow chemicals to get underneath and damage the surface. Also, neither of these types of surface protection products are impact-resistant.
The best and most cost-effective counter protection I have seen for chemicals and impacts is polyfoam (polyethylene foam) or Coroplast. These products are corrugated like a sheet of cardboard, which gives them impact resistance, but made of plastic, which gives you chemical and spill protection. Coroplast is about $20 per sheet, available at Home Depot, and some of you may already be using this product for stick templating. Rolls of Polyethylene foam are available online.

For more information on these issues, contact Brian at Brian.Brutting@caesarstoneus.com. You can also use Linkedin.com and search Brian Brutting Jr. for general industry questions.