Where Did You Find that Granite?
Sharon Koehler
Artistic Stone Design
How much do you know about where your stone is sourced? Let's play a game:
What countries do the following granite colors come from? (Answers are at the end of the article.)
Volga Blue
Blue Pearl
Ambrosia White
Baltic Brown
Iberian White
African Rainbow (super easy)
Pearl Aswan
Alaska White (trick question)
White Mist
Uluru Sunset
These are all colors that you can see as you walk through any distributor, or maybe even your own slab yard. If you need a hint, I will just say that none of these colors come from the United States. That one fact alone is distressing.
The United States is the number one consumer of dimension stone in the world, and the United States is also a leading producer of natural stone. As of 2016 we have over 275 natural stone quarries located in over 30 states. Obviously, not all these quarries produce granite slabs, but quite a few do. Yet, we import over 80 percent of the stone we use!
The United States is home to the largest open face granite quarry in the world. Owned by the North Carolina Granite Corporation, this quarry in Mt. Airy, North Carolina has been producing stone since 1743 and shows no signs of running out. Due to government safety regulations, they no longer give quarry tours, but they do have an observation deck where you can watch the operations. It has been said that the quarry is so big, astronauts can see it from orbit. (See below)
The Virginia Blue Ridge Mountains sit on top of one of the world's largest soapstone deposits. Virginia soapstone is famous around the world. The soapstone quarry in Schuyler, Virginia, is the only soapstone quarry in America. Virginia is also home to a quarry in Rapidan that produces Virginia Mist granite – aka Jet Mist.
Other states produce a lot of granite for slabs, as well. In the north, American Black comes out of Elverson, Pennsylvania. Barre Gray and Bethel White are out of Barre, Vermont. The quarries in Au Sable, New York produce Lake Placid Blue and Mountain Green. In the south, besides Virginia, Silver Cloud Imperial comes from Conyers, Georgia. Mt. Airy, North Carolina, produces Mt. Airy White and Greene County granite (thanks to the largest open-faced quarry in the world).
The Midwest is home to quite a few quarries, which produce a lot of stone. Millbank, South Dakota, produces Dakota Mahogany, American Bouquet and Carnelian. Minnesota quarries a lot of colors. Charcoal Black is in the St. Cloud area, and Messabi Black is found in Babbitt, Minnesota. Isle, Minnesota, produces Iridian granite, and Rockville White comes from Rockville, Minnesota (imagine that!). Lake Superior Green is quarried in Isabella, Minnesota, Echo Lake in Orr, Minnesota, and Rainbow granite is quarried in Morton, Minnesota. The color Agate is quarried in Orionville, Minnesota. Out on the West Coast in Clovis, California, they quarry Academy Black.
Of course, there is more world-class granite in the U.S. than I have room for here, but you get the idea.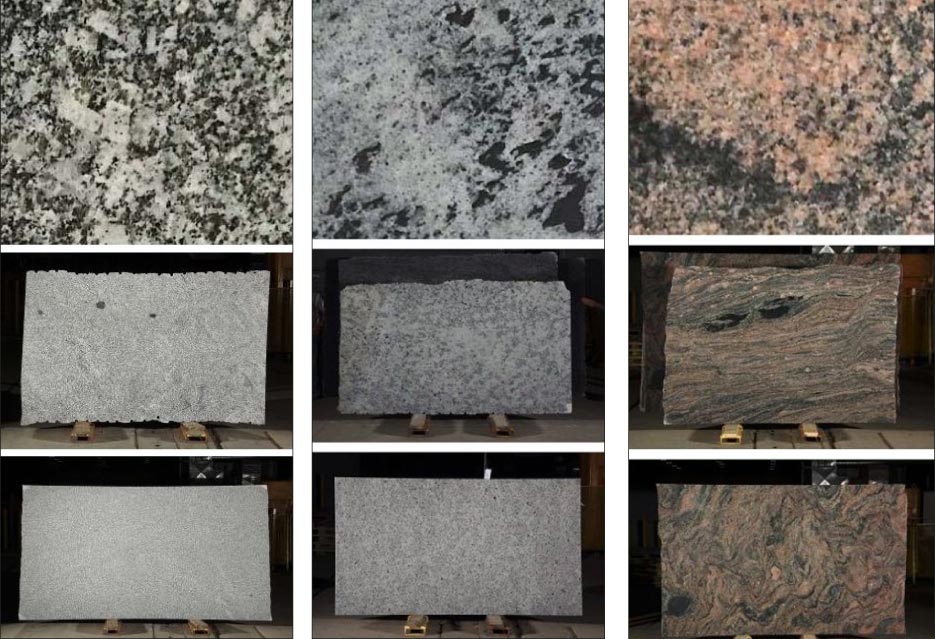 Above, left: Iridian granite from Rockville, Minnesota
Above, middle: Lake Placid Blue from the Au Sable, NY quarry
Above, right: Rainbow granite from Morton, Minnesota
Above, left: Rockville White from Rockville, Minnesota
Above, second left: Carnelian Granite from Millbank, South Dakota
Above, second right: Silver Cloud Imperial from Conyers, Georgia
Above, right: American Mist granite from Elverson, Pennsylvania
The U.S. produces granite, and it's beautiful granite. There are a couple of theories that have been mentioned over time as to why we don't take advantage of our own granite more than we do. The first one is that the U.S. does not produce "pretty colors." Now, it is true that we do produce a lot of blacks and grays, but truth be told, we have a wide array of beautiful colors to choose from.
Another theory that has been floating around is that we don't have the infrastructure we need to support this type of business. That idea seems to be a bit outdated. Of the 21 granite colors mentioned above, 12 of them are quarried in multiple states, by the same company. Another company has three colors available in multiple states. So, the United States does seem to be catching up to its foreign competitors.
So, when you are stocking your yard or just buying stone for a project, think American. We can handle it.

(Quiz Answers: Volga Blue – Ukraine; Blue Pearl – Norway; Ambrosia White – India; Baltic Brown – Finland; Iberian White – Spain; African Rainbow – South Africa; Pearl Aswan – Egypt; Alaska White – Brazil (I told you it was a trick question); White Mist – China; and Uluru Sunset – Australia. How many did you get right? Write and let us know!)

Please send your thoughts on this article to Sharon Koehler at Sharon@asdrva.rocks.