WF Meyers Announces New Website
Diamond Tooling and Machinery Experts Launch a New User-Friendly Site to Explain Newly Patented Products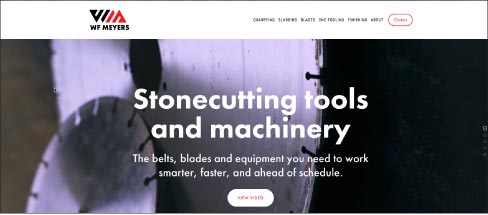 WF Meyers, located in Bedford Indiana, has been manufacturing stonecutting equipment and tools for over 130 years. The new website explains new patents in block-cutting technology, and more. For more information visit www.wfmeyers.com or call (812) 275-4485.
WF Meyers has launched a new website for stone quarries and fabricators who want to get the most out of their operations. The site offers information on the company's newly patented lines of stone cutting belts and more, as well as a newly designed, user-friendly layout.
Anyone interested in optimizing their stone cutting business is encouraged to visit the new WF Meyers site and learn more about the tools and machinery the company provides, or contact an expert to learn more.
"The new site will allow people to quickly and easily find what they're searching for and determine whether WF Meyers will be a potential fit for their needs. The new layout, photographs, and video gives customers a clear insight into who we are and how we can help," said WF Meyers Co., Inc. President, Alex Barnes.
The site also allows customers to submit all of the necessary information so that WF Meyers can quickly and accurately provide a quote on a customized circular blade. This eliminates the need for multiple phone calls or emails to accomplish the same task.
For more information, contact Joel Beasley, WF Meyers, 1008 13th St., Bedford, IN 47421
Phone: 812-275-4485 web: https://www.wfmeyers.com/