Veneto Table Offers a Safe, High-Quality Solution for Stone-Topped Furniture
Heads up, fabricators, designers and architects: if your clients are looking for one-of-a-kind creature comforts, look no further than the offerings by Veneto Table.
Located in Port Saint Lucie, Florida, Veneto Table is owned by Guido Deganello, a chemical engineer gone designer. Originally from Italy, Guido is a graduate of the University of Texas who applied his chemical skills to the development and marketing of agglomerates, what is now referred to as "engineered stone" in fabricator-speak. Furthermore, Guido has a history in fabrication, both hands-on and with his cutting-edge designs crafted with Italian flair. It is with this flair that the styles born under the name Veneto Table were brought forth into the upscale stone market.


Above, Left: This stainless steel coffee table base will support an eight-inch round or 36-inch square stone table top.
Above, Right: Stainless steel base for six-person round table.

Above, Left: This oval coffee table features a designer stainless steel base.
Above, Right: 60-inch granite top, washed oak base, six-person table.

Above, Left: Sodalite Blue top side table with a stainless steel base.
Above, Right: 36-inch square Nero Marquina top, stainless steel base.
Above, Left: Blue Agate top side table with a circular stainless steel base.
Above, Right: 57-inch circular table with teak base.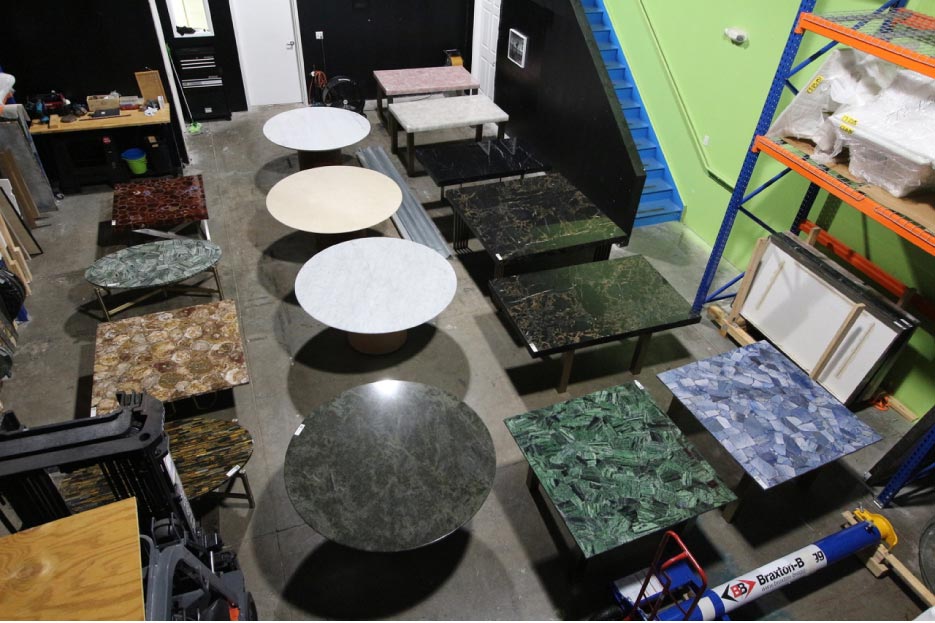 Veneto Table keeps the most popular items in stock in their Port St. Lucie warehouse.
Making it Easy for Fabricators
Ask any fabricator what's the biggest challenge in building a custom tabletop, and without fail they will answer that it's the base. Unless the base is fabricated out of stone, it's a big problem! The reason, you ask? Well, most local welding shops don't do so great when it comes to doing decorative metal work, and those who specialize in decorative work really charge a premium. "They might make the correct bends, but can they keep the welds hidden and clean, especially when working with stainless?" asks Deganello. "I wanted to offer the market a top, top quality product. Take my line of bases, for example. For both beauty and durability, I wanted stainless steel. I went to over 20 welding shops both in the U.S. and abroad, and found very few that could give me the quality I was looking for. Welding quality for me was first and foremost, with weld-bead size being virtually unnoticeable. Unfortunately, I only found two companies. One was in Italy and the other in Hong Kong.
"As for our wooden bases of oak, chestnut and cultured teak, a leading manufacturer in Michigan fit our criteria for craftsmanship and production time."
For those who want a simple turn-key solution for decorating with exquisite stone furniture, Veneto Table offers a full spectrum of colors, in all types of stones, including mouth-watering exotics. The cherry on top of the dessert, though, said Guido, is that location is not a problem. "I will ship any design anywhere in the United States."
Moreover, regardless of which option you choose, one of the coolest things about Deganello's line is the perfect ratio of the base to the top size, engineered to be very stable – a great feature and selling point. These are not ordinary table bases.
Simply put: the bases crafted by Veneto Table take the pain and legwork out of the dilemma of simply offering stone bases holding up stone tabletops, or a table not designed to support a heavy stone top. It frees fabricators up to do what they do best: build the client's dream table out of their stone of choice. Think of it! You can create a whole new market in your area and also free up the shop time by using metal and wood base options that complement your clients' decorating choices. That's what I call easy money.
So quit losing jobs due to high price or passing on jobs due to lack of welding skills for one-shot designs made locally. Spice up your tabletops with a metal or wood base. Reasonably priced and crafted to the highest standards, Veneto Table offers the defacto standard for homeowners, designers and architects looking to enhance a home, boat or airplane.


Those interested should visit the Veneto Table website at www.venetotable.com or visit their showroom in Port Saint Lucie, Florida.