Stone Restoration and Maintenance Corner: Another Look at Terrazzo
Bob Murrell
M3 Technologies
Photos by Bob Murrell
I hope everyone is ready for the holidays! It is hard to believe another year has almost passed. I still have a 14-year-old at home, so I am trying my best to enjoy these last few Christmases at the family home, as I know they will be gone soon. Hopefully, both of my children will be able to come visit, but it won't be the same as hearing the pitter-patter of feet coming down the stairs, early Christmas morning.
I keep running into more and more terrazzo restoration requests. Let's face it: there is more terrazzo out there than we really know, because most of it is covered up with some other type of material. When a home or building owner decides to renovate and remove an existing surface, often they discover they have terrazzo underneath. Most recognize the terrazzo to be an expensive and decorative flooring material, and quickly want to explore how to best restore it.
Options must necessarily be discussed with the client at this point. Do they want the naturally polished look, similar to that of marble? Perhaps a satin look is desired? In any case, the more steps, the more the cost. Let's take a look at some of the initial conditions and procedures for correction before we discuss the potential costs associated with the project.
Since the 1920s, there has been some form of vinyl composition tile (VCT) routinely installed over terrazzo. In the 1970s, carpet was in vogue. Then came the ceramics, including porcelain, which were installed over many millions of square feet of terrazzo. We have discussed wax and finish removal in previous articles, so we won't cover that here.
The associated issues with each of these surface overlays present their own removal problems. VCT was normally adhered to the surface with an adhesive, which penetrated the terrazzo to some degree and has since yellowed, as well. This type of glue can either be very hard, or even still pliable or gooey. Scrapers and blades are the best choice for initial removal, either by manual or powered methods. Once the heavy parts have been removed or chiseled away, chemical adhesive removers can help, and ultimately, it will take some form of grinding to get the rest. Just remember, you may not always be able to get 100 percent of the adhesive stain out. Make sure your customer understands that.
Carpets have some similar issues with adhesive like the VCT, but the biggest negative with carpet is tack strip removal. Unfortunately, most begin removing these wooden strips, often nailed directly into the terrazzo, using a crow bar or claw hammer. Using this type of tool often results in blowing out chunks of the terrazzo wherever the nails pull out. These tack strips are normally around all of the edges and across doorways, wherever the carpet ends. If this has been done, the holes will need to be matched and filled. It is better to use a cutoff wheel to zip through the nails at floor level, leaving the remainder of the nails in the floor. They will polish along with everything else.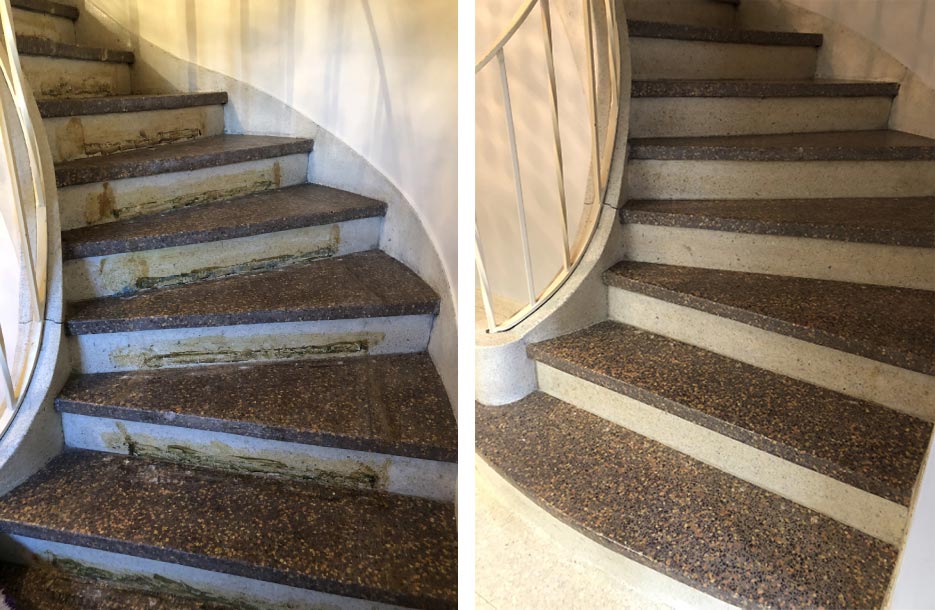 Before and after carpet adhesive removal and restoration. These stately stair treads show how beautiful historic terrazzo can be.
In the event you are too late, filling the blowout holes is typically accomplished using polyester resins, tinting, and matching chips. Of course, this will have to be overfilled (due to shrinkage after curing) and then be ground back flat. Therefore, filling holes will need to be completed prior to the 120-grit or 220-grit honing steps, to facilitate the flattening process. Just so you know, this is more of an artistic process than a scientific one. Once you get the tinting where you want it, you can make a larger batch and then separate smaller batches at a time when adding the hardener, before filling. In this way, they will all be color-consistent.
Inset: Removing linoleum adhesive is a fairly common challenge to find when restoring terrazzo. Linoleum adhesive removed, before repolishing.
Removing stone or ceramic tiles which have been installed over terrazzo with thinset can be another problematic situation. After the tiles have been chiseled or scraped loose and the thin set has been removed by grinding, there may be a residual stain on the floor. Ghosting or printing of the grout lines can impart a permanent pattern in the floor. This is due to moisture and chemical penetration through the grout lines, as well as possible mineral travel from vapor transmission. A test will need to be completed to see if this type of deep stain is even possible to remove.
There are machines capable of increasing production dramatically. Ride-on scraper machines, either battery or propane powered can remove thousands of square feet of tile, carpet, or VCT per day. They will get a large part of the adhesive and thinset, too. There are smaller walk-behind versions of these machines available too, if the project does not require the ride-on size.
However, grinders will normally be required for the final removal of adhesives and thinset. Just remember that when using metal bond diamonds to remove remaining adhesive or thinset, start with the least aggressive (destructive) disc so as to not excessively remove some of the marble (or other) chips. Also, the coarser you start, the more steps will be involved in the honing process. Try to keep the honing process to the minimum number of steps.
Once you have removed all adhesives and thinset and all patching has been completed, the honing process can begin. What level you go to will be determined by several factors. What is the desired result? Does the client want a natural polish? Will a "guard" (durable coating) be applied?
If a natural polish is the desired goal, you can typically stop at either a 400-grit or 800-grit hone to polish, using the Majestic 5X Gold, XXX, or Marble Polishing Compound top get the "pop". If you are working on epoxy-based terrazzo, it is sometimes necessary to go as high as 1,800-grit before polishing.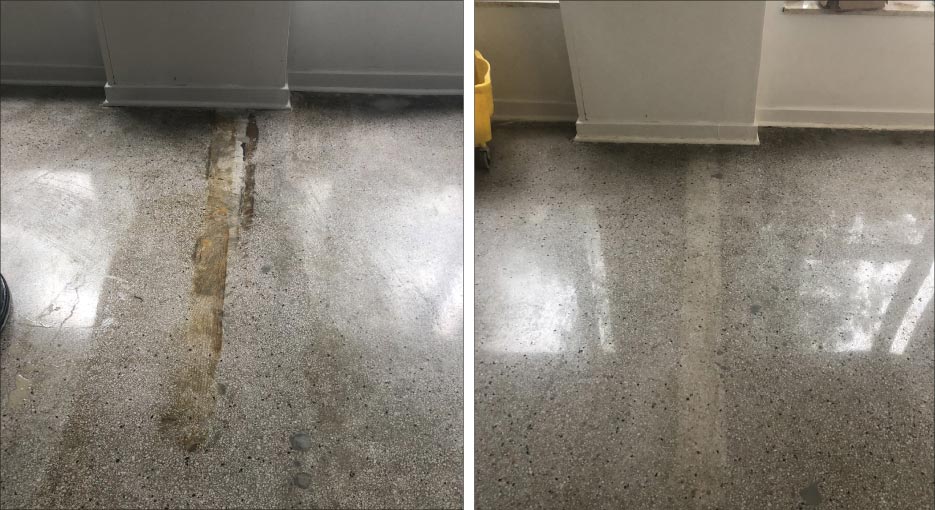 Above, Left: This "ghost wall" is adhesive residue left behind after renovations removed a partition. When removing stubborn adhesive like construction glue or thinset, start with the least aggressive grit you can, to preserve the original terrazzo material.
Above, Right: Ghost wall after adhesive removal and rough patching with filler, and before honing and polishing. After completion, Majestic Stone Soap is a good product for routine maintenance.
In most cases, the 5X polish is more than sufficient. Sometimes a higher gloss is desired. To achieve this, using Majestic Spray Polish Crystallizer can add a few points on a gloss meter, and also help to even out the polish. This is normally used with steel wool pads (either #0 or #1 grade).
If the terrazzo is more of a working surface, subject to spillage or very high traffic, a "guard" product may be the best solution. In this case, the honing process could be stopped at 400-grit or 800-grit and the guard applied after drying. Some guard products can be diluted with distilled water for a smoother application. Typically, the higher in grit the floor is honed to, the more diluted the guard applied, up to (usually) 35 or 40 percent. Guard products offer greater protection from acidic spills and heavy foot traffic. This is why they are used in grocery and similar stores.
Once the floor is completed, use of the Majestic Stone Soap is recommended for routine maintenance on the naturally polished terrazzo. The Majestic No-Rinse Neutral Cleaner would be the product of choice for any terrazzo with a guard applied.
As always, maintain a good relationship with a distributor of quality products and the technical support to back them up. This is a logical approach and will help make your projects much easier.
Merry Christmas, Happy Hanukkah, and Happy Holidays!

Bob Murrell, Director of Operations for M3 Technologies, has worked in the natural stone industry for over 40 years and is well known for his expertise in natural stone, tile and decorative concrete restoration and maintenance.