Crossville Launches Astral Plane Porcelain Tile Collection
Crossville, Inc. has launched the Astral Plane porcelain tile collection. This unique, stone-look product offers unprecedented visual depth achieved through multidimensional graphics applied during the manufacturing process. This domestically produced line, inspired by elements of the natural worlds above and below us, is created to offer designers a versatile collection suited for a wide-range of commercial and residential applications.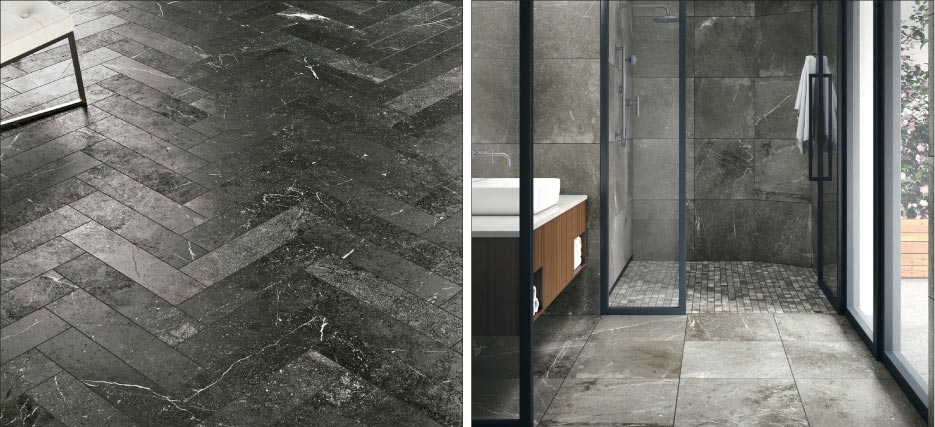 Above, Left: From Crossville's Astral line, Draco in 6-by-24 inch pavers features charcoal hues threaded with white, dark like the night sky. Above, Right: Magellan includes 24-by-24 inch tiles, perfect for the bath.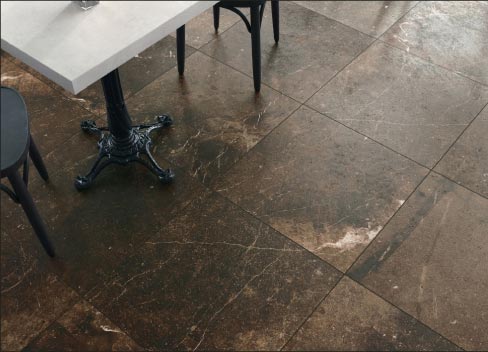 Pavo, from the Crossville Asral Plane collection
"Astral Plane's multidimensional graphics create a deeply layered look that makes the neutral color palette burst with visual texture," explains Lindsey Waldrep, Crossville VP of marketing.
Waldrep also notes that Astral Plane supports biophilic design.
"The nuanced appearance echoes the look of stone within natural landscapes. This makes it an ideal foundational element for designers who're focused on integrating the relationship between humankind and nature into interior design."
The collection's four hues are designed to answer current color trends and provide lasting appeal for installations in the long-term. The quartet of colors include Altair, an ecru hue with cream highlights; Magellan, a strong, nuanced gray; Pavo, a deep, lush brown; and Draco, a charcoal hue dark like the night sky.
Astral Plane comes in three rectified field tile sizes — 24- by-24 inches, 12- by- 24 inches, and 6- by-24 inches — that are ideal for mixing and matching in a variety of patterns.
Two mosaic options, a 2 x 2 inch and a random mosaic, invite creativity and versatility to complete any design. The cove base and bullnose trim allow for fully finished looks.
As with all products produced at Crossville's Tennessee manufacturing facilities, Astral Plane is responsibly made in the USA, contains a minimum of 4 percent pre-consumer recycled content, and is Green Squared certified. Astral Plane is recommended for a wide range of interior installations, as well as exterior vertical applications, in commercial and residential settings.
Founded in 1986, Crossville Inc. is a U.S.-owned and operated manufacturer of award-winning tile collections for residential and contract applications. Its headquarters and manufacturing facilities are located in Crossville, Tennessee.

For more information on this collection, please visit www.crossvilleinc.com.