Braxton-Bragg Celebrates 25 Years of Excellence
Shannon Carey
Photos – Braxton-Bragg Archives
Braxton-Bragg has a lot to celebrate in 2019. Located in Knoxville, Tennessee, Braxton-Bragg has provided quality tooling and supplies to the stone and tile industries for 25 years, and 2019 will be the company's year-long anniversary celebration.
It's not just a celebration of the business, though. CEO Rick Stimac said it's a celebration of the people, including staff, clients and suppliers, who have contributed to Braxton-Bragg's longevity and continued success.
"Everybody talks about how important people are, but I think sometimes in companies that's lost. We do a really good job of living that. We're blessed with great people here. This is a 25th anniversary celebration of us and our partners. That's how we make the customer delight and everything we're able to make happen every day," Stimac said.
And Braxton-Bragg is finding unique ways to commemorate those 25 years, including charitable giving, employee recognition, product launches and special events.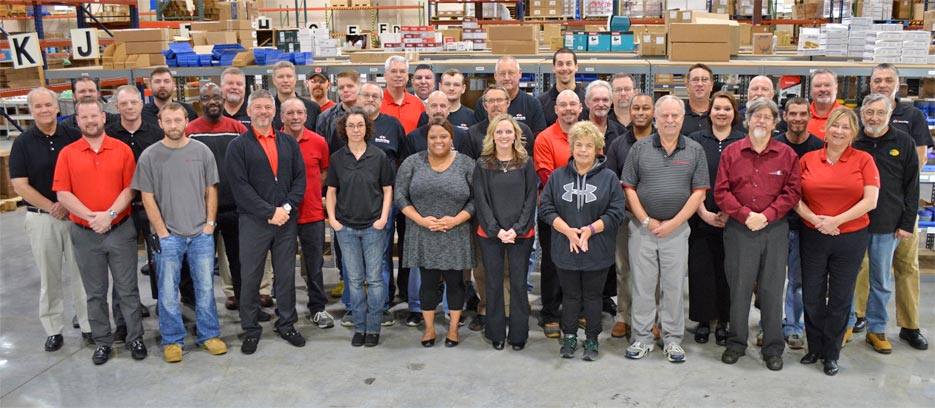 Twenty-five Good Deeds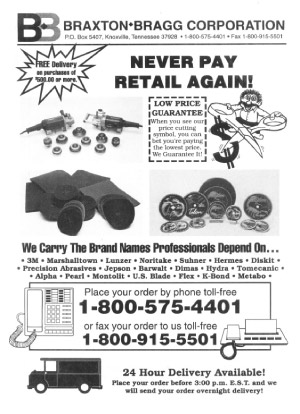 Page from Braxton-Bragg's first catalog in 1994.
Stimac said he's most excited about the charitable part of the 25th anniversary festivities. Starting in January, Braxton-Bragg's employees will select local charities and organizations to boost, whether through money or volunteer effort. With two or three a month for the whole year, that will be one for every year Braxton-Bragg has been in business.
"We're putting up a calendar of events each month that we're going to be doing, and our people will have input to say what they want us to do, things that they might be behind already that we can support and add more things. I'm pretty excited about being able to give back to the community that way," Stimac said.

Coming Events for Employees and Partners
Braxton-Bragg will host two special events in 2019, exact dates to be announced. The first will be a Partners in Excellence event, in which Braxton-Bragg will host customers and suppliers in the company's hometown of Knoxville. Customers and supplier partners will enjoy a golf outing, dinner, networking and a chance to hear some market intel from Braxton-Bragg's professional staff.
That staff will take center stage at another event, this one focused on Braxton-Bragg's team of employees. Stimac said the event will take place in the summer and will celebrate employee longevity, from five to 25 years. One employee, Jack Harrison, has been with Braxton-Bragg all 25 years.
"There's a lot of tenure here at Braxton-Bragg. We want to recognize them for their time and commitment to the company," said Stimac.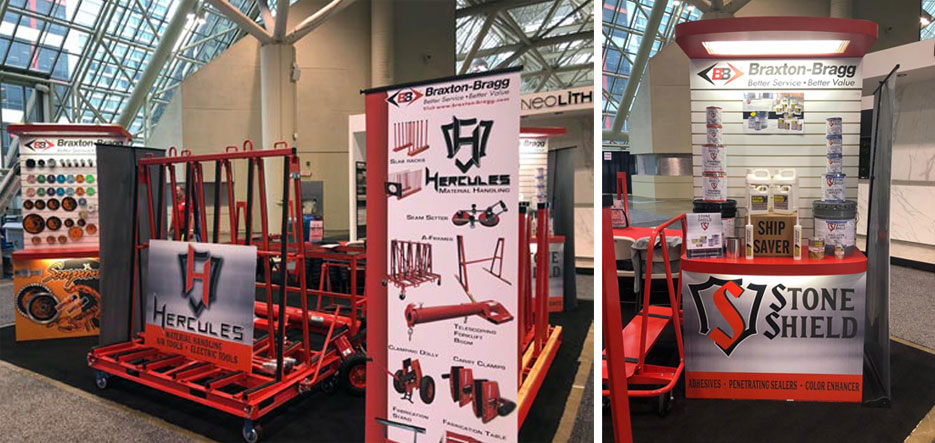 Braxton-Bragg is launching new looks, lines and brands as the company moves forward into the next 25 years.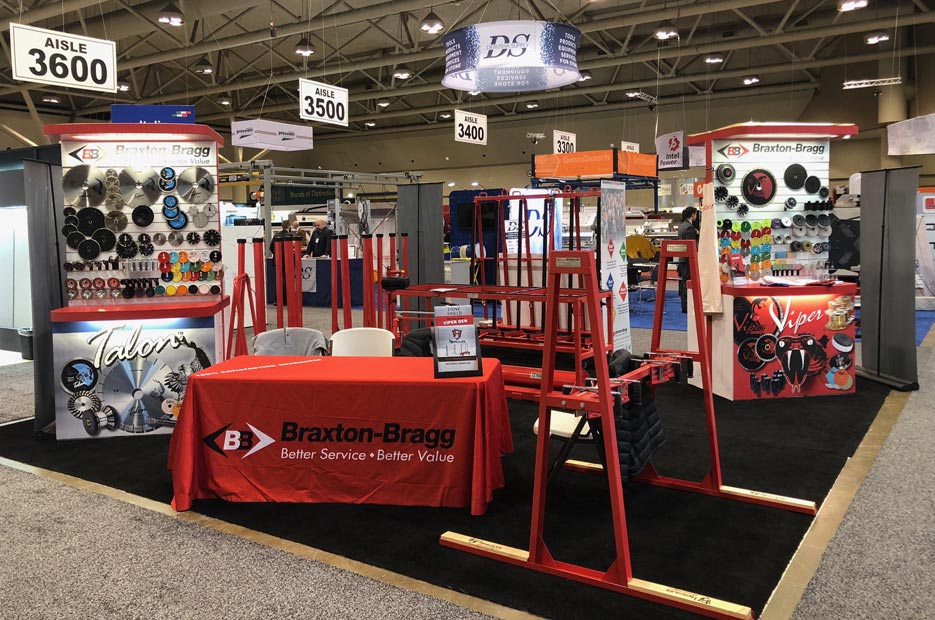 An early preview of products debuted at StonEX Canada in December, 2018.

New Logo, New Products
In honor of the 25th anniversary, Braxton-Bragg will be rolling out a new logo, along with "a relaunch or rejuvenation" of the distributor's private-label brands, Stimac said. These products will have redesigned packaging showcasing the new logo. Braxton-Bragg is enhancing the quality of its private-label brands and adding to the breadth of each line of products.
"For example, our Viper line will have blades that will work on the new products that are out on the market. With all the new materials being used for countertops, we'll have a product offering to go with that," he said.
In addition, Braxton-Bragg will add more national-brand products, including Hercules Material Handling, Stone Shield Vinyl Ester and a line of Viper Den installation and fabricating accessories, all available in January 2019.
"The last couple of years, I think we've taken a step back in our relevance in the market because we didn't have the national brands that were needed. We're pushing towards offering a complete line and becoming fabricators' one-stop shop. All these national brands carry a lot of weight as far as brand recognition. They're quality, higher-level products. They are leading technologies in the industry," Stimac said.

Planning the Future
Stimac said Braxton-Bragg is planning 25 more years on the cutting edge of the stone industry, both by looking back on the company's history and planning for the future.
"I think many firsts happened because of Braxton-Bragg, whether it was offering superior service to the industry, offering a value price that helps and supports the fabricators, or understanding what we can do to bring education to the industry by having the Slippery Rock Gazette in place," he said. "For 25 years, we've been around through the good times and the bad times of this industry. We've also been willing to drive new things in the industry. We're not resting on our laurels.
"The opportunity is here for us to rejuvenate what Braxton-Bragg means to the market. This is an opportunity for us to communicate to the industry what we're doing to help the fabricators. We're bringing efficiencies that no one else in the industry does."
Those efficiencies, said Stimac, include a revamped website, an easier ordering process, and the ability to receive the complete order all in one package. Still in place, as always, are Braxton-Bragg's excellent customer service and 30-day, no-questions-asked guarantee.
"Keeping our base of service and technology and leading in those areas is important," said Stimac. "We've evolved over the years, and now we have a pretty clear mission and values that will have us going for the next 25 years."
Although Stimac has only been with Braxton-Bragg for a year, he said work done in 2018 is setting the company up for success in 2019 and beyond.
"I think that we've really taken an analytical look at the business, done some strong benchmarking and hopefully are supporting the fabricators through more information, more training, good sales, marketing and business development. How can the fabricators be healthy so we can partner and grow? I think we've positioned ourselves to do that."
In the coming months, you can read about the activities of Braxton-Bragg's 25th anniversary celebration on the pages of the Slippery Rock Gazette, on the company's new website at www.braxton-bragg.com, or follow them on Facebook.