Stone Restoration and Maintenance Corner: What's Your Niche Market?
Bob Murrell
M3 Technologies
Photos by Bob Murrell
Happy New Year, everyone! I hope that 2018 was a good year for you. It seems the older I get, the faster the years fly by. When we were young, we couldn't wait for the next day, month, or year. Waiting on that 16th birthday and the magical driver's license seemed to take forever. Then the next milestone was 21, right? Now, I wish I could slow the hands of time down. Way down. But alas, all life is ultimately finite, so I try to make the most of it, and I suggest you do, too.
I know that in today's climate, we must try to expand our business models to be more diverse. We want to stay busy, and not every project is a perfectly square foyer of Crema Marfil. As professional stone contractors, we potentially restore marble, granite and most natural and engineered stones. However, we also do terrazzo, ceramic tile, decorative concrete, and sometimes the occasional Corian as well. You probably do everything from simply polishing, to lippage removal, honing, filling and repairing.
Many of you do grout repair like tuck pointing (removal and replacement), crack and chip repair, stone or tile replacement, stain removal, pressure washer or Hotsy work, and even more complicated projects.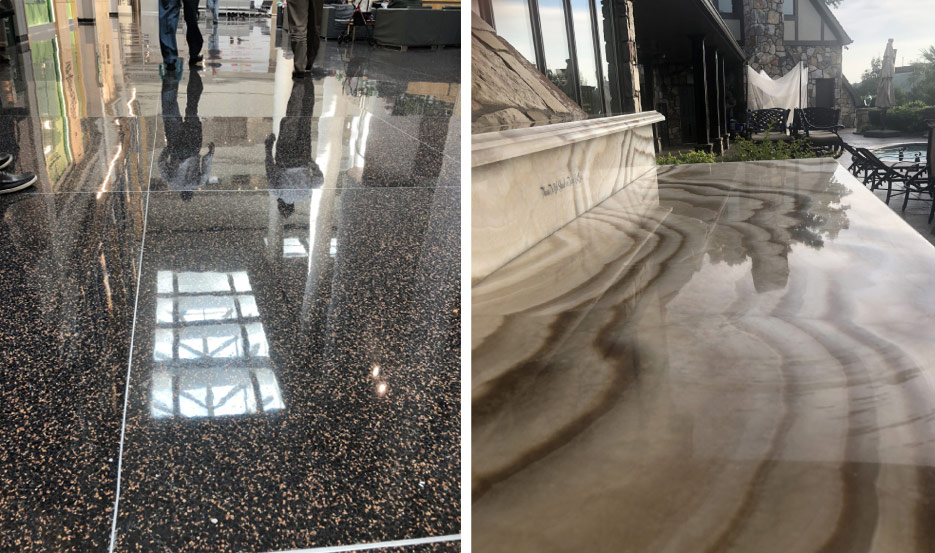 Above, Left: Specializing in commercial terrazzo polishing means occasional chemical stripping and grinding, and also working off-hours when the facility is closed.

Above, Right: Outdoor countertops are generally for higher-end installations. Most owners are willing to spend proportionally for upkeep, like this stunning Onyx top.
I have covered slate in previous articles, and the issues that can arise from coatings that are many times applied to slate, flamed granite, and other similar stones. The removal of coatings and prepping the surface for a new one or a color enhancer can be quite difficult sometimes, depending on the coating being removed. You will almost always need to remove the coating using a chemical process in order to avoid compromising the textured surface profile. Removing the coating by grinding would, by default, damage the textured profile.
Coatings can be removed from terrazzo and concrete by chemical means, too, but can also be mechanically removed when that would be most efficient and expedient. Lippage and textured surfaces are not normally associated with these surfaces, with a few exceptions such as joints that have moved. Normally, terrazzo simply has a floor finish, which can be stripped using alkaline products and black pads. However, concrete may have heavy applications of epoxy and/or urethanes. Surface prep crews use large planetary grinders or shot blasters with dust extractors for this type of work. Many contractors do surface prep work as their primary source of income. Large industrial and manufacturing plants are the typical customers for this business plan. Contractors typically come in, remove the existing coating with coarse diamonds and/or scrapers, profile the surface, then apply a fresh coating. Normally, this is all accomplished during plant closures such as weekends and holidays.
Other contractors stick mainly with pressure washing or hot water and steam cleaning. Spinners have become a staple for many of these guys. These larger units can cost upwards of $25,000 to $50,000. With such equipment, they are invested in this type of work. Pool surrounds, sidewalks, patios and many other exterior stone and concrete applications are plentiful, so most stay busy. With these truck or trailer mounted, diesel powered, 4,000 psi, 250 degree water/steam and water recovery systems, the use of a spinner can also be very effective for certain interior applications, such as cleaning grout in commercial quarry tile kitchens.
Above, left: Corian restoration is another niche specialty in demand.

Above, Right: Stone and tile showers have become very popular, and that also means a variety of soap and chemical build-up problems. The misuse of CLR or acidic cleaning products on stone is so common a problem you could specialize in it.
Then there is grout removal (tuck pointing) and replacement, repair, caulking and color-sealing. I have found that the oscillating right angle saws work best for tuck pointing applications. These machines can be purchased with special diamond or silicon carbide blades that make quick and accurate work of removing grout. I have used a Dremel router bit for small, precise grout removal, but with this method you run more of a risk for the bit to jump out and scar the stone surface. You can spot remove and replace grout in any bad areas, but color matching becomes the issue, then. Color sealing of grout is becoming more and more popular as it enables dingy grout to be recolored in either the original or a new tint, while providing a seal that is impervious to most staining. Caulking is typically required in bathroom and kitchen applications. Be sure to use silicone caulk and keep the bead small and tight.
Maintenance on this honed marble bath suite includes the floor (and grout), countertops and a full clad shower, with all the build-up problems associated with bath products. Regular maintenance will be key to keeping it pristine and to reduce staining on the marble. It is a good idea to offer a deep cleaning and once-a-year sealing for the shower, counters, and other areas subject to contact with chemicals.
As discussed in previous articles, using a poultice for stain removal is a value-added service in most cases. Because you typically must reapply the poultice more than once to remove a particular stain, this means you must physically show up to remove, inspect, and reapply the poultice, possibly multiple times, with no guarantee of a 100 percent stain removal. If you are on a project for an extended amount of time, doing a poultice as an "extra" for the client is worth the try.
However, if you get a call from a client with rust stains on their white marble, say from a large planter or around a toilet, you may consider declining. If the client wants you to refinish the stone, then by all means apply the poultice after your coarsest grind, and do your best to remove or reduce the stain. Otherwise, you may be facing a no-win situation. Just sayin...
Vertical restoration work is something most of us dread. It is tedious and hard work. Showers can be especially tough. Removal of soap and conditioner scum normally is accomplished using razor blades first. Then the use of a Heavy Duty Soap Film Remover may be required as well. Once the soap scum has been removed, some light honing may be needed before polishing. Oh, and let's not forget the calls you will get for damage caused by the use of improper chemicals, like CLR products. This kind of repair definitely requires honing, normally starting at least as low as 220 grit. This type of damage repair happens all too frequently.
So what is your niche? Of course, we all love the 200 square-foot residential foyer projects of Crema Marfil, with perfect grout and minimal lippage. We could probably get 2-3 of those done on a good day, and charge good money (cash!) for them too! However, as we all know only too well, to make money, you have to stay busy. To stay busy, you have to be diverse. Residential, commercial, open floor plans, complex floor plans, lippage, grout repair, replacement, mixed stone installations, vertical work – the list goes on and on. So we take the bad with the good, and try to charge appropriately. Of course, there are always those jobs that you are wise to walk away from, and let your competition have the headache.
As always, maintain a good relationship with a distributor of quality products who has the technical support to back them up. This is a logical approach and will help make your projects much easier.

Best wishes for a happy and successful new year!

Bob Murrell has worked in the natural stone industry for over 40 years and is well known for his expertise in natural stone, tile and decorative concrete restoration and maintenance. He helped develop some of the main products and processes which revolutionized the industry, and is currently the Director of Operations for M3 Technologies.