Reduce Your Consumable Waste and Increase Profits
Codiak San Herrell
Solid Surface Designs
In order to evaluate the production capability of a stone fabrication shop, a walk-through observation will show you all the intricate machines that are necessary for a company to be successful. If you take a closer look in the production area, you will notice all the smaller, but very important tools and equipment that can be detrimental to the efficiency and safety of a shop if not used wisely.
Let's take a step back and estimate all the expenses it takes to maintain all the minor but important tools and supplies, from the warehouse, to the fabrication shop and the installation department. It can add up to a rather large budget. And the more often you have to replace these tools and equipment, the higher that cost becomes. A strategy for preventative maintenance and creativity in upkeep, and reducing waste on even the more basic supplies can do wonders for the bottom line of an ambitious company.
For example, think about the most basic of fabrication materials – razor blades. Transferring them to plastic blade holders instead of the cardboard they are usually packaged in can prevent a rusty, ruined mess.
All shops use paper towels. to avoid waste, hang the rolls on dowel rods, in various and accessible places on the walls throughout the shop. This seems like a simple suggestion, but it can prevent them from falling off fabrication tables, possibly soaking and wasting a roll, and also regulate and prevent too-generous use. Putting sealer and denatured alcohol in plastic bottles is also a good way to monitor portion control. Maintaining portion control of your Akemi or favorite adhesive can be established through proper training and experience. Marking fill levels on adhesives can save a tube here and there, over time – which adds up. And keeping the tips on silicone bottles covered will lengthen the working lifespan of a common daily-used product. If you feel like your team is losing or going through too many polishing pads, wet or dry, try instituting a policy of requiring fabricators to turn in their old pads to receive new ones. You don't have to be stingy, just be smart in how consumable supplies are used. You also need to understand that cheaper does not make it better for your bottom line – using longer lasting, quality tools, does.
Recently, we evaluated three different chisels. One was a year old, another was two years old, and the third chisel was four-and-a-half years old. Because one fabricator performed proper and regular sharpening maintenance, the oldest chisel was actually in the best shape. For larger tools, like seam clamps, screw guns, sanders, polishers and grinders, simply keeping them dry and cleaning off the daily accumulation of dust before putting them away will increase the tool's lifespan. So will regular maintenance on the brushes.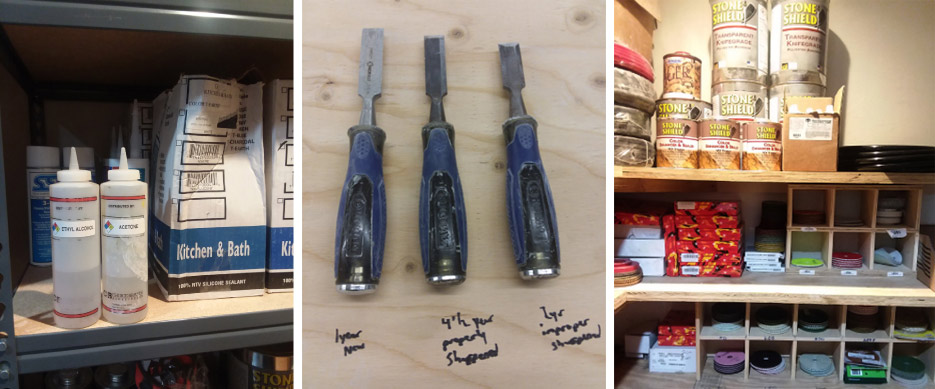 Reduce waste on your most basic supplies and you will save more than you think. Perform maintenance on your tools and they will not only work better, they'll last longer. Chisels, from left: I year, new; 4-1/2 years, properly sharpened; 2 years, improperly maintained.
With proper training, planning and creativity, a company can make their tools and supplies go a bit further than they usually do, saving you money month after month. You can make a conscious decision to make these tactics a part of daily routine by not only seasoned workers, but new workers as well. Most importantly, get your workers to adopt this mindset: what would they do if they were spending their own hard-earned money on the equipment, tools and supplies that they work with every day? Make it a team effort and your shop will prosper.

Codiak San Herrell is a native of Aurora, Missouri. He is Warehouse Supervisor with Solid Surface Designs, where he serves on their safety and LEAN committee. Codiak is CPR / AED certified and currently working on other certifications.