Cambridge Researchers Develop Self-Healing Concrete
Researchers at the University of Cambridge are using microencapsulation technologies developed by Dolomite Microfluidics to develop self-healing construction materials. As highlighted in recent BBC News broadcasts, the Department of Engineering's Geotechnical and Environmental Research Group is developing microcapsules containing 'healing' agents – such as minerals, epoxy or polyurethane – which can be added to building materials to allow self-repair of small cracks which develop over time.*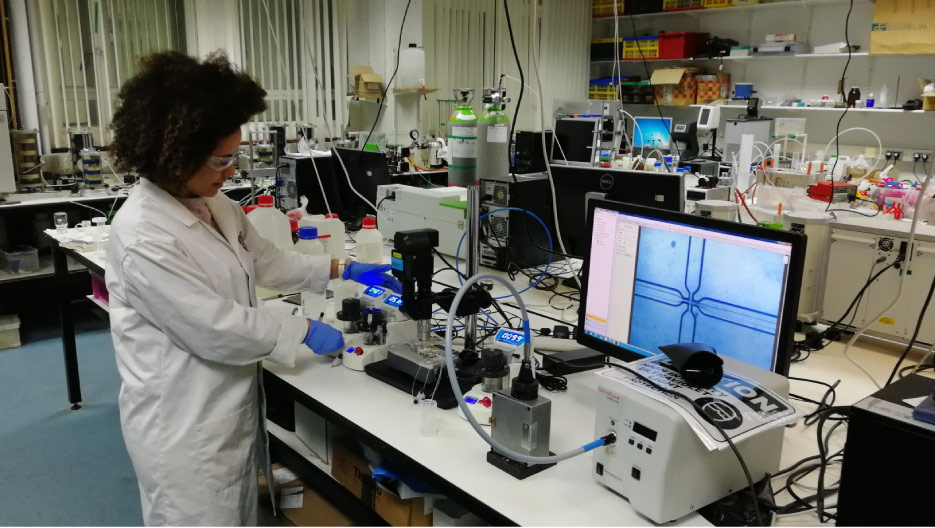 Dr Livia Ribeiro de Souza and researchers at the University of Cambridge work to overcome the problem of small fatigue and aging cracks developing in concrete "by adding microcapsules filled with 'healing' agents to the concrete before it is used."
Dr Livia Ribeiro de Souza, a postdoctoral researcher in the group, explained: "Many composite building materials used in the construction industry – such as concrete – suffer fatigue over time, developing small cracks. We are hoping to overcome this problem by adding microcapsules filled with 'healing' agents to the concrete before it is used. The idea is that, as cracks begin to form, they rupture the microcapsules, releasing their payload and stabilizing the material."
"This approach requires the formation and functionalization of double emulsion microcapsules, which we have been producing with the help of microfluidics. We have been using a Dolomite Microfluidics system since 2014, and find that microfluidics offers much better control of particle size and composition than traditional emulsification polymerization techniques, simplifying the investigation and optimization of particle properties."
The Dolomite system has enabled the researchers to create functionalized microcapsules that bind more strongly to the cement matrix, while also having thinner shell walls and higher core retention, improving their self-healing properties. Livia continued: "It is good to be able to discuss any issues we're having with the experts at Dolomite Microfluidics, helping to accelerate our research and move us a step closer to real world applications."

For more information, please visit www.dolomite-microfluidics.com.

*Lívia Ribeiro de Souza and Abir Al-Tabbaa. Construction and Building Materials, 2018, p. 184, 713-722.

About Dolomite Microfluidics
Established in 2005, Dolomite Microfluidics has grown to be the world leader in the design and manufacture of high quality innovative microfluidic products.
The company offers a range of microfluidic systems, components and specialist chemicals – including pumps, chips, connectors, temperature controllers, sensors, accessories and custom-made components – as well as software for analysis or automation.
Dolomite is a part of the Blacktrace group of companies, a world leader in Productizing Science®, and has offices in the USA, Japan, India , Brazil and Hanoi as well as a worldwide network of distributors.