Owen Sound Ledgerock Supplies World-Class Limestone for North American and International Projects
Peter Marcucci
Photos  Courtesy Owen Sound Ledgerock
Located in Ontario, Canada, near Toronto, Owen Sound Ledgerock Limited (referred to from here on as Ledgerock) has been supplying the stone industry since 1958. With its scope of service firmly rooted in limestone from its three quarries, the company produces a full array of interior, exterior and landscaping products as well as dimensional building stone. Supplying a global market, Ledgerock's list of notable world projects is distinguished and exceptional, to say the least. More on that later, but first Some company history as told by supervisor and research and development head, Sean Stobbe.
"Ledgerock was started in 1958 by my grandfather, Harold Stobbe, as a way to provide exterior cladding material for his homebuilding and building supply store business. He was building houses primarily around Owen Sound and also in many areas around southern Ontario. This was during the 1950s and 1960s, and the original quarry was a way for him to get higher-end stone to put on his houses without paying a lot of money to someone else for it. However, as time went on, the quarry got more and more successful, and the hardware store and homebuilding business fell by the wayside as he focused more of his time on the stone end of the business. He was now supplying landscaping materials such as flagstone and split-face materials for walls and pavers. The quarry was small-scale, used few tools, and was low tech, so to speak."
By the time the second generation came in, Tom and Lynda Stobbe, production had become a little bit more complex in what they did, continued Stobbe. "We had started an architectural cut stone division for making custom pieces, and by the late 1980s bought our first CNC machine from Park Industries."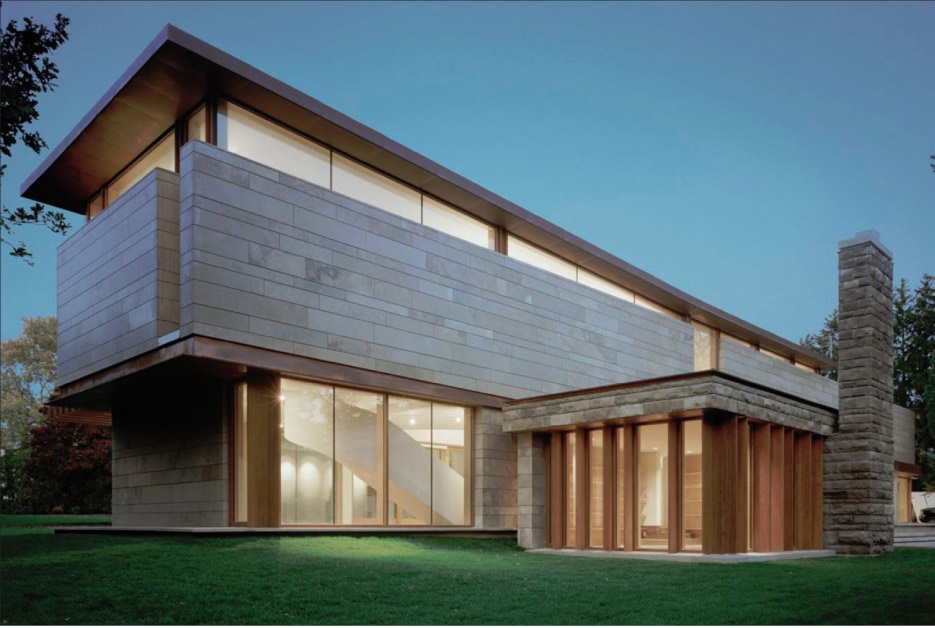 Honed Algonquin Fleuri limestone panels clad this sleek modern residence in Ontario.
Tools of the Trade
Ledgerock's current cache of shop equipment has grown significantly to include ten CNC machines (Haas, Omag, Breton, Burkhardt-Löffler and Park Industries), ten large block saws, 12 smaller saws ranging from two to four-foot size blades, three automatic surface polishers and four radial arm surface polishers.
For their three quarry operations, Ledgerock has 12 saws of varied configurations, assorted drills, five hydraulic splitters, a crushing and screening plant to turn waste into gravel, as well as all the loaders and trucks needed for moving materials safely and efficiently. They also have some in-house built machines. Some are very basic, said Stobbe.
"Over the years we have built everything from a single blade saw with a pull chain, to a CNC for milling, to machines for gauging stone.
"They probably total dozens over the years. Unfortunately, building your own machines got progressively more difficult because of OSHA-type safety regulations. It got harder to comply with these regulations when building in-house, and it became easier to just purchase a manufactured machine."
Total quarry square footage is in the neighborhood of 700 acres of land, said Stobbe, adding that there's well over 150,000 square feet of combined floor space at all their locations.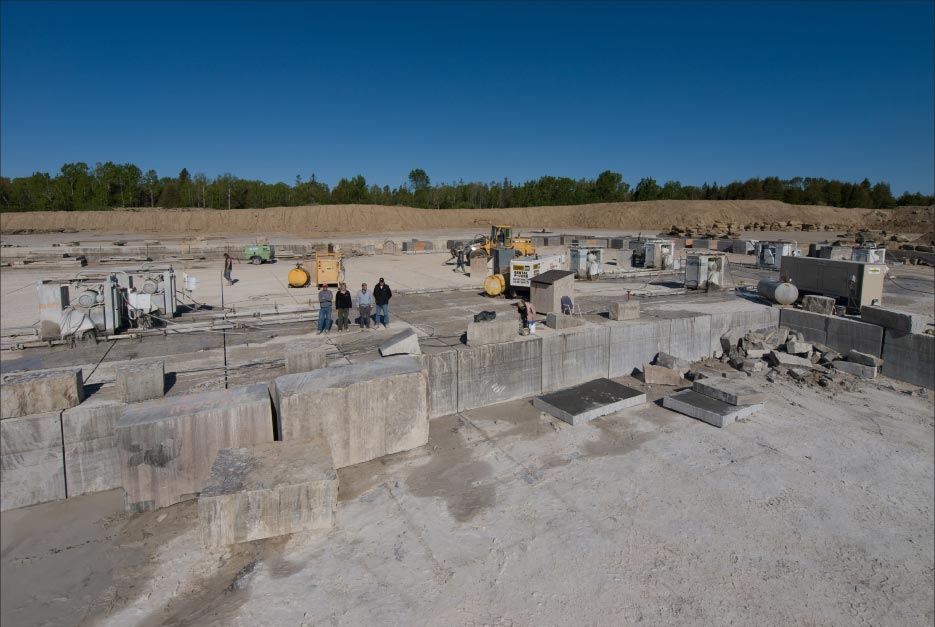 This Ledgerock quarry produces Eramosa limestone. Eramosa turns from light grey to a rich, chocolate brown when polished.
Deep bas-relief carving in a block of Algonquin limestone, for the Owen Sound Attack hockey club shows the typical earth tones and grain variations found in this beautiful stone.
Safety First for the Workforce
"We do a lot of sandblasting and have a silica safety control program in place for that," continued Stobbe. "Fortunately, the stone that we quarry is Dolomite limestone, and we really don't have to worry about silica from that. Limestone can, however, be an irritant, so we provide masks to anyone needing them. We've also done a lot of environmental work to minimize the discharge of slurry into the environment. We have a series of settling ponds to separate stone dust, and the water that we discharge is often cleaner than what is in the creek!
"By and large, though, the safety requirements in Canada are more stringent than in America. An example of this would be in the more recent past when we purchased an American machine and had to add various forms of guarding of our own. All of our saws have gates to prevent people from getting to the blades while they're running. We've also had to deal with noise issues, particularly on our bigger saws, and counteracted that problem with better tooling that keeps them quieter. We' ve also implemented a traffic management plan to try and prevent any collisions. We have a lot of material handling equipment driving around."
The Agony and the Ecstasy of Quarrying
The original quarry in Owen Sound, Ontario is still functioning and where most of their production takes place, while their main quarry, where the bulk of their material comes from, is in Wiarton, Ontario, about 20 miles from Owen Sound. Their third quarry, about 20 miles north of Wiarton, is in Hope Bay, Ontario. Ledgerock also purchases a large amount of material from the Indiana Limestone region. Aside from that, continued Stobbe, they might get the occasional job that requires material from other sources.
"We did a restoration job in Queens Park, Toronto where our Provincial Government is located. It required Red Sandstone from a quarry nearby that no longer existed, and we had to source that material from distant places. It wasn't a perfect match, but it was a reasonable one. We also did another job about ten years ago out of limestone from France, which turned out to be very similar stone when compared to material from Indiana.
"Our biggest challenge in quarrying is time-frame. We have a very limited amount of time that we can quarry and, generally speaking, it's from April to October. That's our window for extraction, and any blocks that come out of the ground after that have to come inside to fully dry out. Otherwise, the blocks can freeze. At our Wiarton quarry, everything is set up with fairly small benches, which means it's easy, because we don't have to do any horizontal cutting to extract the stone. The largest single layer to come out solid in that quarry is about five feet thick."
With several colors of stone in their portfolio, Stobbe went on to speak of his favorite. "Realistically, we have over nine colors. My personal favorite is the Eramosa limestone. In raw block form, it's a fairly light gray color, and when it's polished, it turns into a very nutty chocolate brown. We do a lot more tonnage out of the Eramosa only because there is a much bigger band in the quarry. You are going to have a hard time finding a stone that looks nicer than our Eramosa when it's polished. Typically it tends to have minimal pitting, and when polished, it is beautiful!
"Our Algonquin doesn't have the deep designs like the Eramosa does. It is a very warm light brown that I would call an earth tone, and is also quite popular. It also has some grainy character to it, and not like Indiana limestone."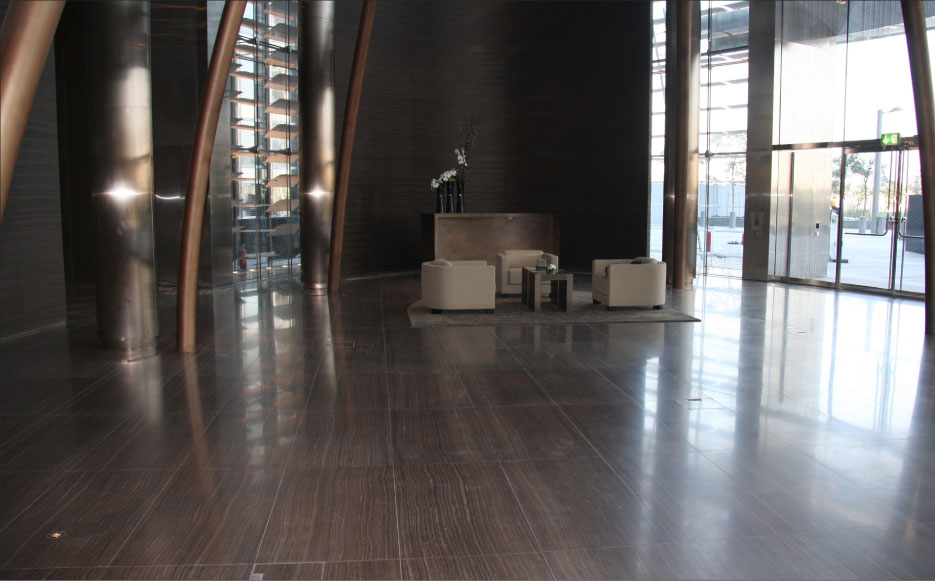 Polished Eramosa vein cut tiles and planks were chosen for the flooring and wall cladding at the Armani tower in Dubai.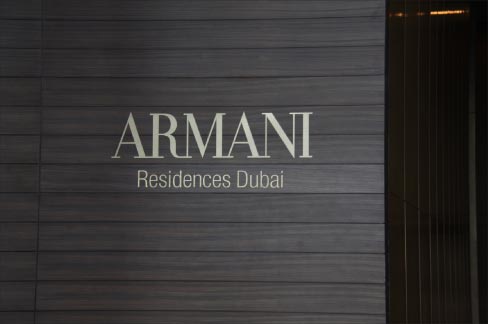 Supplying the Demands of a Worldwide Market
Ledgerock mostly supplies materials within the North American market. Outside of this market, the company has brokers that are headquartered in Singapore, because there are a lot of jobs in Asia which use their stone. When asked what their flagship product is, Stobbe said, "It's hard to give one single product domination. In terms of sheer volume, our split-face material for wall cladding is at the top. Most of what we produce is for exterior, with some interior. Not a lot of countertops, but a few here and there. So it's mostly split-face, panels for cladding buildings, pavers for patios and walkways, and curbing and windowsills. There is no product that dominates, because we do a lot of sales of all of them.
"Our volume really hasn't changed over the years, but the demand for product types has, particularly for our split-faced wall material.
"About ten years ago we produced a lot of material that had a natural surface on top and bottom. That market has now mostly dried up. It's still out there, but not what it used to be. Now, it's a sawn finish on top and bottom to give a consistent look that's popular today, but takes more saw time that we didn't have to deal with in the past. Additionally, customers' demands for higher quality have increased considerably in the last ten years, and we've had to invest in new machinery and techniques to meet those demands as well. Specific products to order have changed, too. We do make tiles here, but the demand for them changes from year to year. Some years we can't make enough tiles, and some years we don't make a whole lot. It's very unpredictable.
"In general, though, the major difference in what we've had to produce over the years is due a lot to the value of the Canadian dollar relative to the American dollar. When the Canadian dollar was on par with the American dollar, we did very little work using Indiana limestone, because we couldn't compete from a cost standpoint. But now that the American dollar is stronger than ours, it starts to be less costly for us to do it here. So our current market is strong, and there's a lot of demand out there for what we do. Our challenge is just trying to keep up with it."
According to Stobbe, all of their sales go down one of two different paths. "We have a series of dealers set up primarily in southern Ontario, and have a handful of American dealers.
"These dealers simply call us and say, we want this, this and this, and we'll ship it to them using a number of carriers that we know. The other direction our sales go is for our architectural materials, through various architects or brokers. Sometimes they function like a dealer would, but their orders are not standard products. We don't have any architects on staff, but we do have drafts people who are involved with these projects. They will go onsite to discuss any issues that come up. We also use our own project managers for the larger projects."
Notable larger jobs include supplying the exterior stone for every Kentucky Fried Chicken location built in Canada during the 1970s and 80s. They've also supplied stone for homes for a many well-known people including Alan Jackson, Derek Jeter, Mel Gibson and David Cone.
CNC Carvings are also a specialty at Ledgerock, and are almost exclusively done by machine with final finishing by hand. There is, however, a small amount of hand carving done on very detailed pieces, said Stobbe, because CNCs struggle with very small details. For the most part, though, the company doesn't do as much hand carving as was needed for architectural elements, in the last decades of the Twentieth Century.
As for employees, business volume fluctuates in size between summer and winter said Stobbe. During the summer they employ between 130 to 150 people, and in winter, around 70 people. This includes their office, quarry and shop.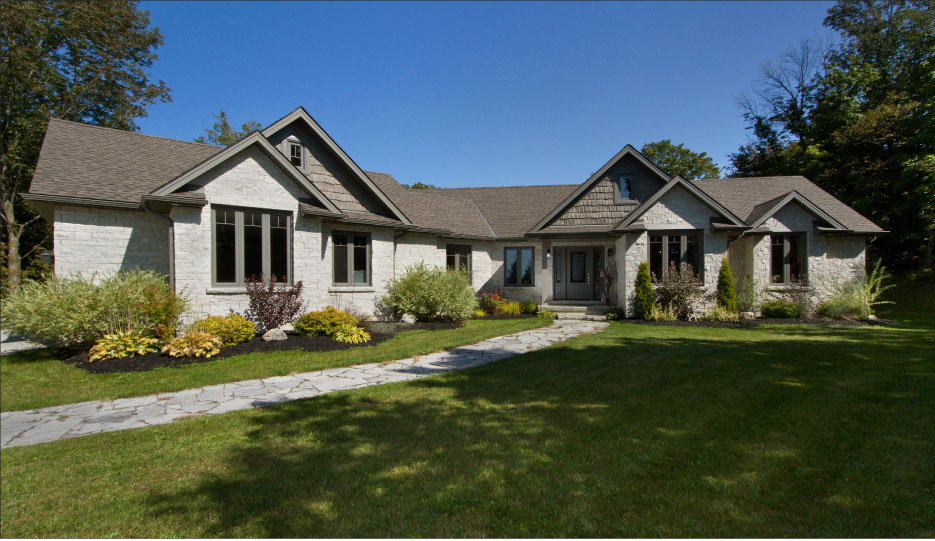 Above: Split Face Hope Bay limestone graces an Ontario residence. Split face stone is very popular and comprises a large segment of Ledgerock's market.
Above: The Richard Ivey School of Business in uses several different varieties of limestone from Ledgerock: Honed Algonquin panels on the higher levels/floors; Splitface Wiarton Grey Ledgerock (4-inch bed width); and Algonquin Crust Face panels can be seen under the right side of the copper entrance overhang.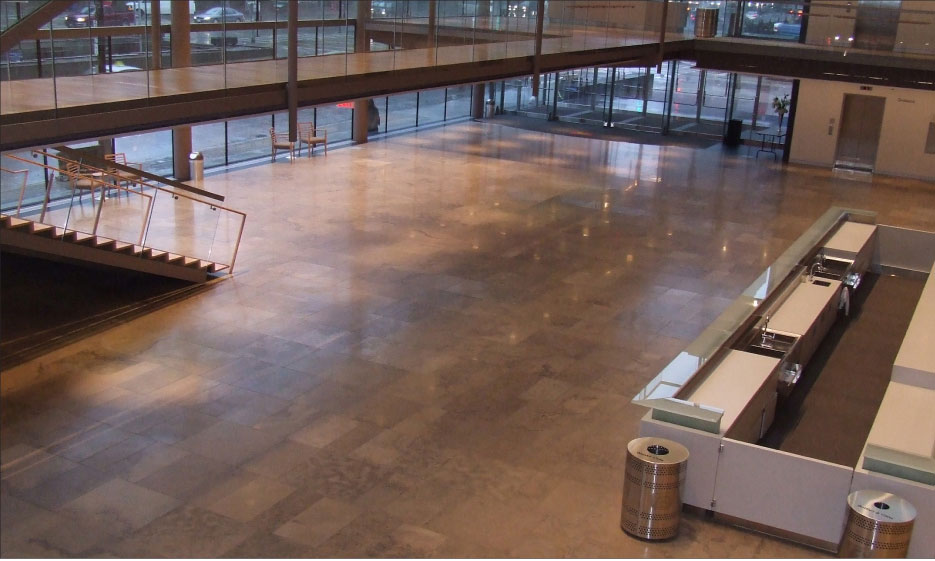 Above: The Toronto Opera House showcases polished Algonquin fleuri cut large format tiles.
A Future Carved in Limestone
"We are one of the largest limestone producers in Canada," continued Stobbe. "There are a lot of granite quarries that are quite a bit bigger, but as far as limestone goes, we are one of the largest. Our American dealers tend to be in the upper Midwest and New England area, and sell in those areas, but outside of those regions we really don't have any representation. So if companies out of these areas want our materials, they can probably buy directly from us. We are also cognizant of the fact that we don't have an infinite amount of stone, and need to insure that we have other ways of doing business, as well. That scenario is quite a ways down the road. However, we are looking into landscaping and construction products as well as other markets to stay ahead of the curve. Opening other quarries has also been a topic of conversation, because we need to have the resources to keep working. As for the size of Ledgerock, we are very happy with its current production capacity, and any future expansion would be minimal."

For more info and many more notable jobs, please visit Ledgerock's website at www.ledgerock.com .