Dry House StoneWorks: From Traditional Dry Laid to Veneer
Peter Marcucci
Photos  Courtesy Dry House StoneWorks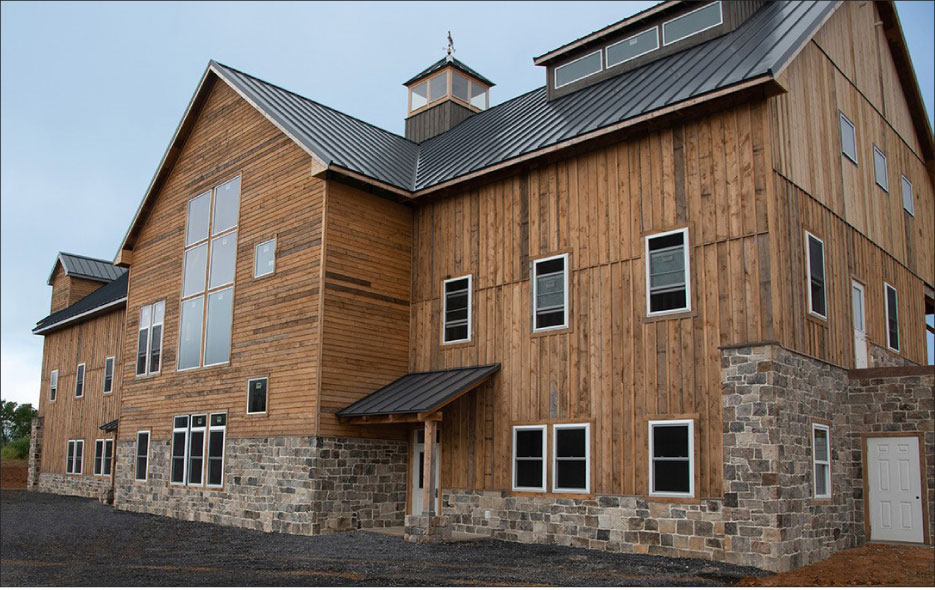 Traditional Ashlar laid stone and batten construction for a combination community medical clinic and children's special needs clinic. Dry House StoneWorks uses Tuscarora Mountain stone, harvested from their very own grounds. This helps them have total control - including a competitive price – from start to finish.
Although Dry House StoneWorks officially started business in 2017, Mark Peachey's masonry experience actually goes back almost a decade, when he was strictly doing installation work as an employee, recalls Peachey.
"I started doing masonry work in 2010 while working for Sunrise Masonry. They were a small, local company based here in Belleville, Pennsylvania that installed natural and engineered stone. They were great teachers, but they really didn't want to grow, and I knew that if I wanted to keep busy doing stone work, I'd have to start my own company. I saw a need for natural veneer that was reasonably priced for this market, and bought a little saw to begin. Job after job, we would simply cut the stone that we needed and install it."
Helping Peachey during those early years was Rodney Yoder. Yoder, very young at the time, started his masonry apprenticeship with Peachey in 2011. "I was sixteen years old when Mark took me under his wing and showed me how to do things," recalled Yoder, "and we just grew this business together."
Strategically located in the center of Pennsylvania, Dry House Stone has grown from an installation-only company to a supplier of several styles of cut stone. Regularly installing within a 50-mile radius of Belleville, they do, however, go beyond that radius when marketing and selling their brand of cut stone throughout the state. They are not quarry owners, but do acquire all materials locally.
All materials are cut to size from either blocks or slabs from two distinct varieties, and then made into five different profiles. At anytime, their stone yard retains 20,000 square feet of installation-ready material for their walk-in clients, dealers or other masonry companies. According to Peachey, there is always a wide array of products in stock, and never any waiting time.
The company's 5,000 square foot building sits on two and a half acres, and houses a Cee-Jay brand saw and splitter. Clients wanting installation service consist mostly of contractors, explained Peachey. "Because we are installers, we have a lot of contractors that like our service. They prefer natural stone, and they don't just want to buy just a pallet; they'd like it installed. So say we have a contractor that's building a custom home. They'll send that client over to us and we'll show them around, show them what we can do and they'll pick out their stone. Clients come in with an idea, and many times we help them out with the design. We'll also go off of their architect's blue prints if they have them. Sometimes, I'll educate our customers on dry stack walls or explain to them about the venting system that we use on our veneer wall installations so the wood doesn't rot out."
To further whet clients' appetites and build enthusiasm, Dry House StoneWorks additionally offers walk-ins a showroom that includes 360 square feet of stone samples depicting the different styles and varieties. All are natural stone, none are engineered or man-made.
According to Peachy, the market for his products is good but price driven. "The market for natural stone is huge in this area, but you've got to keep your prices competitive, and must have the installers to perform the work. Everybody loves the real thing, and natural veneer stone is actually new in this area. All types of exterior and especially fireplaces are hot items. Our work is acquired strictly through word of mouth. We've been in business for quite a while, but if there's a contractor that we don't know, we'll stop in, say hi, and tell them what we do. So between that and word of mouth, the word gets out, and if you do good work, word spreads fast."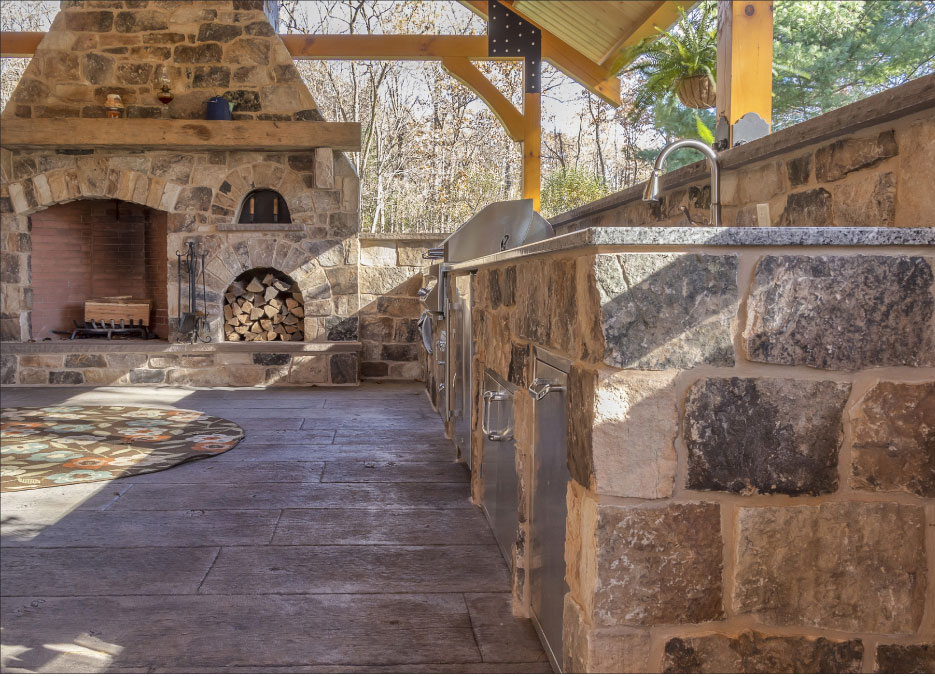 Outdoor Kitchen and entertainment area with an over-size fireplace also showcases their ashlar fieldstone construction.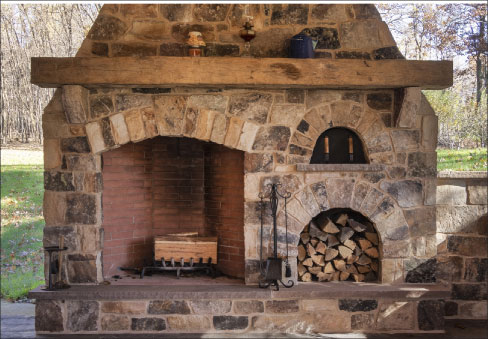 Success is Measured in the Details
Notable projects as of late include a local dry stack wall terrace that is 550 feet long and took 30 dump truck loads of stone (see photo at right.) There's also the Morton Clinic in Belleville, where they installed over 2,000 square feet of veneer on the building's exterior (also see photo). According to Peachey, they love designing special projects, and only when needed will use Laura's Landscape Design to help out with the details. Walls, stone steps and veneers are the company's bread and butter.
While producing approximately 15,000 square feet of veneer stone per month is the norm, the Dry House StoneWorks' crews install approximately 2,500 square feet per month. These crews total twelve men of varied experience, with four-man crews being the average size, said Peachey. "My brother, Ben Peachey, on the installation end is a very good mason. He is a Dry Stone Walling Association (DSWA) level-2 certified mason. Additionally, two of our other installers are DSWA level-1 certified. All of our men are very hard working, very skilled, and if they do something, it is done right."
This traditional dry laid wall project includes a running wall, terraces and stairs. According to Peachy, it took 30 dump truck loads of stone.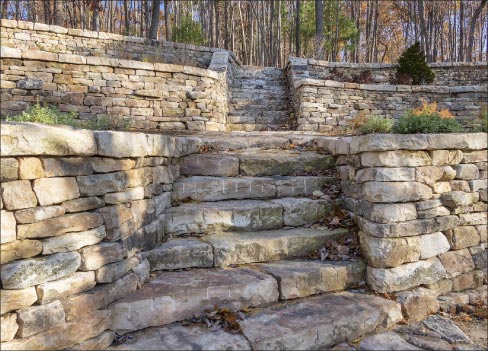 An ability to do both dry laid and veneer projects, done with uncompromising quality, is the best advertising possible, says Peachy.
So what makes Dry House StoneWorks different? "I would say that what makes us better than the guy down the road is that we can design the work, then design the veneers and supply them or install them. This really gives us a hands-on feel for what we are doing, and helps to keep our veneers high quality and user friendly. If we are doing the installation, it is little tricks like this that help to make our installations look great. It's very important that they look like full bed-depth stone when installed, and not just little pieces of veneer. It really makes a difference. Our veneers are designed by us out in the field, and then coming back to the shop to make them the way we want them. This is what makes our products special."

Options and Opportunities
"It's been a long hard road getting here," continued Peachey. "We've done everything from scratch. These days, what we are really trying to do is to maximize our efficiency from cutting to installation, and build a company that can run without me and Rodney. This means building a system and a structure, so that when we go away, it will run itself. We also want to book-out our work load more, so there is a consistent work flow as well as a good work environment, and we can grow with the demand as work increases. As far as becoming quarry owners, we'll see what the future holds. That is something that is a little far into the future for us, and not what we are looking to do right now. We are, however, looking at a new splitter as well as conveyors to facilitate production."
Yoder: "We are always looking at new ways to do things more efficiently. As far as more employees, not at the moment, but we will hire as the demand for our work and products increase, and we cannot keep up. We have been setting up dealers for our products, and will continue to explore new markets for future expansion."

For more information visit www.dryhouseStoneWorks.blogspot.com .

Above Left: This traditional, new home construction features natural stone thin veneer by Dry House StoneWorks. Peachy: "It's very important that they look like full bed-depth stone when installed, and not just little pieces of veneer."

Above, Right: A sample of mixed colors in a thin veneer.