Adopting Lean Culture
Codiak San Herrell
Solid Surface Designs
In any industry, a company's main goal is working toward success. A dozen elements come to mind as to what a company should be practicing to ride that gravy train. Off the top of my head, a primary focus should be putting out quality products by meeting customer's expectations, and worker productivity.
These two elements to success are closely tied. If productivity is too slow, deadlines may not get met, and your product can lose demand. But if your production is too fast, errors can get made, and double-checking might not happen… unless an established and maintained lean program is set in place.
At Solid Surface Designs, we have adopted the lean culture mentality: holding lean meetings on a weekly basis; taking a step back, evaluating every department; looking for unnecessary movements; and emphasizing necessary movement. We are quite serious about following the concept of "two second lean."
One of the first areas we checked was our production floor, where the workers were often waiting on a forklift. So we decided putting in crane systems above fabrication tables, CNCs, waterjet, Jaguar and Fastback was a high priority. And in turn, this eliminated our fabricator waiting time, allowing them to move tops independently.
Another interesting point we noticed was that workers were walking across the shop to use the bathroom, only to find the door locked and occupied. So we placed a bright red light over our bathroom doors, wired to the light switch in the restroom, so when that restroom is occupied, the red light shines visibly across the shop, saving unnecessary waiting and movement away from the job at hand. We also rediscovered that caster wheels were invented for a good reason, and attached them to our fabricator's individual supply carts, fans, and trashcans, to assist in easy and effortless access to these resources. When the supply carts and supply closets are organized, maintained and even compartmentalized, workers save a creditable amount of time accessing tools and supplies, and assigning workers their own tool belt is similar train of thought.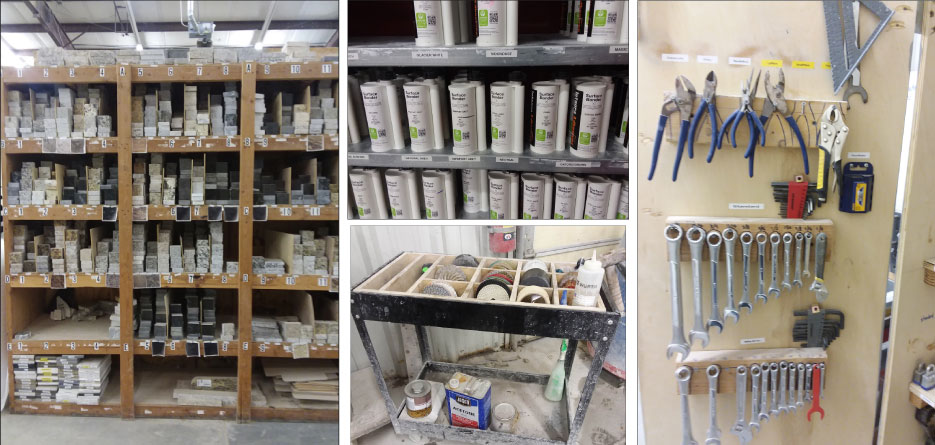 When your tools, supply carts and supply closets are organized, maintained and compartmentalized, workers save a creditable amount of time accessing tools and supplies.
Our warehouse created a sample board to inform and cater to customers, looking for an actual color sample of their chosen countertop. This eliminated an average of a 15-minute trip to the scrap mountain by customer service, every time a customer wanted a sample to see or take away. The sample board is faced, and each colors spot is labeled for quick location.
Emphasizing necessary steps is also working lean; if a procedure is overlooked, or double checking habits are not maintained, you may look at a possible remake, or for the office, a supply reorder – which is wasteful, and the opposite of lean culture. "Did you?" signs were laminated and hung in various prominent places around our facility, as a constant reminded for specific tasks. "Did you?" check sheets were placed in job folders, demanding to be checked and initialed by whomever responsible for overseeing that task.
Lean culture, to a high-volume, deadline ridden company, includes such details as making sure your forklift has good tires to help it ride smoother and more efficiently. The key to lean culture is to train your team to think lean, and adapt to the organization and culture, and then stay consistent with this progressive way of thinking. A rapid way to fail a policy or procedure is to neglect the importance of one vital step.

Codiak San Herrell is a native of Aurora, Missouri. He is Warehouse Supervisor with Solid Surface Designs, where he serves on their safety and LEAN committee. Codiak is CPR / AED certified and currently working on other certifications.