United Marble Fabricators: Providing Distinctive and Award-Winning Stone Projects Since 1987
Peter Marcucci
Photos  Courtesy United Marble Fabricators
The United Marble Fabricator showroom is a showcase of the art of bookmatching.
Nestled within a vast array of buildings in historically rich Watertown, Massachusetts stands United Marble Fabricators. President John Kilfoyle leads the family-owned company. A growth machine from its onset, United Marble has become successful by consistently going beyond "just good enough," past "is this our best effort" — resulting in outstanding projects installed throughout much of New England's affluent residential market.
John Kilfoyle, like many of the business leaders interviewed in the Slippery Rock, grew up being involved in his father's shop. While other kids were spending time off from school traveling with family or having summer fun with friends, John was busy learning stone fabrication from the ground up. Coming into the company as a full-time employee in 2008, he already knew how to produce and estimate projects from his years spent in the shop helping out wherever he could. This story recounts those days, and what it took to get the company to where it is today.
"United Marble Fabricators was started in Somerville, Massachusetts by my father, Tom Kilfoyle, in 1987. My father was a tile installer by trade and came into the natural stone industry by way of needing stone for the tile projects he was doing. Shower seats, thresholds, jamb kits and soap shelves all needed to be fabricated. At the time, there were only a few shops in New England that could make them. Tired of waiting weeks for his parts, he decided that he wanted to begin cutting them on his own. At that time, stone importers and distributors would only sell slabs to companies that had a bridge saw, so in 1987 he bought a saw and incorporated under the name United Marble Fabricators."
The bridge saw was a simple and beautiful fully manual Terzago, and it became a great and reliable workhorse when later fitted with a laser, but was retired in 2015 to make room for the company's next growth stage, as well as for one big safety reason: it didn't have a tilt table, and every once in a while when loading or unloading, a marble slab would bite the dust.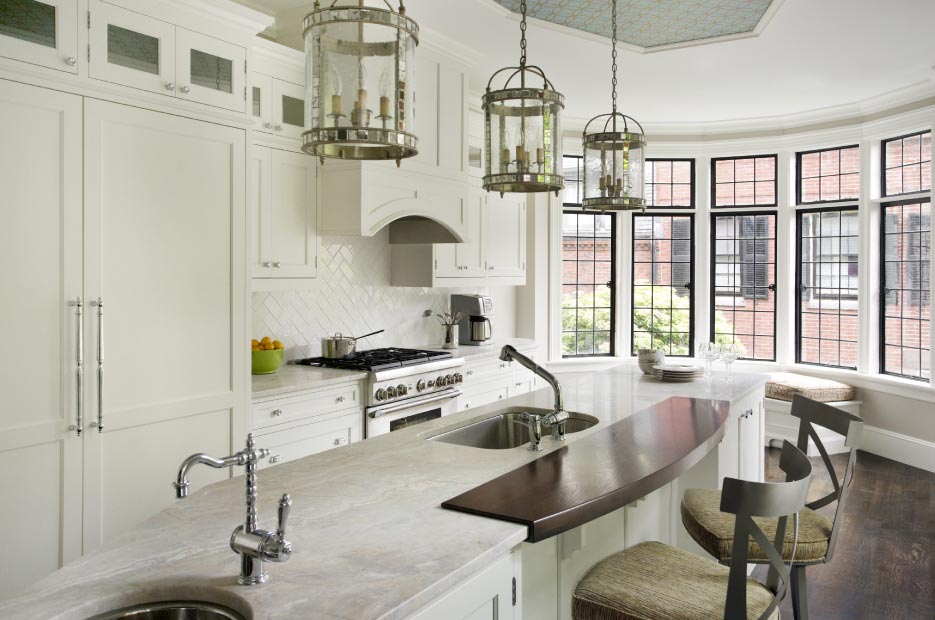 Honed Sea Pearl Quartzite kitchen countertops designed by Lewis Interiors and built by Adams & Beasley Associates.

Building Success in a Luxury Residential Market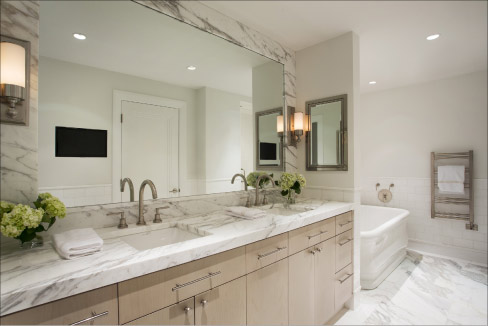 Mitered Calacatta master vanity countertop with matching backsplash and mirror frame designed by Lewis Interiors and built by Adams & Beasley Associates.
According to Kilfoyle, United Marble Fabricators is very fortunate to be in the Massachusetts market, because the housing growth over the last eight years has been remarkable. "Even through the Great Recession, the growth rate in suburban Massachusetts was unrivaled. Overall, clients who live in this market have a lot of concentrated wealth, are educated, know what they want, and have a very distinctive style.
"We fabricate many materials, but the core of our business is still marble. We've been able to create a niche for ourselves within a luxury residential market, and don't have to worry about how many kitchens we are doing this week because we are mostly working on custom projects. It's not uncommon for us to be hired by a custom builder on referral from an architect or interior designer and be brought in during the planning stage. Early on we are involved in the conversation about what the client wants, such as an extra thick mitered edge, or the builder saying, 'We are thinking about using this type of material. What would you recommend?'
"We also continue to do tile installations. A typical project for us is a new custom build, and we will handle all hard surface for the entire project; kitchen, pantry, wet bars, fireplaces, master and kids' baths – basically all the stone and tile throughout the house. This has let us provide a lot of accountability for a general contractor or an architect, because there's a single source and only one company that they need to go to. From the general contractor's standpoint, it serves them very well, because we understand the entire scope of the project and can schedule accordingly. An example of this would be prioritizing finishing the master bathroom to open it up for the wallpaper crew.
"So we have the ability to create a schedule that works around the overall build schedule, because we are providing our own project management for the job. This is a huge bonus for the homeowner and is probably our biggest advantage. When we're involved in a bid and there's multiple companies also bidding, oftentimes the reason we get the job is because of our project management ability and somebody's confidence that we can effectively manage the scope in a way that will get them what they want, when they want it. You would think that in a service society where everything is about price, price, price, it would hurt our volume, but there's a surprising amount of people who understand value and are willing to pay for the value we offer. It's also created a lot of loyalty from our clients, because it eliminates the fear of the unknown for them. They know what they are going to get, and if a designer has a particularly difficult client who is picky about finishes, they know our build quality is always a priority. So that service and intangible assuredness that we provide is very important."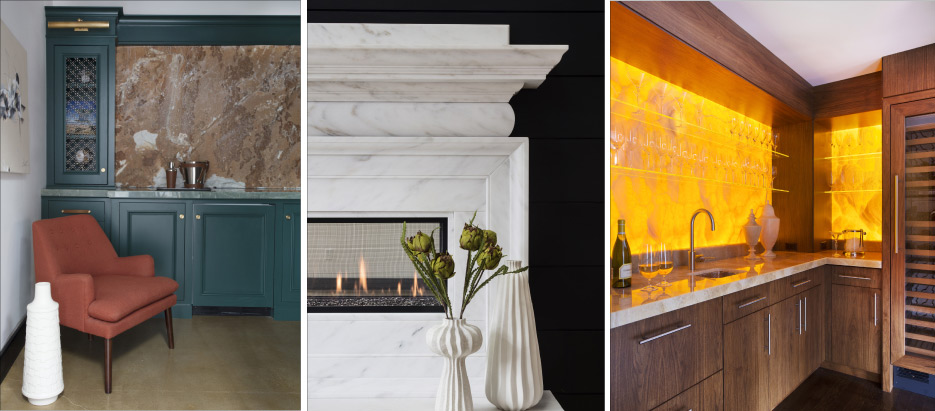 Above, Left and Middle: two vignettes from the UMF showroom.
Above, Right: This stunning backlit Honey Onyx bar was awarded a 2015 Pinnacle Award of Excellence in the Residential Interior category.

High Tech to the Rescue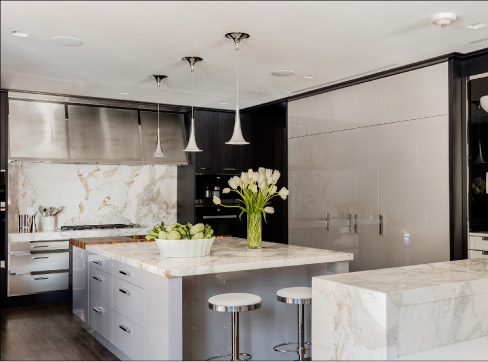 United Marble Fabricators was awarded the 2016 Kitchen of the Year for this project. One focal point of the room is this beautiful, flowing expanse of marble backsplash.
If you've ever visited Boston, you know it is one heck of a big city, with every inch of concrete and pavement packed with buildings of all sizes. To say that space is at a premium would be an understatement. Watertown is just beyond Boston's outskirts, and it, too, is packed with buildings. So much so, in fact, that the United Marble Fabricators' long, skinny building covers 90 percent of its lot. Needless to say, a prudent, efficient plan was needed when dividing up floor space for its 1,500 square foot showroom, and 7,000 square foot shop and warehouse. Moreover, production equipment and protocol needed to be super-efficient, too, continued Kilfoyle.

"We went from a manual shop to a fully digital shop within one year. It was a hairy year, but it happened and it taught us a lot, because when using technology you need to have a very defined process and need to have very defined roles or, essentially, the project doesn't move. I think that these were our biggest challenges in adopting new technology. I also think that once we were able to create that process, technology helped our projects come together faster and actually reduced our rework rate by a lot. Quality wise, we are able to produce very, very complex things that we weren't able to produce when we were a purely manual shop. An example of this would be our ability to bookmatch slabs. This is a really big thing for us, and the ability for us to do the layout work up front was not something we could easily do when we were manual. Using technology, we're now able to render and mock-up these projects and give clients options, and then roll with them. Anything that can be imagined, if it can be fabricated in stone, we are able to do it because of technology.
"The greater Boston area is our mainstay, but we also do a lot of work in Cape Cod, Nantucket and Martha's Vineyard, as well as Stowe, Vermont and the lakes region in New Hampshire. What we often find is that most of these clients live out of state; they have their own team, rely on technology for everything, and don't have the time to come to my shop. So if they're selecting their slabs and need a full workup with full renderings, that's how we are going to make that job a reality for them. What we've been able to do is to understand how technology can help us to deepen our niche and be a very high-tech company that's very involved in every step of the process with the customer, even if they are not physically present."
United Marble Fabricators' production consists of 75 percent marble; a staggering percentage compared to most shops that sell that amount just in granite. Importing a lot of marble from Italy, the company also brings in containers of limestone and marble from France and Portugal, and quartzites from Brazil. They also work with a lot of importers and distributors in the U.S., explained Kilfoyle. "It's great for many of our remote clients who live in the New York City area, and don't have time to make a trip up to see our inventory or visit Boston just to see a distributor's slabs. So we are flexible in that respect, and don't have a high pressure environment to sell our own inventory. Sure, it would be great if people only bought our material, but that's impossible. There is so much choice in the world."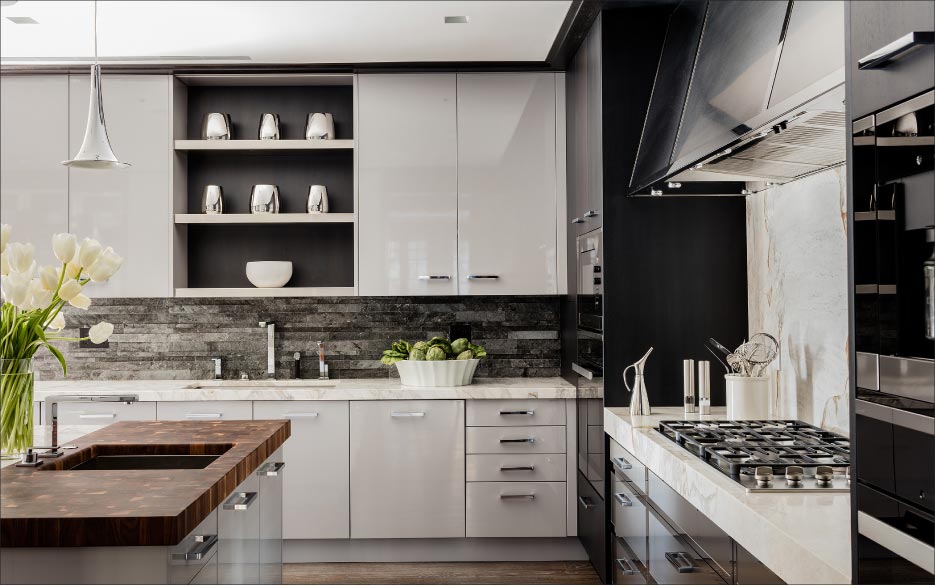 Their stone distributors include, but are not limited to, Marble & Granite Incorporated, DiPietro Trading Company, ABC Worldwide Stone and European Granite & Marble. Once slabs are received, they are photographed and stored in Slabsmith, where architects, designers and homeowners can see exactly what is in inventory, and are able to select what they want. Once a job is underway we template with a Prodim Proliner 8CS. Data is then input to AutoCAD where cleanup work, offsets and semi-final drawings are rendered. Those drawings are then sent to the client for their approval, so they have full visibility on exactly what they are getting, including dimensions, seams, edges and veining. Once approved, the drawings are put into Alphacam and programmed for cutting on a Sasso K600-XL Extreme 5-axis saw. A Northwood 138EDS CNC then completes shaping and edge profiles. A Sasso K-LUX surface polisher is also employed for honing, polishing or leather texturing. A Water Treatment Solutions recycle system keeps fresh water consumption to a minimum, while multiple jib cranes, strategically placed to move material around the shop, keeps safety to a maximum for the company's eighteen employees, including of six full-time installers, six shop personnel, four in the main office and two designers.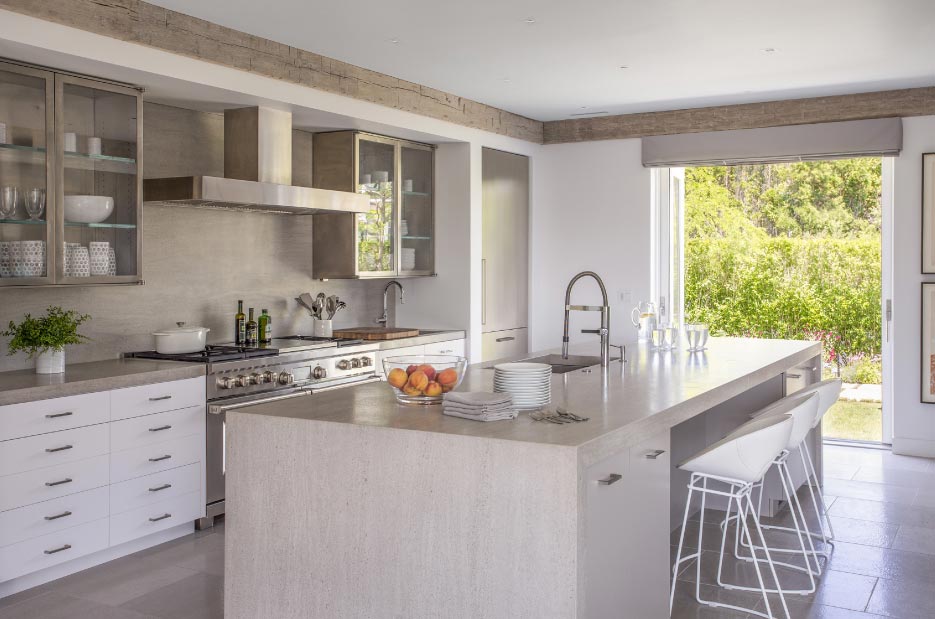 Whetting Customer Appetites While Educating
Custom kitchen and bath for residential customer features Tao Grey brushed limestone counters and large format floor tiles in the master bath.
"We've been at this location since 1994 and completed a shop expansion in 2007 to add shop space to the back of our building," continued Kilfoyle. "At that time, our showroom was the least attractive part of the company, and it was getting to the point where just samples on the wall were not much to look at. So in 2014 we decided that we were going to redo our entire showroom and office area and design a space that felt like the interior of a house. We would display a kitchen, a bathroom and some pretty magnificent living spaces where someone would feel as if having entered a beautiful home, and where our entire team could work in comfortable and beautiful surroundings.
"Working with Jason LaGorga of DesignCrossover Architecture, we were able to take our building that was built in the 1930s, and peel away all of the layers that people had added through the years. What we ended up with were these really cool exposed trusses and 12-foot ceilings. We added skylights and a glass facade entry that brought in tons and tons of natural light. Again, we didn't want a typical showroom that was just a storefront. We wanted an immersive environment where clients could come and get a real sense of our capabilities and what we can do with natural stone, and then put their own design spin on it. We wanted to showcase what we can do in the most impressive way that we could to get the creativity flowing, especially for the homeowners and interior designers. By creating these spaces that have bookmatched walls and a big, commanding fireplace, we are really able to show how far you can go. Everything was designed in-house and was completed in 2016, and it's been absolutely huge for us. Clients come in, feel comfortable and know that we know what we are doing. Our designers work directly with the end users who have an idea or a concept, diving into the materials to arrive at what they actually want. There's a tremendous number of people who come in with an interior designer, and in those circumstances we play a more supporting role.
"Then there's client education. In the last few years as quartzites have scooped up such a big portion of the market, there is so much misinformation surrounding those materials that we've needed to re-educate people. They come in with some preconceptions saying, 'I don't want to use marble. I want to use a quartzite,' because of something they've seen or heard. We do a ton of marble kitchens, and the misinformation is a big hurdle for a lot of people. There's a lot of information out there that says not to use marble in a kitchen, or you'll regret it. So, yeah, there's a tremendous amount of education done here, and because today's clients have done their own research and they are looking to have all that information validated, we need to know our stuff."
United Marble Fabricators is a member of the Natural Stone Institute (NSI), and the Stone Fabricators Alliance (SFA). Both organizations, according to Kilfoyle, are a great resource aid in educating clients."

Defining a Future and Who They Are
"Success really boils down to what your end game is," continued Kilfoyle. "What's your purpose? Why are you doing this? I think what we have here is this real kind of growth mindset that is deeply-rooted; we want to be pushing those boundaries of what's next and presenting solutions and asking how do we overcome obstacles with natural stone? It's that sort of attitude that this company has, taking on projects that other companies won't or can't or don't want to. This is the heart and soul of this company and it comes from our people who have created that culture, and their willingness to sometimes take a second look at things and think, 'We can definitely do that in stone.'
"We would not be in business without the people we have on our team. We must be the most fortunate company in the industry to still have people who have been with us through all of it. We run a very lean team, and the only way we can have a lean team is because we have a very capable team who work well together. Qualified people can go anywhere they want to, and it says a lot about the quality and integrity of our people that they've stayed with us for so long. They've built the company, and they're the ones who asked how high do we jump when we decided to go fully digital. They are passionate, they are really involved and engaged and like to show off what they do, whether it's design or fabrication or installation. To be able to stand back and look at a finished product and think, 'I helped build that' is the single reason that got me into this industry. There's something about coming to work, grabbing a slab of stone, and turning it into something, and where at the end of the day you can say, 'Man, we did good!' You don't get that in a lot of industries, and it's contagious throughout the shop when it happens.
"Moving forward, our goal is to not be known as solely a stone fabricator. We want to be a full circle company that's involved in the entire lifecycle of stone, whether it is importing unique inventory, fabrication, installation, maintenance or restoration. What we are endeavoring to build is a natural stone company that has developed competency in every phase of the natural stone product cycle. What that involves is a whole lot of growth, education and learning. We've done well at taking the baseline that my father built and bringing it into the modern era. I see a lot of growth opportunity that is based in automation. Let's face it, if you don't automate as much as you can to create efficiencies where you can, your time here is limited."
As for John Kilfoyle's father, Tom Kilfoyle is 67 years old and still very active with the company, working every day with the shop and field crews. According to John, his knowledge cannot be replaced or replicated, and he's still an incredible resource that will take on any challenge, any time.
Past honors for United Marble Fabricators include two Natural Stone Institute Pinnacle Awards. The first in 2015 was for Excellence in the Residential Category and the second was in 2016 for Kitchen of The Year.

For more information visit www.unitedmarble.com .