The 2018 Pinnacle Awards
Natural Stone Institute Announces 2018 Grande Pinnacle Award
The winners of the 2018 Pinnacle Awards were announced during the Natural Stone Institute Awards Ceremony at TISE 2019 in Las Vegas, Nevada. Fourteen projects were honored with Awards of Excellence, and the best overall project was selected for the Grande Pinnacle Award. The 2018 Grande Pinnacle Award was presented to Mario & Son (Liberty Lake, Washington) for their work on Aura — the first time a sculpture has been awarded the Grande Pinnacle.
Joey Marcella with Aura, 2018 Grande Pinnacle winner
Carrara marble conjures thoughts of elegance, timelessness and refined taste, begging to be caressed and admired. Aura is as much about the marble as it is the spaces in between, conveying a light and airy feel, a startling juxtaposition to what one typically associates with heavy, rugged stone.
The stone needed to be solid and dense enough to retain structural integrity when carved thinly with a lot of negative space. An eight cubic foot, half-ton block of statuary grade Bianco Carrara C marble was sourced in Pietrasanta, Italy and meticulously tested for any fissures. It would ultimately be reduced down to a mere eighty pounds, while retaining most of the original volume.
Inside this framework is a continuous band, weaving in and out of itself, playing with light and shadow among suggestively feminine curves.
The luminous nature of the stone allows light to penetrate the thin edges producing a glowing halo effect, hence the title of the sculpture, Aura.
The sixteen month execution of this work began as a small metal ribbon bent into a pleasing, asymmetrical shape, capable of being displayed and viewed from multiple perspectives, with no defined "base." Utilizing modern technology, this metal prototype was digitally scanned and refined within a 3D computer modeling program, and eventually 3D printed to scale in plastic. An Old-World measuring device, the Macchina di Punta, was employed to mark specific points on the model that were transferred to the block, allowing the shape to be copied into the marble by hand, in the tradition of the Old Masters. Hammer and chisel methods eventually had to yield to hand-held, rotary abrasives, as the piece became thinner and more fragile. The entire piece was meticulously hand sanded to achieve the deepest and most spectacular polished finish.


---
Commercial Interior
Rugo Stone, LLC
Lorton, Virginia
Stone Consultant/Supplier/Fabricator/Installer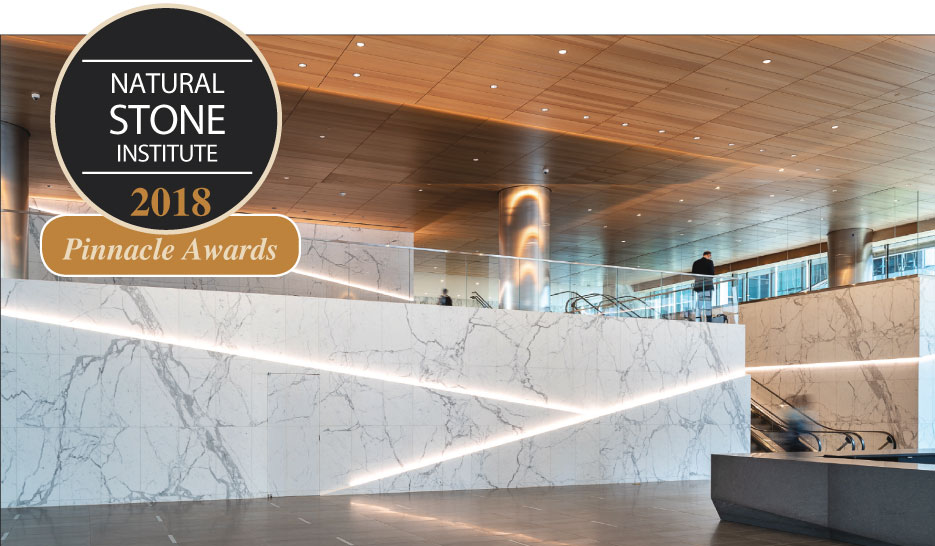 2000 L Street
Alexander Court
Washington, DC

Alexander Court was an ambitious project merging two existing office buildings into one larger structure, whose combined lobby is now the largest office building lobby in Washington, DC.

Designed by renowned Pelli Clarke Pelli in collaboration with Washington, DC based Fox Architects, the building utilizes 90,000 square feet of stone. Alexander Court offers frontage along four major thoroughfares, including an expansive lobby fronting L and 20th Streets featuring an iconic twelve-story atrium.

The project architect desired to use only the finest Statuario Venato Extra marble for the 15,000 square feet of lobby wall stone. Continuous vein pattern matching on the lobby walls, some as long as 180 feet, replicate the vein pattern of the quarry wall face. Innovative virtual dry set software allowed the designer to see the actual slabs selected for each wall in true shop drawing elevations. This highly detailed process yielded unprecedented results for the marble's finished appearance.

Beyond the main lobby, the entire project relied on the Statuario and the Basaltite for all the paving and wall surfaces at the sky lobby, the fitness center, penthouse lobby, and the 16 elevator cabs that feature marble manufactured onto lightweight aluminum honeycomb wall panels. Jet Mist granite paving, steps, and solid planter walls were used for the building entryways.

The public lobby and core bathroom flooring is more minimalist and relies on dense and durable grey/black Basaltite basalt accented with inlaid stainless-steel pavers to provide a subtle, yet strong foundation for the striking marble wall features. Bathroom vanities are topped with Arabescato Vagli marble.

The lobby desks are all clad in stone as well, and exhibit a complex geometric design.

Alexander Court is receiving high praise from the architectural, commercial development, and commercial leasing communities for its high design, craftsmanship, and tenant amenities.

OTHER PROJECT TEAM MEMBERS

---

Pelli Clarke Pelli Architects
FOX Architects
Architects

• Euromarble S.r.l. •
• A. Lacroix et Fils Granit Lte'e •
Stone Fabricators

STONES

---

Statuario Venato
Extra marble
Arabescato Vagli marble
Basaltite Extra Dura basalt
Jet Mist granite

JURORS' COMMENTS

---

"As good as you can get with a material that is complicated to use. The careful selection and control of this project truly embodies the beauty of Statuario marble and its unparalleled veining."

(• NSI Member Company •)
---
Commercial Interior
Columbia Stone Inc.
Tualatin, Oregon
Stone Installer/Fabricator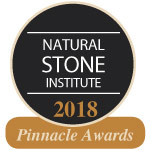 Apple Steve Jobs Theater

Cupertino, California

Columbia Stone's contribution to the Apple Steve Jobs Theater is a good example of how to achieve success when working with a difficult stone. Approximately 12,000 square feet of heavily veined Serpegiante limestone from Italy was applied as two major elements: 2-inch thick radial wall cladding and 10-inch thick, two-piece carved handrails.

The design requirements of this project specified precise radial fabrication of +/- 1 millimeter and 1/4-inch custom sanded caulk joints with 0 to + 1/32 inch tolerance.

Material was selected from only half of the limestone quarry bench level 4 to get the specific color and veining for blending.

The first block was cut to the thickness required for radial wall cladding or handrail pieces. Rough slabs were cut and dry laid for initial review of color and characteristics. Once an area was approved, individual pieces were sent to 5-Axis CNC cutting machines for rough carving.

The pieces were dry laid again to assure the quality established for color and blend was still being met. Once all pieces in a group were fully approved, they were sent to the Andrusko Group of artisan carvers for detailing then moved to an offsite sandblaster for finishing. All finished pieces were returned to Campolonghi for final detailing, one more dry lay, final cut to size and touch up.

Final approval by Apple was required before the stone could be loaded for shipping. During the inspection process each piece was given a unique mark, including details for positioning to assure that each piece was located correctly on the wall.

The support of the stone involved a custom designed series of tube steel and Unistrut, to allow for a very tight tolerance installation. Custom color sanded caulking was selected due to the high seismic design requirements in California.

The result is a beautiful use of a difficult stone, which will be showcased for years to come inside a very iconic modern design structure.

OTHER PROJECT TEAM MEMBERS

---

Foster + Partners
Architects

• Campolonghi Italia SpA •
Stone Supplier / Fabricator

• PICCO Engineering •
Stone Drawings / 3D Modeling

• Andrusko Group •
Stone Carver



STONE

---

Serpegiante limestone

JURORS' COMMENTS

---

"There is a kind of joy about the play of recess and solidity, along with the striations. Reliefs and sculptural podiums are exemplary. Flawless execution, deliberate details, and material choices made this an instant frontrunner for the entire jury."

(•NSI Member Company•)
---
Commercial Interior
SMG Stone Company, Inc.
Sun Valley, California
Stone Installer/Fabricator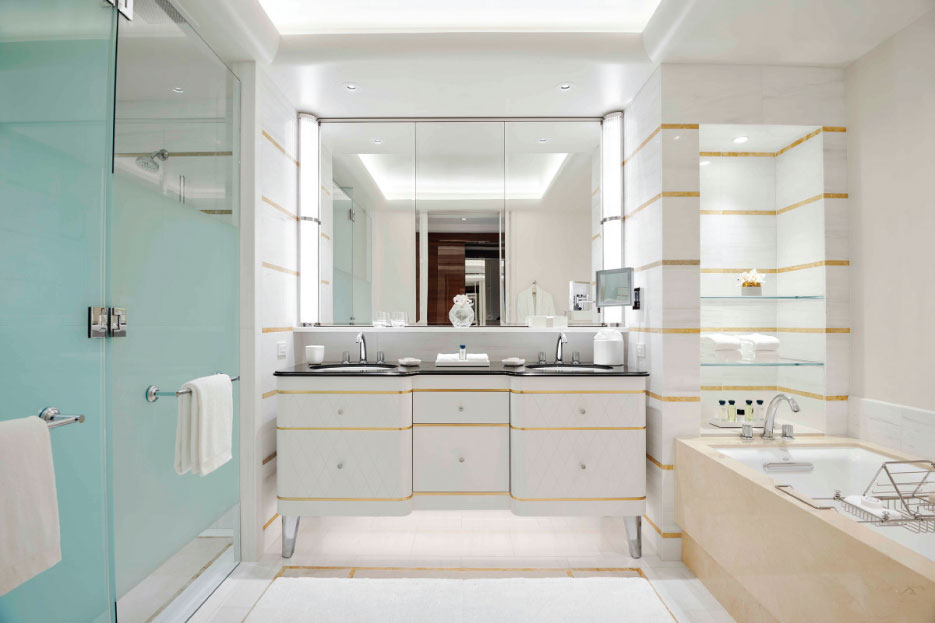 Waldorf Astoria Hotel

Beverly Hills, California

The legendary Waldorf Astoria Hotel made its debut to the city of Beverly Hills in the summer of 2017.

The 12 story tower evokes classic Hollywood glamour and celebrates California style.

SMG Stone was the stone installer and fabricator for the interior 170 rooms and 51 suites guest of the hotel.

Inspired by the Art Deco and Streamline Modern styles of the 1930s and 40s, the design team resisted trends toward exotic materials and returned to classic tones selecting three natural stones: Bianco Dolomiti marble, Amarillo Negras marble and Crema Marfil marble.

The 12 x 24-inch pieces of Bianco Dolomiti were installed on the bathroom walls and floor.

Each of the bathroom walls feature a 1-1/2 inch band of Amarillo Negras in a polished finished that was bonded with epoxy to the Bianco Dolomiti.

This fabrication detail created a 180 degree continuum that wrapped the bathroom in a warm yellow hue. Every one of the wall bands was installed to line up with one another both horizontally and vertically with some walls containing up to seven bands that faded into the door surround.

This included bands lining up directly with the soap niche and a horizontal line detail on the light fixtures.

The bathroom floors included a stone medallion consisting of all three marbles.

The tub and skirt were composed of Crema Marfil while Bianco Dolomiti was used for the soap niches on the walls.

Desired patterns required joint tolerances of no more than 1/8 of an inch and thin set mortar bed depth of no more than 3/16 inch or else risk completely compromising the design.

OTHER PROJECT TEAM MEMBERS

---

Gensler
Architect

Pierre-Yves Rochon
Designer

STONES

---

Bianco Dolomiti marble

Crema Marfil marble

Amarillo Negras marble

JURORS' COMMENTS

---

"An extraordinary effort to control the stock selection and achieve a uniformly pleasing texture in these eclectic personal spaces. This project is executed well and fits the brand."
---
Renovation/Restoration
TexaStone Quarries
Garden City, Texas
Stone Supplier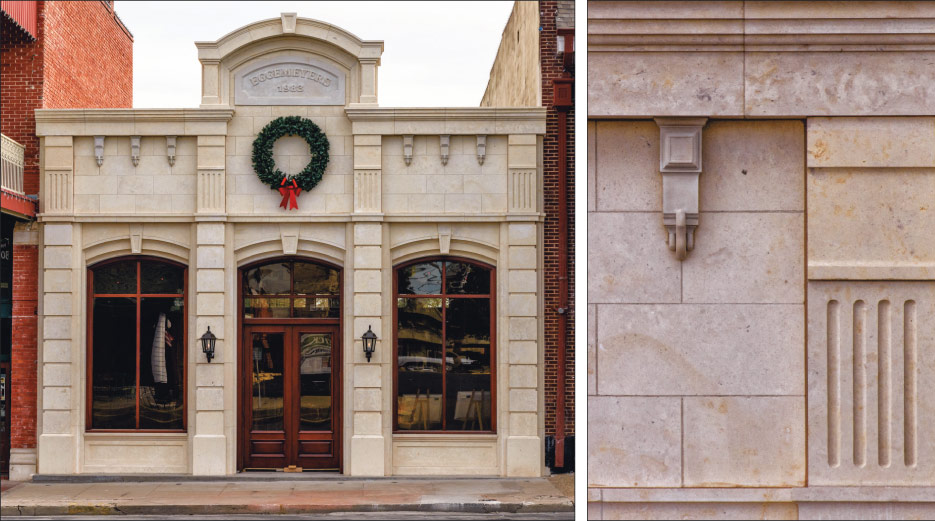 Storefront before renovations
Eggemeyer's General Store

San Angelo, Texas

Eggemeyer's General Store, along with the surrounding buildings in the Historic District of San Angelo, Texas, was originally designed by architect Oscar Ruffini (1858–1957).

Providing continuity within District was a main factor for the owner's interest in choosing limestone from a nearby quarry for renovating the storefront.

Of all the materials available to architects for the construction of courthouses, schools, residences, and commercial buildings throughout Texas, limestone has been the obvious choice for the most lasting and stately impressions.

Many elements of Ruffini's original designs were incorporated into the final design of this project to capture the architectural antecedents that helped define the culture and design within the area.

Another factor for choosing limestone was to serve as a reminder of the importance of staying true to heritage, and to encourage more use of locally-sourced material.

The entire façade was clad with rich, cream colored Cedar Hill Cream limestone from TexaStone Quarries.

Every element was hand crafted, from the base stones to the arched cornice which contained the largest pieces weighing 3,000 pounds each. These allowed the design to appear grand in stature, but not overpower the constraints of the façade.

Other elements were fabricated in sections. Large panels above the doors and windows completed the openings and the limestone transitioned to a band where the original masonry existed.

Limestone panel veneer completes the façade between the corbels and up to the center cornice arch.

The project presented its own unique challenges with designing around an existing structure.

The success was based on the skilled masons and their craftsmanship and the professional relationships that were developed over time.

The completed design provides continuity within the historic district and will easily tie in with future projects.

OTHER PROJECT TEAM MEMBERS

---

Eric Eggemeyer
Client / Consultant

Henry Schmidt Architect
Designer

A J Langford Masonry
Stone Installer

STONE

---

Cedar Hill Cream limestone

JURORS' COMMENTS

---

"Well executed attention to detail. A jewel box project that restored and transformed not just the building, but the entire street."
---
Commercial Interior
Dan Lepore & Sons Company
Conshohocken, Pennsylvania
Stone Consultant/Install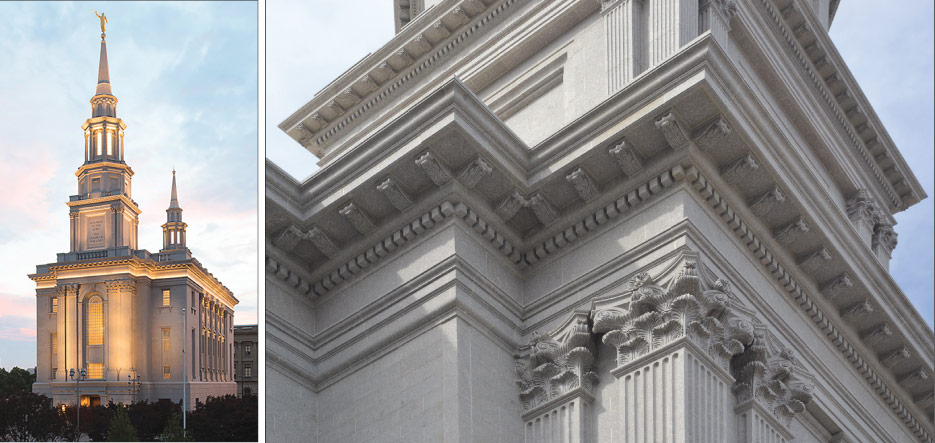 LDS Philadelphia Temple

Philadelphia, Pennsylvania

Located in the heart of this historic city and clad in cut stone, the LDS Philadelphia Temple serves as a spiritual gathering place for members of the church and is highly detailed in the Neoclassical revival style of American Georgian architecture.

The massing of the building responds to the adjacent Renaissance Revival icons of the Philadelphia Free Library and the Family Courts Building.

The American interpretation of late-Georgian style was selected as a guide for the temple's architectural interiors and was meant to reflect ancient notions of democracy, citizenship, and freedom of religion.

Classical architectural orders are used to emphasize the patron's journey through the temple.

Beginning at the entry, the detail of the trim and columns is in the stately and simple Doric order.

Spaces become more formalized as patrons travel through the second and third floors as the trim and columns become slightly more embellished in the Ionic order.

Light colors and the rich ornament of the Corinthian order are reserved for the most reverent spaces.

The architectural drawings and details for the exterior envelope were done in considerable detail which shortened the time and effort needed to prepare shop drawings and cutting tickets.

The large fluted pilasters and carved acanthus leaf capitals are full thickness cubic stone.

The ornamental window surrounds, rusticated base and the two stepped towers are all in cubic stone.

The design team worked carefully with the structural engineers to design the building to be able to carry the heavy loads of the thick stone veneer—some of the pieces weigh over 5,000 pounds.

A deliberate effort was made to have this building be true to the historic classical details, but to reduce expense, an effort was also made to maximize the use of thinner (3cm) veneer stone.

OTHER PROJECT TEAM MEMBERS

---

Perkins + Will FFKR Architects
Architects

• A. Lacroix et Fils Granit Lte'e •
Stone Supplier

STONE

---

Deer Isle granite

JURORS' COMMENTS

---

"Perhaps only a handful of stone installers exist that can bundle the quality control, engineering, site management, and scheduling of a project with the complexities found in this one."

(• NSI Member Company •)
---
Commercial Interior
MM Galleri by Sharikat Stone
Singapore
Owner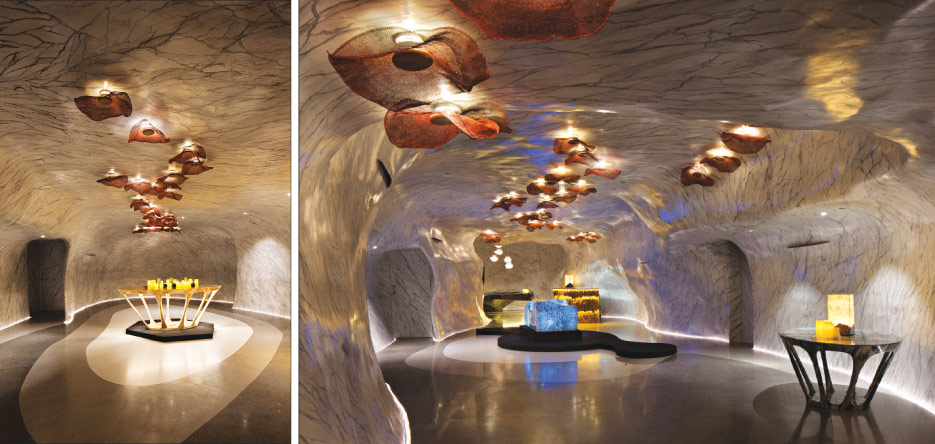 Bent and Light

Singapore Showroom

Singapore

Inspired by the underwater world in the story of Finding Nemo and born from a desire to break the perception that marble is rigid and heavy, MM Galleri acted on these ideas and had the "Bent and Light" project created as their stone showroom.

This new bent marble technology was not only applied to the showroom's floors, walls, and ceilings, it also forms the creation of furniture pieces, such as a bar counter, spiral shaped table, benches, and more that maximizes marble's flexibility and versatility.

Bent and Light utilized a proprietary process for reinforcing thin slices of marble with fiberglass to aid flexibility to recreate the underwater experiences depicted in the movie.

Bent marble imitates the shapes of those environments including a garden with corals, jellyfish, and other underwater life. Decorative lighting is also a critical part of the design.

Challenged with how to apply the thin marble pieces so that the patterns achieved a continuous veining appearance, the team covered the seams with a special treatment to make the joining pieces appear more fluid.

The innovator's inspiration became reality in his desire to maximize the use of marble but also reduce stone waste.

This method requires only 5 percent of natural marble material compared to a normal application since the resource is utilized more efficiently and minimal waste is produced.

Fabricated in Indonesia, the process required the incorporation of a model built with production sequence numbers.

Installation of the 530 meter showroom in its 4th floor Singapore location carefully followed the model sequence numbers and was completed without any drilling into the material.

OTHER PROJECT TEAM MEMBERS

---

BK Interior Design and Architectural Planning
Architect / Interior Designer

MM Galleri
Stone Installer

De Angelis Giovanni, Srl
Stone Supplier

STONE

---

Statuario GDA/Statuarietto marble

JURORS' COMMENTS

---

"Remarkable. It's an important time in the industry and this is pushing the envelope. The most innovative use of natural stone among all the submissions. This technology is an industry game-changer! "
---
Commercial Interior
TAB India
Hosur Taluk, India
Stone Quarrier/Fabricator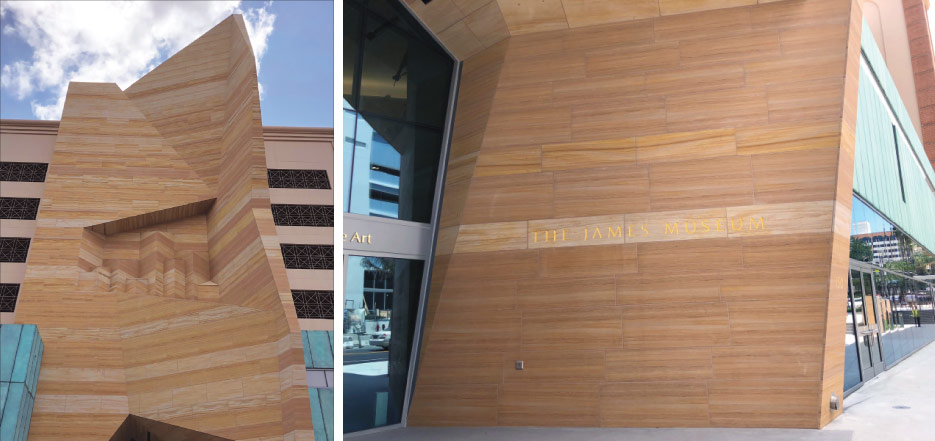 The James Museum of

Western and Wildlife Art

St. Petersburg, Florida

Built to conjure the magnificence and particular beauty of the southwestern United States, the clients and their design team set off on a mission to find a material with the correct striations that evoke the canyons and ravines of Nevada, Arizona, and Utah.

Teakwood sandstone from near Jaipur, India was ultimately selected to complete the exterior "Mesa" facade and the interior "Arroyo" gallery and event space of the museum.

Procurement and fabrication of the stone for the museum were both large undertakings due to the very particular veining and style requirements of the building design and the complexity of the cutting required.

A team of experts representing all aspects of the job flew to India to agree on a range of color and texture suitable for the different elements of the building.

The complex cutting of angled pieces in addition to the vein and shade matching required that each piece from every row had to be cut from the same blocks.

There was a massive amount of pre-planning each block and then pre-laying the entire project prior to shipment.

A photo of each section had to be approved prior to packing.

Because of the exact matching required, ensuring nothing was broken in the process was critical to the project success.

31,500 square feet comprised of 4,406 unique panel pieces with thicknesses ranging from 2cm to 5cm were shipped to the project site.

Installation was no less complex, taking 10 months to complete.

OTHER PROJECT TEAM MEMBERS

---

St. Petersburg Group
Architect

• ASI Stone Imports •
Stone Supplier

Intrepid Enterprise
Stone Installer

STONE

---

Teakwood sandstone

JURORS' COMMENTS

---

"The natural variegation of the stone introduces a delightful contrast to the rigid lines of the geometrical faceting. Exceptional control and workmanship."

(• NSI Member Company •)
---
Renovation/Restoration
Delta Stone Products
Heber City, Utah
Stone Fabricator
Provo City Center Temple

Provo, Utah

The Provo Tabernacle was originally built in 1882 and has been a center for the community's activities for the last 100 years.

In the early morning of December 17, 2010 a misplaced electrical light started a fire in the attic which completely destroyed the building except for the exterior masonry walls.

After working through a preliminary design at the October 2011 LDS General Conference, President Monson of the Church of Jesus Christ of Latter Day Saints, announced that the tabernacle would transition to the Provo City Center Temple.

The design then began in earnest and required 14 months to complete.

Construction for the project took approximately 4 years and 8 months. The building was dedicated on March 20, 2016.

In order to transform the tabernacle to a temple, a majority of the temple support spaces had to be located in the basement and under the north plaza.

This would require excavating down 40 feet below the building with the help of 411 micropiles.

To create the design vocabulary for the building, historic details were used from the original Provo Tabernacle and other inspiration came from Victorian Design movements: Eastlake and High Gothic Revival. Most of the exterior of the shell and some of the original stone was able to be salvaged and reused.

In an effort to match the historic look of the structure and its existing material, and because of the dense and durable nature of the stone, Mountain Valley quartzitic sandstone was selected.

This was used to replace damaged stone accents and to create new accents and landscape elements.

This stone was also used extensively throughout the new underground parking structure.

Herculean efforts during the structure's design, construction, and fabrication have preserved the integrity of this beloved historic landmark for future generations.

OTHER PROJECT TEAM MEMBERS

---

Jacobsen Construction
General Contractor

• Mountain Valley Stone •
Stone Supplier

• RJ Masonry •
Child Enterprises
Stone Installers

STONE

---

Mountain Valley
quartzitic sandstone

JURORS' COMMENTS

---

"Seamless restoration of a historic temple where it is virtually impossible to see what is new and what is old – which is often the goal of historic renovation projects. This is when applying old world techniques make sense."

(• NSI Member Company •)