Premier Surfaces-Northeast Rocks the Empire State
Peter Marcucci
Photos  Courtesy Premier Surfaces
This residential kitchen features pattern and book-matched Cambria quartz, designed to flow across the countertops and the full-height backsplash.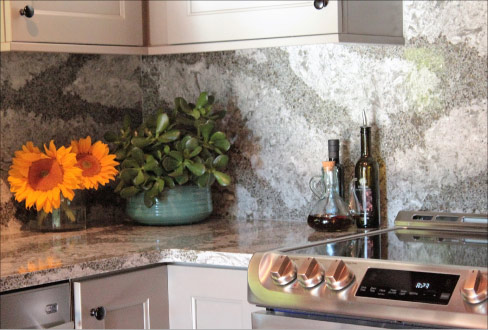 The bookmatched, full height backsplash and countertops are fabricated in Galloway Quartz, from Cambria's Coastal Collection.
Founded in 1984 by Mitch Makowski under the name Solid Surfaces, the Rochester, New York company's roots stem from the growing popularity of Corian countertops at the time. Within a few years after seeing opportunity for more presence in the countertop market, Mitch teamed up with his brother, Mark Makowski, adding natural stone to their product offering.
Success breeds success, and as Solid Surfaces approached the millennium, so did engineered stone. Not ones to sit on the fence and watch opportunity pass them by, Mitch and Mark again jumped in with both feet.
Fast forward to 2016 — Makowski's brain child was a thriving company, but after 32 years, it was time to place the company into the hands of an organization with resources looking to enter stone fabrication, explains Premier Surfaces Northeast President, Gregg Sadwick.
"I knew the founder, Mitch Makowski, and I had heard that he was looking for a transition plan in 2016. I come from a background in precision optical manufacturing, so I'm an optics guy, and there's not a lot of difference between polishing glass or stone other than tolerances," he says, in jest.
"So, I went to the markets and found a private equity group that was willing to work with me on it. That group was Clio Holdings, and in January of 2017 they purchased this company. This was all part of a transitions strategy from an owner who had founded the company and wanted a change from his daily routine. We then rebranded in 2018 under the name Premier Surfaces Northeast. This transition allowed us a much bigger reach across the country and a lot more buying power."
Clio Holdings, however, did not start or stop with Makowski's brain child. They wanted a family of companies they could water, feed and nurture, and that family now spans the eastern half of America, explained Sadwick.
"Clio Holdings acquired six separate companies, and that's how we got to where we are with 14 locations, if you factor in the showrooms. We were the fourth member of the acquisition and a stand-alone company, handling our own day-to-day activities. We are allowed to make decisions at the local level based on our specific market needs, while enjoying the full resources of the larger company to help us fulfill those needs."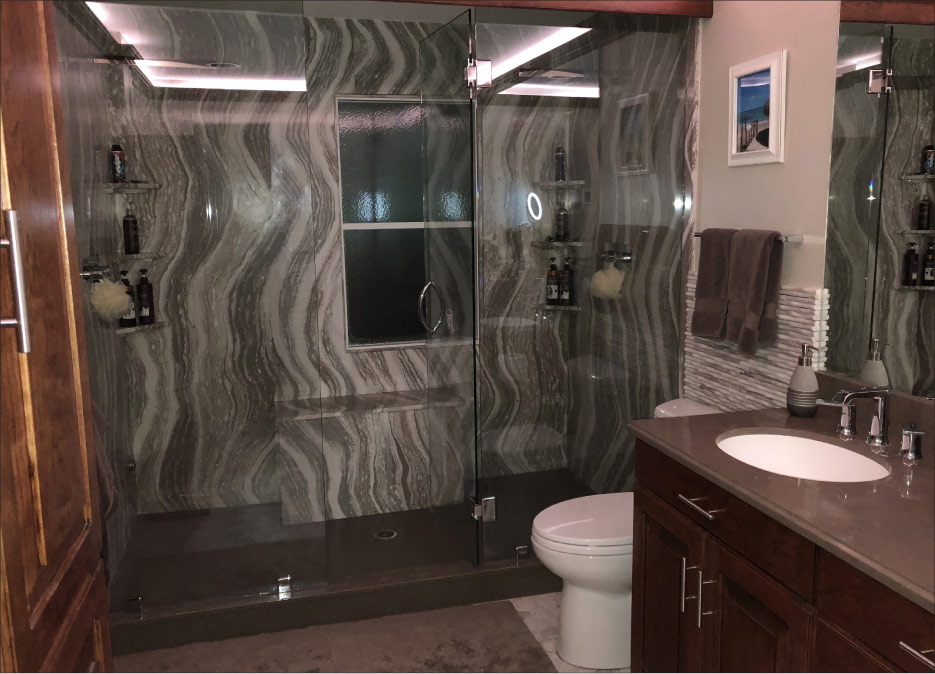 The Shower surround and seating in this master bath features Cambria Oakmoor, and sits atop a cultured marble floor pan base. The vanity is done in Cambria Ramsey with an integrated Corian sink, all fabricated and installed by Premiere Surfaces.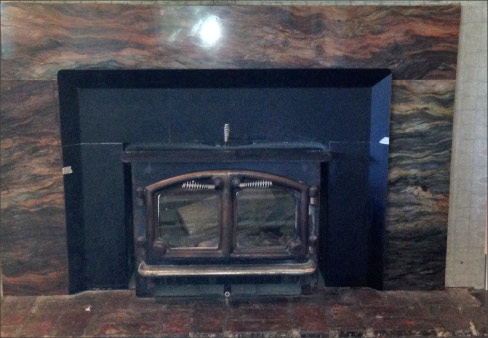 Above: Premier Surfaces-Northeast produces some very diverse products, such as this Residential fireplace surround fabricated in quartz.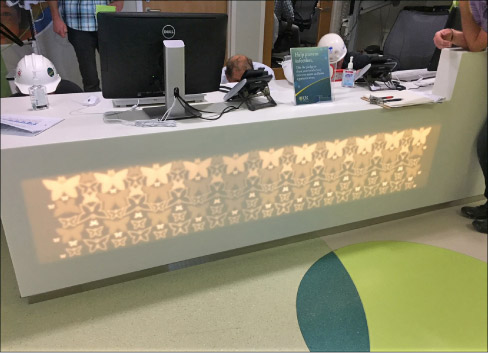 Above: Backlit Corian desk, milled to different depths and including complex butterfly shapes, for Strong Children's Hospital.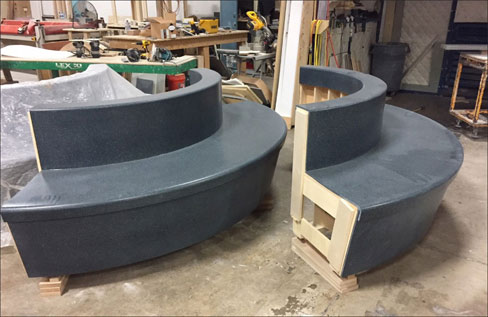 Above: Thermoformed Corian benches fabricated for the newly remodeled Rochester International Airport.
Being a longtime member of The Artisan Group (a collection of networking fabricators), this group, when combined with five other companies, created a power house of shared information for the entire Premier family, continued Sadwick.
"The Artisan Group is a great collection of fabricators, but there's a limit to how much buying power can be consolidated, because each member has their own unique needs. That's the beauty of being part of the Premier Surfaces family. We are all aligning our purchases together and sharing data, and I can see anyone's data across the country.
"If anyone is fabricating more square feet per hour than I am, my team is down there trying to learn from their team, and if I am installing more square feet per hour than they are, they are up here figuring out what we are doing differently.
"It's like The Artisan Group on steroids, because we truly have access to everyone's information. We literally open our books up, and I can see everything everyone is doing and how they are doing it. It's a shared interest and incumbent upon all of us to get better, together. Another thing is that there's a certain competitiveness to it, because when the numbers come out, I'm shooting for number one between the groups."

20-20 Foresight
"Years ago, when Mitch Makowski set up the company, he had the foresight to bring in Ed Hill," continued Sadwick. "Ed is a private consultant, and for many years has helped the industry with Synchronous Flow. (Note: Ed Hill is a contributor to the SRG, and his Synchronous Flow is a business operations system that brings control and stability to an otherwise difficult process.) This pretty well set us up, and we have been very religious with it. To me, this has been our manufacturing differentiator. We have a very controlled work flow, and when we call customers with a measure date, we also give them an installation date of seven days after. We can do this because we operate to Synchronous Flow's beat of the drum.
"How does it work? Well, first, you have to be disciplined and believe in the system. You then need to know what your capacity is, where your bottleneck is, and what the demand is. Then, once you know where the bottleneck is and what your throughput is, you run the jobs accordingly through the system, so that one day you don't have 60 jobs and the next day 15. Each production stage has its own check point, if you will.
"So starting out with the job first coming in, we cannot put it into the system until we have all the information needed to produce it. This takes training our designers and sales team as well as our kitchen and bath dealers. Measure techs then go out to measure, and many times things have changed by the time they show up. Not only do we have to know that, but the dealer needs to know that. Measurements then come back for programming, and we make sure that the design team gets involved when laying materials out. To be frank, we don't send out many approvals. Of course, if one of our dealers requires it, we will of course provide it.
"It's from here that we start our first step in Synchronous Flow in the design programming stage. The job then works its way through the seven days, allowing each stage a certain amount of time to do its job. This is all set up in Moreware with auto triggers, and once we set our install date, it trickles it all back telling us when each step has to be done. This is the constant drum beat that we march to. When we are slow, we keep the drum beat consistent by shortening hours. When we are busy, we keep it consistent by lengthening hours."
Can Synchronous Flow help when another location has too much work too close to a deadline? "Yes, it can," continued Sadwick.
"This happened with one of our other facilities this year, where for a seven week span they had more orders than they could handle for their capacity. So we got their drawings on a Monday, and by Wednesday we were shipping an additional 800 square feet on a truck to their location. We were doing our work, and supplying them at the same time. It wasn't a big money maker for them shipping from Rochester, but it saved the account, and it showed the extent of the resources within the entire Premier family. It did, however, throw our Synchronous Flow off, but we were able to catch up with predictability by the end of the week."

People — the Heart and Soul of Any Company
Anyone can buy equipment, anyone can sell slabs, but it really comes down to your people, doesn't it? Sadwick's team of sales, design, office and craftsmen, at any time, totals over 110, and manages to put out 30 to 40 kitchens per day.
"There is a lot of personal pride in the history of this company," he continued. "We are very fortunate, because out of all of our six companies, our Rochester group has the longest tenured team. We have people who love what they do, and they're good at it, and that translates into the market.
"Our installers are incredible. They go into people's homes, which is a pretty scary proposition, and I cannot tell you how much great feedback I get. They are well trained, polite and dressed appropriately, and if there is a problem, they can resolve it onsite. How did we get such great installers? It all started with training. Our installation manager spends a lot of time visiting the jobsites, helping these guys to make sure everything is being done consistently. I even visit the jobsites. It's the best part of my job when I'm out on the road. We are the largest fabricator in western New York, not just because we are the most efficient, but because we deliver a quality product, on-time. We are very predictable and dependable."
From Rochester, that predictable and dependable service extends approximately 200 square miles throughout western New York.
Premier Surface's residential production line includes a Proliner Digital Templater, two dual-bed Northwood Sawjets, five Northwood CNCs, three Northwood Edge Polishers, and a bridge saw, managed with Mastercam, Moreware and AutoCAD software. Multiple 3-axis cranes help keep the many projects moving smoothly and safely around the large fabrication shop.

Fundamentals
Premier Surfaces-Northeast is housed in an all-under-one-roof, 100,000 square-foot facility with 15,000 square feet of showroom and office space, including lots of installation vignettes, while the remaining 85,000 square feet houses materials, equipment and fabrication spaces. Engineered stone comprises 70 percent of the company's sales, while natural stone accounts for 20 percent, with the final 10 percent being solid surface. With the exception of some commercial materials bought from Asia, all materials are purchased locally.
According to Sadwick, kitchen and bath customers tend to be mostly upscale, whereas big box jobs tend to be a mix of income ranges. "Kitchen and bath companies are what we primarily serve, and these relationships run very deep. We try to not do retail sales, but if we do, we price protect our dealers, because they are our bread and butter. We have customers who are putting in $1,500 to over $100,000 kitchens, but it is really quite a diverse group, which is a challenge because of different expectations. The contractors that we serve primarily deal directly with us. Most of our commercial business is handled through our sales team, and spec'd in by the designer."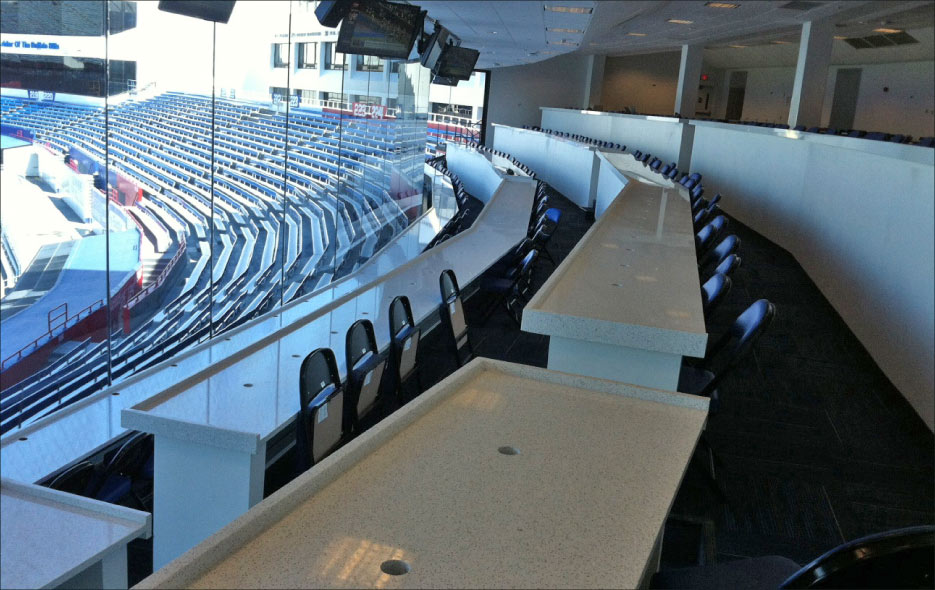 Commercial project for New Era Field, home of the Buffalo Bills, includes hard-wearing quartz tops for the sport commentator area and private boxes.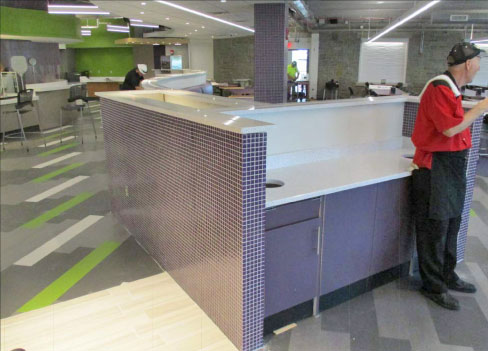 A recent Niagara University project (shown in progress) included a refit of solid surfaces throughout Clet Hall. Above and below: cafeteria installation of a long, curved bench barrier separating seating and the serving line, and the tray return area.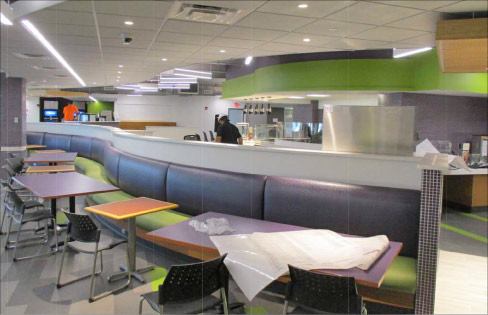 Tools and Equipment
Hardware and software mainly consist of a Proliner Digital Templater, two dual-bed Northwood Machine Manufacturing Sawjets, seven Northwood CNCs, three Northwood edge polishers, and one bridge saw, managed with Mastercam, Moreware and AutoCAD software. For safety's sake, multiple 3-axis cranes are strategically placed throughout the shop, while eight Donaldson Torit dust collectors keep the air nice and clean. According to Sadwick, all Premier Surface facilities have been inspected and comply with OSHA standards. "Fortunately, all of us are in compliance and it is all documented. Even our trucks and crews have been evaluated for proper safety equipment and procedures. Our team has been well trained, and it's safety first for our most important resource. We also have a safety officer onsite as well as one from corporate to hold us accountable. It's important."

The Company With a Volunteer Spirit
So what does a company do when you're not fabricating 30 kitchens per day? You build camaraderie, said Sadwick. "We just had 15 employees volunteer to help with the Special Olympics (for athletes with intellectual disabilities). I share that, as it was an enthused group of employees giving up a Saturday to do something for the community. Other employee engagement opportunities include 25 runners in the Chase Corporate Challenge Road Race, where 10,000 runners from companies get together as a fundraiser run held by JPMorgan Chase. We also had a group of 20 meet at our local Zoo for their fundraiser at their summer ZooBrew, as well as an afternoon last summer to build some camaraderie for a company volleyball tournament. So, we are not all work and no play."

Forecast for the Future
"We have the best reputation in western New York, and that's because of the people who have made it that way. Everyone is very aware of what collectively this team can do relative to our competitors and relative to what the market is looking for. Mitch and Mark Makowski did a great job building this company, but it couldn't have been done without the hundred or so people behind them. They take pride in what they do, and success breeds success.
"Furthermore, because of our equipment, we have a lot of capacity, and my goal is to improve our productivity within that capacity. To accomplish this, we will be focusing more on our home builders and multi-family commercial work than we have in the past. The neat thing about working within the Premier family is that others are doing some things that are making them more productive than we are, and we are taking on those concepts to improve our productivity.
"At the moment, one of those members is way ahead of us when it comes to metrics and computerization, and we are actually in the process of 'borrowing' their processes so we can measure our metrics more affectively, and use our Moreware system more affectively. Our efficiency in using this software is good, but frankly, they are using it better, so why not get better by just borrowing knowledge from our teammates?
"If I can quote our CEO, 'Stone fabrication is the ultimate team sport,' and I'm on one great team!"

For more information, please visit www.premiersurfaces.com.

See also the interviews and read Gregg Sadwick's contribution to the article Consolidation in the Stone Industry, where we explore the complex issues surrounding consolidation, acquisitions and mergers in the stone industry.