Stone Restoration and Maintenance Corner: Resources for Large Projects
Bob Murrell
M3 Technologies
Photos by Bob Murrell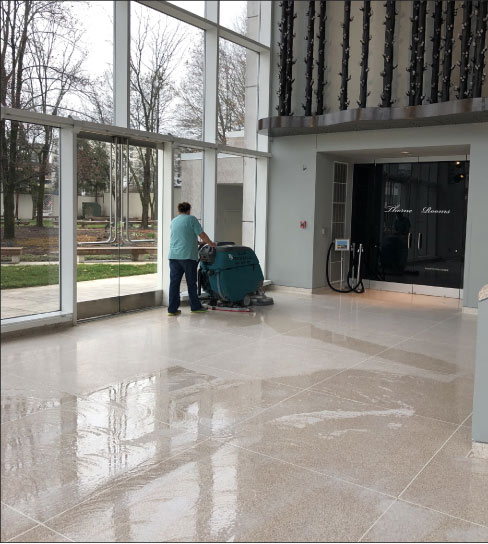 Striping and honing with a T-5 auto scrubber – a machine designed to cover a lot of surface area. An auto-scrubber is a good candidate for rental.
If you have an average-sized stone restoration and maintenance company, you probably do mostly residential and some smaller commercial projects. Some of you, of course, have larger companies who do everything from residential to large commercial projects.
Large commercial projects normally require some different parameters. These projects can require different machinery than used for the smaller residential and commercial jobs. For example, you will need equipment that is designed for higher productivity.
Another issue, which should be considered, is the schedule of availability. Many times weekends and nights are all that may be available to access the facility. A recent project at the Knoxville Museum of Art required that some staff personnel be present (due to the security issues of the building), and that the job be completed on days the museum was scheduled to be closed or had limited access by the public.
This project was about 5,000 square feet of terrazzo, which needed to be stripped and cleaned, honed, then treated with a sealer that would protect the terrazzo from frequent events such as galas and private parties. At these events, a bar and catering are routinely supplied. With spillage and heavy foot traffic being a big issue, the floor needed to be able to withstand penetration from contaminants and resist wear, and with as little maintenance as possible.
So, with the floor being rectangular and very open, an auto-scrubber was needed to complete the stripping, cleaning and some light honing. Most restoration professionals don't have a T5 32-inch self-propelled walk-behind scrubber on the truck or trailer. Therefore, it was necessary to rent this machine from a local Jan-San house that provided that service. Naturally, this machine used two 16-inch pads, which are not as common as 17-inch pads. The machine was supplied with two black stripping pads (which was very nice, indeed,) but the contractor had to cut their 17-inch diamond impregnated pads down to size.
According to the ISSA 447 Cleaning Times (a reference handbook that every restoration and maintenance professional should have handy), with a 32-inch self-propelled auto-scrubber, you can scrub and light strip at the rate of about 14,000 square feet / hour, give or take. We can extrapolate to say that the honing process with the diamond impregnated pads would be about the same rate as the scrub process. Don't forget that the auto-scrubber can not only dispense water (hot water, if you have access to it) but it vacuums the slurry up as well. As a comparison to regular swing machines, the rate is 1,920 square feet / hour and requires a separate wet vacuum, too. So you can quickly see the benefit the auto-scrubber brings to the process.
The sealer or guard product used on this particular project required buffing with an 800 grit diamond impregnated pad using a 27-inch propane burnisher (a smaller 20-inch electric burnisher just doesn't have the speed or weight to effectively produce the desired results). This was another piece of equipment that had to be rented. Unless you're a concrete contractor who routinely does polishing or guard application, you really wouldn't have the need to own and store one of these machines. Plus, when you rent the machine, it is 100 percent deductible, and they maintain it. There is a value to this, for sure.
Now, using a propane-powered anything is something you need to use cautiously. Newer machines have very low emissions, and if kept in good working order should not be a problem. However, if the machine is older or not in good working condition, the emissions could be higher and could trigger smoke and/or fire alarms. Also, use of a diamond-impregnated pad could generate enough dust to set off the alarms, too. An 800 grit pad would be the lowest grit I would personally even consider using dry. Most use a 1,500 grit and higher to burnish their guards or sealers.
Setting off a smoke or fire alarm could be disastrous. What if a sprinkler system was activated? That could be a million dollar mistake in a grocery store, home improvement center, and certainly a museum of art!! So be very careful and mindful of the operation.
The ISSA 447 Cleaning Times Manual says that you should be able to burnish up to 22,000 square feet per hour, but please take these guidelines with a grain of salt. Using a diamond impregnated pad to achieve a specific result may take more than one pass, if you know what I am saying...
Renting larger equipment is a very convenient thing to do. You can find these types of equipment at Jan-San houses and equipment rental houses. You specify when the equipment is delivered and picked up. Just make sure to always return the equipment in the same condition it was delivered. My experience has been basically good with renting, and the equipment has always been in top-notch condition. One issue though: if you are not familiar with the operation of these types of equipment, please take the time to learn first, and always be sure to get adequate operational instruction from the rental company.
As always, I recommend submitting a test area to confirm the results and the procedure prior to starting a stone or hard surface restoration or maintenance project. Also the best way to help ensure success is by partnering with a good distributor that knows the business. They can help with technical support, product purchase decisions, logistics, and other pertinent project information.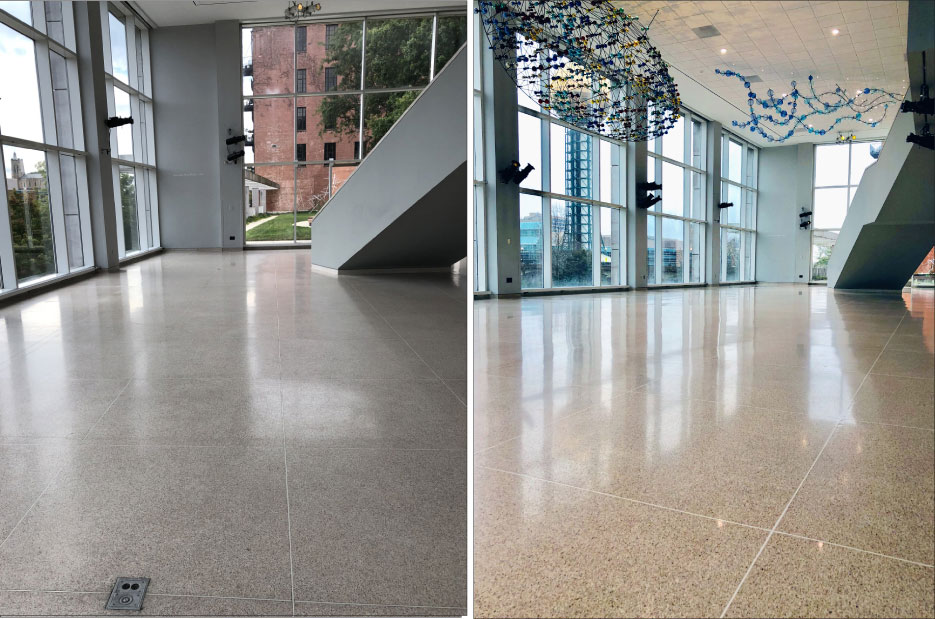 Above, Left: The KMA terrazzo floor, before the stripping, filling and honing process.
Above, Right: The restored and burnished terrazzo floor is again worthy of the art housed in the museum.

Bob Murrell has worked in the natural stone industry for over 40 years and is well known for his expertise in natural stone, tile and decorative concrete restoration and maintenance. He helped develop some of the main products and processes which revolutionized the industry, and is currently the Director of Operations for M3 Technologies.