Ready, Set, Clamp!
Codiak San Herrell
Solid Surface Designs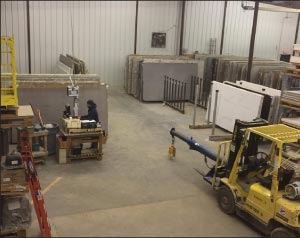 Above: Solid Surface Designs' old slab storage system made for less free space to extract slabs from a rack, and increased forklift travel. They use a slab photo scanning and bar code system to track slab inventory, work station seen at center left.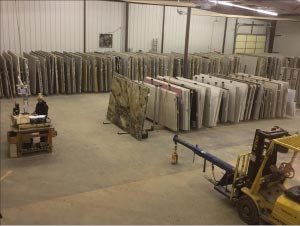 Above and Below: New slab storage layout, in progress. Two lanes of slab racks gave Solid Surface Designs safer and easier access when extracting slabs from a rack. They were also able to separate natural stone and engineered stone materials, making it easier to track inventory.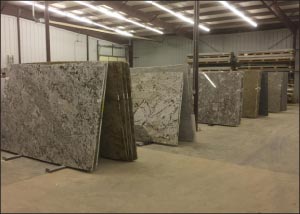 As our warehouse racks were originally laid down in 2005, after much discussion, Solid Surface Designs decided to pull the trigger on a warehouse renovation.
Bringing the idea to mind was a new sales tactic involving select promotional material. As a bonus, we would also have the potential for more open space and free racks when the project was completed.
The original layout consisted of four rows of racks, running east to west. Our plan was to turn that into two rows of racks running longways, north to south.
We also wanted to have all the engineered and natural stone fully segregated, unlike our current layout.
We have two different styles of racks: one style is in five-foot sections and has tall posts that can be adjusted in slots in the racks, holding up to seven slabs per slot.
The second style of racks consists of ten-foot sections that are not adjustable and hold four slabs per slot. Our plan was to have the engineered stone in the five-foot sections and natural stone in the ten-foot sections.
In the original planning, I imagined gutting the entire warehouse and then reassembling. But after an adequate amount of planning, my helper, Zach Wilson, and I realized that how we moved each section, needed to be methodical to increase efficiency and decrease unnecessary material handling.
After receiving the go-ahead from our boss, we started by unloading 20 to 30 feet of the five-foot section style racks, and moving the slabs onto A-Frames safely set to one side. We then did the same thing to the ten-foot sections, to give us racks and space to start setting up the new layout.
Working in spurts, we carefully and efficiently moved slabs from one rack to another.
That was the ultimate goal, when it came down to it. It was like a checkers game with slabs. With great communication and planning, we finished the warehouse in ten business days. Production and deliveries never got postponed. And most importantly, there were zero major accidents!
With the slabs relocated and their new locations scanned in, we began installing brand new metal A-frames. We carefully placed and bolted them down on the warehouse floor in an attractive layout, ready for the new promotional material being delivered in.
We also attempted to move our photo station, but after a few trials, we decided that its original placement was the best spot for quality and lighting the photos.
Rearranging any inventory, whether big or small, will throw you a few curve balls. And with a warehouse of approximately 700 slabs of stone, it is not all smooth roads.
I don't think anyone will ever feel fully prepared for the task at hand. And giving the go-ahead to begin the process is not an easy decision.
Before you begin, try to plan as many steps ahead as possible. After taking a critical look at how it is organized, and if you are willing to do the work, you can end up with a safer, more efficient and attractive workplace.
Codiak San Herrell is a native of Aurora, Missouri. He is Warehouse Supervisor with Solid Surface Designs, where he serves on their safety and LEAN committee. Codiak is CPR / AED certified and currently working on other certifications.

Above: New layout, with A-frame racks added at the ends also makes promo materials more visible.
Below: Old layout placed infrequently-accessed thin surfacing material in the center, which blocked off safety sight-lines, and placed slabs along outside walls where they were less organized.