Omni Cubed Launches Two New Products: Pro Stealth Seamer Manual and Auto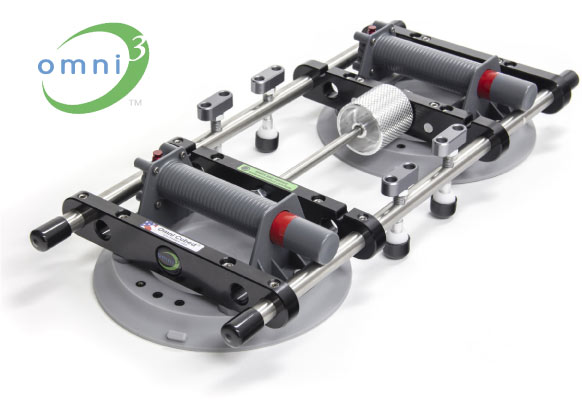 Stealth Seamer® manual version features thumb pumps and non-marking vacuum cups that grip both textured and polished surfaces
Omni Cubed, Inc., an industry leader in stone fabrication tools, unveiled their two latest products at The International Surface Event in Las Vegas: the Pro Stealth Seamer™, Manual and the Pro Stealth Seamer™, Auto.
Both the Manual and the Auto version of the Pro Stealth Seamer™ allow for the ultimate seam control, giving users the ability to complete a "seamless" installation by joining, leveling, and flattening warped stone to produce virtually invisible seams.
Both products feature Omni Cubed's exclusive, gray, non-marking vacuum cups that won't stain light materials. These cups feature completely closed, triple sealing rings and are composed of a proprietary rubber that conforms to textured and porous surfaces for a strong, reliable hold. Additional features include a more durable, manual thumb pump and improved vacuum-release valve that are more resistant to epoxy and solvents.
The Auto system includes a powerful compact vacuum pump that maintains pressure for all cups, and runs on AC power or AA batteries for any install situation, while the Manual is a cost-effective system requiring the user to maintain and manage pressure with the patent-pending thumb pump.
Omni Cubed's line of purpose-built products continue to gain popularity in the stone industry because they enable craftsmen to cut down on time and labor, while increasing quality, without extensive training or experience. Whether it's fabrication, transportation, or installation, every tool is engineered to promote safety, efficiency, and longevity in the trade. Products are available for purchase through Omni Cubed's trusted network of authorized distributors. To find a distributor in your area, visit: www.omnicubed.com/buy.

Omni Cubed, Inc., headquartered in Shingle Springs, California, is a Christian owned, engineering and design company providing high quality, innovative tooling for the stone fabrication industry. Omni Cubed® specializes in products that provide reductions in time, labor, and money spent on countertop fabrication and related processes. All products are proudly manufactured and assembled in the USA. For more information, please visit: www.omnicubed.com.