Premier Countertops – Quality Etched in Stone
Peter Marcucci
Photos  Courtesy Premier Countertops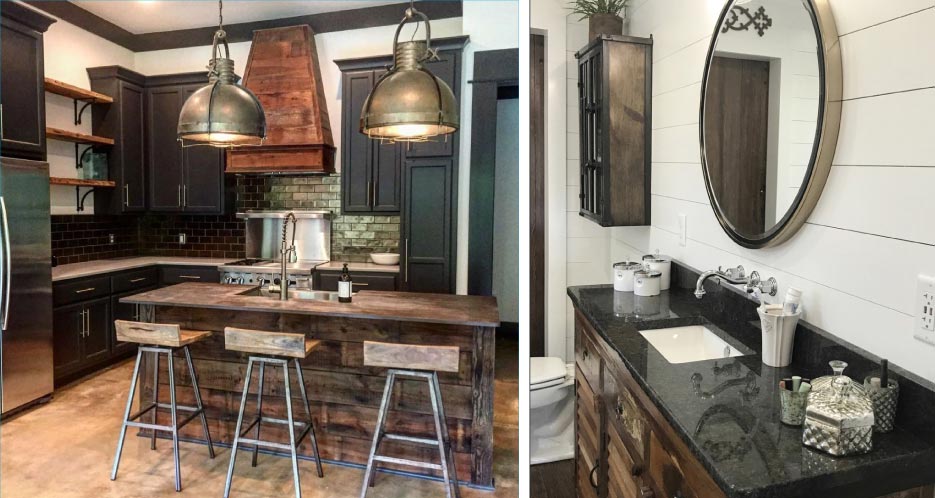 Above, Left: This rustic, industrial-look kitchen features Dekton Trilium on the island and Caesarstone Raw Concrete countertops.
Above, Right: Coffee Brown Granite vanity with a chiseled edge graces a master bath.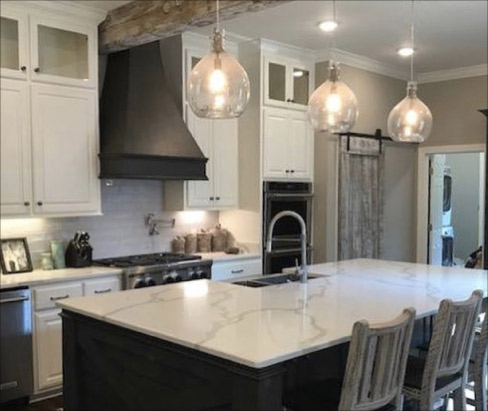 Above: Metro Quartz Calacatta Sienna graces this large-scale island and countertops. Subway tile completes the modern, clean look.
Above: Magma Granite island and perimeter countertops add movement and visual interest to this modern kitchen. The adjacent room, seen through the pass-through features an outdoor kitchen with a built-in grill.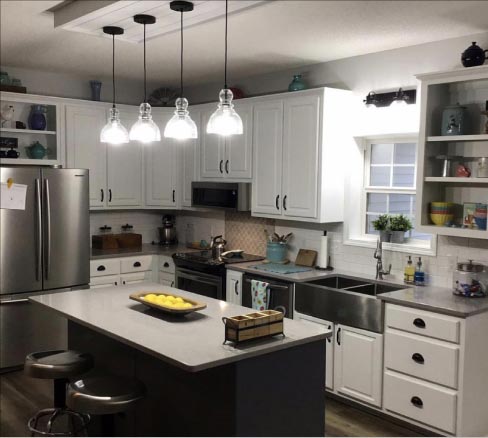 Above and below: This Farmhouse kitchen by Premier Countertops mixes traditional with the modern in this cozy setting. Durable LG Viatera Lento countertops and a modest size island keep the kitchen space from being cramped, and provide an ample workspace and dining area. The pattern tile backsplash and contemporary subway tiles work to create a clean look with a warm spot of color interest. Says Wadell, "We have a lot of customers who ask about tile for their backsplashes and floors, so we decided to move into that portion of the business."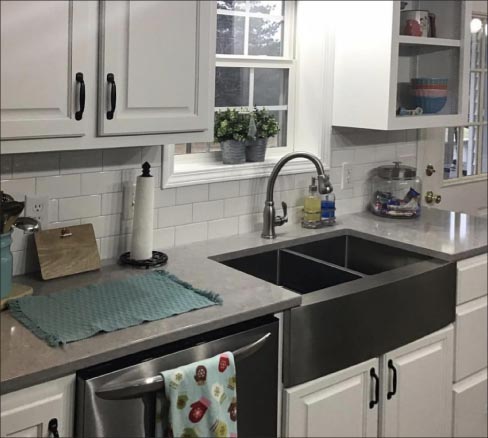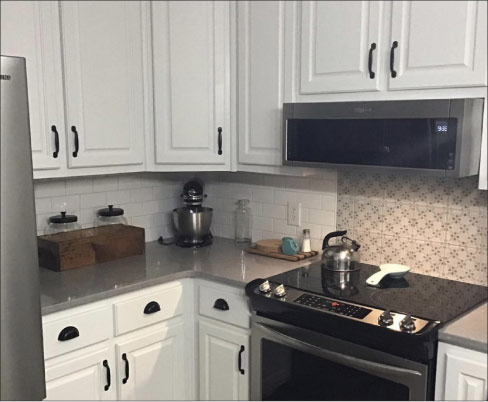 Brian Waddell, owner of Premier Countertops, graduated from Mississippi University in 1993 with a B.S. in industrial technology. He then spent the next six years employed in the automotive aftermarket industry, and the next seven years at Benchcraft, a highly regarded upholstered furniture manufacturing company. He held several different positions in engineering and management with both companies. During the later part of his time at Benchcraft, Waddell was also learning solid surface fabrication, he explains. "A good friend, Eric Campbell, was fabricating Corian countertops, and I was spending time with him learning the business while also researching granite and quartz stone fabrication."
As fate would have it, Waddell wound up going to Louisville, Kentucky, to look at and approve the shipment of a CNC wood router that was purchased for Benchcraft. That router just happened to be made by Northwood Machine. "While I was there, Northwood had a 138 CNC stone router going though its testing process before being shipped out. I was intrigued." Upon returning home, for the next two years Waddell continued doing research on stone fabrication as well as the competition he would face when entering the stone business.
Fast forward to 2006: with the experience he had with CNC equipment, Waddell decided to go for it, jumping into stone fabrication with both feet. "Tupelo is a relatively small market, and we were unable to recruit experienced fabricators. I knew that I could handle programming and running a CNC, to limit the learning curve, we purchased a CNC from Northwood. The learning curve was still steep, but we worked through it." Premier Countertops, now in its embryo stage, would remain manned only by Waddell and Campbell for a while, strictly doing residential fabrication.
In hindsight, 2006 really wasn't a great year to start a construction related company, or was it? Waddell explained that the situation they faced was a little more favorable. "2006 was a good year for us, because we were working with one of the premier cabinet shops in the area. They were a high-end, high-quality shop, and they fed us a lot of work in the beginning. The first six months were hectic, to say the least. We were dealing with six- to eight-week lead times, and unhappy customers. Our quality was second to none, but the lead times were causing a lot of aggravation. Fortunately, after a while, things kind of settled down a bit and we got into a rhythm, but that first year was very challenging and good for us. We even got through the housing crunch and grew every year until 2016."
Fast-forward to 2019: the company's 20 dedicated, full-time employees are putting out an average of 200 square feet of countertops per day, mostly made of quartz, said Waddell. "We became very good and well versed in the quartz market, and we stock most major brands. Ninety to ninety-five percent of what we cut is quartz. We normally keep an average of 700 slabs at any time. These days, however, it's tricky because of where the current market is. With the new tariffs, prices are increasing on the lower end products, as well as the bigger brands of quartz. There's a lot of information that is changing on what seems to be a daily basis. With all these changes, we need to determine what effects that they will have on our business and how best to counter them. So far, we've been pretty successful in managing these changes, but it is definitely a challenge."
Clientele consists mainly of the middle to upper income demographic with most sales being channeled through cabinet shops and designers in need of high-quality product and excellent customer service. "We are in a very sparsely populated part of the country. Some of our installs are as much as 160 miles from our shop, but most average 60 miles from Tupelo." Arkansas, Louisiana, and Tennessee are within the company's realm of service. Most of the time, installations can be done in an eight to nine- hour work day, said Waddell, adding that a two-week turnaround is the average, now.

Fabrication with a Different Approach
The Premier Countertops' fabrication facility encompasses a total footprint of 29,000 square feet. 3,500 of that space is office and showroom, 12,000 is for warehouse and storage, with the remaining 13,500 square feet set up for fabrication. A showroom remodel is also under construction, and according to Waddell, the area will consist of upscale displays and also feature tile, a market that the company has stayed away from until now. "We have a lot of customers who ask about tile for their backsplashes and floors, so we decided to move into that portion of the business.
"This adds supplemental revenue and eliminates the need to pass on the jobs including tile work," said Waddell. Sinks and faucets are also available to offer their clients a complete total remodel or new construction kitchen.
The shop staff consists of a CNC programmer, two machine operators, three bench fabricators, three material handlers and one installation crew, consisting of three experts who get it done. Other employees, include one person making digital templates, and office and management staff.
Production equipment consists of two Northwood Machine 138 CNCs, one Northwood Machine duel table Sawjet, a Park Industries Yukon bridge saw and a Farnese Miter Saw. An array of freestanding bridge cranes safely facilitate the handling of materials. Using Slabsmith, the company does occasionally do custom layout but, according to Waddell, most times it isn't strictly necessary as their clients tend to choose of mostly homogeneous colors of quartz. The company also employs a Laser Products LT55 2D3D laser and two Prodim Proliner machines that handle all walk-in and onsite templating.
Now for the different approach I promised. Premier Countertops is also a major brand distributor of quartz with a second location Alexandria, Louisiana. "Being a fabricator and selling materials to other fabricators can be touchy, but we've made really good relationships with our fabrication customers for several years. It is a little more difficult to sell raw materials around Tupelo where we are viewed as competition, but we do well in the areas where we are not viewed as competition. Yes, it can be a slippery slope, but if you make the right relationships and you treat people right, over time you can grow it."

Addressing the Growing Trend of Porcelain
"Fabricating Ultra Compact materials such as Dekton is challenging. We are certified to cut Dekton, but we don't do it a lot. It's a slow, tedious process, and takes a lot of manual programming. Some of the newer machines have the parameters built in such as the run rates. The demand for Dekton is slowly growing and it seems to be here to stay. Dekton is a little pricey but is very appealing. In my opinion, one of the big negatives is that the edges need to be mitered in order to look like the top. Mitering is a tedious and time consuming, which makes it expensive. We actually went to a Cosentino color launch event last week in Memphis, Tennessee. They showed several new Dekton and Silestone designs at this event, and the material was definitely gorgeous."

The Artisan Group
Premier Countertops has been a member of the Artisan Group for four years. For those unfamiliar with this group, it is an assembly of fabrication company owners from specific locations around the country who come together to share knowledge and solve problems. Here is Waddell's take on them. "I've known several of the Artisan Group members for several years. They are good business people, who share best business practices and help to improve the industry. We have been a member for four years, and there is a lot of unity among members. One member volunteers annually to host a plant tour and meeting at their shop. So far, the group have been hosted by K.G. Stevens, Stockett Tile and Granite Co. and Majestic Kitchen and Bath. It is very beneficial to see how other companies operate their businesses. I've learned a lot from these facility tours and am very thankful to be a part of the group. Also, being part of the Artisan Group increases our purchasing power. There are several material suppliers that work with the group, and that gives us better pricing just because of the amount of material the group purchases."

Safety in the Shop
According to Waddell, from the get-go, Premier Countertops has always been a wet shop. That said, even though they've been wet doesn't preclude them from making dust, he explained. "Right now the OSHA standards are so tight, that even when cutting wet it's hard to meet the standards. We try to ensure that there is no dry cutting or grinding, and use vacuums for cleanup every day. We have had a very good record as far as safety concerns with very few (two) lost time accidents since we've been in business. After each accident, we figured out the root cause and immediately fixed it. When we have our safety meetings once a week, we also stress safe material handling, and if we see a problem, we take care of it right then. I want my employees to be as healthy and safe, and don't want any negative effects from them working here."

Outlook and Expectations
"There are many things that make this company special, but the biggest is our employees. From the sales team to our fabrication and installation teams, we provide the best buying experience and customer service possible. We can only do this because of the employees we have. Half of our employees have been here four years or more, and all of them play an important role in the business. Adam Holland, my lead installer, has been with me for 13 years. He knows what our customers expect and how to make them feel comfortable and at ease during the installation process. He is good as gold, and he, like all of my employees, are very important to us, because there wouldn't be a Premier Countertops without them."
"As for the future, we need to grow and increase our revenues, and It is going to be difficult to do without getting into different products and looking at different sales channels. We are currently exploring the home store channel. Many companies enjoy working with these stores, a lot of companies don't. In my opinion, if you keep it a certain portion of your business and not too much, it could be a good thing.
"Growing also means that we must always try to stay up with technology, and I'm sure that within the next three years we will be updating our sawjet. This newer technology will handle the Ultra Compact materials better. When talking to Bill Hickey from Braxton-Bragg, he said that he was showing tools at the StonExpo that were running at 500 inches per minute, which is crazy fast! When I started in this business, tooling was only running 30 inches per minute, so tooling has come a long way. I also promised Bill that the next time we had to replace our tooling that we'd try a set of those Diamut tools. Braxton-Bragg is a great company to work with, and we've been doing business with them since we started. We work primarily with Bill Hickey and Mike King, but the entire company is helpful and great to work with. Our business will continue to grow with them in the future."

For more information go to www.premiertops.com .