Twenty-Five Good Deeds
Braxton-Bragg Employees Volunteer at Empty Bowl and KARM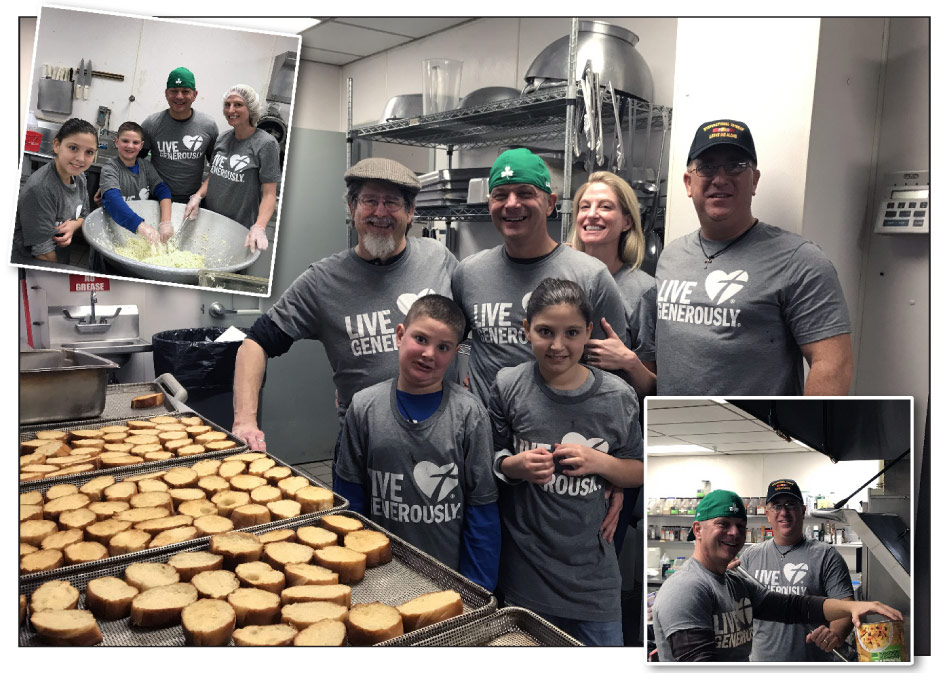 The team from Braxton-Bragg prepares fresh ingredients to feed the homeless at KARM.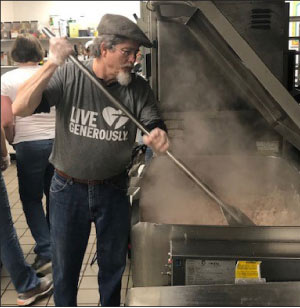 As a part of Braxton-Bragg's 25th anniversary, the company has a goal of doing 25 good deeds throughout the anniversary year. Employees most recently volunteered at Knox Area Rescue Ministries (KARM), preparing and serving meals, and at Tennessee Valley Coalition for the Homeless' Empty Bowl Fundraiser, to end veteran homelessness.
Slippery Rock editor Larry Hood is a regular KARM volunteer, and he brought along fellow Braxton-Bragg employees: Rick Stimac, CEO; Stimac's fiancé, Jennifer Corey; Corey's children, Brooklyn & Roman; and Todd "TJ" Johnson, Sales Associate.
KARM serves men, women and children through a variety of progressive ministry programs designed to break the cycle of homelessness. Serving nearly 1,000 meals each day (365 days a year), KARM feeds both the homeless and people in crisis who must choose between paying bills or buying food.
"A warm meal is often the first act of compassion that allows KARM staff and volunteers to engage with our guests and begin developing relationships that help reignite hope," said Karen Bowdle, Director of Communications and Public Relations.
KARM also provides emergency shelter to more than 300 men, women and children each night who have nowhere else to turn—offering a safe place from the elements, rest, and loving staff and volunteers who listen to them, and help and pray with and for them.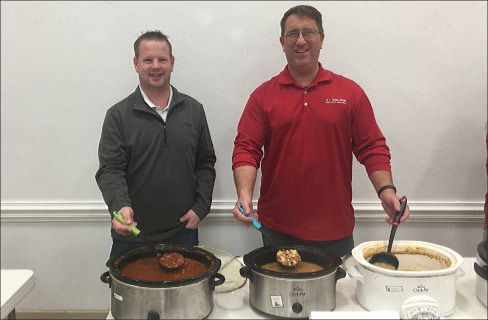 Left to right: Braxton-Bragg employees Jeff Dykstra and TJ Johnson serve soup at the Empty Bowl Fundraiser to end veteran homelessness.
"Our staff was so honored to volunteer at KARM and be part of the great work that organization does to give homeless people a hot meal and, more than that, to give them a path to restoration," said Rick Stimac, Braxton-Bragg CEO. "This community outreach is a part of our company's 25th anniversary celebration, and we're having a great time helping others and getting to know each other on an even more personal level."
"I've been preparing and serving food for this hot lunch program for a number of years," said Larry Hood, Slippery Rock Gazette editor. "When I get to interact with the men and women – and children – who come through the KARM lunch line, it is humbling how appreciative they are. It makes a difference in their lives, lets them know that someone does care."
In addition to feeding the homeless and providing shelter, KARM's Abundant Life Kitchen program helps train guests for employment in the food service industry, and offers catering services to Knox area business, churches, community groups, etc. Also, KARM's Clean Start program trains guests for the commercial janitorial industry.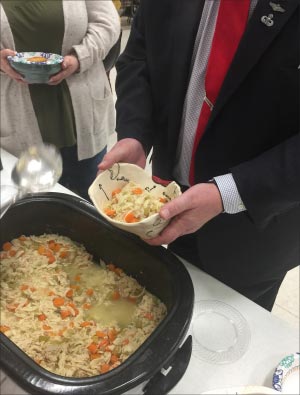 For the TVCH event, hand-crafted bowls were donated by the Knoxville, TN pottery workshop Mighty Mud. Homemade soup was donated by local businesses and individuals, including Braxton-Bragg Sales Associate Mike King.
The Tennessee Valley Coalition for the Homeless Empty Bowl Fundraiser was February 22 at the Clinton Community Center with Mayor Terry Frank. Braxton-Bragg CEO Rick Stimac and his fiancé Jennifer Corey, Jeff Dykstra, vice president of sales & marketing, and sales associate TJ Johnson served soup.
"The Empty Bowl is a great event for a very worthy cause and our employees were honored to take part," said Stimac. "This type of community outreach is a part of Braxton-Bragg's 25 good deeds we are completing throughout this year to celebrate our 25th anniversary. TJ Johnson works with TVCH on a regular basis, and he invited us to share in this program. We are proud to help deserving people in the community, while honoring our employees' volunteer passions as well."
More than 80 people showed their support by buying a hand-crafted bowl, donated by Mighty Mud.
Soup was donated by several businesses and local members, including a tomato bisque by Braxton-Bragg sales associate Mike King. These donations and support allowed TVCH to raise more than expected to meet its monthly budget.

Tennessee Valley Coalition for the Homeless
TVCH exists to provide services, education and leadership to develop lasting solutions to homelessness in the Knoxville region.
It helps break cycles of homelessness through affordable housing, transportation, case management and referrals. The group educates the public on the complexities of homelessness through community outreach, awareness training, and public service announcements.
It strengthens capacity of partner providers within the Tennessee Valley Continuum of Care through technical assistance, funding opportunities, data collection and dissemination.

For more information, or to make a donation to these organizations, please visit karm.org and tvchomeless.org.