The Stone Detective: The Stone with the Blues
Frederick M. Hueston, PhD
I was taping a new video blog when my phone rang. I turned the camera off and answered it. I had to retake the section, but as that's what really happened, it also gives me the opportunity for a shameful plug for my new blog – found on YouTube at https://youtu.be/nhMoqjSjFU8.
The lady on the other end seemed very upset. Why is it that when I get a call from a lady, they are always upset? Anyway, she wasn't quite crying, but was on the verge. She told me they had a white marble, and all of a sudden it was turning blue. Well, that really didn't surprise me, since I have seen all kinds of spills which would cause a blue stain.
So, I asked her all the standard questions, like what chemicals are used to clean the stone? Was there anything spilled there? Was there a house plant nearby? And so on, you get the picture. But the answer to all of those questions was a big NO.
Since I couldn't solve this problem over the phone, I told her I would need to do an inspection, take a closer look and possibly remove a stone, and have some lab tests performed. She gladly accepted and asked if I could come out that very day.
Turns out, she was 500 miles away! I told her I could schedule something in a couple of days, but my flight would be expensive. She said she didn't care, and asked me to get out there as soon as I could.
I finished recording my blog and headed to you-know-where for lunch. For those of you reading this column for the first time, I was headed to my favorite greasy spoon. For those who have been reading for a while - yeah, the diner serves more than just breakfast.
Before I grabbed my trench coat and fedora to head out, I hopped online to check flights. I couldn't find a direct flight anywhere. The shortest flight with a connection was 8 hours, and that didn't include getting to the airport, renting a car, etcetera. With that in mind, I decided I could drive there faster than I could fly. I called the lady and told her I could get there tomorrow.
I woke up early around 5 a.m. I know you young folks are thinking that I'm getting old, getting up so early. Well, lads and lasses, you are correct. Just remember the older you get, the more experience you have. In my case it's another day of more stone and tile experience. I got dressed and headed to the diner for my morning ritual of coffee, eggs and listening to the same old war stories by the regulars.
I finished my breakfast, said goodbye to the Breakfast Club, winked at Flo and headed out to the Woody for my drive to the stone with the blues.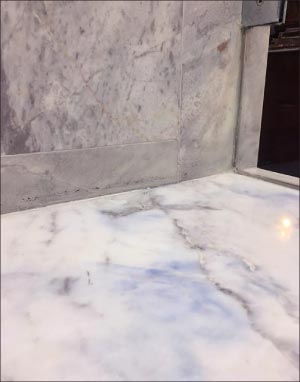 This case was a puzzler. It wasn't an ordinary blue stain. But what was it?
I arrived at the client's house – and it was huge – which seems to be typical for a lot of my inspections. The odd thing was that this house was in the middle of nowhere. There were fields of grass, so I assumed that they were in the sod business. It always amazes me what businesses make folks rich. It's certainly not the stone and tile inspection business. (Sorry – I'm in a complaining type of mood today. Must be my old-guy bunions and lumbago.)
I pulled up to the house and the owner was waiting on the front porch for me. She was a petite lady, I estimated a well-kept 50-something. She ran down the steps and greeted me with her hand out. She led me through the front door, and as soon as I entered the home, the blue discoloration stood out like a tall red head at a blonde convention.
I normally recognize most blue stains, but this one had me puzzled. I reached into my inspection kit and pulled out a number of chemicals to see if any of them would react with the stain… and got nothing. None of the chemicals reacted. This was going to be one of those inspections where I would have to remove a tile and see what was underneath. I asked her if I could remove a tile. She told me that if it would solve the mystery, then yes. I couldn't promise it would, but I assured her it was the only way we could possibly solve it. (Fortunately, for me and my reputation, it would.) I ran back out to the Woody to grab my tool bag.
After I removed the grout around the tile, I started chiseling up the tile. It wasn't coming up very easily, but I only had to removed about a square inch or two and I saw the problem. At this point it was no longer necessary to remove the remaining tile.
I called her over and showed her what I found. Can you guess what it was? To find out you have to wait till next month's column – or listen to one of my shows at www.blogtalkradio.com/drfred where you will find the answer.

The Stone Detective is a fictional character created by Dr. Frederick M. Hueston, PhD, written to entertain and educate. Dr. Fred has written over 33 books on stone and tile installations, fabrication and restoration and also serves as an expert for many legal cases across the world. Send your email comments to fhueston@stoneforensics.com.