Stone Restoration and Maintenance Corner: Implementing New Technology Into Your Business
Bob Murrell
M3 Technologies
Photos by Bob Murrell
I hope that, by now, most everyone in the restoration and maintenance business has a smart phone? I am not sure how I could operate without one, anymore. And yes, I am one of those people who stumble around while looking down at their phone. I do not however, let it distract me while driving! Just pull over.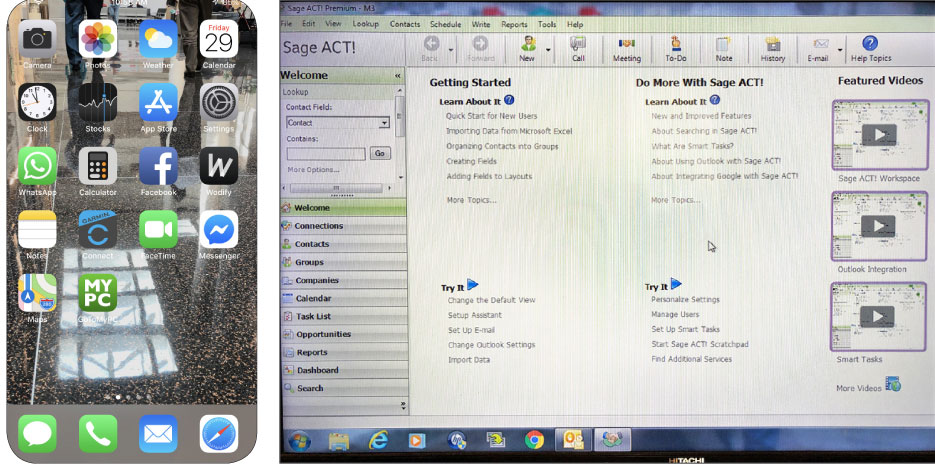 Among other useful apps on my phone, MyPC allows access remotely to Sage Act contact management software.
Let's face it, your phone is basically like having your office with you everywhere you go. You have the phone, texting (used almost exclusively by people under 40), email, calendar reminders, GPS, camera, video, and the list goes on and on.
Nowadays, when a client calls me with technical questions regarding a specific project or type of stone, I simply request that they send me some pictures. I need close-up pics for specific issues and field of view pics for perspective. And, I can do all of this in a text, without having to interrupt either the client or my schedule. I mean seriously: how convenient is that?
Oh, and what about conference (3-way, at least) calling? When a building owner or homeowner, the general contractor and you need to have a pow-wow, it is a simple task with a smart phone.
Now, in my office, my PC is the go-to piece of technology. I do my spreadsheets and most of my marketing work, here. The main thing, though is my contact management software. The days of keeping a Rolodex or records of calls and scheduling on a yellow pad are over for me, and have been for well over 15 years, now. I happen to use Sage Act contact management software, but there are many others. I record what took place every time I speak or communicate with someone (in many cases, there are multiple contacts within one company), schedule follow up calls, meetings, and / or emails.
I also record all quotations and sales in Act, so I can pull up sales metrics and data easily with a few keystrokes. I know what a customer bought in the past, how much he paid, and what he is looking to buy going forward.
I also have each client categorized by the type of customer they are, like restoration contractor, building service contractor, institutional, distributor, dealer, etc. In short, I would be "dead in the water" without my Act software.
And, I have GoToMyPC.com so I can access my pc from my iPhone most anytime I need access to Act or older emails in Outlook. Even though I do have the larger iPhone, it is still sometimes a little tricky navigating with this app. It definitely comes in handy sometimes to be able to access your PC.
You will also need some type of accounting software if you are quoting and billing customers. These are also great for seamless integrating with your tax advisor. There are many types available and most are affordable.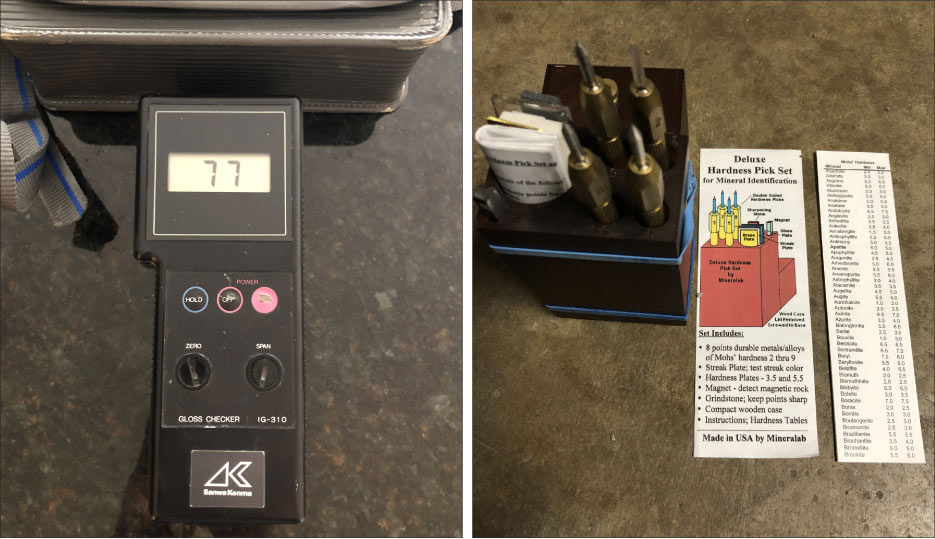 Above, Left: My Gloss Meter is especially useful when I consult on a project where a polish or higher hone is present. This instrument gives both you and the customer a reference point and goal for the project.
Above, Right: My Deluxe Hardness Tester set includes picks at various hardnesses, mainly for testing minerals in concrete. Concrete hardness depends on what type of rock went into the matrix – and will affect how it polishes.
Above: The BOT 3000 tribometer measures slip coeffivcient, and is an ANSI accepted measuring device.
As I have discussed several times in previous articles, a great and must-have piece of technology for restoration work is a gloss meter.
I use a gloss meter most every time I consult on a project where a polish or higher hone is present. This gives both you and the customer a reference point and goal, before any restoration begins. Remember, gloss meters don't replace your eyes for achieving the desired look, they simply document your before and after gloss levels, thereby augmenting your results.
Another technical instrument that is worth investing in is a moisture meter. If you have ever read Dr. Fred's columns, he will often prescribe the use of one for specific situations where moisture is suspected as the underlying cause for some type of negative issue. These can be easily acquired from most any big box store or online (from your phone, even!), and they are very affordable. This instrument can help with detecting moisture that is not draining or evaporating properly in retaining walls, shower pans, and even flooring.
I personally own two slip meters for testing the coefficient of slip on floors. One is an analog weighted pull meter, and the other is a BOT 3000 digital tribometer, which is basically a robot that crawls across the floor and measures the slip coefficient, both static and dynamic. Both machines can verify the coefficient of slip more than adequately. However, the BOT 3000 is an accepted measuring device by the ANSI (American National Standards Institute) and ASTM International standards.
It gives a digital readout and can also give a printout version, too. The biggest drawback to the BOT 3000, is the cost of about $7,000+. A quality digital pull meters can be acquired for around $850.
There are many other technical products that can help with your restoration and maintenance company such as devices for accurately measuring the square footage of a project, hardness testers, and even profilometers for measuring the surface profile (surface roughness/smoothness). Personally, I still use an analog distance measuring wheel for square footage measurements. There are digital versions available for a little extra. Some use lasers for this, and I like them too, especially now that they are more affordable.
Hardness test kits can be very useful, especially for help with choosing certain metal bond diamonds on a particular concrete floor application. Hard concrete requires a softer bond diamond, and soft concrete requires a harder bond diamond (in the most simple terms). These test kits can be had for around $100, give or take a few dollars.
Looking back, I am not sure how we ever conducted business before technology came along, just kidding of course. I have done research showing where a team of mules pulling sandstone blocks were used to grind and hone marble floors, which means I am getting as old as dirt. In any case, I am grateful for the technology we have today. It helps us to do our jobs better and more efficiently, for sure!
As always, I recommend submitting a test area to confirm the results and the procedure prior to starting a stone or hard surface restoration or maintenance project (oh, and use your smartphone to take plenty of before and after pics!). Also the best way to help ensure success is by partnering with a good distributor that knows the business. They can help with technical support, product purchase decisions, logistics, and other pertinent project information.
Bob Murrell has worked in the natural stone industry for over 40 years and is well known for his expertise in natural stone, tile and decorative concrete restoration and maintenance. He helped develop some of the main products and processes which revolutionized the industry, and is currently the Director of Operations for M3 Technologies.