Tennessee Stone Company
Peter J. Marcucci
Photos by Larry Hood and Courtesy Tennessee Stone Co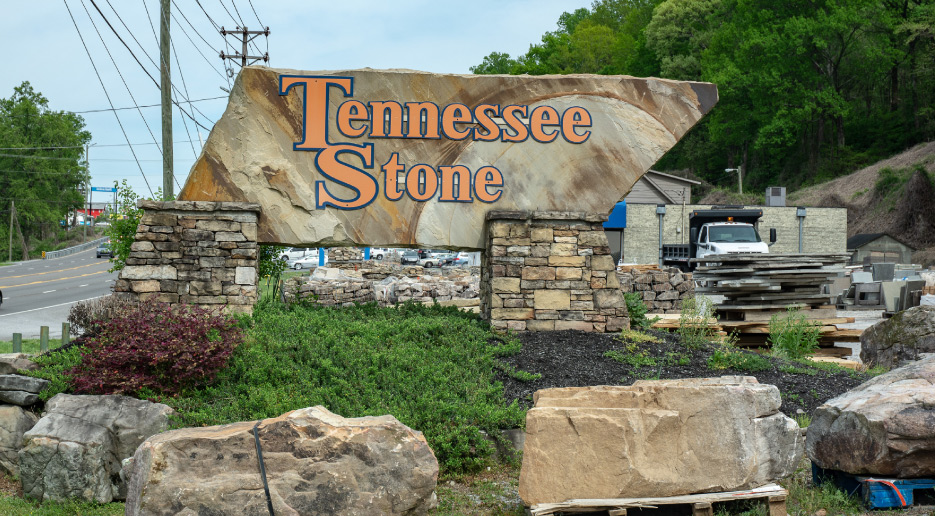 Medium long and medium stack field stone: surprising and beautiful color variation is available in this native Tennessee stone.
Tennessee Stone Company, located in Knoxville, Tennessee is a supplier to masonry contractors, home builders and owners in need of premium cut stone for façades, landscaping, patios, walkways and rugged outdoor furniture.

Opening its doors in 2010 with only three employees, their customers were 80 percent homeowners and 20 percent masonry contractors. Since then, those percentages are just the opposite with an exponential growth in sales most years. Getting the company to this point was accomplished by the foresight and dedication of its founders, explained general manager, John Montgomery. "The owners, John and Mike Rector, grew up in the masonry trade working with their dad. They grew up in Crossville, Tennessee and seeing the local quarry operations throughout the years, they decided to get in to it themselves."
As their quarrying business developed into the early 2000s, it evolved into fabrication and thin veneer production, to eventually become Tennessee Stone's parent company, BMJ Stone. Currently, John and Mike Rector also own BMJ Stone, Tennessee Building Stone and Plateau Masonry, an installation company. All three are located in the Crossville, Tennessee area, in the heart of Crab Orchard country.
Surprisingly, Montgomery's background was not from the stone industry, but the music industry, he recalled. "I had mutual friends with John and Mike, and they brought me into the company due to the retail experience I had acquired during the 1990s. I had been managing a local record store called, "The Disc Exchange". Our shared interest in music brought us together, and when they took my retail experience into consideration, they brought me into the company. At the time, I was very green, and I did not have a lot of education in natural stone. As I've since learned, there is a very large learning curve in this industry, with so many different types and applications of stone."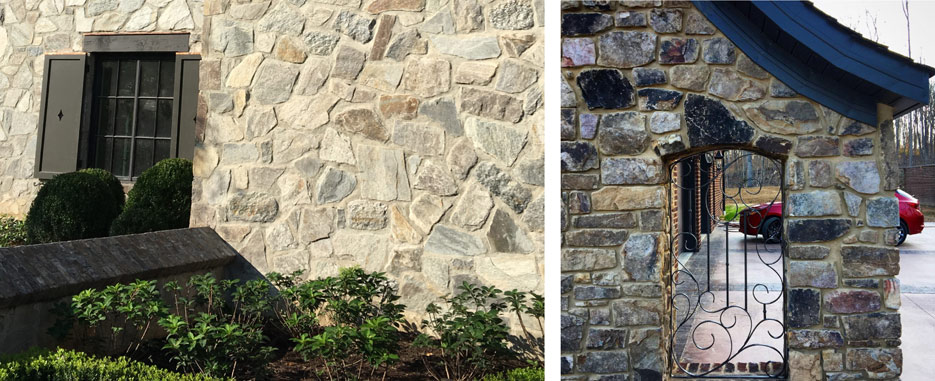 Weathered fieldstone is a native Tennessee stone that can be utilized in many shapes and sizes. The seam face offers many beautiful color variations.
Great Products, the Cornerstone of the Company
Above: Chocolate Grey building stone from North Carolina quarries.
Above: Weathered fieldstone is a native Tennessee stone that can be utilized in many shapes and sizes. The seam face offers many beautiful color variations.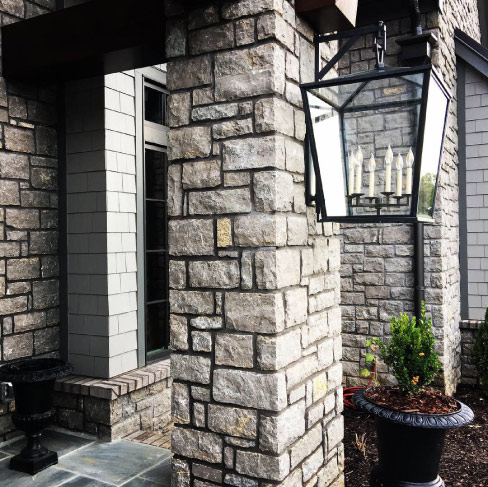 Above and below: Tennessee Stone's Grey Limestone. An excellent building stone for structural construction and facades, this sophisticated color is rising in popularity for high-end construction projects. Dimensionally stable and beautiful.
Tennessee Stone Company offers as many varieties of Tennessee materials as possible, with Crab Orchard colors blue-grey, chestnut, and variegated being the most popular.
They also offer Pennsylvania Bluestone, Indiana Limestone, Oklahoma Sandstone as well as other imported stones, but are not limited to those, said Montgomery. "A lot of times, owners have trouble deciding what colors their roof and siding is going to be, and when it comes to their stone they want to see a lot of different options, so we work with quarries all around the country to offer what they are looking for. We ask them to show us what they've been looking at, and with our experience we can point them in the right direction to a color that will fit their concept."
But they are first drawn into the company's showroom, explained Montgomery. "We may have designers on staff in our future new location, but not at the moment, so a lot of people bring their designers or builders with them. We've thought about the onsite designer idea a lot, but this industry tends to burn a lot of time on things of that nature that cannot be converted into profits. Now, if you're a designer, and a client approaches you about a project, that client knows that their designer makes a living on designing projects, and they are expecting to pay for that service. Here, we definitely try and help out any way we can, as far as educating the homeowner on the proper way to lay a patio or the proper materials to use for an application, but it wouldn't be a design process. We will, however, take a design that has been laid out for them and help them execute on that."
Tennessee Stone Company's current building is 3,200 square feet and sits on 1.7 acres, while their new location building is 6,000 square feet and sits on 4.2 acres, said Montgomery. "The new facility is not cut up like our present facility with more usable space, all around. One thing we've struggled with is to make enough room for the amount of product that we want to have onsite. Over the last three years, we've had to store our products locally at an old lumber yard. Hopefully, our new location will help eliminate that, because there will be a lot more room for bulk materials such as gravels. The new building and showroom is also much larger, giving us a lot more room for dry storage and to show products in a better light. We'll also have a nice conference area where we can invite in builders and their clients to come in and lay everything out. Separate offices allowing us to get down to work without being on top of each other are also in the floor plan. We are very excited about all of these new features."
According to Montgomery, big machines are not needed for what they do. Most materials are palletized for shipping before they arrive, and currently there is no onsite fabrication, at least not yet. Locally quarried stones are their best sellers, but the popularity of Indiana Limestone is growing, he continued. "We sell more to residential types of projects rather than commercial, and most of the dimensional limestone you see in this area is in commercial applications, yet we do move a lot of limestone in the higher end residential applications. We are also starting to deal more in other dimensional building stones, because we are seeing a growing demand here even though people associate Tennessee as a rustic area and tend to lean towards stone with rustic looks."
The company does ship nationwide, but does not sell to resellers; only contractors. "If there's a contractor in another state that likes our materials, I'm going to be able to help him out," continued Montgomery. "I do, however, try to concentrate our sales in this region, because I know that there is enough business to keep us going. I also know the feeling of over-commitment and not being able to help everyone I've promised, and that can be a problem. So we try not to spread ourselves too thin, and advertise around the country. That's not our strength. Our strength is in being more of a local service. There's a lot of building going on in this area from the mid-range to the higher end, and we've seen great strides in growth over the last five years. We know what we can do to increase our sales, but we also see what will happen if we increase it too quickly. Doing too much business too fast can be attractive, but can also be very damaging if you're not ready for it. So we are trying to position ourselves so that when we are ready to hit the gas pedal on outside sales and really pushing it, it won't be problem."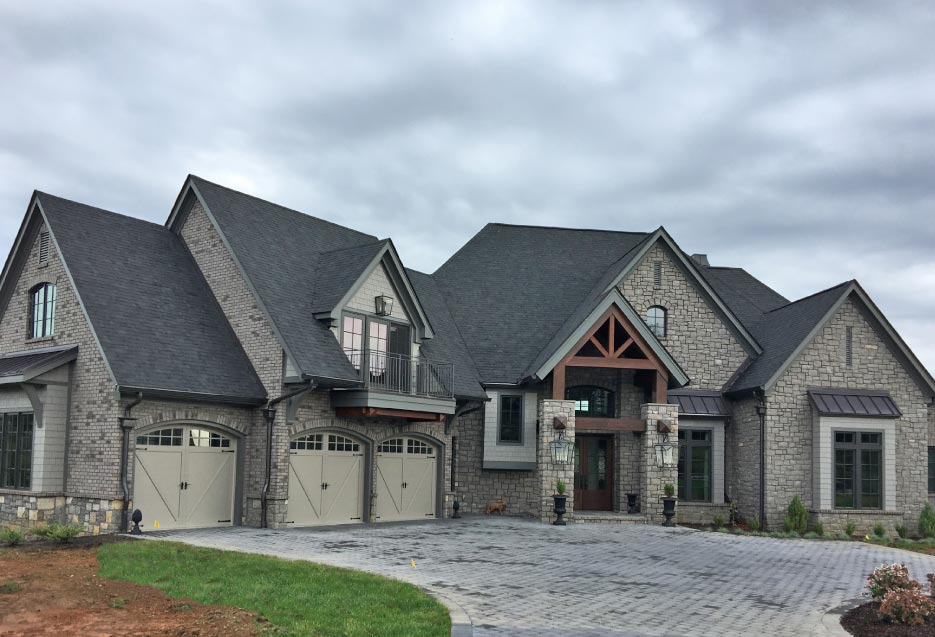 Putting Natural Stone in Good Hands through Education and Training
"There are a lot of contractors in this area, and it's amazing to me how so many builders don't know a lot about industry trends," continued Montgomery. "What we want to bring to the table is to educate our industry in using stone and how it's done properly. We are also battling with manufactured stone and concrete companies that are trying to position themselves and their products by wording their documentation to try and scare the industry away from stone, and this is one more reason to educate consumers.
"There's one more important point. The craftsmen in our industry are also dwindling, and we want to encourage people to get into it. Stone masonry is not something that's been pushed as a very glamorous job, and is not necessarily a glamorous job, but if you do well at it and know what you're doing, you can make very good money. You don't have to walk very far around here without seeing someone who needs a mason and is having to wait for somebody that's qualified.
There are many areas around the country that are pushing education, training and apprenticeships, but around here, I think the first thing that has to be done is to talk about it with the public and the school systems. There's nothing wrong with telling your kids to go to college and get that degree, but we've also ostracized the stone trade to the point of being lesser than if you were sitting at a desk. That, for me, is kind of an odd concept to think about in that way, because everyone of those people who sit at a desk will need a person with those craft skills. As a nation, through the 1980s and into the 2000s, we haven't pushed those craft skills as being as worthy as other careers, and I think that is wrong. So getting the education out there and showing them they can make good money as a stone craftsman is important. It's an art form combined with construction and very valued, and we need to make sure that it's not lost.
"To further the cause, the National Stone Institute (NSI) is doing their study tour in Tennessee, and we are part of the tour. We are a good facility to show what stone companies do, and a good fit and atmosphere to present these events. If you were to go to Crossville to the quarries or fabrication facilities, it's not quite as easy to take 100-plus people and show them everything. Here, however, is a really good spot to show them all about what Tennessee products have to offer."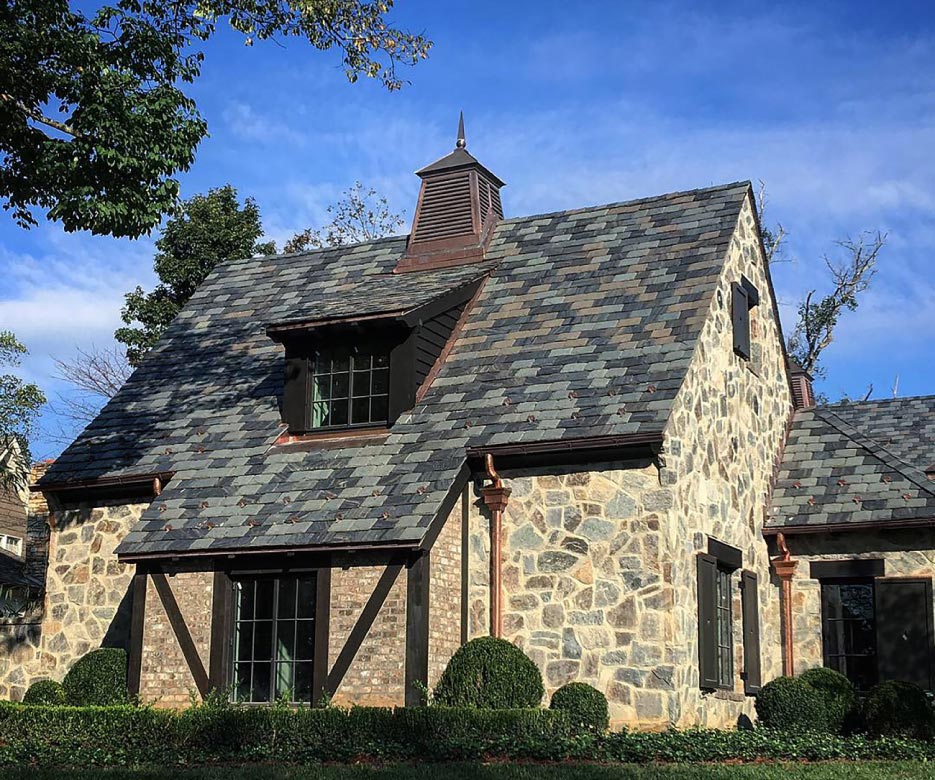 Chocolate Grey building stone from North Carolina quarries.
Montgomery's Five-Year Outlook
"Companies like ours can help bring the stone industry into the public's eye. We invite people into our showroom every day, and many come in just to see what we are up to. One of the things we want to do with our new store front is to create a draw with displays and beautiful things to make us more inviting and more comfortable to folks who are thinking about using stone. People's impressions of stone yards are that they are rough and scattered, and we are really trying to refine and change that impression. That's where a client-friendly showroom comes in, with sales people who say, 'Welcome! So tell me what you've been thinking about or working on.' The team you surround yourself with, especially in this type of business, is huge, and I wouldn't trade our team of seven for anything. They are the face of this company to whoever they're talking to, and how they treat them is part of what builds our reputation, and that's everything in business. Without that, you're not going to grow.
"That said, we definitely project that we are going to continue to grow and expand our product offerings. One of the biggest reasons for us moving to our new facility was to expand the amount of products that we could have on hand at any point. Moreover, by bringing in new products, we also hope to be offering some minor fabrication. We have a lot of people who need one or two pieces of a particular size, and not a common size, and being able to do some minor fabrication onsite will help them get the job done. We've also thought more and more about offering an installation service. We haven't yet made a decision on that, but it is so needed, that it is a possibility. I'm very much on the fence about possibly creating a competitor rather than a customer, but we also see that our clients need qualified installers. I think that it could be a good way for people to get educated, create apprenticeships and create a coalition of sorts for the mason community. So getting us in a better spot to better service our area is a primary goal."
For more information visit www.tenn-stone.com.
See more information about the upcoming NSI study tour to Knoxville, Tennessee, or visit www.naturalstoneinstitute.org .