Braxton-Bragg Helps Clean Veteran Headstones at Knoxville National Cemetery
The largest stone monument at the Knoxville National Cemetery is the historic Union Soldiers' Monument, located at the east corner of the walled grounds. The monument, which stands 60 feet tall, is a castle-like structure consisting of a crenelated tower attached to a memorial chamber. The chamber interior is accessed through ornate iron gates on two sides of the tower. The chamber features a stained glass window. Surmounting the tower is a statue of a soldier at parade rest. Built in 1901, after being struck by lightning, it was rebuilt and rededicated in 1906.
Braxton-Bragg team members participated in an event to clean headstones of fallen veterans at the Knoxville National Cemetery, as part of our 25 Good Deeds in 2019 commitment in observance of our 25 years in business.
This event was organized by Accord Federal Services, LLC, a local Knoxville company, specializing in the nationwide support of government agencies and their large commercial contractors.
"The headstones in Knoxville National Cemetery were very dirty and were even growing algae," said Derek Brodka, Braxton-Bragg Marketing Manager. "The weather was rainy but it was worth it to show our respect to the veterans who made the ultimate sacrifice. The cemetery looks so much better and we were proud to participate in this community event to honor some heroes. A big thanks goes out to Bruce Watson, of Accord Federal Services, for organizing this event."
Organizers shared the history of the cemetery with the volunteers, and then were given proper instructions on how to clean the headstones and how to properly mark the rows, so that everyone would know which areas of the cemetery were completed.
Volunteers and several Braxton-Bragg team members, including Patsy Mode, Director of Materials Management, Marketing Manager Derek Brodka and son Tanner, and Customer Service Rep. Bill Burgess and his wife Sandy, were equipped with brushes, buckets, and sprayers that contained a biodegradable and environmentally-friendly cleaning solution.
"We accomplished a lot more than originally planned, cleaning all of the headstones, and even treating the walls, curbs and the entrance way," said Watson. "Special thanks to Bill and Greg with Chattanooga National Cemetery, who spent their Saturday bringing the equipment and supplies and keeping everyone stocked with buckets, brushes and backpack sprayers. Finally, thanks also goes out to the local area Subway, Kroger and Food City for donating food and drinks for volunteers to keep them going strong."

Accord Federal Services, LLC
Accord is a government services firm specializing in the nationwide support to government agencies and their large commercial contractors. AFS is a Service-Disabled Veteran-Owned Small Business centrally located in Knoxville, Tennessee.

For 25 years Braxton-Bragg's philosophy has been to offer exceptional products and first-class service to its partners in the stone, tile and concrete industries.
For more info, visit braxton-bragg.com and facebook.com/braxtonbraggllc.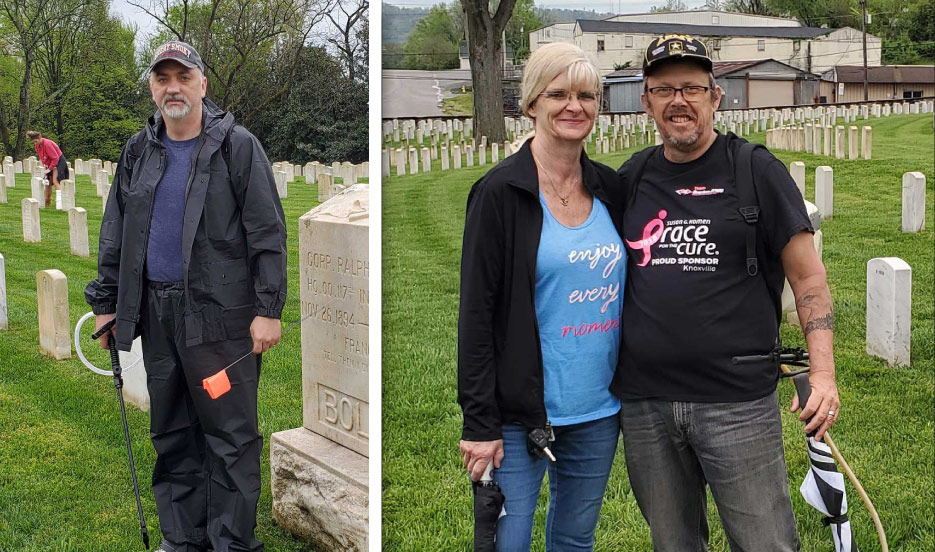 Above, left: Derek Brodka, Braxton-Bragg Marketing Manager and Army veteran.
Above, right: Sandy and Bill Burgess. Bill is a Braxton-Bragg Customer Service Rep and an Army veteran.