Remembering Vic Green, 1938-2019
Bob Murrell
M3 Technologies
Photos courtesy Bob Murrell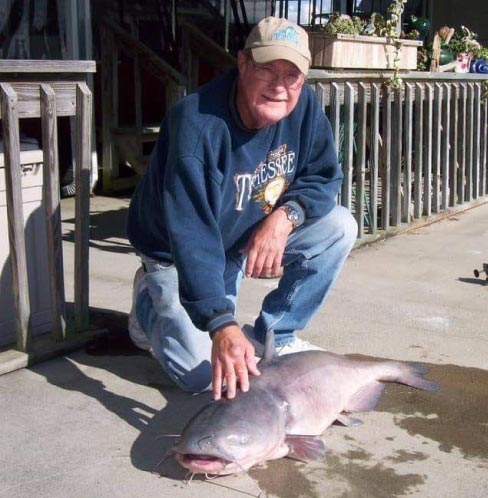 Vic Green, founder of Vic International, 1938 — 2019.
I am not sure how many of you knew Vic Green, but he was one of the biggest pioneers in the stone business. He owned Vic International which was one of the largest suppliers to the stone fabrication, restoration and maintenance, terrazzo, and decorative concrete industries for many years.
Here is Vic's story, through my eyes. Vic was introduced to the stone industry by his father, Coy Green. Coy was a book-matcher and polisher at the Candora Marble Company, here in Knoxville, Tennessee. Coy and Vic developed some specialty abrasives for polishing some of the Tennessee marbles like Craig Pink, Imperial Black, and other more difficult-to-polish marbles.
They started Greenstone back in the 1960s, when I was just about 8 or 9 years old. Vic was my stepfather. We manufactured Greenstone hones and corn shuck buffing heads (later became hemp and finally, fiber heads). We mixed resins, methyl ethyl ketone (used as an accelerator or hardener), aluminum oxide, and sawdust in buckets with a huge hand held mixer. We poured this concoction into wooden and metal molds. One of my jobs, at 9-11 years old, was to wash and clean the buckets from any left over residues and get them ready for the next batch. The fumes were very potent!
I also had to use paste wax to lubricate the molds before pouring the thick formula in. It took about 20-40 minutes for the hones to set up hard enough to remove from the mold. By the way, all of this had to be done at an elevated temperature to aid in the hones setting up properly. Therefore, we had big hanging radiant heater lights which kept the mixing room at about 100 degrees. It was hard, hot, smelly work.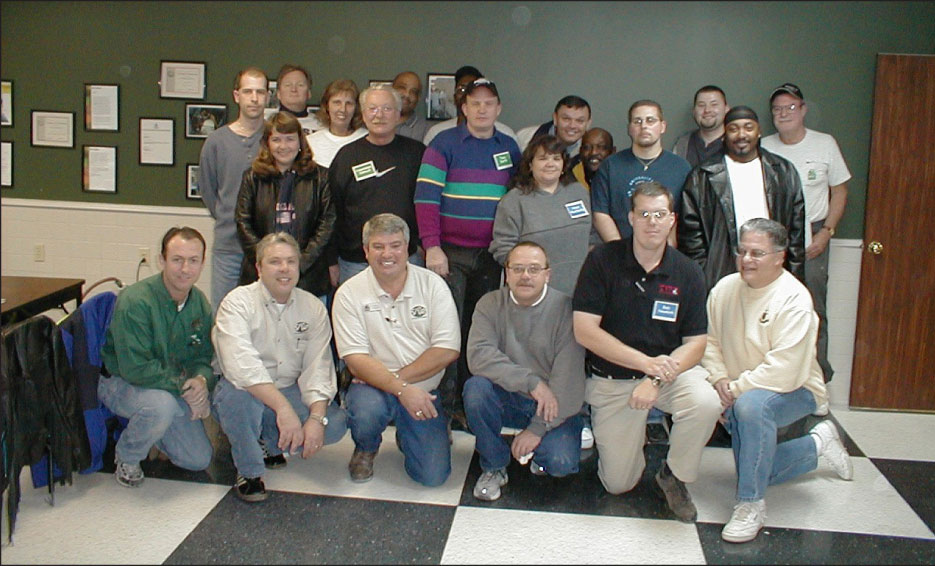 Vic International, in the mid-1990s.
Vic Green, his grand- and great-grandchildren.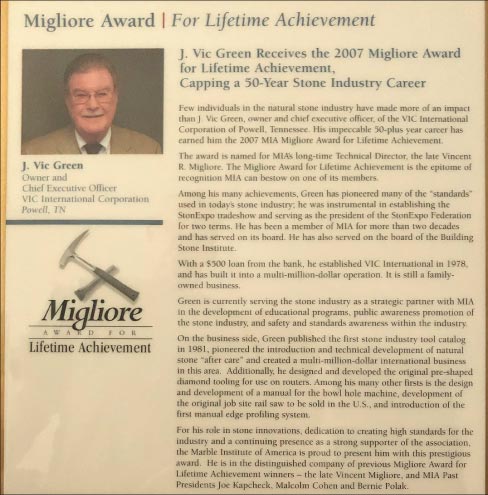 Remembering Vic Green, 1938-2019
I also had to make the sawdust from hard red oak. The sawdust helped the hones hold moisture for the honing process. I made the sawdust in a back room with a saw on a pendulum device which allowed for cutting up 6 foot boards, one blade width at a time. It was a very dull and boring process, especially since there were no earbuds and smart phones with music back then. We normally worked on the weekends and I was paid $.50 hour, when I started.
We also made buffing heads for polishing with putty, what we would consider 5X polishing powder nowadays. Eventually, these developed into hemp and finally fiber heads, once the corn shucks were no longer easily accessible.
Other fabricators in the area and further away found out about the Greenstone hones and buffing heads, and they became highly sought after. Demand required that we work most every Saturday, and sometimes other days, too.
At this time, Vic's regular job was working for the 3M Company. Initially he sold printing supplies, and then ultimately was transferred to the surgical products division. I don't know how many times he won the Salesman of the Year award, but it was quite a few, as we had the trophies at the house to prove it.
Eventually, fabricators were asking Vic for other products to help with their processes. Silicon carbide tooling, and eventually diamond tooling were the new tools that helped revolutionize the industry. Vic sourced these highly prized items and brought them to the U.S. market.
Vic started VicCo with a $500 bank loan in 1978 in my old bedroom as his home office, after I joined the Navy. This was the new distribution company for the Greenstone products and other sourced items. While I was away, he grew the company to where my old bedroom was no longer sufficient to inventory the goods. He moved the business several times to accommodate the accelerating growth. The name changed to Vic Industrial sometime in the 1980s. In 1982, I was discharged from the Navy and came home to go to college with the Veteran's Education Assistance Program money I had saved.
Vic gave me my old bedroom back and the old Chevy truck to drive to school. He also put me back to work, still making the Greenstone Hones and buffing heads. It was great having a part-time job to supplement my saved college funds.
Around 1989, the company moved to its last location on Emory Road in Powell, Tennessee. The name was finally changed to Vic International, to better reflect the scope of the company's reach. It was the largest single-owned manufacturer/importer/stone supply distributor company in the USA, and at one point, there were well over 70 employees at Vic International.
In 2007, and after over 50 years working in the natural stone industry, Vic was awarded the Migliore Award for Lifetime Achievement by the Marble Institute of America. He served on the boards of both the MIA and the Building Stone Institute. He was instrumental in establishing StonExpo as the major trade show for the industry and served as the president of its board of directors for two terms.
There are many people in this industry and related fields who got their start at Vic International. I could name many companies whose managing partners started at Vic International.
Suffice it to say that Vic Green was a pioneer in the stone industry. He will be remembered fondly by many in the stone industry.
He helped me in troubled times and good times alike.
I learned my work ethic from him, and have myself now been in the stone industry for around 40-plus years. My sister Kelly (Milligan), also worked for the company from the time she graduated college. She currently owns her own successful fabrication business, and has even been profiled in the pages of the Slippery Rock Gazette (May 2015).
Vic always loved boating (even though he confessed he wasn't much of a swimmer), and had owned quite a few boats, from wave runners, runabouts, cruisers, to his last pleasure craft, an 84-foot houseboat. Most weekends, you would find him there, fishing, entertaining, and enjoying his family. He raised two daughters along with me, and now has 6 grandchildren and one great-grandchild.
He was part of the Vol Navy and loved to take his boat to the Tennessee river landing across from Neyland Stadium. During Fall home UT football games he hosted many parties. He would most always give his season tickets to a different group of people at every game, while he would watch from the comfort of the boat.

Go rest on that high mountain, Vic! You will indeed be missed.