Niki Kaltsounis-Kampiziones Named COO for Biesse, Intermac and Diamut in North America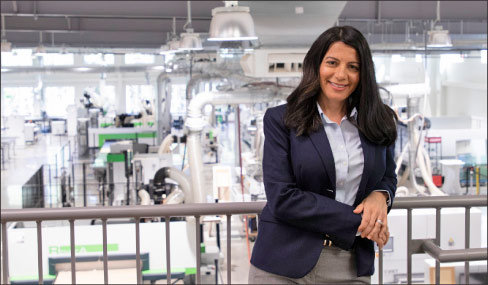 Niki Kaltsounis-Kampiziones is named Chief Operating Officer for Biesse and Intermac in North America.
Biesse Group is proud to announce the promotion of Niki Kaltsounis-Kampiziones to Chief Operating Officer (COO) for Biesse and Intermac in North America. Kampiziones,
currently in her 24th year with Biesse, has played a key role in the growth and strategic decisions for the company during her tenure as Executive Vice President of Operations and previously as Chief Financial Officer.
In her new role, Kampiziones will oversee the daily operations of Biesse and Intermac in North America, continuing to be responsible for strategically directing and managing innovation and excellence within the organization. We are moving toward a One Company concept, which will allow all of our divisions to work cohesively, with common ground in best practices, promoting more efficiency and effectiveness to our overall efforts.
"In her 24 years with Biesse, Niki's extensive management experience has distinguished her as a dynamic and loyal leader," said Federico Broccoli, President/CEO of Biesse and Intermac in North America. "Her vast industry experience and commitment to our customers and employees will be a tremendous asset in her new role, ensuring operations excellence and consistency. She is a trusted leader who delivers results and I couldn't be more proud of her success."
"I am privileged to have been a part of the Biesse success and to be part of such a hardworking team," said Kampiziones. "I am honored and inspired to be able to continue working with my colleagues in this new role to ensure we deliver the industry's highest quality of products and services for our customers, employees and industry partners.
"Please join us in congratulating Niki. She will continue working with a focus on our primary goal — customer satisfaction."

Biesse Group is a global leader in technology for processing wood, glass, stone, plastic, and metal. It designs, manufactures and distributes machines, integrated systems and software for manufacturers of furniture, door/window frames and components for the construction, ship building and aerospace industries. It invests an average of €14 million per year in R&D, boasting over 200 registered patents. The company operates through 12 industrial sites, 39 branches, and 300 agents and selected dealers, exporting 90 percent of its production. Its customers include some of the most prestigious names in Italian and international design. Founded in Pesaro in 1969 by Giancarlo Selci, Biesse SpA has been listed in the STAR segment of the Italian Stock Exchange since June 2001, and is currently included in the FTSE IT Mid Cap index. It currently has 4,300 employees in cities throughout the world.

Visit www.biesse.com for more information.