The Solid Surface Option: Solid Material for Your Shop
Codiak San Herrell
Solid Surface Designs
In the world of countertops, solid surface is not as popular as engineered stone and natural stone. But solid surface materials still are an important part of the conversation in the world of countertops. In fact, you will commonly see Solid Surface material in commercial settings like McDonald's, Domino's and Starbucks, as well as many other commercial, and some residential jobs.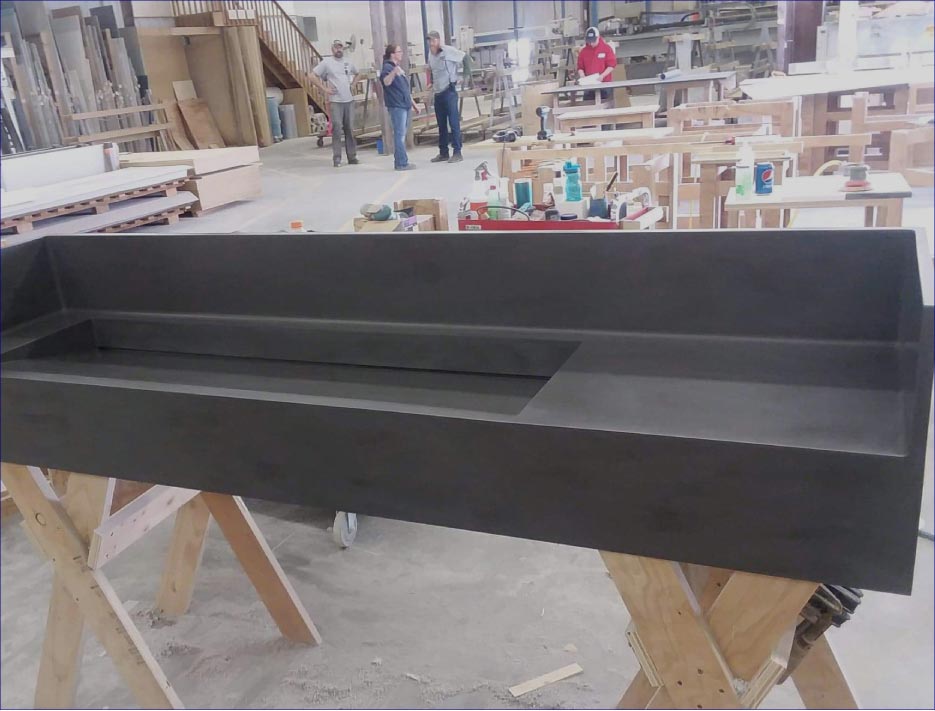 One benefit of solid surface as a fabrication medium is that you can construct special projects like this custom built-in trough sink with an "invisible" gravity-fed drain.
Let's define solid surface material as a hard, durable surface made up of 1/3 acrylic, with the rest made up of natural material – whatever that material might be. Solid surface can be manufactured to resemble certain colors of granite, especially in the natural-looking, directional colors. Its benefits include an almost seamless appearance, and heat resistance up to 200 degrees. It can be heated, then easily bent to produce some neat side items such as wine glass holders, adding some extra profit to your bottom line, and also reducing waste. Solid surface material is also known to not lose color for as long as a decade under extreme conditions. And just like granite, the darker colors of solid surface may need an extra quality inspection before leaving the shop for installation, as any scratches or imperfections are more visible.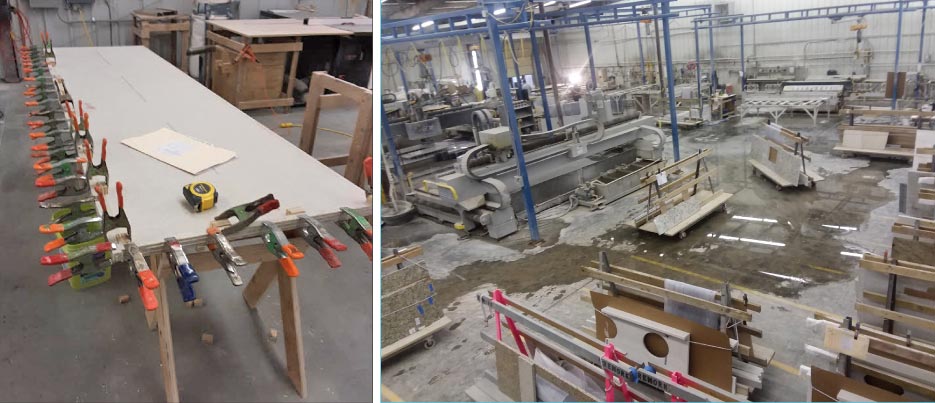 Above, left: Solid surface edge clamping in process. Why use hand clamps? The thinner sheets being laminated do not normally need the amount of force supplied by a bar clamp, or an edge clamp device, like the Omni Cubed Lam-Clamp.
Above, right: A dedicated solid surface fabrication area. Most of the equipment is the same as used for granite fabrication; the difference is in the tooling, pads and blades. Specialized blades, bits and pads can make the difference in installing that top, or starting over after chipping and ruining a cut.
Solid surface seam after sanding. Many fabricators find that it's somewhat easier to achieve invisible seams on solid surface material than on granite. One benefit of offering solid surface material is the option of offering clients this seamless appearance.
Solid Surface Designs first started selling countertops in 1993, which makes it a very unique company and such Solid Surface materials as WilsonArt, and Corian were the pioneers. Solid Surface Designs templated, fabricated and installed solid surface solely through 1997. In 1998, due to demand, they started installing natural stone, but had another company fabricate the stone. But in 2001, Solid Surface Designs added stone fabrication to their roster of services. Currently, Solid Surface Designs fabricates both materials in the same facility, dividing the shop area almost in half, but with solid surface material stored in the same warehouse as their natural and engineered stone products. The inventory is also in the same SlabSmith database.
Although repairs from scratches or other mishaps are more doable than a stone repair, the fabrication starts out on a standing panel saw where the sheets are cut big, then cut to template with a hand saw. Then, laying the templates down, they are scribed to size.
Solid surface material is received in half-inch sheets, typically 12 feet long and 30 inches wide, so in order to fabricate a solid surface slab into a 3cm countertop with an integrated back splash takes a bit of a different process.
Fabrication starts with gluing the edge detail on and clamping, then setting. To sand the edge detail, solid surface fabricators flip the tops completely over. The material is then sanded to finish, and for a sealer you simply apply Windex.
Home owner-oriented television programming might seem to lean a bit more on the engineered and natural stone side of the industry. But that does not mean that there are not other options. Solid surface very well may be the best contender after engineered stone and natural stone, with its fresh colors, smooth transitions and durability. But it is the seamless appearance that makes this material worthy of discussion. The trend of solid surface material may be closer and bigger than you might think.

Codiak Herrell is a personal trainer, freelance writer and stone industry consultant in Aurora, Missouri, with nine years of experience working in the stone industry.