Proctor Marble
Peter J. Marcucci
Photos Courtesy Proctor Marble Company & Peter Marcucci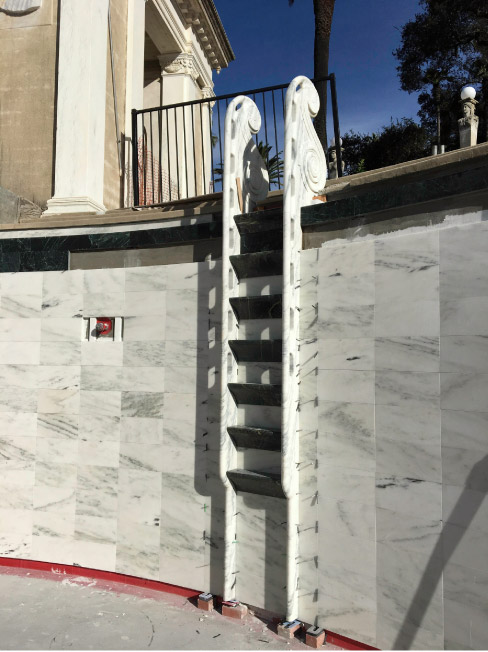 Above: Ladder in the Hearst Neptune Pool. Photo by Eric Risser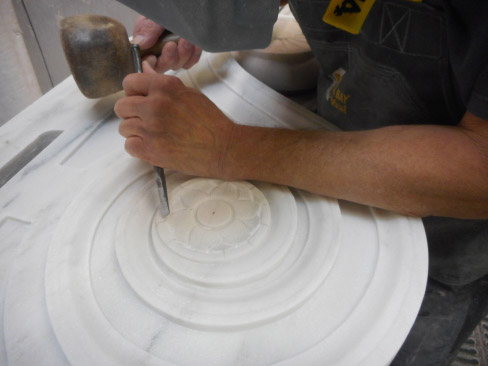 Above: Brent Wilson hand finishing the flower detail on a Vermont Danby marble volute – one of 8 for the Hearst Neptune Pool restoration project.
The Proctor Marble Company, located in Proctor, Vermont, is best categorized as a small shop that takes on big or unusual projects. The shop lies within the historic building that housed the Vermont Marble Company for a century of dominance, beginning in approximately 1880 (see Sidebar below, The Vision of Redfield Proctor).
Owned and operated by Brent and June Wilson, Proctor Marble Company first took shape out of a passion to create aesthetic objects, recalled Brent.
"When I came out of Castleton University as an art major, my standards as a sculptor were set high, and that's what I tried to do throughout my 20s. In 1978, I tromped throughout Europe and it just fed my passion for sculpture. I was thinking about settling in Italy – I was right in Carrara and Pietrasanta – but thought, 'Why should I do art in Italy, when my home State has a wealth of marble? I should just go home to Proctor, Vermont!' "
As his career evolved, Brent realized the practicalities of survival needed to include income and a vocation, and he began gravitating to more commercial work, rather than art work: carved wood and stone signs, painted graphics & graphic design.
"At the time, a lot of the art I made was modern and very abstract and esoteric. So by chasing money, I became somewhat commercial and really wasn't doing the kind of work that I wanted to do, or had set my goals to do. I could carve my art, but what I couldn't do is sell it. What I could sell, however, was lettered signs and graphics. My passion was still sculpture, but I could do a lot of other things that artists could do, such as signs, and after all, everybody needs signs."
As the small business took off, it did so by producing carved stone, wood and painted signage of the highest degree. It was located in Rutland, Vermont, and kept growing and was really successful until 1988, shortly after the stock market crash now known as Black Monday.
About this same time, the demand for vinyl lettering was growing, while traditional, carved lettering was shrinking. A day of reckoning was just around the corner for the couple, recalled June Wilson.
"Vinyl lettering went on by simple transfer and looked great, but we decided that we didn't want to become this kind of sign company. We would have needed to invest a lot of money, and Brent just said we need to get out of full-time signs and into marble work. It was better than going into vinyl. Vinyl? Nah!"

Fabrication on the Horizon
Ollie Danforth and Herb Johnson, owners of Marble Gifts (now known as Johnson Marble Company, also in Proctor), were two old-time stone workers and, when needed, Brent would go over there and ask, "Hey, got any marble work?" They would say, "Yeah! Go carve that!" When Brent was finished, he'd ask, "Anything else?" and they'd ask, "You coming back tomorrow?" And before he knew it, Brent was in the stone business and getting a lot of work, but not working for himself, he explained.
"By the late 1980s, I was tired of the sign thing and excited to get into stone work, and I became Ollie and Herb's template maker, fabricator and installer for their residential work. However, I was chompin' at the bit, wanting my own company." Fast forward to 1990, and the beginning of the Proctor Marble Company.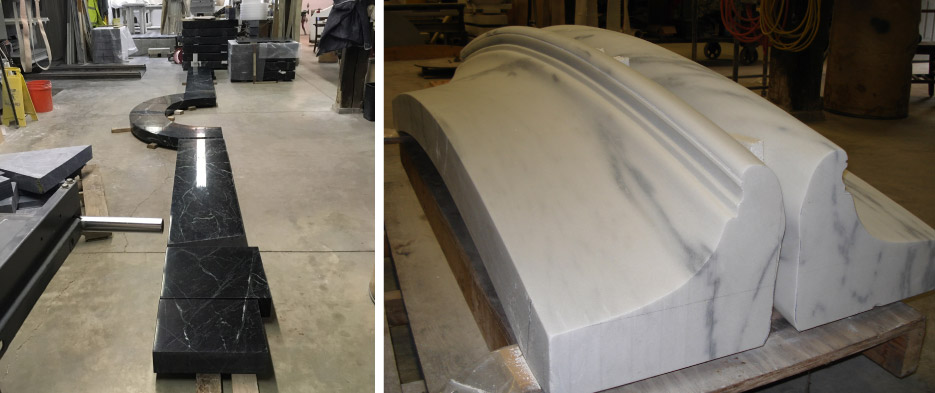 Above, Left: Vermont Verde Antique Cap Stones for alcove end wall repairs of the Hearst Neptune Pool, San Simeon, California.
Above, Right: Fountain restoration pieces, Vermont Royal Danby marble.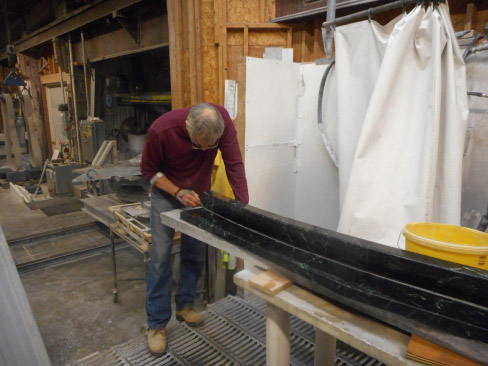 Above: Wilson hand finishing Vermont Verde Antique marble radius scum gutters, for the Neptune Pool.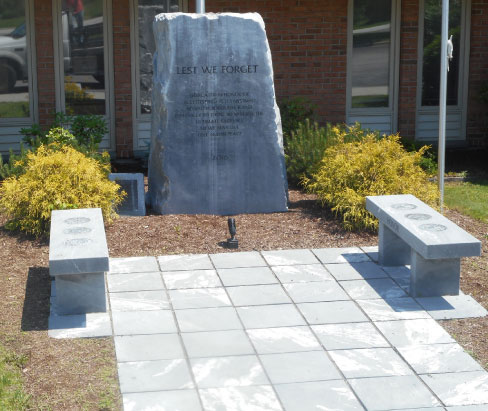 Above: Pittsford, Vermont Memorial and Benches: Florence, Vermont Gray marble pavers, memorial, and benches. The military seal inlays are aluminum, to prevent rusting.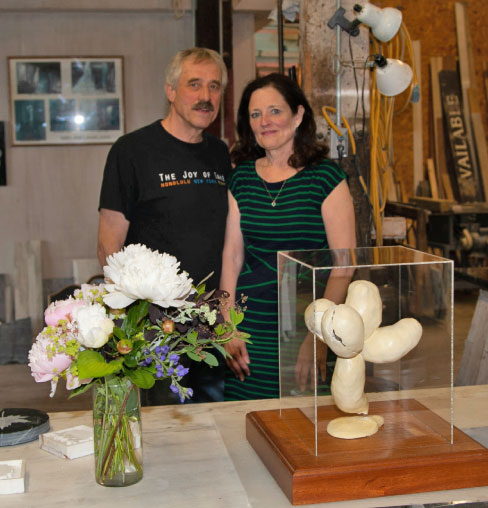 Above: Brent and June Wilson, Proctor Mable Company.
The Detail Track Machine and a Shop Built for One
"When stone work was the direction my career took, a lot of the motivation to do so was the invention of my detail track machine," continued Brent. "That was in the very beginning when I was doing countertop edges by hand. I was actually doing edge profiles with a pneumatic hammer just like the old-timers did it, and finished with a grinder. I would stand there for hours doing it while thinking about the design of a machine that would do it for me. That was in 1991 before routers, edge machines and CNC technology became as popular as they are today. It was built with money from jobs I was doing at the time, and when my electrician dropped in a 480 volt line and I finished the track machine, it worked like a champ, and changed everything by taking the place of holding a grinder by hand."
The 2,179 square foot shop, from its onset, was totally designed and built by Brent and June for one-man operation. All machine floor space (about half of the interior) is covered by a 3-axis crane, while the other half is reserved for carving, sandblasting and displays. The bridge saw is an oldie but goodie, explained Brent.
"Unusual and hard-to-do work always winds up coming here, partly because of the equipment we have, such as our saw. It's a Lane contour saw built in the 1960s in Barre, Vermont. It gives me the ability to cut curves like a 5-axis machine, and it's one of many things that sets me apart from other stone companies in the area. I was building the sandblast room when I bought the saw in Barre from their high school. They were using it as part of their vocational training for students who were looking to get into the stone industry. It was a beautiful facility and included a wire saw, sandblast booth and carving stations. Unfortunately, the course was discontinued, because any student who was passionate about stone work would have already been working at one of the local stone sheds."

Finding Rhythm in Work Flow
"Working alone on a project, I always know that I can count on myself to get it done, because I know what I've got," continued Brent. "What surprises me, however, is that when I look at a task at face value and the scope of it, I may get a little frightened at the size of it and think, 'Gosh, this is a lot of work!' But, surprisingly, when I get in there and start doing it, I start slow and just keep trying to get more and more efficient at it until I reach a level of maximum turnout. It's then that I realize it isn't that overwhelming at all!"
A short time ago, Brent and June entered into a very large project in the repair and restoration of the Neptune Swimming Pool at the Hearst Castle in San Simeon, California. The castle is a Historic Landmark built between 1919 and 1947 by media mogul William Randolph Hearst, and a good example of finding a rhythm in work flow, said Brent.
"I spent almost four years on that project. So from 2012 until now, I've only done two big jobs* and numerous day-to-day smaller jobs (*a large private residence with a stunning Vermont marble staircase, and an Italian slab bathroom with cubic carved sink and vanities).
"What's interesting is that when I looked at creating the four ladders, consisting of eight volutes and below water rails (with one extra for possible breakage) for the pool, it seemed like I had taken on an overwhelming and daunting task."
"So what I've learned to do in these kinds of situations is to do the same step on each piece, and then move on to the next step in production.
"Basically, I would do that task with that function 18 times, and then move to the next step. So when you get into working this way, you look at them and think, gee, doing that any other way would have taken me a week, but I got them done in two and half days. Alright! I'm ahead of the game! Yes, it was still a lot of work, but it wasn't that bad.

Above, left: Vermont Verde Antique marble sections for the Hearst Neptune Pool renovation project. Finished flutes, finished cap stones, and in process, straight scum gutters.
Above, right: The Proctor Marble Company shop includes some unique equipment designed, built or repurposed by Brent Wilson.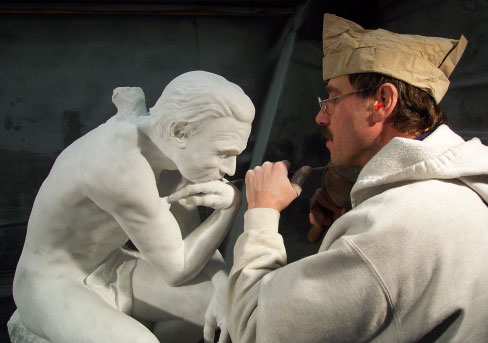 Above: Wilson working on a replica of Rodin's Thinker, a private sculpture commission, carved from Vermont Danby Imperial marble. Wilson is wearing a traditional "marble worker" paper hat.
"That said, being a one-man shop, you do have to pray that the scheduling of setting the finished pieces and the deadline for completion is not going to become so strict that you're entrapped with late fines, or you're not going to be able to accomplish it.
"When working on the Hearst Castle, I was concerned a few times with finishing on time. Fortunately, there were delays beyond people's control that gave me more time. I do have colleagues who I can bring in on any given project, but I actually prefer working alone. I have had contracts where I've needed full-time employees, but with this type of custom work, it becomes difficult to control the quality, and that becomes an issue. So, if I can finish within the timeline constraints of the job, all the better.
"Being a sculptor has given me the confidence to know that I can accomplish any task. It also gives me the creative energy to think beyond the small particulars and take in the full scope of whatever I am trying to create, and gives me flexibility and ability to think outside the box. I can invent things, giving me the courage to take on work that others won't, and this is one more thing that sets me apart from other stone shops. In this business, once you understand the stone, the stone has very little to do with the production of the final product. A third of my time is spent in developing the tools, maintaining the tools, or fixing the tools to do the job, and the stone waits while you do all those things. The type of work that I do requires me to develop ways to do the difficult, if not impossible, and when I do that and succeed, it is incredibly satisfying. Furthermore, to create a tool that created 100 of one thing in record time is a delightful satisfaction."
West Rutland "True Blue" marble free form sculpture designed to be viewed in the round (4 sides), showing the front and back.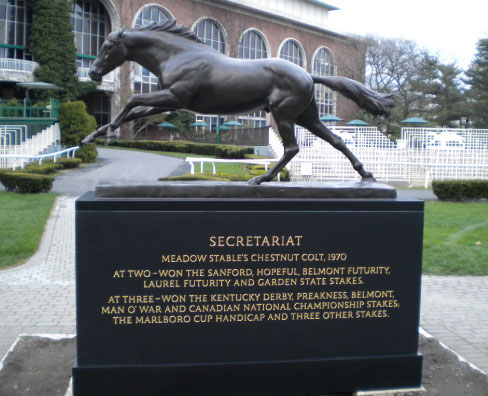 Above: Black granite base for the Belmont, New York Racetrack. This sculpture and base are installed in the paddock in honor of the thoroughbred Secretariat, 1973 Triple Crown winner. The base, fabricated by Proctor Marble Company, includes 541 hand carved V-grooved letters (double sided), finished with gold leaf. Base is 2-1/2 inch mitered Indian Black Granite. Bronze Secretariat Sculpture by John Skeaping.
Where Time Will Take Them
"What I wanted to do when I built this business, and I knew it was on someone else's piece of property, and I knew I would be successful, was to eventually move to Saratoga, New York, live in a little house and put all this equipment in the barn.
"I have a vocation and own this equipment, and it's mine to give to my kids. That was 29 years ago. Now, I'd like to find a person who wants to be "me," and with a couple of additional machines, this place could be made really, really good. I'd also suggest to that person that he take all this equipment out of here and set it in his own building. He could hire me to set it, tune it, and I would be available to teach him how to run it. And when he is sick of me and knows everything that I know, I'll take my hand tools and ride off into the sunset! That's what I'd like to happen. Whether I'm going to find someone to do this, or I'll just fall over dead here someday, I'm not sure. But one thing is for sure, though. As hard as I've worked physically all of my life, if I were to quit working, my body would seize up and my mind would go crazy. So I have to keep going. I think hard work and thinking is good for you, and it's one of the reasons I keep showing up. What has also kept me going through the years is the desire to carry on the tradition of stone carving –my passion–and to keep making art."
June: "I find the history of this area and the Vermont Marble Company so interesting, that I'd like to live in Vermont part-time and spend the rest of the year in a warmer climate. I love the stone industry, and want to stay involved promoting Vermont stone. In our own small way, we are very proud to have carried on the tradition of the Vermont Marble Company and the materials that they used."

Above, left: Hand carved Indiana Limestone architectural detail, replacement block for a building restoration.
Above, right: Carved Black Slate headstone, V-grooved hand cut lettering and border designs. This rare skill is practiced by few, these days.

"The laborer works with his hands, the craftsman works with his hands and his head, and the artist works with his hands, his head and his heart."
— St. Francis of Assisi

For more information about the Proctor Marble Company visit www.proctormarbleco.com .
For more information about the Hearst Castle project visit the www.hearstcastle.org .



---
Redfield Proctor: Legacy of a Visionary and Entrepreneur
In the 1830s, scattered deposits of high quality marble were discovered in the Rutland, Vermont area. By the 1840s, small quarry operations were occupying these sites, eager to supply an America that was bursting at the seams with industry and cities needing cut stone. Many of these operations did well during the decades that followed, with new deposits being discovered and unearthed using newer and more aggressive methods. By the mid 1860s, tonnage beyond belief was discovered running vertically from Brandon, through Rutland, to Bennington, Vermont, and plans to quarry this mother load of high-quality marble soon followed. Redfield Proctor was watching all of these developments carefully.

Above, left: The stately marble bridge leading into Proctor, Vermont is a lasting reminder of the industry that produced so many national landmarks. Photo by Peter Marcucci
Above, right: The Tomb of the Unknown Soldier, Vermont Marble Company, completed and shipped to Washington D.C. April, 1931. Fabricated from Colorado Yule marble, from VMC's quarry holdings. Figures carved by the Piccirilli Brothers, designed by Daniel Chester French.
Proctor was a politician, a lawyer, and an entrepreneur with a keen sense for opportunity and the resources to act on it, and the town of Proctor, Vermont, originally called Sutherland Falls, had all the makings of a perfect set of circumstances coming together.
By 1880, a large factory had been built and a consortium of local quarry operations were bought up and consolidated under the name Vermont Marble Company. As a result, quarried blocks could now be brought to one location for processing. Facilitating this processing was Otter Creek, located just out back, where water and high voltage generated by turbines could be piped in.
Additionally, America was busy building railroads to all destination markets needing supplies and building components. Fortunately, the Rutland Railroad saw opportunity and had installed a spur right through the town of Proctor. Stone from the scattered quarries as well as supplies and machinery could now be brought in, and finished stone could now be brought out.
But, there was one last ingredient needed for these plans to come to fruition: people, lots of people. Approximately 80 percent of the Vermont Marble Company's factory employees were immigrants from Poland, Italy, Ireland, and Switzerland. The company would interview people right off the boat to determine if they had the qualifications to work in the quarries, as machinists, or as craftsmen.
Above, left: Vermont marble quarry blocks stacked alongside the Rutland rail line, c. 1930.
Above, right: Vermont Marble Company factory floor and overhead crane, c. 1930.
Archive photos courtesy Vermont Marble Museum
Most of these immigrant workers had very little when they arrived, so the company supplied them with housing, medical care, food and supplies. The company also paid land taxes, supported the schools, the hospital and the churches. All of these things were of great benefit to the workers, but indirectly came out of their paychecks. However, these workers flourished and became part of the community, right up through the 1960s and the company's closing.
But the marble legacy continues to this day. Out of its "ashes" it has diversified, honoring the past, working in the present and with a keen eye on the future. Today, the historic Vermont Marble Company buildings houses Proctor Marble Company, The Vermont Marble Museum, Johnson Marble and Granite and other small businesses. Additionally, Rutland County and the state has many proud stone companies, like Gawet Marble & Granite and Rutland Marble & Granite, to name a few.
The Vermont Marble Company has left its mark in the many architectural landmarks throughout America, including the Yale University Beinecke Rare Book and Manuscript Library, the Washington Monument, the United States Supreme Court building, the Arlington National Cemetery, the Tomb of the Unknown Soldier, and the Jefferson Memorial. It stands as a testament to the men and women who weren't afraid to work with both body and mind, who every day put their resourcefulness and wits on the line, and who every day wore the sweat, dirt and sometimes blood as a badge of honor and their trade.