Braxton-Bragg Volunteers at Young-Williams Animal Center
Braxton-Bragg team members continued the company's initiative to complete 25 Good Deeds in celebration of 25 years in business, by assembling dog toys, filling bowls and walking the animals at Young-Williams Animal Center on Sunday, June 9.

Braxton-Bragg volunteers and family assembled activity toys and treat bags, freeing up center employees to handle adoptions.
"It was so rewarding to see the dogs get some fresh air when we walked them, and feel like we helped the shelter at least a little by doing some chores," said Derek Brodka, Braxton-Bragg Marketing Manager. "Young-Williams Animal Center works so hard to end pet homelessness in our community, and our team was happy to be a part of that for the day."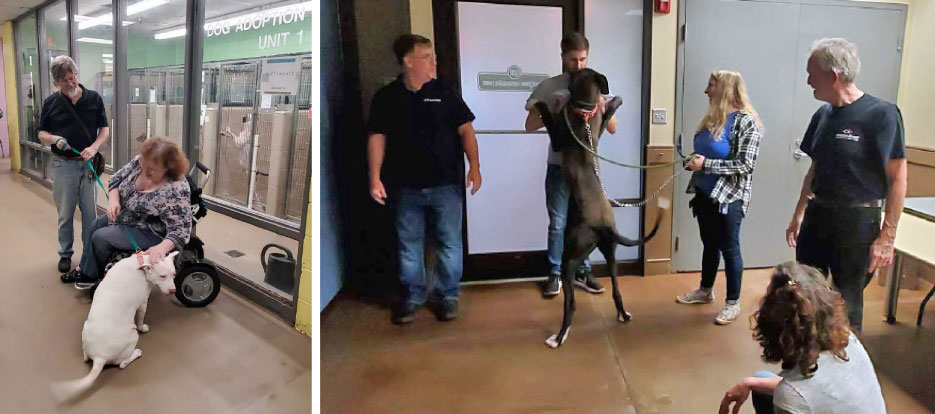 Above, left: "Getting to spend a little one-on-one time with Sugar (white American Bull Terrier) was one of the highlights of my afternoon," said Larry Hood, Slippery Rock editor.
Above:, right: This lucky Great Dane puppy was adopted that afternoon.
The Young-Williams Animal Center is located in Knoxville, TN.
Their Mission is to lead the community to end pet homelessness, promote animal welfare, and enhance the human-animal bond. Their Core Values are Compassion, Innovation, Integrity, Dedication, Collaboration, and Empathy. They are a fantastic organization that on average takes in about 14,000 pets per year. They also provide animal care and do adoptions of pets to loving families. Visit their website at www.young-williams.org.
For 25 years Braxton-Bragg's philosophy has been to offer exceptional products and first-class service to its partners in the stone, tile and concrete industries.

For more info, visit braxton-bragg.com and facebook.com/braxtonbraggllc.