Efficiency Bolsters Profitability
Jessica Sherwood
Omni Cubed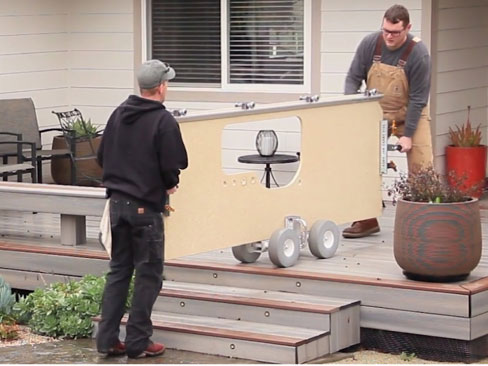 The Omni Cubed Pro-Dolly™ HD2 makes bringing tops onsite faster, safer and easier. Here, installers are using a Pro-Dolly™ and Sink Hole Saver Edge, and two Aqua-Jaw™ Carry Vises™ as handles.
Time is money—we all know the adage. I's so simple, yet so true. If you're one of many who finds themselves repeating processes simply because, well, that's just how it's always been done… you may actually be hindering your company's profitability.
You don't need to run out and buy a CNC machine tomorrow to see your profitability grow. Here are a few suggestions for relatively simple and inexpensive ways to improve efficiency in your daily routines:
Implement standardized systems of organization. Stop wasting time searching through paper piles or electronic files to find quotes, bills, invoices, etc.
Establish intuitive and logical file naming conventions and systems for physical storage that everyone understands and abides by.

Invest in quality tools and machinery and—this is key—maintain them. Spending a few extra bucks on products of a higher caliber can save you time and money to not be constantly repairing or replacing your equipment. Basic routine maintenance requires a minimal investment of time and effort can help prevent breakdowns, prolong the life of your tools, and keep them working like new for years.
Prevent illness and injury. Downtime for your staff can negatively impact their paycheck and stifle your production capabilities. It's a win-win if everyone stays healthy! Reduce the spread of cold and flu virus by placing hand sanitizer in the restroom, break room, reception desk, and other common areas. By providing basic safety training, specialized tools, and personal protective equipment (PPE), you can significantly reduce the risk of injury and fatigue for your workers.

To learn more about Omni Cubed's line of purpose-built tools that can help create efficiencies to increase your shop's profitability,
visit omnicubed.com or contact Braxton-Bragg today, www.braxton-bragg.com.