The Company that Plays Together, Stays Together
Codiak San Herrell
Stone Industry Consultant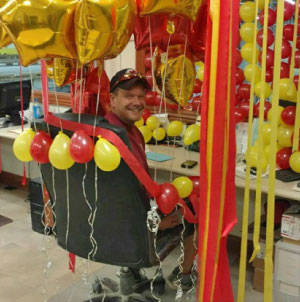 One easy way to draw a company together is to celebrate birthdays with a good-humored silliness, and accomplishments or goals reached with a company-wide treat.
Solid Surface Designs is no stranger to being a unique company. Unlike many countertop companies, they also offer Corian tops along with natural and engineered stone. They have separated the fabrication areas into two separate fabrication sides – one for natural stone, and one for engineered stone. But also, if you work for Solid Surface Designs and have a birthday coming, you might be surprised with the Birthday Song being sung to you or a desk covered with balloons.
It is no secret that in any workplace where you have different departments that have to rely on each other (such as fabrication to installation), disagreements and division can and, unfortunately, will happen. That's one reason why a company that has maintained a 90 percent or above completion rate for four weeks in a row might want to treat their employees to a breakfast, as a thank you.
This can be as simple as bringing in drinks, donuts, muffins or bagels. It doesn't have to be a big deal; the point is to show appreciation to their employees, and let them know that whatever they have been doing – keep on doing it! But it is also more than a simple "good job" breakfast. This is also about bringing all the departments and employees together into one area, as a team.
Solid Surface Designs of Aurora, Missouri takes this idea of getting different departments together and bonding a bit further. On one occasion – just for the fun of it – they sponsored a cornhole tournament for all employees.
Adopting the name "Stone Throwers," Solid Surface Designs has had an all-employee sports team every year since 2014. They have had a softball team every year except 2019.

Above, left: Intramural sports teams like softball have brought Solid Surface Designs employees together for the past five years.
Above, right: Getting "rival" departments to work together without friction is no easy task. Fostering a sense of company identity where all departments are equally valued is an effective way to decrease tensions between fabrication and installation teams, as in this fabrication class.
The men are currently playing a season of flag football, instead. What's more important is that for the past five years, employees from all departments have been getting together for practices and to prepare for games against other companies or church teams in the area. Even if you're just playing for fun, everyone wants to win, right? For the Stone Throwers, team work is emphasized to maintain a winning record.
It's apparent that the team-style ethics pays off – maybe not completely due to the company-sponsored sports teams, although there's a strong argument for the value of bonding as a team. And maybe because of this bonding, it makes a less pleasant occasion like a full scale shop clean-up that much more productive than it might otherwise be.

Above, left: Company picnics and tournaments offer an opportunity for bonding between employees, and a time of just plain fun.
Above, right: Doing something fun and worthwhile like volunteering for a community cause, or a Saturday company cleanup workday can be rewarding on several levels: fostering team spirit, and a sense of accomplishment.
When it came to getting volunteers to work on a Saturday to clean the shop, workers from all departments raised hands. At the end of the day, they had displayed an impressive, team-oriented attitude towards this extra day of hard work.
Another example fostering a team spirit is when fabrication and installation workers joined together in a face polishing class, an event the company held to make sure that everyone who should know how to polish got the opportunity to learn in an encouraging environment. All the departments showed great ability to take constructive criticism, as well as work together as a team.
Team work may not be the key to success in every company, but it could also be a pivotal moment for your company when you learn how to establish a team work environment. Whether that is through leadership, competition, or putting your employees in a team work environment through common bonding, like sports, it is also important to let your employees know when they are doing a good job. And if they keep on doing a good job, treat them. And by treating them, and getting everyone together, that benefits the company in a more subtle and lasting way.

Codiak Herrell is a personal trainer, freelance writer and stone industry consultant in Aurora, Missouri, with eight years of experience working in the stone industry.