What's Next?
Sharon Koehler
Artistic Stone Design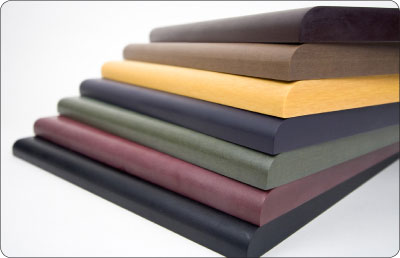 Above: Richlight color spectrum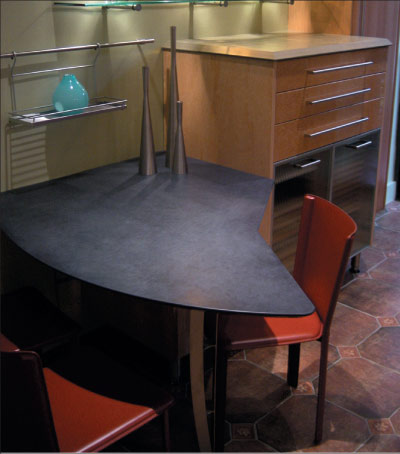 Above: Richlight Slate used in a freeform table top.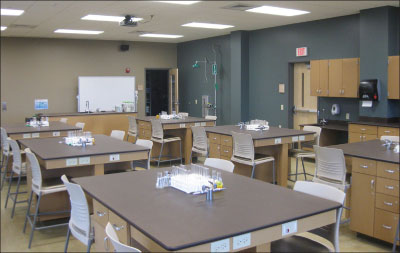 Above: PaperStone Mocha tops installed in the Concordia University Science Lab, Mequon, Wisconsin. As a chemically resistant, UL Class A fire-rated material, PaperStone is a suitable and attractive material for science lab tables.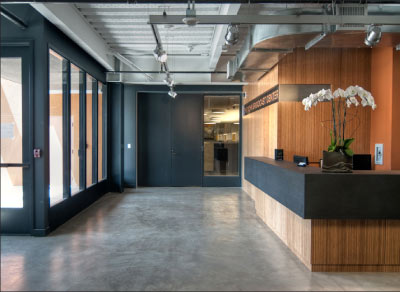 Above: PaperStone waterfall reception desk. Photo courtesy Southern California Public Radio, Pasadena, 89.3 FM. Photography by www.nilstimm.com. Architects Chu+Gooding Architects with Russ Berger Design Group
I won't lie – I am a natural stone person. My kitchen is limestone. My master bath is onyx. I have granite and marble furniture tops, shelves and window sills. I do have one room that has a quartz windowsill and that's because it was the perfect color to accent the décor of the room. However, just because I am a natural stone person, that doesn't mean I don't get or understand what quartz is all about or what kind of role it plays in the stone market.
Unfortunately, though, the quartz market is a bit unstable right now. We all know about the tariffs and other fees that have been imposed on some of the products and some of the manufacturers. Factories are closing or relocating. To make matters worse, some relocated factories may have to relocate again as more tariffs and fees are being considered against other countries as well. Demand isn't dropping, but supply is. Prices are getting higher, and sometimes color and quality are iffy. What's worse for your customers is that a color or even a brand you were selling last month may not even be available this month.
As always when something falters, there is something waiting in the wings to take its place. What will try to rise up? Personally, I hope the pendulum swings back to natural stone, but there are some other products out there that could make their presence known. We all know about solid surface (like Corian and Hi Macs), stainless steel, concrete, tile, wood and laminate.
What's left? Paper countertops, for one. Paper composite countertops are real. You may recognize the names of two manufacturers: Paperstone and Richlite (both manufactured in the U.S.). There are others.
Paper composite countertops are paper (largely recycled paper) and/or wood fibers combined with resins and pigments. Simply put, all the ingredient are mixed together and heavily pressed and baked. The end result is a nonporous, durable product that can be used everywhere quartz can be used, and even a few places quartz should not be used, like outdoor kitchen countertops.

Like any surface, paper countertops have their pros and cons. Some of the pros include:
Eco-Friendly –  the resins used are non-petroleum based, and a large amount of the paper/cardboard is consumer recycled.
Clean – the end product is non-porous, so bacteria and stains should not be an issue on these types of tops. If by chance it does stain, stains can be removed by sanding or in some cases, pulled out by using plain yogurt as a poultice.
Flexible – paper countertops are more than just kitchen countertops. They can be used anywhere you would think about using granite including tub surrounds, tabletops and outdoor kitchens.
Consumer Friendly – if nicked or scratched, the homeowner can simply sand out imperfections.
Contribute Leed Points – due to its high recycled content, paper countertops can contribute to LEED points.

One really big fabricator pro: it's easier to install than natural stone. It's lighter, easier to cut and shape, plus it seams together tightly. Seams are not invisible, but can be made minimal.
There are cons to consider as well:
Heat Tolerance – anything over plus or minus 350 degrees can scorch the tops. Trivets and hot pads are a necessity for this product – or simply don't put hot pots and pans on the surface. This is possibly a downside to using this product for an outdoor kitchen.
Colors – colors are limited and for the most part dark. Some of the lighter colors can show the product layers on the edges.
Cannot be recycled – that sounds weird because it is made of mostly recycled material, but because of the resins used, the product itself cannot be recycled. However, because of the ease of cutting, shaping and seaming, it can be repurposed to another project.
Maintenance – recommended daily maintenance is just a damp sponge (no soap, since that can leave a haze). Absolutely no bleach, according to the manufacturer. However, it is recommended that you apply food grade mineral oil on the top from time to time (like soapstone) to keep the surface looking new.
Patina – a weathered patina could be a pro or a con, depending on how you feel. As it ages, the surface will take on a patina and slightly change color.

Paper countertops come in a wide variety of sizes and thicknesses ranging from ¼ inch up to 3 inches, and slabs max out at 5 feet x 12 feet. They also come in multiple (but limited) finishes such as honed and leathered. One website boasts that you can overhang 18 inches without brackets. Warranties seem to vary depending on manufacturer, from 10 years to lifetime, depending on use.
Are paper countertops poised to step into the mainstream market? Are paper countertops ready to start replacing quartz? Will designers and salespeople start distancing themselves from a faltering and inconsistent quartz market?
Who knows? I guess we will just have to wait and see.

Please send your thoughts on this article to Sharon Koehler at Sharon@asdrva.rocks.