Percoco Stone Finishing Adds a New Twist to Stone Fabrication
Peter J. Marcucci

Photos Courtesy Percoco Marble & Tile; Lobby photo courtesy of HOK Architects & Harbourn Group LTD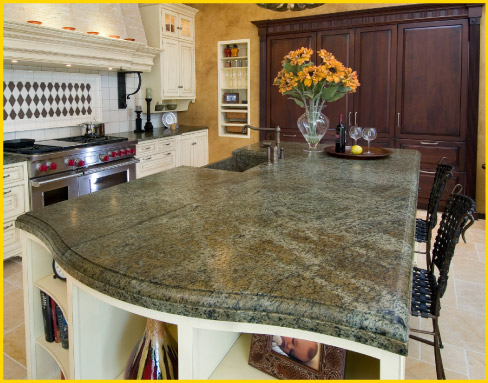 Above: The leathered finish applied to this Verde Bellagio granite island brings out the rich color variations in this premium slab.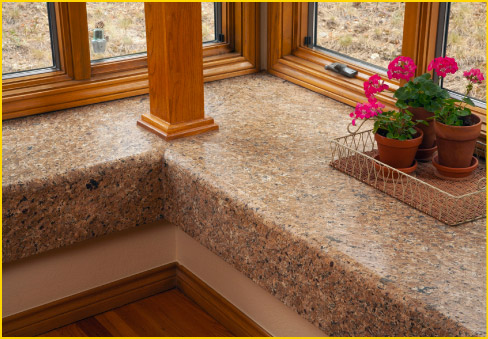 Above: Sometimes a highly polished stone is just not the right choice. This leathered Brown Vincenza granite window seat and sill gives a softer, more natural effect than a polished slab would.
Ever since opening the doors of Percoco Marble & Tile Company in 1980, owner Joe Percoco has endeavored to set and keep the fabrication standards high in the Denver, Colorado area. Coming from a family operated fabrication company in Ohio, Percoco has been around the stone business since childhood, and "has stone in his DNA," recalls Percoco.
"My parents started Crown Tile & Marble Co. in Akron, Ohio, in 1952, and I basically started lugging marble window sills for my dad when I was eight years old. In 1973, I started full-time and completed a 4-year union apprenticeship program."
Percoco moved away from home in 1979, but by 1980, he was back to doing what he always had known and loved, and started his own shop in Colorado, specializing in custom residential and light commercial fabrication.
You could say that Percoco was preordained to be the owner of a cutting-edge fab shop. "The market in Colorado has drastically changed since I started the company. By about 2000, the competition in the area was driving the price and quality lower and lower, and I saw the need for something other than just fabrication."
Percoco started thinking outside the box, and focused on a few new ideas. One of those ideas was not just offering a very diverse blend of high-quality stone products, it was offering those products with something unique and different, he explained.
"I started experimenting with different surface finishes, and in 2008, I moved this process to a separate location for a number of reasons. The biggest was because 50 percent of the surface refinishing portion of our business was to area fabricators, while the other 50 percent was to area wholesale distributors. I had to get it away from my fabrication facility to make sure that other fabricators wouldn't see me as a threat to them somehow, or that I'm going to steal their customers when they visited us."

The Twist
What is the twist, you ask? Well, it's the licensing of surface refinishing companies nationwide, said Percoco.
"In 2005, when we first started offering this service out of our fab shop, we were also looking at moving this concept across the country. We already had national accounts with some of the big wholesalers that would ship truckloads of slabs to us. But the idea was to get this localized in different locations, because the freight charges would kill you. It was never meant to be a business where you receive slabs from around the country, change the finish, and then send them back. If you think about it, for a large distributor, some of these finishes could be purchased direct from the quarry, but what are you going to do – stock Ubatuba in six different finishes, including polished? I think not. So the idea, really, was to get this localized and offer different textures when needed. You can potentially multiply your inventory by 14 times – that's the number of finishes we offer. "
Again, thinking outside of the box began for Percoco, and franchising turnkey refinishing shops as a business concept was in the works. According to Percoco, this undertaking took a tremendous amount of money and a year or so to get it rolling. Unfortunately, the rolling eventually became an uphill battle, he continued. "When we finally launched the franchise system and we went to a show in Los Angeles, we had about four solid leads of people who thought the idea was great and wanted to move forward. That was in September of 2008. Unfortunately, by October of 2008, the economy had crashed and everybody had pulled away from new capital investments."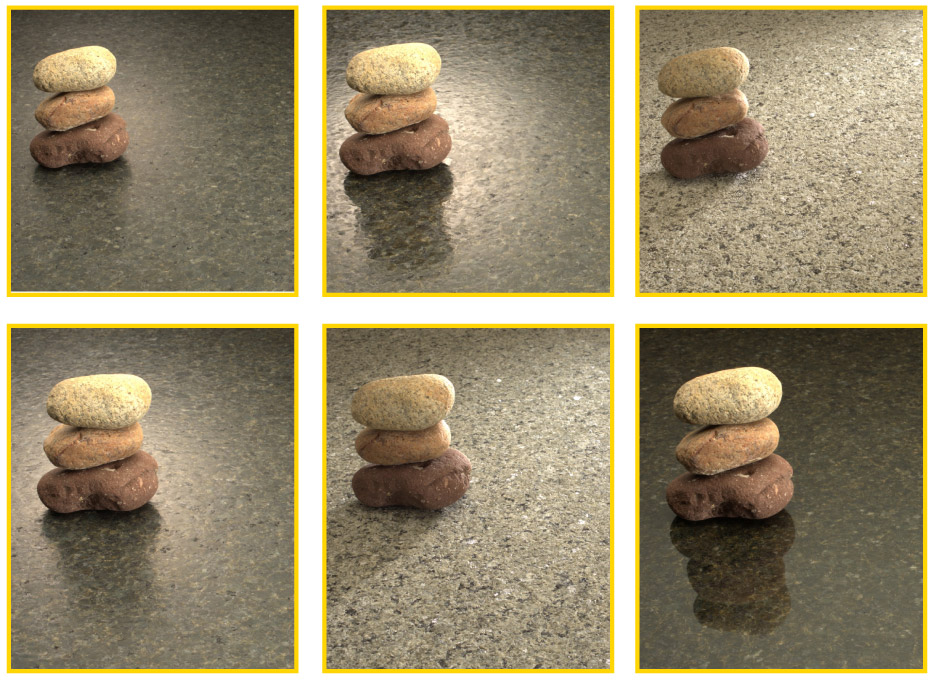 Above: Six different textures on Ubatuba show how different finishes bring out a different personality with this granite:
Top row: Honed; Caress; Bush Hammer;
Second row: Leather; Tuscan; and Polished.
Above, left and right: Sandblast finish on Rosa Verona marble; Coarse Scarpaletto finish on Rosa Verona marble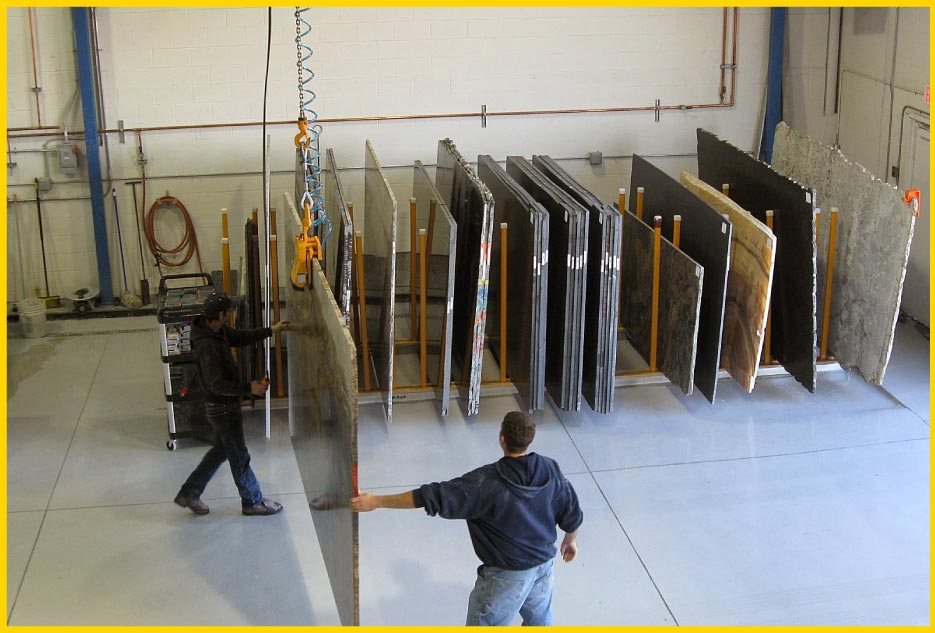 Above: Moving a finished textured slab to a storage rack for pickup. The slabs in the rack are special orders.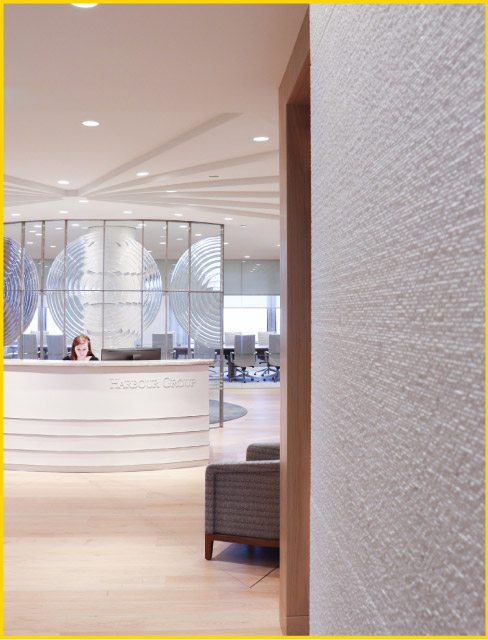 Fine Rake textured on Opal White marble cladding installed throughout an office building.

A New and Improved Turnkey System
Consequently, the franchising portion of Percoco Stone Finishing was put on hold. Taking its place, however, was a new and improved licensing agreement, said Percoco. He then went on to explain that his turnkey system is a great alternative to fabrication. "What I'd really like to get across here is that this is what we are doing in the Denver area, and here is how we can help a fabricator make money without them fabricating. What I'd like to find are a few fabricators around the country that are sick and tired of the headaches of the fabrication and installation end, but still love the stone and are tired of just working for wages.
"We have worked out a turnkey system and have people who can finance the equipment for them, and minimize their capital investment. But it's very important for a fabricator to not think that he or she can do this using their CNC machine. Besides, if you're a smart fabricator, why would you tie-up your CNC while trying to put a new finish on slabs – a process that might take five hours – when you could knock-out two kitchens in the same amount of time?
"So, let's say that you're in a major market. We are going to evaluate this area and maybe tell you that you can do approximately 12 to 15 slabs per day by having a two-machine business model. You, as an owner, are going to have a little over a million dollars tied up with everything you need including your space, machinery package, startup costs, training and cash on hand to get you through the first three months or so. We have worked all of this out to the penny. We will train your people here in Denver, as well as at your own site, to help you get the whole thing up and running. It has worked great here in Denver, and it will work great elsewhere."
According to Percoco, a monthly average of 40 percent of his fabricated work goes out the door with one of his textures. Percoco also uses tiered pricing, meaning that "wholesale distributors are at one price, fabricators are at another price, and then there is a suggested retail price – though we do not sell our finishes to the retail customer – it is a guideline for the fabricators." This, according to Percoco, keeps the playing field a fair place to do business for all, with no conflicts, as the wholesaler sells the finish to the fabricator at the same price Percoco sells to the fabricator, protecting both customers.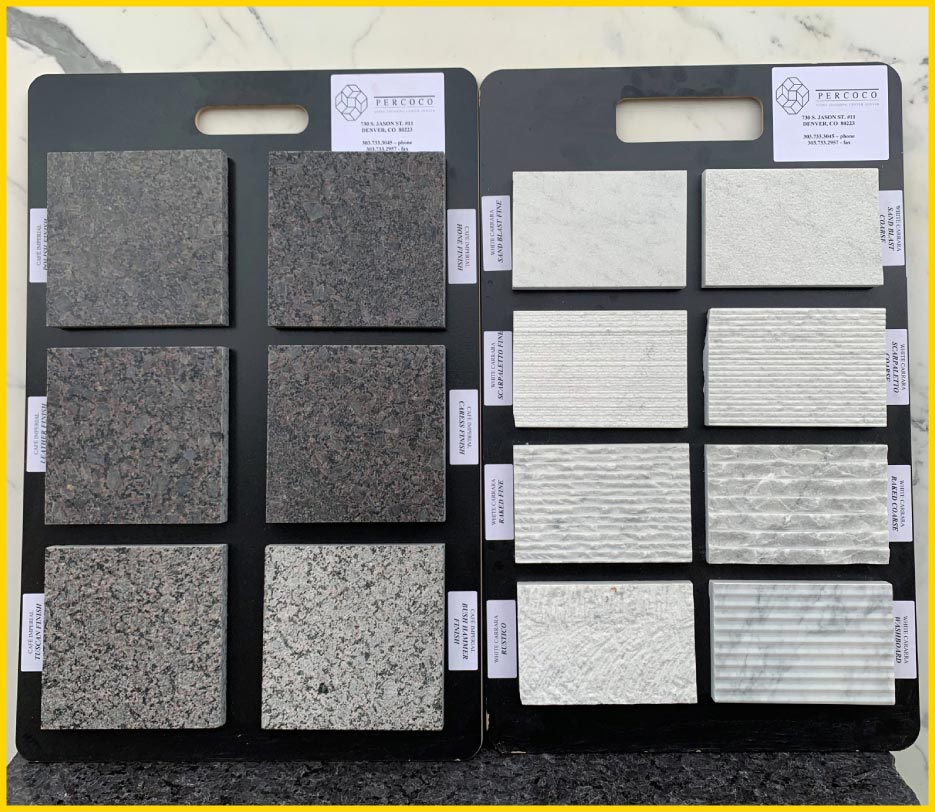 Above: Sample boards show range of finish variations using Café Imperial granite (left) and White Carrara marble.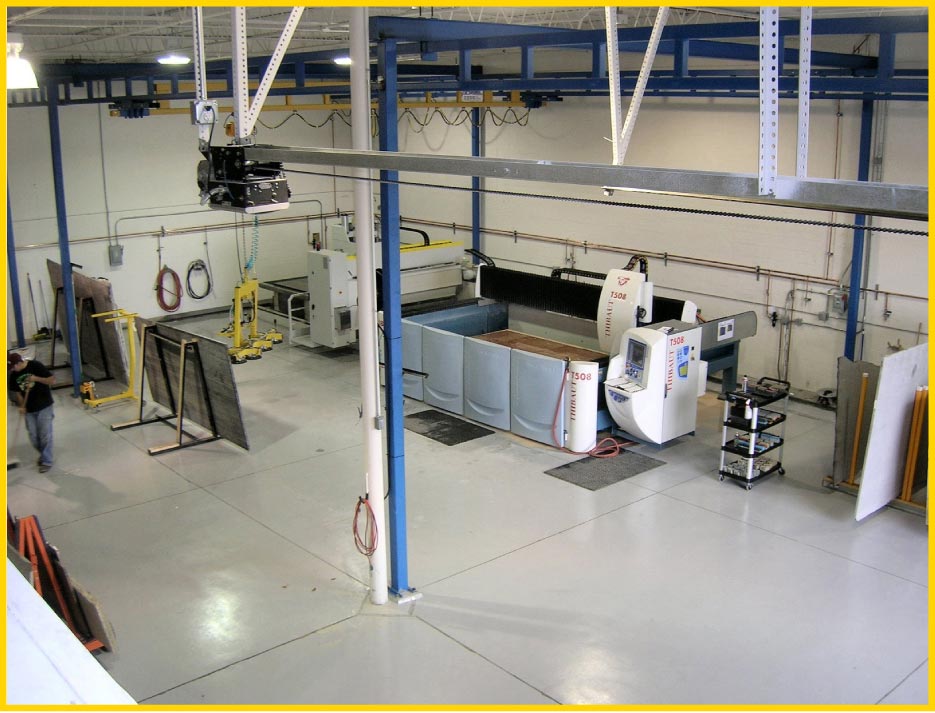 Above: Compared to a full shop, the Percoco operation only needs a modest footprint, and two stone workers to process slabs.


Stone Refinishing: Is it Right for You?
"You can take inexpensive stone, put a new finish on it, and really make it something special," continued Percoco. "It's pretty unique and great, because you don't have to spend a ton of money on some expensive, exotic, fancy-looking stone. Our textures give the stone a more natural, toned-down look that is unique, and only adds about 10 percent to the total cost of the kitchen countertops, for the customer. Our refinishing shop is staffed with only two people, and there are no retail sales at all, and profit wise, it's many times more lucrative than fabrication.
"There's one more important point: there is only room for one of these refinishing companies in any given metro area, and if you start one of these and hit it hard the way you should hit it, you are going to dominate the market, because no one is going to be able to catch up to you. You will already be in there with a niche product, and have a foothold.
"There is also the commercial aspect of this business to consider. When you get the architects and designers that design entryways and lobbies and they see the sample boards of designer finishes that we supply you with, that's all you need to do. They'll know what to do from there.
"It's the same with the distributors. By offering them our textures, they've just multiplied their slab inventory without adding to it! So, the sales end of it is not a stretch for them. Also, repair work like re-polishing, re-resining, re-honing on problem slabs saves distributors and fabricators time and money. At one point we even polished a container load of Petrified Wood table tops, though it is not a job I would want very often!"
Above: Pietra de Cardoso schist, from the Percoco showroom. This unique stone has a honed finish, which complements the beauty of the raw wood cabinetry.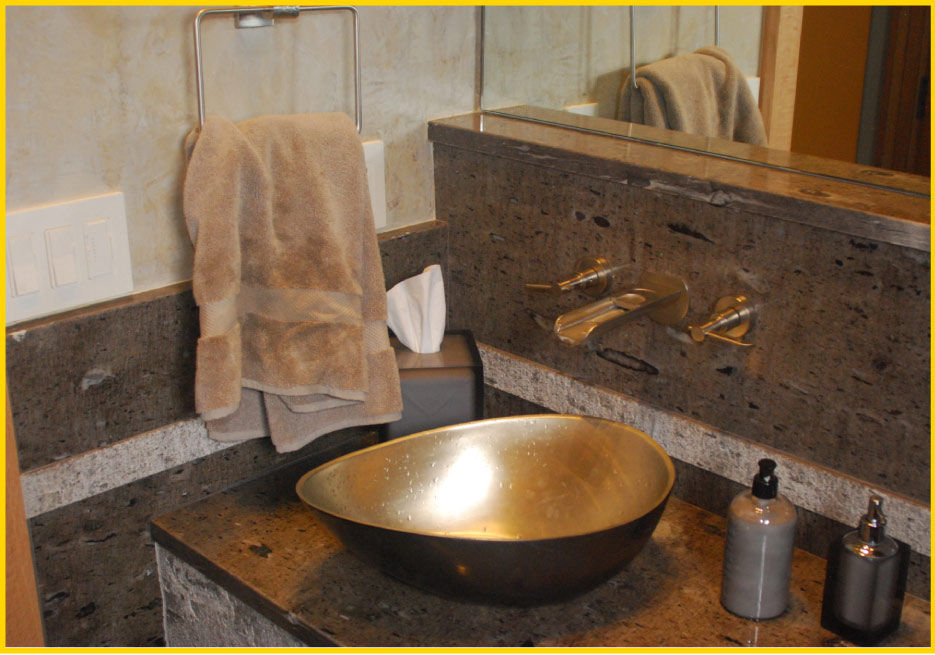 Above: Aspen granite from Brazil, with a combination of leather finish and a contrasting band of bush hammered Aspen granite stripe and apron, complements this vanity and copper vessel sink.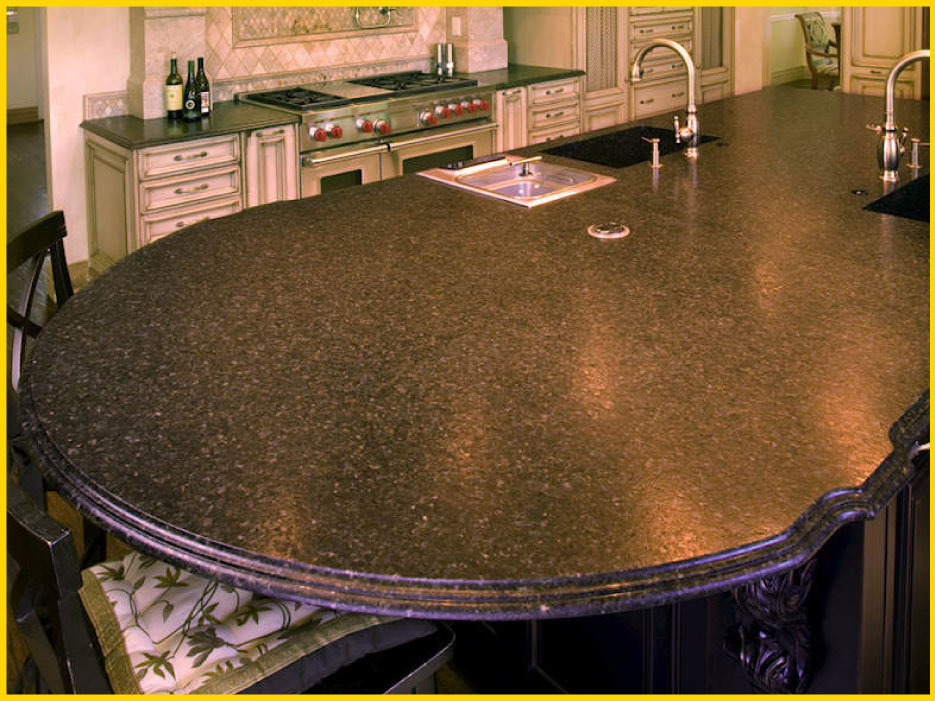 The understated texture of this elaborate Ubatuba island blends with the antiqued cabinets in this large kitchen, instead of overpowering. This understated elegance is part of the appeal of Percoco's finishes, like the built-in Verde Bellagio granite farmhouse sink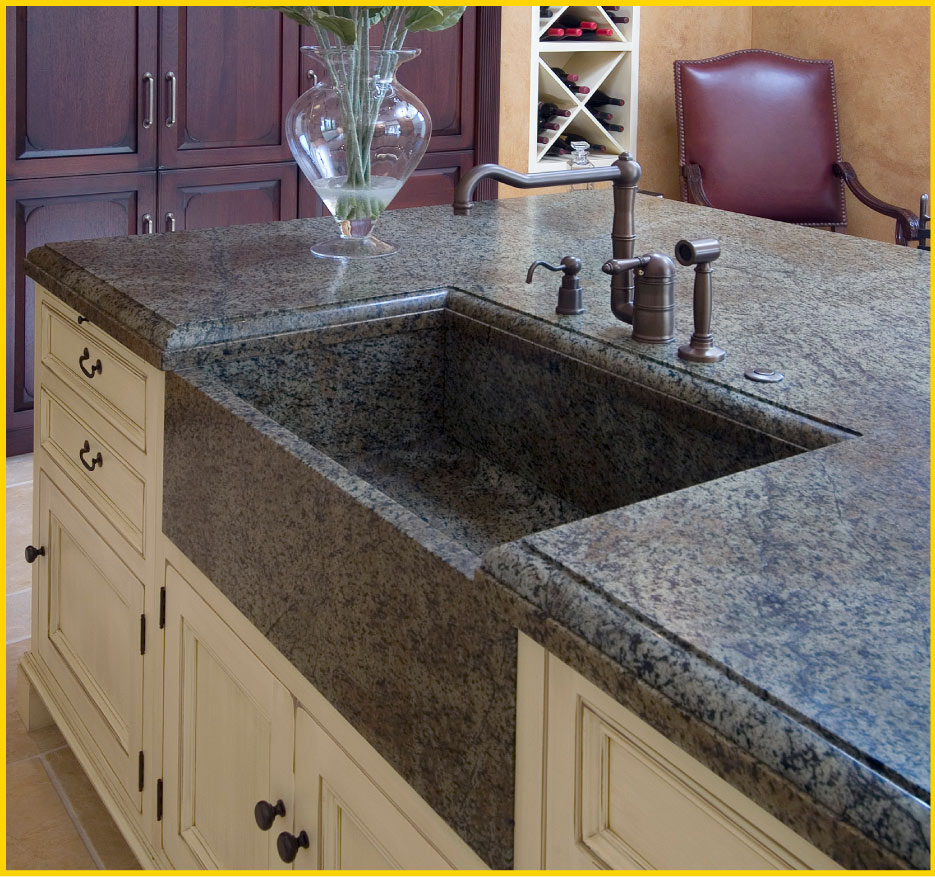 What Do I Do Next?
According to Percoco, if you are interested in licensing this process, you will need one or two machines that are made specifically for surface polishing, and are part of the package they offer. Additionally, Percoco will give you the blueprint for a turnkey operation that includes all the recipes to cook up tantalizing finishes that will satisfy the tastes of the most discriminating natural stone aficionados. Joe will also walk you and your people through the whole process and be there for you when any problems pop up. Joe is a firm believer in his tried and true brand of refinishing – so much so, in fact, that he will go to bat for you by putting his longstanding credibility with national wholesale distributors on the line to help you get your foot in the door.
In closing, if you've got a business mind, love natural stone and what you've read so far sounds like the grand slam home run you've been waiting for, go to www.percocostonefinishing.com. Better yet, said Joe, call him at 303-733-3013 for a personal, one-on-one conversation.