The Stone Detective: The Case of High-Test Versus Regular
Frederick M. Hueston, PhD
I was out on the Harley taking a long-needed ride. It's hard to find good riding weather here in Florida summers.
I was dodging rain clouds when I noticed I was almost out of gas. So, I took out my cell phone and started searching for the nearest gas station. Luckily there was one just a mile up the road. I pulled into the station and looked at the pump. My old Woody runs on regular, but this bad boy requires high test or what they call premium today.
I almost put regular in the tank, but caught myself at the last minute. Just as I was about to take out the pump nozzle my cell phone rang. Little did I know that the word "premium" would be key to this next inspection.
The voice on the other end of the phone was a deep bass, almost Lurch-like voice. He began by telling me that he was a home builder in Las Vegas, and they had a major problem with some granite flooring installed in a home. He went on to tell me that they suspected the granite is dyed, since there are different shades throughout the floor. He asked if I could hop a flight out there next week to take a look. Apparently, this was a big, big house, and an important client. I would soon find out.
Next week arrived and I was off to Vegas, baby! I could tell you what happened there but you know the saying, "What happens in Vegas – stays in Vegas."
Whatever. I'll tell ya, anyway. I arrived at McCarran airport and was greeted by a chauffeur holding a sign with my name on it. Wow, I really didn't expect a limo, but hey, it's Vegas – land of the extravagant, home of the wealthy.
The chauffeur took my bag and I followed him to the stretch limo. He told me the house was about an hour away, and to sit back and enjoy the ride. It had been a while since I had been in a limo. It had a fully-stocked bar with premium booze. There is that word again. Too bad I don't drink. Anyway, I grabbed a bottle of water and shut my eyes for the hour ride.
We arrived at a gated community and drove all the way to the back of the development, passing some large and fancy estates. We entered a gate, and the road curved up the side of the mountain. After a bunch of switchbacks, we pulled up to what looked like a hotel. But it wasn't a hotel, it was someone's home. I wondered if perhaps this was a celebrity's home, but I never did find out, or get to ask, for that matter.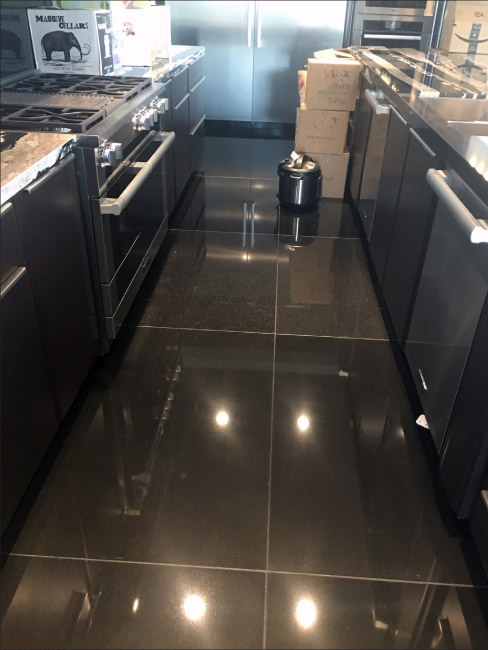 Exhibit A: High-end installation, Black Absolute large
format floor tiles. How many color variations can you spot in this one photo? Unfortunately, there are no universally accepted and enforced Industry standards to define what is premium grade Black Absolute, and what is not.
The chauffeur opened the door and there were two gentlemen standing at the front door. They immediately introduced themselves. One was the contractor I talked with on the phone, and the other was an attorney. Oh no, I thought. Here we go again, probably another lawsuit.
After the brief introductions the contractor handed me a large envelope. He told me that there were several documents in there, including some invoices for the granite. He also said my check was in there as well. I like it when a client pays right away. I opened the envelope and took out an invoice for the granite. I noted that it said "Premium Black Absolute granite" at a cost of $600,000.00. That's a lot of granite!
For a few minutes, I fumbled through some of the other documents, including letters, memo and copies of emails from the contractor to the stone supplier - thick wad of documentation. "It'll take me a while to wade through this, but it looks pretty comprehensive," I said. "Let's see the installation."

The contractor ushered me inside. The first thing I noticed was that the black granite had some major shade differences (see the photo). As we waked though the home, the shade difference got more obvious and had me shaking my head.
My next step was to test some of the granite to see if it had been dyed. I took out my kit and proceeded to test several pieces of granite. As Gomer Pyle would say… "Surprise, surprise, surprise!" Yes, some of it certainly was dyed. Of course, black dyed granite is a common problem. I have seen it a million times, but, in this case, not only was it dyed, it also was not what I would consider premium granite.
Now, where this gets tricky is there are no comprehensive industry standards to define what is and what isn't premium. But lucky for me and the homeowner, many distributors have their own definitions for what constitutes premium. And guess what? This was not what I would consider premium, by any definition. Not only was the shading variable, but some of the gray-colored granite had very large crystals. This was clearly not premium-quality. I told the attorney I would write a report. Now, off to the blackjack tables – or should I play poker? I was feeling pretty lucky, with another case solved in record time.

The Stone Detective is a fictional character created by Dr. Frederick M. Hueston, PhD, written to entertain and educate. Dr. Fred has written over 33 books on stone and tile installations, fabrication and restoration and also serves as an expert for many legal cases across the world. Fred has also been writing for the Slippery Rock for over 20 years. Send your comments to fhueston@stoneforensics.com.