What's Next? Part II – Sintered Stone
Sharon Koehler
Artistic Stone Design
Neolith Photos by Chris Frick, Marva Marble and Granite
As I admitted last month, I am a natural stone person. I have it all over my house. It's mostly veined with lots of movement because that is what I like. But, admittedly, not everyone likes natural stone. There is some maintenance involved in properly caring for natural stone, and pieces can be inconsistent from lot to lot or even slab to slab. I'm good with that.
However, some people want a maintenance-free product, and in the recent past those people have been able to turn to the more consistent quartz products. Now however, the quartz market is unstable, to say the least. We all know it. It's not a secret. Just as quartz seemed poised to overtake natural stone (if it hasn't already in your market), it's deemed a commodity and gets hit with a bunch of fees and tariffs.
So with the quartz market being in a rather iffy state right now, what will consumers and designers turn to in an effort to fill the quartz void? What about sintered stone? Before you say you don't know what sintered stone is – yes, you do. Two very common brands you should know right away are Neolith & Dekton. There are others, of course.
Sintered stone is made from natural materials. The process is to take minerals from natural stone such as granite and feldspar and grind them up into small particles. Then they are fused together with extreme heat and pressure. There are no resins or polymers. The process is meant to replicate the process natural stone goes through to be formed. The big difference is that it can take natural stone thousands of years to form. Sintered stone takes just hours.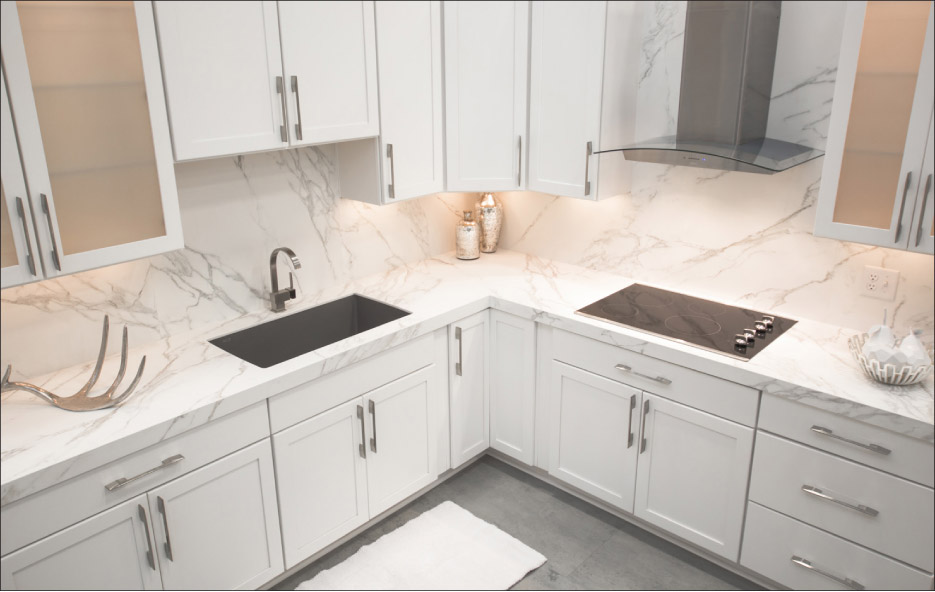 Available in slabs thick enough for countertops, and thin enough for wall cladding, Neolith lends itself to eye-catching pattern and bookmatching applications.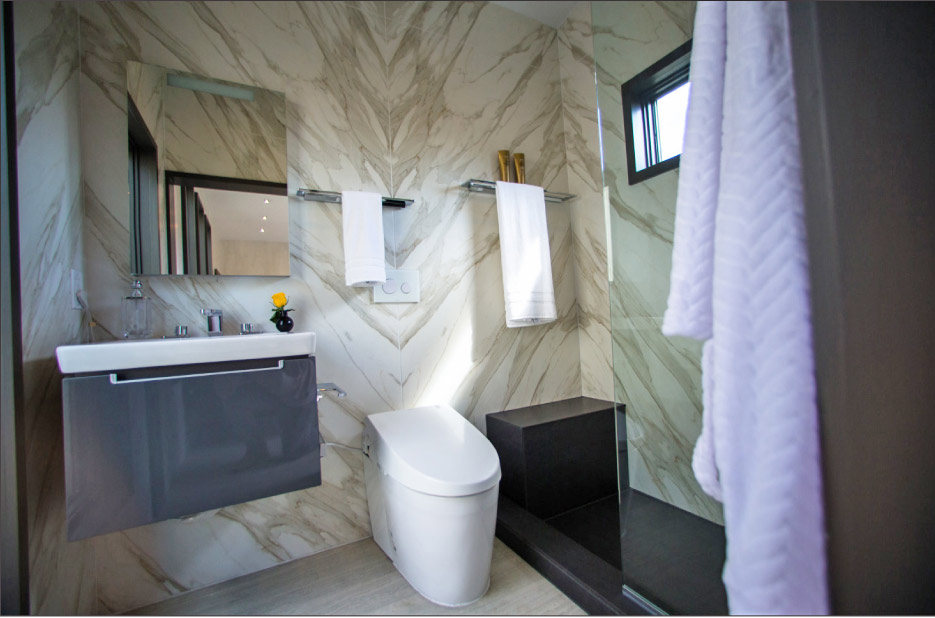 Like any product, sintered stone does have its pros and cons. Some pros:
Eco Friendly – Sintered stone is 100 percent natural and emits no toxic fumes.
Clean – Sintered stone is very dense, non-porous and is not easily stained, and not subject to bacterial growth.
Versatile – Sintered stone can be used anywhere quartz can be used and a few more places as well, like outdoor kitchens, exterior wall cladding and around swimming pools. It is a UV stable product. It also comes in such a wide variety of sizes and colors that there are not too many stone projects that it can't be used for. A piece can be as small as a piece of tile, or as large as a full blown quartz slab. Thickness (depending on the manufacturer) can range from 6mm up to 30mm (1/4 inch to 2-3/8 inches).Two cm seems to be a standard of sorts with sintered stone.
Consumer Friendly – The recommended maintenance is simply to clean it with soap and water and wipe dry. A microfiber cloth is recommended. Plus, it never needs sealing.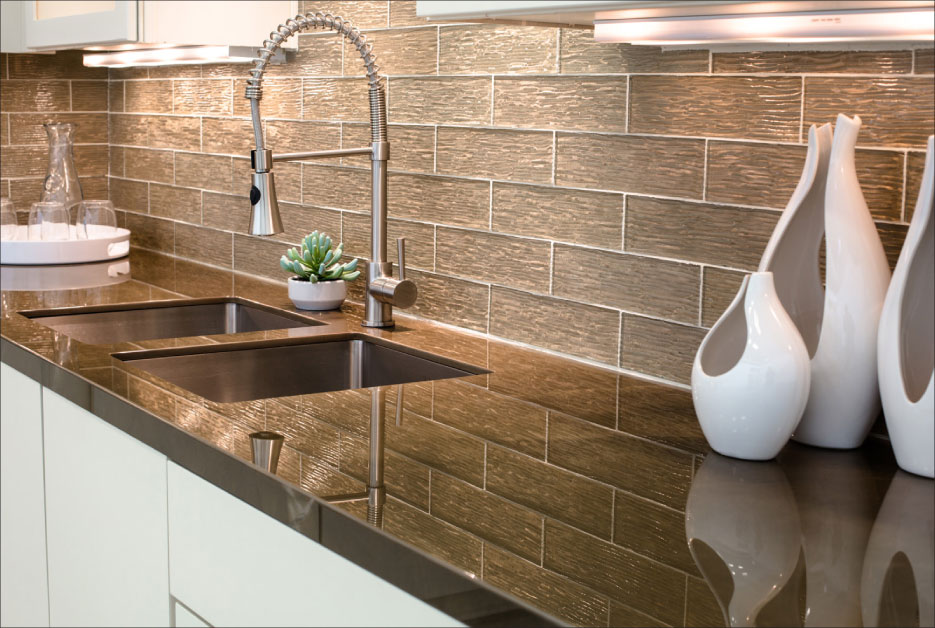 Managing customer expectations is even more important with sintered materials. Many do their own research, and the internet has a lot of incorrect information about how stain-proof, indestructible and maintenance-free manufactured stone is. It is OK to be skeptical If a manufacturer's claim sounds too good to be true.
There are some cons to take into consideration with sintered products.
Consistency – Not all sintered stone patterns go all the way through the slab. So the edges may not show the top pattern.
Fabrication Issues – Some practice is highly recommended before you try a real job. It does require special blades and core bits, and careful handling. On the Stone Fabricators Alliance it is noted that for good seams, the edges need to be tapered, and they also recommend specially formulated bonding compounds for mitering (Integra adhesives, for example, although there are others).
Also, most fabricators report that sintered stone takes much longer to cut than natural stone, perhaps due to its density. Generally, if you cut too fast, the edges will chip and cracking can occur – and your expensive sintered slab is basically ruined. In fact, some shops cut their sintered stone projects last of the day to eliminate a potential bottleneck from their production.
So, working with sintered stone is not for the faint-hearted. It takes some practice, special techniques, and special equipment. All the sintered stone brands have their own technical and fabrication guides, and each company does recommend that you read them to get a feel for the product before you try to work with it.
Durability – This is actually a pro and a con. Sintered stone is very durable. However, some studies indicate that if a heavy pot hits the edge or corner, chipping and breaking can occur.
The warranties put out by the various companies differ as widely as the product sizes do. Some are 15 years, some are 25 years, and some carry a limited lifetime warranty. Some are transferable, some are not. Most all of them do require registration and activation by either the fabricator or consumer.
The takeaway here seems to be that sintered stone, even though it has the word stone in its name, is a completely different product than natural stone or quartz. You need to be familiar with all its qualities and drawbacks before you start selling it to your customers. You should also realize that it needs to be handled and fabricated differently than natural stone or quartz. Practice before you cut and polish your first "real" project.
Is sintered stone going to be the next big thing? Will it be the product that consumers look to as an alternative to quartz? It's been around a while, and is already very popular in some markets as a fashionable, eco-friendly material, and starting to gain traction in some others.
I guess we will just have to wait and see what happens.

Please send your thoughts on this article to Sharon Koehler at Sharon@asdrva.rocks