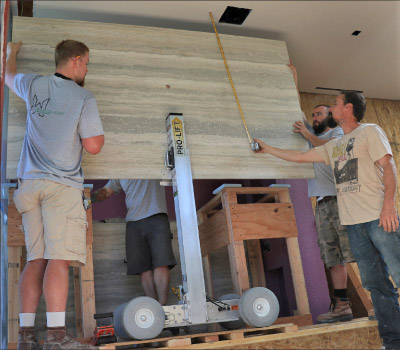 Above: The Omni Cubed® Pro-Lift makes bringing tops onsite faster, safer and easier. Here, installers are using a Pro-lift to effortlessly hoists a shower wall panel into place. Photo courtesy Wardlow Surfaces
Above: The Omni Cubed® Pro-Lift operates with a hand-held remote and is designed to be lightweight and super-strong. It does the heavy lifting on the job site for you, and enables two or three installers to do the work of five or more people. It hoists up to a ton without batting an eye. Photo courtesy Exodus Stone
Efficiency Bolsters Profitability
Jessica Sherwood
Omni Cubed
Wouldn't it be nice to lower an 800 pound island off the back of your truck or lift a ceiling-height wall panel into place without all the strain, struggle, and pain?
If only there were a heavy-duty, yet compact machine that you could cart around to every job—in any truck or van—to handle the brunt of lifting for you.
Well, great news...THERE IS! Omni Cubed's Pro-Lift Automatic is a lightweight, compact, super-strong lifting machine that will hoist up to 1,000 lb without batting an eye.
This workhorse is controlled via wireless remote, it never calls in sick, and you don't have to worry about it filing a worker's comp claim!
The Pro-Lift enables two or three people to do a job that would usually require five or more people.
This boosts your bottom line by saving excessive labor costs, time and time again.
And consider this: If the Pro-Lift helped you avoid one single worker's compensation claim, it will have more than paid for itself by that alone.
This cart was designed with the installer in mind! It's been engineered for optimum stability to enable a smooth, controlled tilt right off the cart, and it works in small install spaces as it doesn't require extra room for a large tilting platform.
Additionally, its low profile fits easily through doorways with material loaded on the cart, and it's smooth, closed-cell, flat-free tires won't pick up rocks, develop flat spots, or lose air pressure.
Spare your spine, and your dime — let the Pro-Lift do the heavy lifting while you save $$!

Contact Braxton-Bragg tollfree 800-575-4401 to order yours today!
Have questions or need more info? Call or email Omni Cubed® at: 530-748-2260 / customerservice@omnicubed.com.