Granite Counter Connection: High Standards for Small Shop Fabrication
Peter J. Marcucci

Photos Courtesy Granite Counter Connection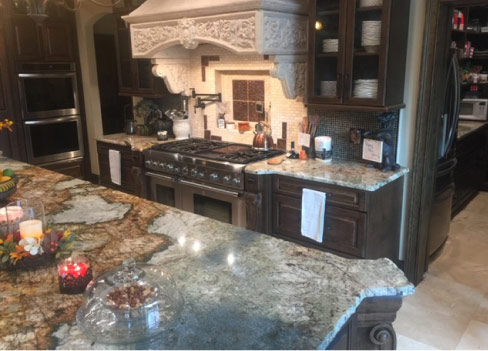 Atlas granite kitchen designed and fabricated for a Parade of Homes custom build project.
Located in Granite Falls, North Carolina, Granite Counter Connection, since its reopening in 2014, has built a reputation for unsurpassed stone fabrication within an easy and courteous environment.
Owned by Jerry Badertscher, the company was purchased from the previous owner just a few years ago, recalled Badertscher. "I bought this business from a guy four and a half years ago. At the time, I was working in a factory that poured polyurethane foam, and was looking for a career change. I really didn't know anything about stone, and didn't even have granite countertops in my house, but it looked like an interesting business, and thought I could get my head around it pretty quickly. So, I cashed in my retirement savings and the owner funded the rest of it, and that's how we got started."
Luckily for Badertscher, the previous owner's son and one other employee stayed on after the transition, he explained. "They showed us how to take orders and do the work. Shortly after, my son came on-board and learned the business. Fortunately for me, at the time that we took it over, it was summer. My wife was a school teacher and took summers off, and she helped create the L.L.C. and comply with state and federal requirements."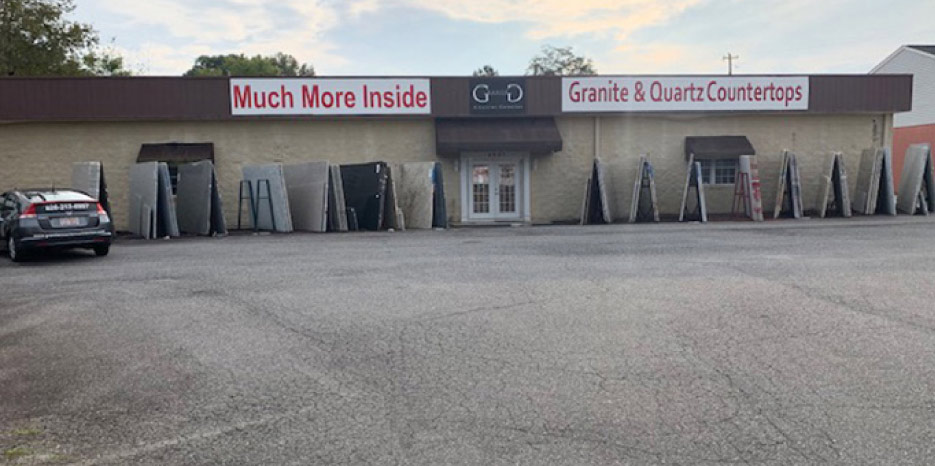 The view from high traffic volume scenic Hwy 321 entices drive-bys to come on in.

Looking professional is even more important when you're a small shop. Image may not be everything, but it helps.
Upgrading from Stone Age to Modern Age
The previous owner had been cutting with an old bridge saw, and edges and shaping were done by hand. Furthermore, the saw didn't even have a tilt table, and that improvement was also quickly taken care of. Other equipment soon followed as the 8,000 square foot shop was brought up to expectations. This included a Donatoni 625 Jet (a five axis blade/router CNC), a Comandulli Penta edger, and a Hercules edge router and Fab King, both purchased from Braxton-Bragg. With these changes, Badertscher basically turned a dry fab-shop into a safe and modern wet shop, he explained.
"I had read a lot about silicosis when I was thinking about buying the business, and making it a fully wet shop was the primary thing that we were going take care of. Safety is one of our core values, and something that we stress every day. When I bought the Fab King it was a huge improvement for our shop. It not only made us safer, it freed up our CNC to do other work while saving us time, because the Fab King will do a sink cut out in half the time.
"Another big thing for us is that whenever we hire a new person, we immediately point out that the number one cause of death in this type of business is due to a slab falling and crushing a person. So, I personally instruct people how to correctly do it. We also make sure that our experienced people work with them for a while. Of course, the respirators and the eye and hearing protection are also a big part of our training, and we go over these items in depth when they start their careers with us."
Interestingly, Badertscher has taken a giant step towards safe slab handling by installing a jib crane to service most points within the shop, as well as a Stone Pro Rock Jockey from Braxton-Bragg to facilitate safe, one-man handling of slabs when being moved with a fork lift.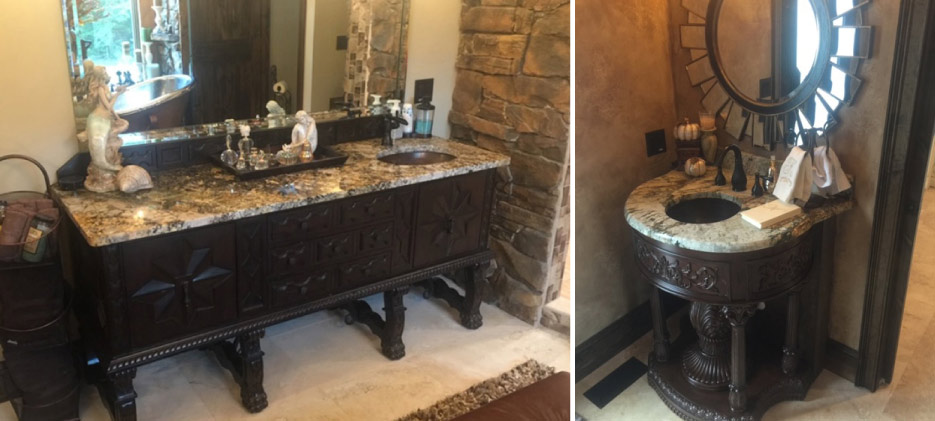 These Parade of Homes vanities feature multi-colored Brazilian Mascalzone granite (above, left) and Atlas granite (above, right, guest bath), both with an undermount bowl sink.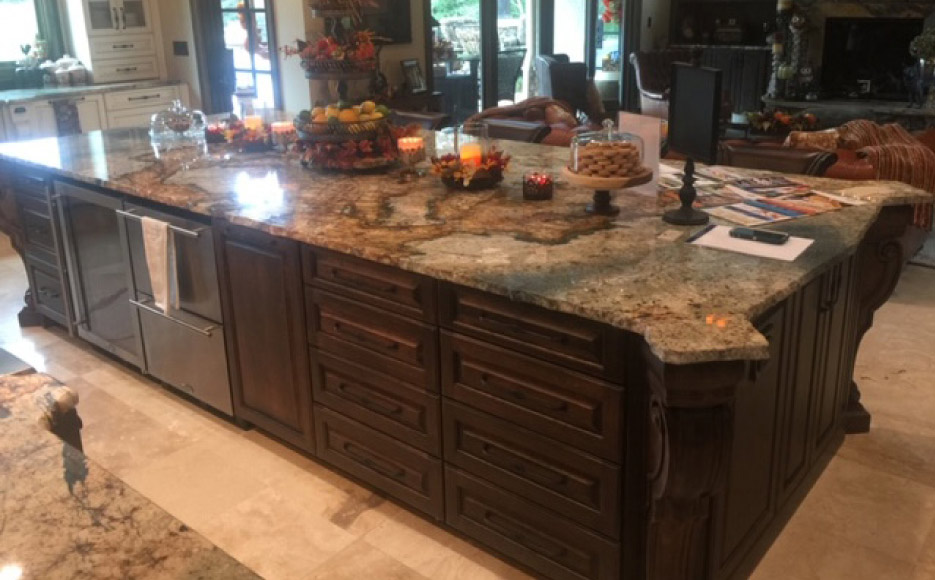 Above, Another view of this spectacular full-slab island of Atlas Granite.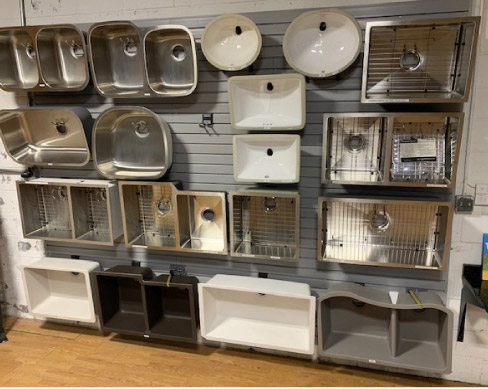 Showroom displays include kitchen and bath vignettes, a wall full of sink options, and about 80 samples of stone.
Keeping Up With the Demand
Granite Counter Connection currently staffs nine employees, with many of them cross-trained. One particular employee mentioned is Leslie, noted Badertscher, adding that both of them wear many hats throughout the day.
"I do all the digital templating, while Leslie takes care of the showroom, the accounting, the ordering, and customer service.
"She's really good at all of these things and gets compliments from our customers on how knowledgeable she is. When she leaves at three in the afternoon, I then take over the showroom and anything else.
"We'll do whatever it takes to make the customer happy, but every now and then, you have a customer who you cannot make happy. I had a customer who said the chemical that we used to put her seam together smelled so bad, she couldn't breathe. How do you handle something like that? You can apologize and do everything you can think of, but sometimes there's no way you can satisfy that customer, and I'll give them their money back. That's painful, but at the end of the day, that customer will tell their friends that Granite Counter Connections did this wrong and couldn't get this right, but they gave me my money back; and maybe, just maybe, the people listening will get the idea that this person is just very hard to satisfy."

Is Image Everything?
As you might have guessed, Badertscher's small and efficient company stays quite busy. You may wonder if their crowded production schedule is due to marketing, luck or chance. Well, it's due to their attention to details that has paid off in spades.
"We always strive to do a really nice, professional job at the customer's house, and that brings a lot of word-of-mouth business to us," he continued. "The other thing is that we are on highway 321, and we have about 66,000 cars go by here every day! The former owner didn't have any slabs or remnants outside. I put both out the day when we moved in, and almost immediately people took notice. I had one person show up saying, 'I've been driving by here for ten years, and I never knew this company was here.' We also have a sign out front that says, We'll Beat Anybody's Written Quote. So for us it's all about price, showing the slabs to drive-bys, and the quality of our work."
There's one more important point to mention, and that's Image. The former owner had been working out of the back of a pickup truck for installations. It was beat up and just plain ugly, so one of the first things Badertscher did was buy a used but clean box truck, and put a logo on it.
He added, "From the beginning you have to give a customer a good impression, and that starts from the road; is there garbage visible? Is the grass mowed? Are the slabs on display organized neatly, and are they labeled with pricing? We also have a sheet we give potential customers that breaks down the cost. Many shops don't do that and just give a price saying, 'Would you like to move forward or not?' I cannot understand how someone can operate a business that way. Moreover, a price should not be based on what type of car the customer pulls in with."
Company shirts have also been a big win for customer confidence, he explained. "You've got guys in this business who have tattoos and weird hair, but when you put a company shirt on them, it makes all the difference in the world for image and customer trust."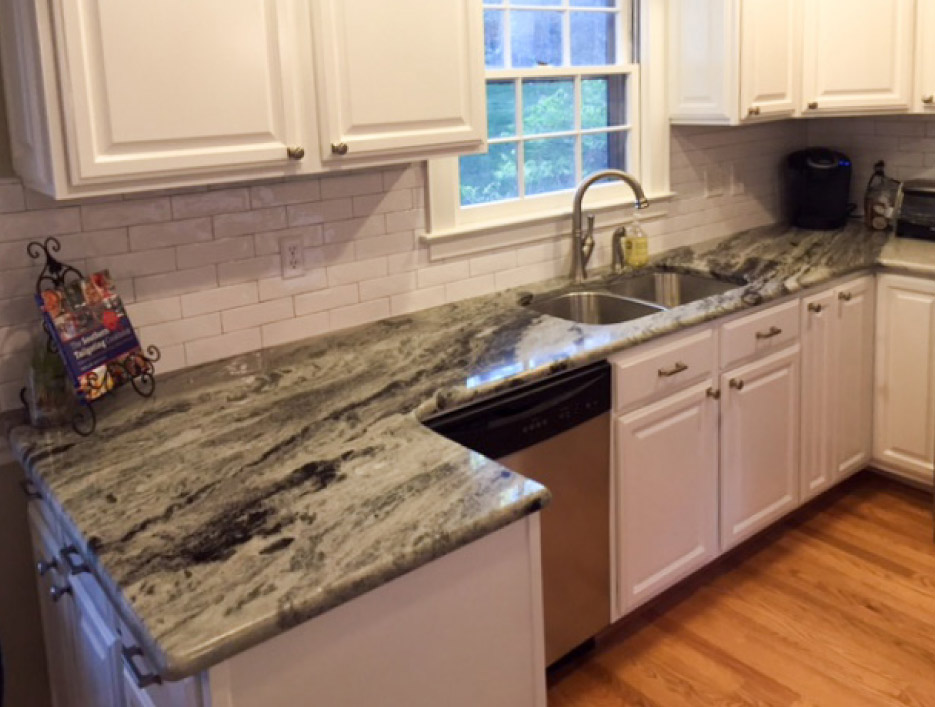 Granite Countertop Connection serves a 70-mile radius that includes high end to mid-range consumer and builder clients.
Improvements like their Comandulli Penta edger (below) keep their quality consistent.

To Sell or Educate, That is the Question
Granite Counter Connection covers approximately a seventy-plus mile radius in all directions from its home in Granite Falls. From the Blue Ridge Mountains to the lower rolling hills, the company's diverse clientele range from high-end to mid-size residential, and from builders to home owners looking for a quality renovation.
Located on just a one-half acre lot, the showroom is 10,000 square feet featuring vignettes of kitchens and baths topped with granite and quartz. As customers meander and peruse these displays, they are greeted by a large screen TV with photos and samples of all types. Looking deeper into the showroom, the client's eyes are attracted to slabs ranging from small to large. At any one time, at least 80 consignment slabs consisting of 35 different colors are in stock. Badertscher, nonetheless, does not set limits to his customers' tastes, he explained.
"We do occasionally send people to Charlotte, North Carolina where they can view slabs from 22 suppliers, but I do believe that our inventory gives us a competitive advantage. Many of our customers are so busy during the week, that they want to come in on Saturday and we are one of the few shops in our market that has Saturday hours. They can select stone, sinks and faucets right then and there and give us a deposit.
"There are seven steps to selling, and the number one thing is to find out what the customer wants. So if you can greet the customer and then ask them, 'What can I do for you, or what can I help you with?' everything after that will fall into place. Most often customers will also ask, 'What's better, granite or quartz?' We'll then explain how both products are made, and the benefits of both for your application, and just educate them and then let them make the decision. So really, my job is to insure that when the customer sees and feels their own countertops, they will love them, and at the end of the day that's what it's all about."
Fulfilling the work load are four full-time shop employees, while two, two-man crews take care of installations. "Any and all success that we've achieved is a direct result of our employees and their efforts," Badertscher continued. "Their interaction with our customers and making sure the job is done right has been key to our success. Things don't always go right, but if we communicate with the customer early and let them know that we've got a situation that has come up and that their job is a priority, then that customer knows we are doing everything we can."
"We are trying hard to level out our workload to consistently produce two kitchens per day, year round. I'm also working on a contract to buy this property. That's going to be important, so all of us can have security. We have a lot of competition in this area, and it's important for us to treat our employees, our vendors and our customers the way we would want to be treated. That's the best advice I could tell anybody."

By all indications, Granite Counter Connection is the consummate role model for the reboot of a small shop. You be the judge.

For more information go to www.granitecounterconnection.com .