Restoneovation Rocks
Codiak San Herrell
Photos Courtesy Sm@b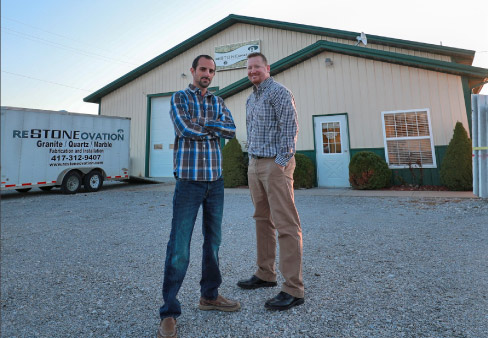 Co-owners of Restoneovation, (from left): Steven Jaeger, and Joe Schatzley
Restoneovation is a stone fabrication shop located in Neosho, Missouri, an hour from the Arkansas border and a half-hour from Joplin, Missouri, in the southwest corner of the state. This unique shop thrives by building beautiful kitchens, and making sure that their customers have the best experience possible.
Jointly owned by Steven Jaeger and Joe Schatzley, Steven manages the finances and marketing side while Joe brings to the table his nearly sixteen years of experience in the industry, ensuring their install and fabrication leadership and teams stay focused and running smoothly.
Complimenting each other's skills, these two are also brothers-in-law, giving Restoneovation a modern-day twist on the traditional family-owned stone business.
Restoneovation was started with the intention of reusing scrap granite and making it into Lazy Susans and cutting boards. The two men set out with a hammer and a grinder, fabricating each piece of product under their carport. They set up a booth at home and craft shows, traveling as far as Kansas City, Missouri, and Tulsa, Oklahoma.
However, this venture proved unsuccessful as they were unable to sell as many Lazy Susans and cutting boards as they had hoped. Joe and Steven soon realized if Restoneovation was going to continue to be successful they would have to change their focus and concentrate on selling countertops.
By this point, Joe had taken on a full time job at a steel company to assure he could place food on his table and pay his bills. Steven also was working as a RN in a local emergency room. The two of them would work after hours and weekends producing one small job here and there, still under their carport. They remember one job in particular: it was below freezing and the water was turning into ice on top of the granite as they were fabricating.
"It wasn't ideal," Joe Schatzley said, "but we worked with what we had."
Joe and Steven eventually took the next step and rented a store front in Neosho, Missouri that came with a small shop and even smaller office. They began to grow their customer base, producing more and more countertops. The space still wasn't ideal, but better than their carport. They continued working extra hours at this facility trying to keep up with the jobs as they came in. Growing slowly, they added their first part-time employee. At this point both Joe and Steven's full-time jobs were going very well. However, it became apparent that if Restoneovation was going to continue to grow certain changes would need to be made. Joe made the big decision and left the steel company to turn his attention full time on Restoneovation. After a couple years of renting they purchased a much larger facility where they now continue to fabricate granite countertops. Working mainly with 3cm material, they are open to work with almost all materials, including milestone, natural stone, and soapstone. Restoneovation has now been in operation since 2012 and currently employs a total of a dozen workers from the install team to the front office.
Doing all the fabrication by hand and lifting by hand, using Omni Cubed devices or forklift, Restoneovation is implementing new machinery and just added a pristine water filtration system along with a 25hp Kaeser air compressor. The combination of these two machines will ensure that the brunt of the fabrication will be dust free as well as assuring that the polish of each piece meets exceptional quality.
"You have to grow into your shoes," stated Joe Schatzley, "and sometimes it takes more time than you want". They are now buying their first 5 axis Sasso K600 Extreme XL saw and are excited to start this chapter of their journey. Line polishers and CNC routers will follow shortly, as they continue to grow.
Co-owner Steven Jaeger added, "We want to grow and expand but want to do it and take the success of the company gradually. We want to stay as debt-free as possible and not deplete emergency funds. In case another recession hits, we want to be fine, not overextended, and be able to continue."
They stay extremely busy and use their own install crews for quality control. They found out the hard way that you can't always rely on sub-contractors to install.
Now, Restoneovation does all installs themselves with a two- to three-man crew, and Joe does all the templating. They admitted that one problem with their location in Neosho is the long drive times for templating and installs. It is inevitable to compare their output to other companies that can pull off ten jobs a day, due to shorter drive times.
But "quality over quantity" and "slow and steady wins the race" are attitudes that the two owners could not stress enough. "We all want to be perfect, but we all make mistakes. In the back of our minds, our desire to do right by our customers far outweighs our desire to grow and expand and drive nicer vehicles," says Joe Schatzley. "It means more to us to be honest with customers than to only get two out of six jobs right." They made it clear that building relationships with customers and making people happy, is more important to them than making a ton of money. In other words, treating others the way they would want to be treated is the basis of their work ethic.
"Rough and difficult situations will teach you lessons and are important to the growing process. Keep your promises with customers and they will report better word of mouth." There's a proven history of these endorsements bringing return business from satisfied customers spreading the word. "Under promise, over deliver. Never lie to your customers," concluded Joe Schatzley.
Here's how they take precautions to improve quality: every departments is responsible for quality checking – and not just one department – avoiding the issue of department controversies and helping departments to own their work.
Although there is a higher probability of being double-checked in the shop for a precise quality inspection before going out the door to installation, the job folder stays with each designated job every step of the way. Restoneovation realizes the importance of a job well done from every department, and credits their workers and crew. "It is not just a one-man success, it takes the team, and I am very grateful for the team that we have," expresses Joe Schatzley. Improving their receiving material receiving process, Restoneovation has also started being picky about what slab distributors they use – especially if the distributor does not share the same belief in "under promise and over deliver."
Restoneovation recently installed LED lights in the shop ceiling to replicate what a customer's lighting will look like on their countertops. They also put all their seams together in the shop, and expressed how they strive to offer the best seams in their region. They pay special attention to the flowing veins in directional material, backsplash included, matching the flow as much as possible.
When asking the two owners about their experiences with Braxton-Bragg, they expressed how much they like their prices, reliability and accuracy of ordering, and called Braxton-Bragg's online ordering "top notch." They purchased their forklift boom from them, and admitted that they love the polishing pads they get from Braxton-Bragg, including 3-step Viper pads, and Talon 4-step Quartz pads.
Restoneovation has an impressive social media following, with over 55,000 likes on Facebook currently, as well as a YouTube page with several quality videos. They believe that social media really helps their word of mouth and it does help bring them business. This is part of Jenny's forte (Joe Schatzleys wife and Steven's sister). She manages the office and does most of the social media posting.
Amongst many other giveaways, they once teamed up with Bass Pro on a "Shark Dive Giveaway," where Restoneovation gave away four Bass Pro shark encounters, as well as shirts and Wonders of Wildlife admissions to the lucky winners picked at random, from among those who liked, shared, commented and watched their video. Joe and Steven stressed that they like making customers happy, and the social media just adds to their capabilities to increase customer satisfaction.
Above: Non-rectangular is no problem for Restoneovation. New Venetian Gold island and perimeter, with an impressive radius that matches the shape of barrels is the focal point of this man cave bar area. Authentic oak barrels form the platform for this custom piece, personalized for the client.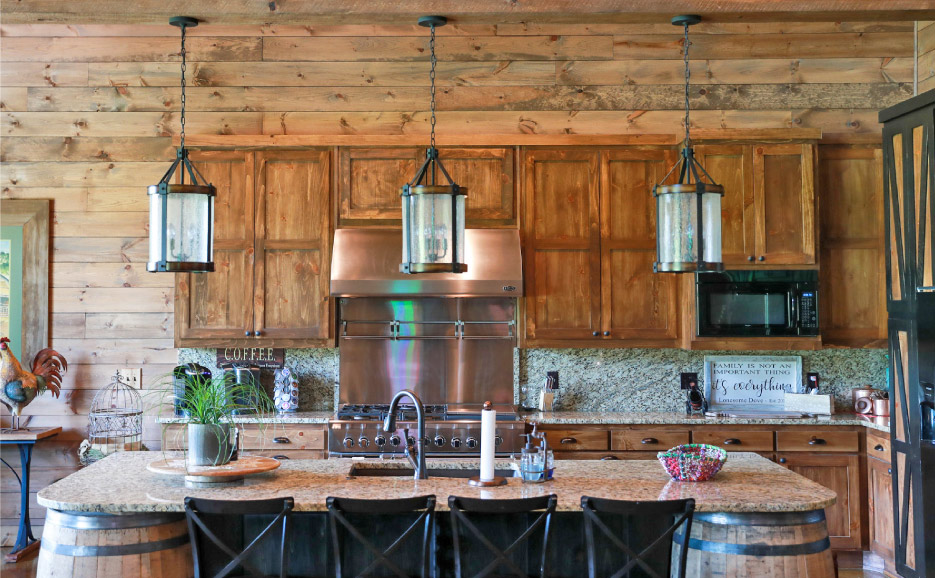 Above: New Venetian Gold island and perimeter, with an impressive radius that matches the shape of the supporting barrels. This kitchen island is echoed by a similar design gracing the bar area of this residence.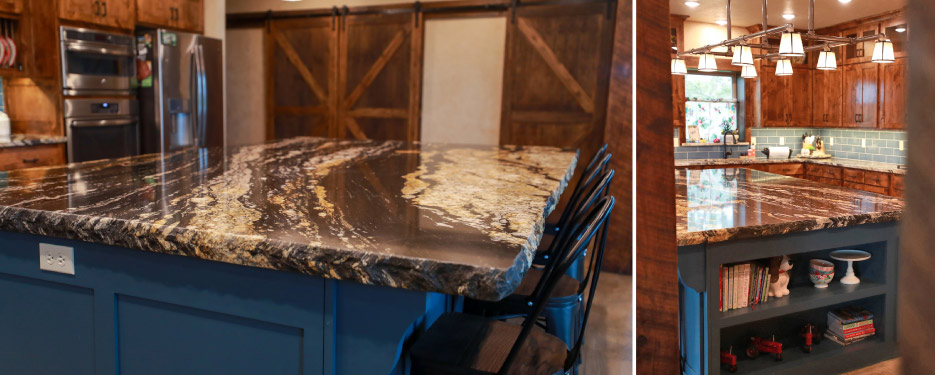 Above: Supreme granite island with a beautiful chisel edge, and matching Supreme perimeter counter make for a stunning rustic kitchen design. The key to their success, so far? Good communication and building relationships with their clients.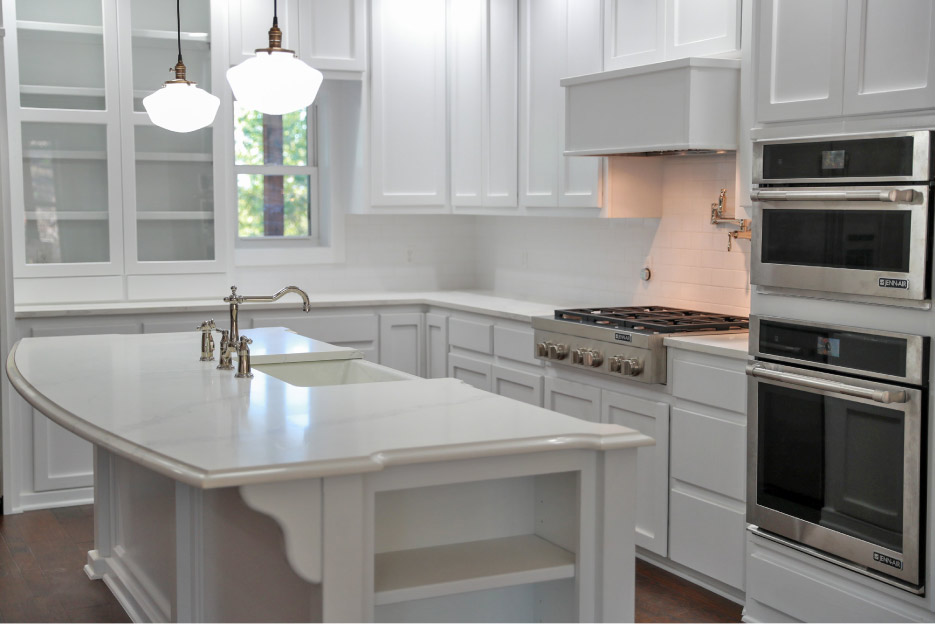 Above: Kitchens like this Calacatta Venice are precisely the reason Restoneovation implements LED lights in their shop: for a proper quality inspection, simulating residence lighting.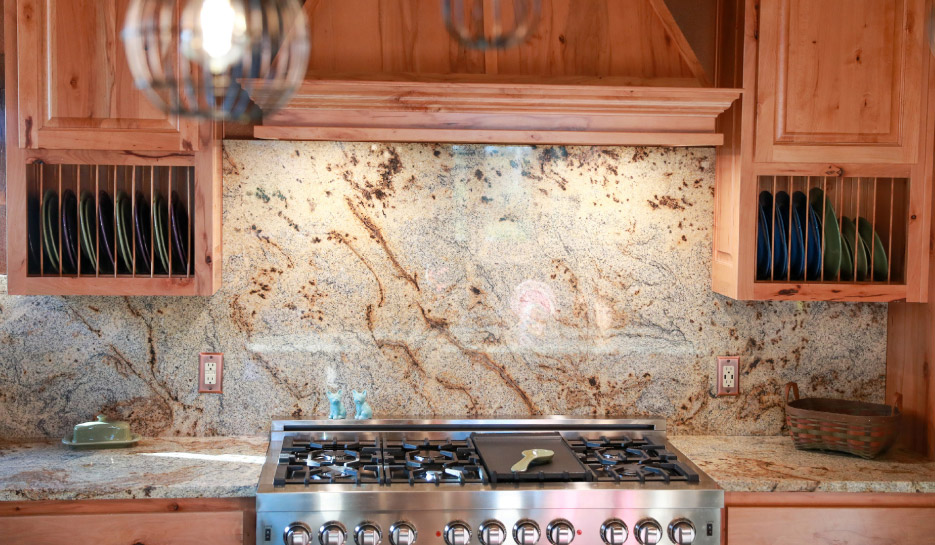 Above: Brazilian Jaguar granite was selected for the dramatic stripes of color in this open-plan kitchen.

Above and Below: Elegant Jaguar granite island, perimeter and full height backsplash.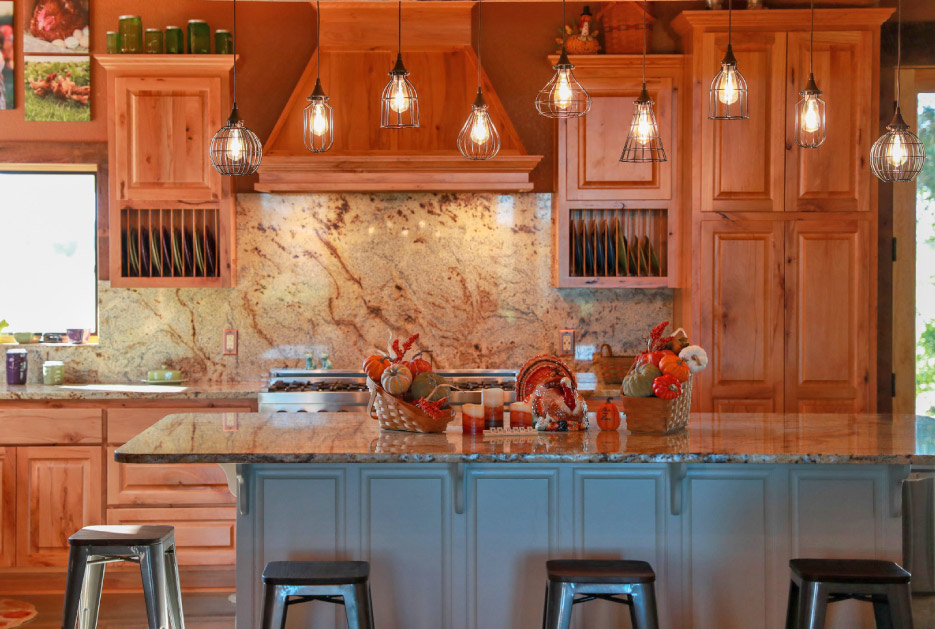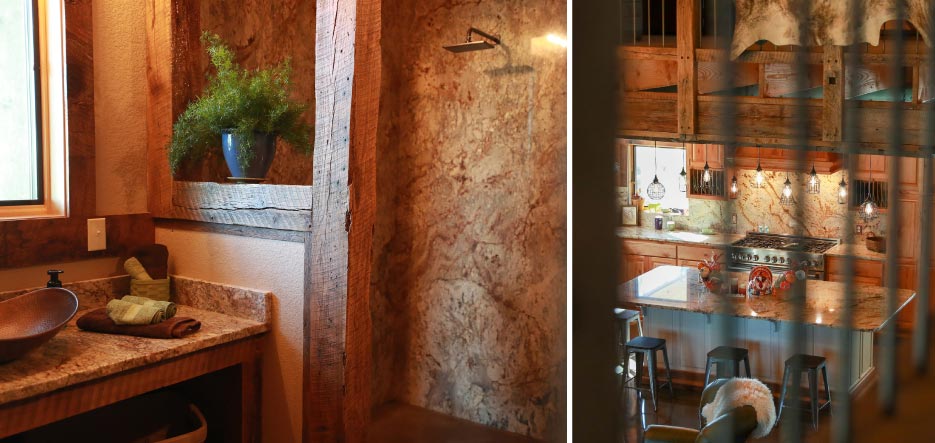 Above, right: Viewed from above, the vertically diagonal stripes of the Jaguar granite accentuate the two-story height of the great room and kitchen.

Above, left: Typhoon Bordeaux full-height shower walls with matching vessel sink vanity.
As American as Apple Pie
Apple pie is an important part of American culture and tradition, observed Schatzley and Jaeger. That's why these creative owners implemented a unique way of showing their appreciation to customers by giving them all an apple pie, after doing business with them.
"A handshake and an apple pie, as a way of saying thank you to our customers," was a big hit claims Steven Jaeger, whose wife Kara used to make all the apple pies herself. Spreading the word through social media, the pies became hugely popular – and too much for Kara, she admits – so they now offer home-made pies sourced from a local bakery called Flower Box Café.
They also believe in real-life interactions with the people who trust them to assemble countertops in their homes. When Joe or Steven are in a residence, they realize that it is an opportunity to interact with customers, and have a free-flowing conversation and build a long-lasting relationship, instead of just getting there, doing the job, and getting out with as little interaction as possible. Also, by making customer satisfaction follow-up calls, they believe that when the call is made to the customer after installation, it shows that they are confident in the job being done right.
They have also implemented an integrity test to help them get an idea of who they are hiring. Restoneovation wants the people who work for them to be people who they can trust and depend on, and can turn loose to do their job correctly. With only approximately 25 percent of applicants passing the integrity test, they are believers that integrity and attitude means more to them than experience. A positive attitude, Joe believes, can get you anywhere in life.

Balancing Priorities
Restoneovation is also firm about their employees having a home life that is not dominated by work. They believe in family, and have no problem letting their employees off work for family issues; a happy home life creates a happy work life. As a company, Restoneovation is also involved with Adult and Teen Challenge, a rehabilitation program that offers troubled guys a job if they can do a satisfactory job. "Helping others get back on their feet is another way of giving back to our community," said Joe Schatzley.
Craftsmanship and passion is an equation that best relates the mind set of this patient yet ambitious stone shop in rural Southwest Missouri. Restoneovation trusts that their honesty and craftsmanship alone will bring them all the success that they need.

For more information on Restoneovation, visit their website Restoneovation.com or www.facebook.com/Restoneovation.