Restoration and Maintenance Corner: Chemistry 101 – Part 1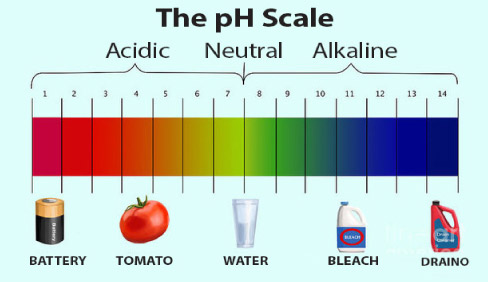 Water (pH neutral) sits right in the center of the scale. The lower the pH number, the stronger the acid (acidic) value is. Anything above a pH of 7 is considered an alkaline or base solution.
Bob Murrell
M3 Technologies
Photos by Bob Murrell
As restoration and maintenance professionals, we regularly deal with chemicals. It only makes sense that we should have some basic chemistry knowledge, and perhaps a little bit more.
I sat down with a friend who happens to be a bio-chemist with CoreChem. John Rippetoe is one of those people who is a natural-born teacher, and he loves sharing his knowledge of chemistry with others. I came to John with a list of topics that I thought would be relevant to our industry. We covered these topics, and John's insight was very detailed. I hope that I can do my part and relate that to Slippery Rock readers.
So, in Chemistry 101 Part One, a good place to start is the pH scale. Most of you probably know some information about the pH scale. This scale is used to show how acidic or basic a water-based solution is, and it ranges from 0-14. Pure water at ambient temperature is neutral, a pH of 7. Anything below 7 is acidic. Anything above 7 is basic (alkaline).
The lower the pH value (below 7), the stronger the acid. The higher the pH value (above 7), the stronger the base. These values are not linear but are logarithmic and actually based on the concentration of hydrogen ions in a solution.
In any case, how pH values affect our business should be well known to most restoration professionals. We regularly see where acidic solutions have affected marble, onyx, limestone, or any other calcium containing material. Where acidic solutions have come in contact with marble, for example, the acid gives up a hydrogen ion (+) to the base (marble is approximately CaCO3). CO2 and H2O are released to the atmosphere and the surface is left with a chemical attack, so to speak, in the form of an etch. These etches can be mild or very deep, depending on both the strength of the acid and the contact time the solution is allowed to dwell on the surface.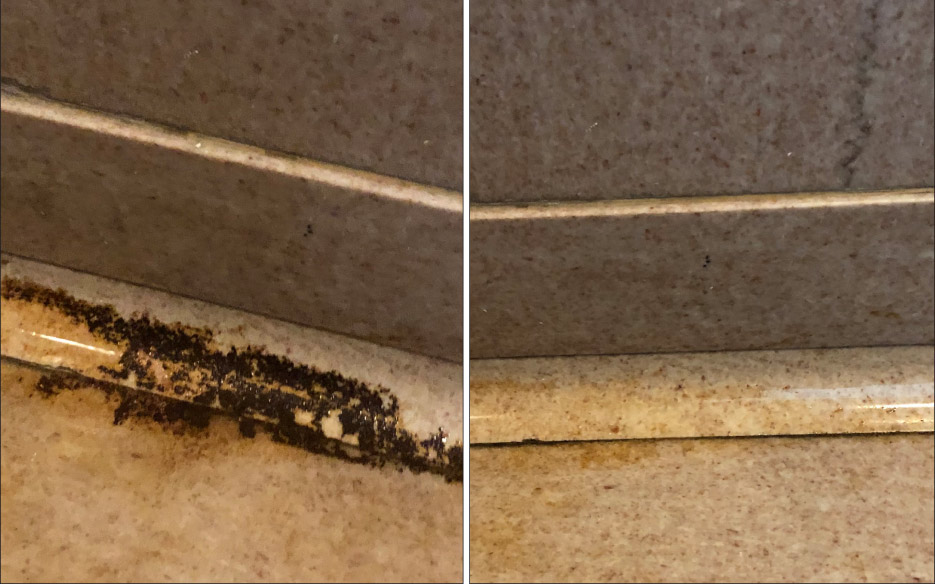 Majestic 5X Gold solved a rust-removal problem from this historic Tennessee marble. Majestic 5X Gold is a slightly acidic solution that allows micro abrasives to do their polishing job quickly and efficiently.
Majestic Ultra Strip, a strong alkaline solution, is being used to remove the existing floor finish on this high-traffic floor at the Knoxville Museum of Art.
In the stone industry, we utilize this etching process to aid in the polishing of marble and similar stone surfaces. Certain special acids, such as potassium oxalate or oxalic acid, are used in combination with micro abrasives like aluminum oxides. This softening (etching) of the surface by the acid component allows the micro abrasives to do their job much more quickly and efficiently, thereby speeding up the polishing process.
The Majestic 5X Gold is one of the best marble polishing powders available anywhere in the world. You should neutralize or, more correctly, dilute (rinse with copious amounts of clean water) this process once you have satisfactorily accomplished the polishing process. John has a phrase that goes something like, "Dilution is the solution to pollution".
Acids are also very effective for removing salts and oxidation. Mineral deposits or buildup of salts like calcium and magnesium can be effectively removed with acidic solutions. Of course, the use of acids on marble and similar materials must be very specific in nature, for example like using Majestic 5X around faucets to remove a mineral buildup, while achieving a polish at the same time. Acids can also be used to attack and remove iron oxide (rust) in some applications.
We can also use pH to our advantage with respect to cleaning and other maintenance issues, too. Alkalines or bases clean very well, especially with respect to what John calls "FOG" or Fats, Oils, and Grease. He claims that most soiling (in the Eastern part of the USA, anyway) has a component of fog and that is why these products usually work well.
These alkalines give up a hydroxide ion (-) which react with the "FOG" in a chemical process called saponification. This is actually how soap is made – a base and a fat are combined. So with regards to soil removal, the base helps to shock or loosen the FOG materials from the substrate to which they were previously attached or annealed.
Once the soiling has been loosened, most alkaline cleaners contain emulsifying agents and/or surfactants (an acronym from root words surface-active-agent), which are used to keep the soiling suspended in solution and from redepositing on the substrate surface. Surfactants basically work by chemically reducing the water surface tension.
Note: The use of a good wet vacuum is paramount in the successful implementation of chemical processes. Extraction of both the used chemical and the contaminant or removed finish is the best way to assure a clean surface, and to properly neutralize. I also suggest a complete and thorough rinsing.
There are also pH neutral cleaners that may contain surfactants and emulsifiers. These products are normally used for routine daily cleaning, for several reasons. They impose no chemical threat to the installation or the operator using them, yet will lift accumulated soiling for easy removal. Majestic No-Rinse Neutral Cleaner has optical brighteners too, which help keep hard surfaces looking their best.
Temperature can play an important role in the use of chemicals, especially alkalines. Elevated temperatures will most definitely improve the effectiveness of the cleaning process when using alkalines. The added heat helps reduce FOG's viscosity and increases the activity of the surfactant which displaces the soils, making them easier to rinse away.
Alkaline products are also used for the removal or the stripping of floor finish from hard surfaces. Once again, the alkaline shocks, or in this case disrupts, the cross-linked finish which allows the emulsifiers and surfactants to do their job. Elevated temperature also helps in this process as well.
So knowing how the acidic range, neutral, and the alkaline range of chemicals react to hard surface installations, we certainly have specific uses for all three. In the upcoming Chemistry 101 Part 2, we will cover densifiers, consolidators, solvents, and other chemistry related issues.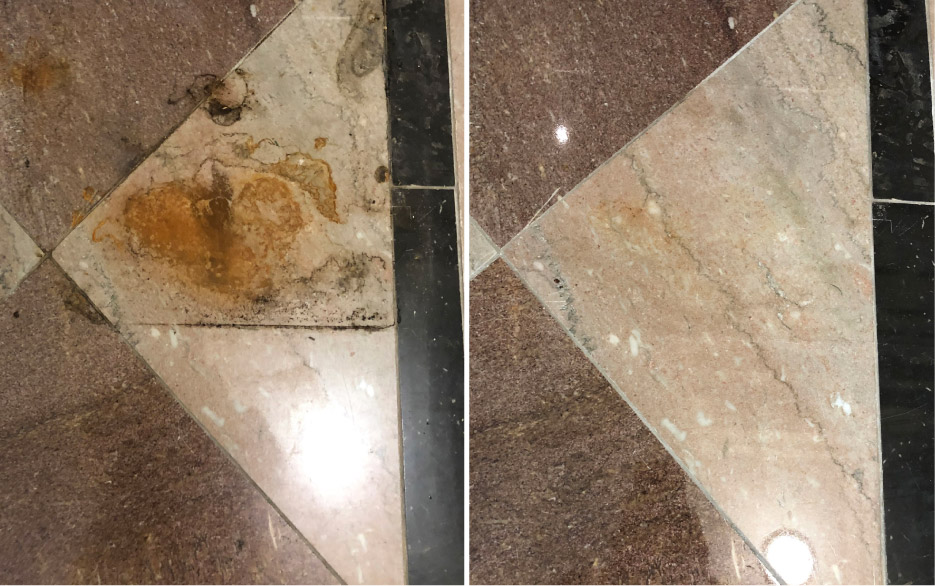 Left: Before restoration

Right; After cleaning, rust removal and repolishing


Note: Know the law. Every contractor should have, on hand and available for inspection, the proper new 16 section internationally standardized SDS for each chemical product that is in inventory and/or used on every project. It is the law, folks, and it is there for your safety. The proper use of PPE (personal protective equipment), product use and disposal, and other pertinent health and safety information will be given on each product SDS.
As always, I recommend submitting a test area to confirm the results and the procedure prior to starting a stone or hard surface restoration or maintenance project. Also the best way to help ensure success is by partnering with a good distributor that knows the business. They can help with technical support, chemical product purchase decisions, logistics, and other pertinent project information.

Bob Murrell has worked in the natural stone industry for over 40 years and is well known for his expertise in natural stone, tile and decorative concrete restoration and maintenance. He helped develop some of the main products and processes which revolutionized the industry, and is currently the Director of Operations for M3 Technologies.