LPI Strengthens Its Corporate Training Team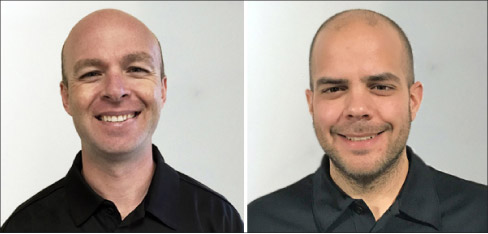 LPI expands its training department with the promotion of Aaron Alexander (left) to corporate training manager, and the addition of Dan Lafser (right).
LPI has announced the promotion of Aaron Alexander from corporate trainer to corporate training manage and the hiring of Dan Lafser to the role of corporate trainer.
Serving as a lead trainer for LPI for more than four years, Alexander has trained hundreds of customers throughout the country and Canada on the LT-2D3D Laser Templator. He will now manage the company's training department, including enhancing the onsite and online programs to provide customers with an even more robust training experience.
Alexander will manage corporate trainers Vince Strelow, who was promoted to the role in May, and new addition Dan Lafser.
A native of Naperville, Illinois Lafser has spent most of his career in residential construction and landscaping. He has worked exclusively in the stone industry this year digital templating up to 10 jobs per day with the LT-2D3D.
"His intimate knowledge of our LT-2D3D digital templating system along with a degree in education from Illinois State University makes Dan an ideal fit for our training team," said Kevin Yeh, director of sales and marketing for LPI. "Our team strives to build a rapport with our customers and customize trainings around their initial skill level and needs, just as a good educator should. We're excited to add Dan to the mix, as well as have Aaron take the reins and further enhance our training programs."

Celebrating its 25th anniversary, LPI develops laser measuring equipment and technology solutions for various industries, including countertop, cabinet, glass and construction. LPI has sold over 6,000 lasers to more than 3,000 companies in over 35 countries. LPI products are made in the USA with some imported components, and used by both the world's leading automated fabricators, as well as smaller, manual shops. LPI has earned a spot on the Inc. Magazine Inc. 5000 "Fastest Growing Private Companies in America" in 2017 and 2018, and as one of the top 10 fastest-growing private manufacturers in Illinois.
For more information, please visit their website laserproductsus.com .