Transformations
Codiak San Herrell
Photos Courtesy Mitchell Mooberry, Freddie Flores and Melissa Howard
The new year is upon us, when a self-evaluation among the masses commonly occurs; millions of people set goals, or proclaim a New Year's Resolution. At the beginning or end of a year they hope for improvements or upgrades, whether that upgrade is personal or a possession, such as a new car, phone, house or a kitchen or bathroom makeover.

Above, left and right: two "before" photos of an outdated kitchen. This mix of styles is dark, heavy, and in serious need of a reboot.

Above: This stunning transformation by Solid Surface Designs features 3cm Taj Mahal Quartzite with an ogee edge on perimeter and upper bar surfaces, and a 6cm stacked lamination ogee over bullnose on the center island.
Solid Surface Designs' transformation lightens up the whole room and makes the kitchen a more comfortable space to cook and entertain.
Taj Mahal Transformation project photos Courtesy of Mitchell Mooberry.

Out With the Old, In With the New
Thousands of residential customers upgrade their kitchens and/or vanities annually in the United States, but that does not mean it was one of their New Year's resolutions. For some customers, new countertops are an expensive upgrade and can be a very tough decision when customizing a home to fit their vision. For whatever reason, homeowners are creating beautiful transformations in their residences each and every year.

Above: This kitchen transformation involved a complete tear-out, replacing Formica tops with a Fleuri-cut Phenix limestone perimeter and Napoleon cut limestone backsplash, giving this transformation a unique, completely new look.
Above, right: a bare canvas before the complete transformation.
Phenix – Green Residence Transformation before and after photos above and below - Courtesy of Freddie Flores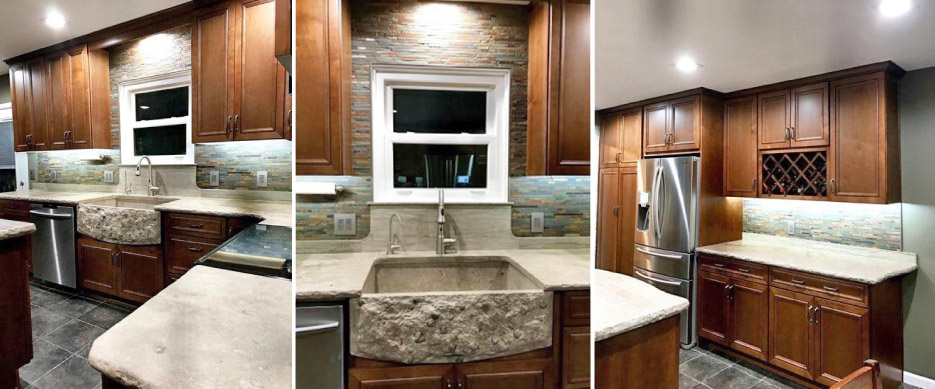 Above: The front of this new custom farm sink features numerous brachiopod fossils. The apron was hand chiseled to expose the fossils in 3D – making this transformation truly a one-of-a-kind kitchen.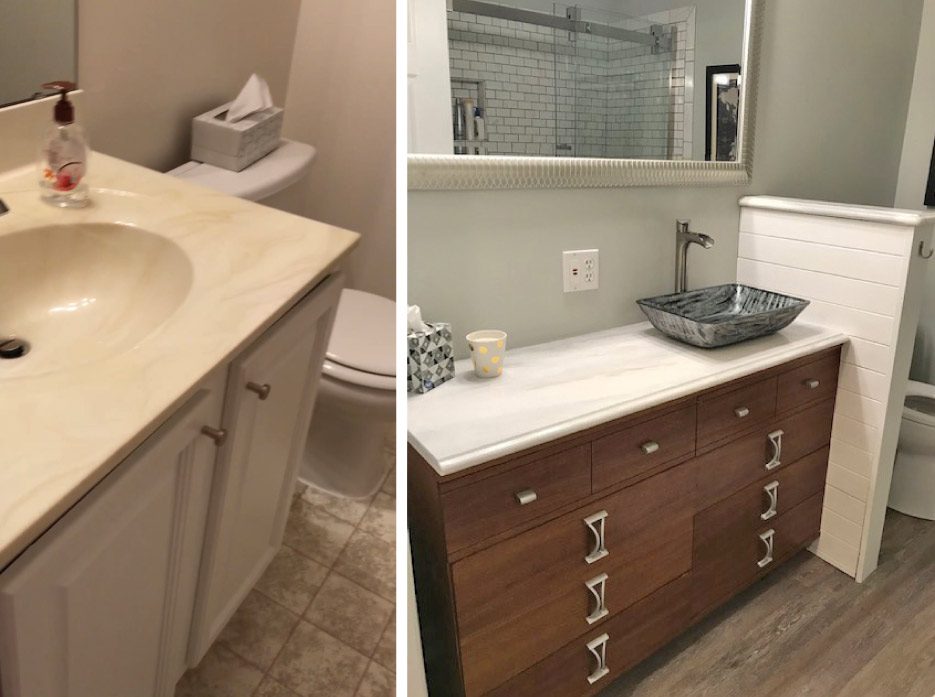 Above: Bath and vanity transformation can be done on a budget: this DIY project replaced a cultured marble vanity top with real marble (3cm Arabescus White) from a remnant stack, with a vessel sink, dresser and pony wall for a completely new look.
Arabescus Vanity Transformation photos - Courtesy of Melissa Howard

Solid Surface Designs
As well as making an appearance on their own Facebook page for "Transformation Tuesday," Solid Surface Designs in Billings, Missouri recreated a kitchen this past October for a customer who had decided they wanted to replace their old granite with Taj Mahal Quartzite. The update included placing an ogee edge on the perimeter and upper bar, and a 6cm stacked lamination ogee over bullnose on the island. Another option was adding a full-height splash. Solid Surface Designs nailed this transformation and left a lasting impression on their customer for years to follow.
Another Solid Surface Designs customer, Melissa Howard, wanted to upgrade a vanity in her home with one more suitable to her current taste. She found a color that would fit her dimensions in Solid Surface Designs' well-organized remnant yard. Her desired top was small enough in square feet that she was able to find a remnant at a reduced price small enough to be priced as a remnant. Howard not only took advantage of the remnant price, but also chose to pick up and have the vanity installed herself. After replacing her pre-existing vanity top, she now has a beautiful 3cm Arabescus White vanity with an ogee over bullnose edge profile. She installed a vessel sink on top of the marble, and now her bathroom has undergone a breathtaking transformation and is one of her favorite rooms.

Phenix Marble
Just thirty minutes down the road from Solid Surface Designs and from the iconic limestone quarry in Ash Grove Missouri, Phenix Marble also enjoys transforming kitchens – when they are not taking on high profile projects such as the restoration of the historic Missouri state capital.
For this article, Phenix Marble chose to display a transformation that blended both of Phenix's trademark cuts of Fleuri and Napoleon. Fleuri is the cross-cut, and less common variation of the two, but is also the cut known to reveal fossils. Napoleon is a vein cut, and reveals a distinctive dark veining that beautifully compliments its counterpart Fleuri.
And that is exactly what one customer chose to do when changing their old laminate kitchen top to a 2-inch-thick Napoleon island and a 4cm Fleuri perimeter – both with a chiseled edge. Upgrading from a top mount sink to a custom-built farm sink that features brachiopods (pre-historic clams) on the front waterfall ledge, it was hand chiseled to expose the fossils in 3D fashion. This home upgrade would do Phenix Marble justice as a showroom display, but instead belongs to one lucky customer in a new and vastly transformed kitchen.
From a stone shop perspective, besides new construction and commercial work, customers looking to make an upgrade in their home can be rewarding work that also helps keeps the doors open. Oftentimes, the choice in the color of the stone or all the small details and edgework — especially in a dream home — is a major decision and can be compared to purchasing a new car. When a customer chooses one shop over all the competition (and there can be many to choose from), the chosen shop has been paid a high complement, and it should be their main goal to leave the customer smiling about their home transformation, just like these customers did.