Know Your Minerals – Part 3
A Handy Guide to the Ingredients of Your Favorite Natural Stone
Karin Kirk

Many thanks to Slabworks of Montana and Montana Tile and Stone for allowing me to explore and photograph their beautiful stone slabs.
In our last installment of Know Your Minerals, we will look at some of the less glamorous minerals that can be seen in the slabyard. As you may recall, you can only see individual minerals in coarse-grained stones.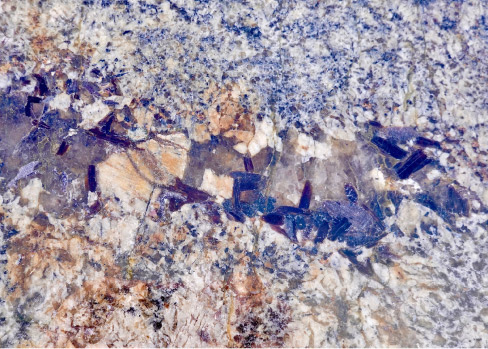 Above: Amphibole crystals are the dark brown or black rectangles. The clear, grey, glassy vein is quartz. There are also white feldspar crystals throughout this slab, and some garnets near the bottom of the photo. This is Montana Brown.
Amphibole
Black flecks in an otherwise light granite are either amphibole or black mica. Amphibole and black mica are also the duo that makes up the dark stripes in gneiss. (The light stripes are feldspar and quartz.) Amphibole is also called hornblende.

Identifying features:
Amphibole is an even, jet black.
It tends to form crystals that are skinny rectangles, but sometimes it also has an irregular, blocky-ish shape.
You can tell the difference between mica and amphibole by shape. Mica = thin flakes, and amphibole = thin rectangles. It's subtle, but different enough to be a reliable way to tell these minerals apart.
When in doubt, look at the edge of the slab to determine the crystal shape.

Properties:
Amphibole has a hardness between 5 and 6, which is similar to or slightly harder than glass. It takes a polish well, and does not need any special care. In most stones it's a minor ingredient.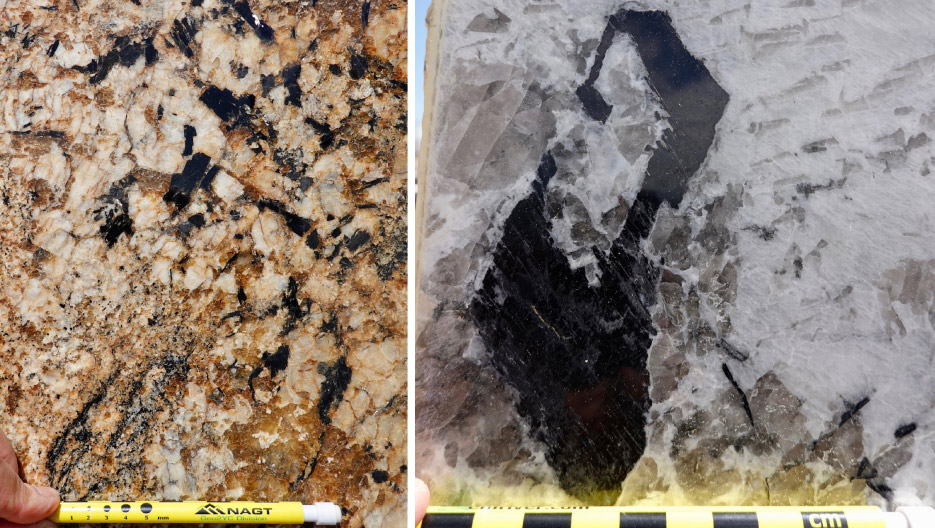 Above, left: Amphibole showing off its characteristic black rectangles. The white is feldspar, and the copper color is quartz. The small flecks of black just above the left side of the pencil are black mica. This stone is called Sedna.
Above, right: Don't ask me to explain how this piece of amphibole got this interesting shape. But it sure is cool! The slab is Alaska White.
Examples: Amphibole is usually a minor ingredient in slabs, but it makes a spectacular appearance in Crowsfoot Schist, Montana Brown, and Alaska White. Stones like Barcelona, Roca Montana, and Bianco Antico have more subtle crystals of amphibole.

Superpower: Eases headaches; but also may cause cravings for salty things or Chinese food.
Calcite
This humble mineral expresses itself in so many wonderful ways. Calcite is the main ingredient in marble, limestone, travertine, and onyx.

Color: Calcite is almost always white or nearly white, and it can have tones of other colors like cream, apricot, light brown, light green, light grey, or light pink.

Identifying features:
Calcite can look a bit like quartz (hence the perpetual confusion between marble and quartzite), but it has a few differences.
Calcite has a satin luster, while quartz looks glassy and is more translucent.

Calcite forms crystals with flat surfaces, and also breaks along flat planes. So when light reflects off calcite, you see glints of light from flat surfaces (see photo).
When in doubt, go by the properties rather than the looks.

Calcite is easily dissolved in groundwater and it often fills in cracks in rocks. Bright white stripes in dark colored limestone or marble are veins of calcite.
Just to make things more confusing, quartz can also make light colored veins in a stone. A quick hardness test with a pocketknife will reliably tell you which is which.

Properties:
The best way to tell calcite from quartz or feldspar is by its properties. Calcite has a Mohs hardness of 3, which is harder than a fingernail but softer than glass. A sharp-tipped nail or pocketknife will leave a definitive scratch in calcite. Also, vinegar dripped onto calcite will often gently fizz.
These same properties apply to slabs and tiles. Stones made of calcite can be etched from acids, and can also be scratched by metal or ceramic kitchen implements.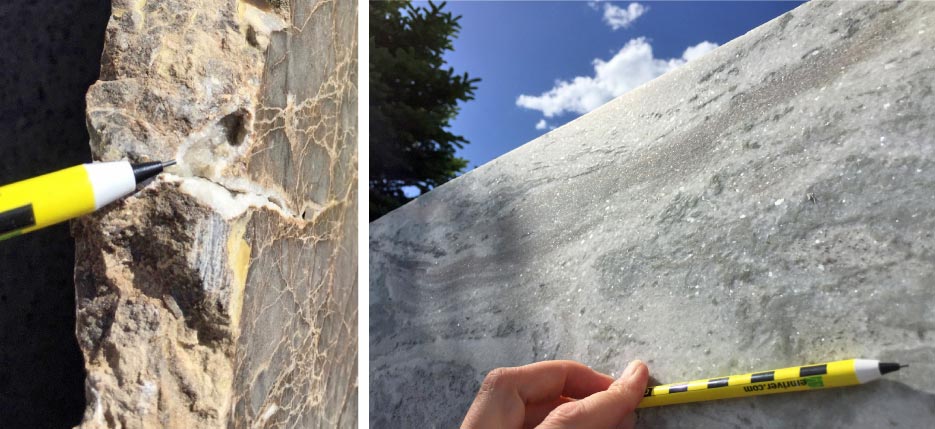 Above, left: Calcite fills in pore spaces in this limestone. On the edge of this slab is a small, crystal-lined pocket.
Above, right: Calcite crystals reflect light off of their flat planes. Leathered Fantasy Brown.
Calcite can look similar to quartz because it's translucent, but quartz is glassy while calcite has a softer, satiny luster. But a quick hardness test will sort it out definitively.

Above, left: A spectacular slab of onyx.
Above, right: This is not natural stone – it's a slab of engineered quartz. One of the clues to identifying manmade quartz, and the reason why we say it does not look "natural" is because the "crystals" are all blob-shaped and have the same luster as the rest of the surface. The recognizable rectangles of feldspar and the glassiness of real quartz are absent.

Examples:
All marbles and limestones are made of calcite. Some well-loved examples are Carrara, Danby, White Cherokee, and Colorado White marbles; or Belgian Blue, Fossil Black, Saint Pierre, or Emperador limestones.

Superpower: Calcite makes it easier to keep world events in perspective and has been shown to reduce social media use.

Dolomite
This is calcite's cousin, and shares similar color and properties of calcite with a few exceptions. Compared to calcite, dolomite is slightly less susceptible to etching from acids, giving you some time to wipe up spills before the stone is affected.
Identifying features:
Dolomite and calcite look alike and you can't tell them apart visually.

The test for dolomite is called the 'powdered rock acid test.' Calcite will have a fizzing reaction when in contact with diluted hydrochloric acid. Dolomite will not, unless the stone is powdered first. To do this test, use a nail or tip of a knife and scratch up an area of the stone. Leave the stone dust in place, and then put one drop of acid on it. If the stone is dolomite, it will have a weak, bubbling reaction. If it's some other type of mineral altogether, like feldspar, there will be no reaction at all.

Properties:
Dolomite has a Mohs hardness of 3.5, which is slightly harder than calcite. Dolomite also etches more slowly than calcite, but it will still etch.

Example: Super White is a well known dolomitic marble that is frequently mislabeled as quartzite.

Superpower: Proximity to dolomite strengthens teeth and makes dental visits less stressful.


Now, let's see what you've learned. Click here to see "What's In My Granite" for a short test of your mineral saavy. Answers are here .

Karin Kirk is a geologist and science educator with over 20 years of experience and brings a different perspective to the stone industry. Karin is a regular contributor to usenaturalstone.com and the Slippery Rock Gazette. Contact her at karinkirk@gmail.com .