Auld Lang Possum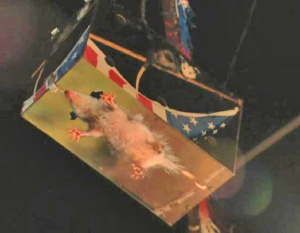 Animal Help Now, a group that assists in "animal emergencies," has gathered almost 160,000 signatures on a petition to repeal legislation allowing "Possum Drops" in North Carolina.
In a number of communities in the state, the custom of putting an opossum in a transparent box, suspending it in the air and then slowly lowering it to the ground is a feature of New Year's Eve celebrations.
Organizers in Brasstown told the Raleigh News & Observer they ended its Possum Drop after the 2018 event because it's "a hard job to do, and it's time to move on," but they maintained that the tradition does "absolutely nothing to harm" the animal.
Animal Help Now, however, is continuing its campaign against the state statute that makes it legal for people to treat opossums however they wish between the dates of December 29 and January 2.