Nature Meets Ancient People and Art Down Under
Sharon Koehler
Artistic Stone Design
Australia, "discovered" by the western world by British Captain James Cook in 1770, is thought to be rather new to modern history, and occasionally is thought to be of little consequence to ancient history. Nothing could be further from the truth.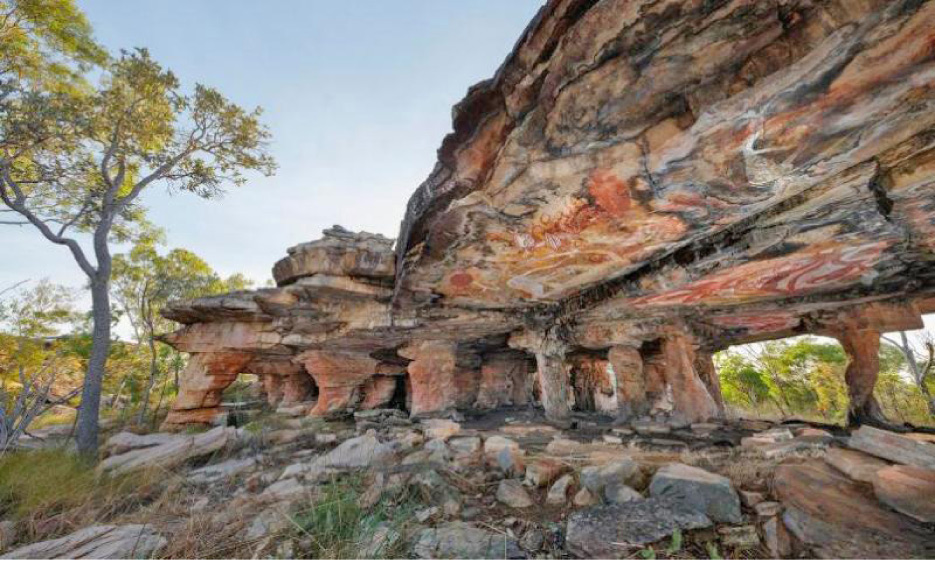 Gabarnmang is so remote that it is accessible only by helicopter, and so sacred that it is currently closed to people not of the Jawoyn tribe, by decree of the traditional owners.

Inside the Gabarnmang rockshelter, the ceiling has been richly decorated over a period of thousands of years. Relatively recent art (within last 600 years) overlaps some truly ancient work. Photo Courtesy Venture North
There is a place in Australia where nature and the ancient Jawoyn (Aborigine) people came together to create some of history's firsts and some of the world's oldest accomplishments. It's a double entrance cave in the western section of Arnhem Land, Australia, called Nawarla Gabarnmang (translated: Hole in the Rock, Cleft in the Rock or Passageway).
This site is older than Stonehenge and the Great Pyramids. It is heralded as being one of the oldest human occupation sites in the world, and it is also a place that has some people wondering if this is the site of the oldest stone mason work in the world.
True, nature created the sandstone and quartzite cave, but ancient humans transformed it into a place rich in history and art with their knowledge, stone skills and creative talent.
Nawarla Gabarnmang is approximately 82 feet long by 50 feet wide, and the ceiling height averages about 6-1/2 feet tall. The roof is held up by numerous columns of stone. In its original state, the columns were situated about three feet apart.
The closeness of the columns made it difficult to move through the chamber, so at some time in the distant past, calculations were made and some of the stone pillars were moved or taken out entirely. This had to be done in such a way that the roof did not collapse.
There are now only 36 pillars holding up this massive shelf of stone.
There are some pillars that had their top sections removed so they were no longer attached to the ceiling. Then they were either taken apart or moved to another location within the cave. Other pillars were chipped away, their top sections and bottom bases still in place, attached to the ceiling and floor.
The amazing fact? This work was done with stone tools. Coincidentally, a stone axe with a ground edge was found in the area, and is thought to be approximately 5,000 years older than the world's oldest stone axe previously discovered.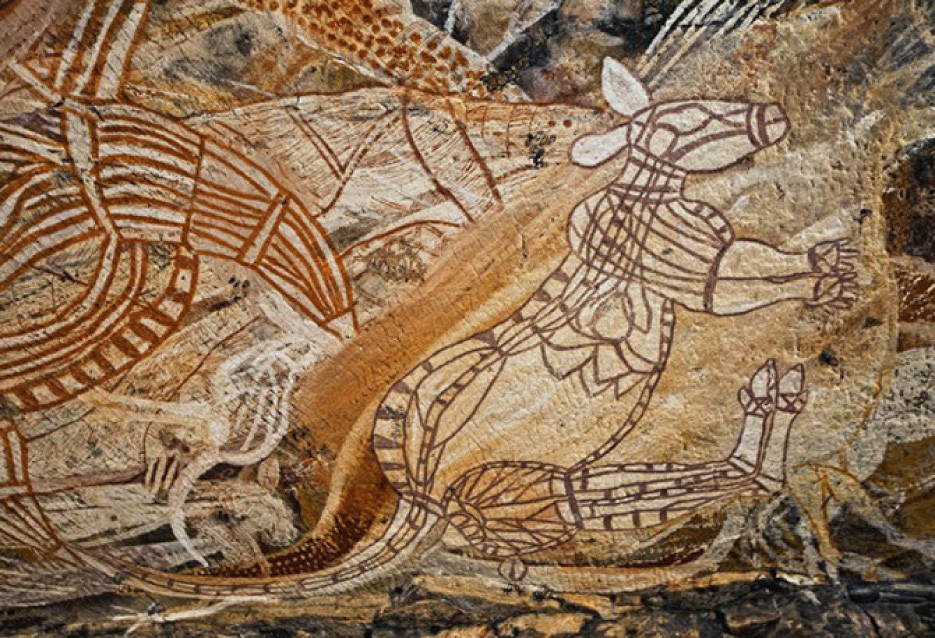 Above, The most clearly visible art in the Gabarnmang rockshelter was added within the past 600 years, overlaying much, much older pigments and charcoal drawings.
Only a handful of the general public, and teams of archaeologists, have been invited to visit this ancient site.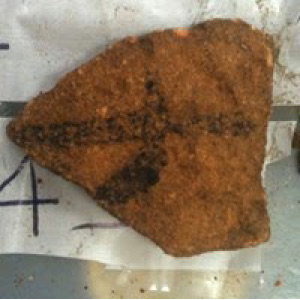 This stone chip may not look like much, but it is part of a drawing created around 26,000 B.C. E. 
Pieces of quartzite rock litter the floor of the cave. The rock pieces came from the ceiling and were fashioned into rectangles approximately 15 inches long, 7-1/2 inches wide and 4 inches thick. Folk lore handed down says the pillows were brought by older tribespeople to rest on. Most of you know how hard quartzite is, and how difficult to cut and shape. Again, they managed this feat only using stone tools.
Some of the rock pieces were also made into tools. Other rock pieces were used as grinding tools. The grinding tools were used to make the paint that generations of ancient artists used to cover the cave with paintings.
Some rock pieces were stacked in layers to create platforms for the artists to stand on while they painted. There is even some speculation that pieces of the pillars and ceiling pieces were made into furniture.
Also found at the site is Australia's oldest known (charcoal) drawing. It is on a piece of rock that separated or fell from the ceiling, only a little over 1 inch x 1 inch. The carbon in the charcoal allowed this artifact to be dated to 28,000 years ago.
As big and rich in history as Nawarla Gabarnmang is, it is a sacred site to the Jawoyn, and well-kept secret until it was accidentally "discovered" in 2006 by two archaeological surveyors on a helicopter ride. The first excavation didn't take place until 2010. So, the site of what is thought to be the world's first stone mason work has only been known by the outside world for 14 years. I wonder what else they will find there?
Whatever it is, it was done by ancient people with none of today's modern technology and know-how. Props to the ancients for creating something so mind- boggling that all we can do is stare in awe, and wonder how they did it.

Please send your thoughts on this article to Sharon Koehler at Sharon@asdrva.rocks.