Stone Restoration and Maintenance Corner: More Polishing Techniques
Bob Murrell
M3 Technologies
Photos by Bob Murrell
For you restoration and maintenance professionals, polishing marble should be pretty straight forward by now, right? Even though we have many hours and square feet of experience, when dealing with natural stone, there are always surprises and things don't always go as intended.
I mean, let's face it: if all marble polished the same, Majestic 5X Gold would be the only product you would ever need. Realistically, 5X Gold will work fantastic maybe 85 percent of the time or more, but as you do more footage and experience different types of marble, that last 15 percent becomes a larger and larger number. Also, we are seeing more and more new types of stone being installed, nowadays. Some of these newly introduced stones can present a new set of polishing challenges. If all marble was comprised of the exact proportions of the same minerals, it would all look the same. As we all know, it certainly does not all look the same.

These are the go-to Majestic marble polishing products I keep in my truck: From left: Diabrite 10X, MPC, MPC-5X Gold and XXX Shine.
If all of the new marble, metamorphic limestone, onyx, and others weren't enough, now we have to deal with dolomitic marbles and limestones sold under the guise of quartzites, as well. Of course there is also the serpentine family that we must deal with, and fairly routinely too. By that I mean these "green marbles" are very common in both commercial and residential installations.
What about engineered marble? Yes, this type of surface is becoming more and more common, and I am not talking about cultured marble. At first glance, you may not even recognize that some of these are, in fact, a man-made product. Manufacturers normally use marble dust and/or chips in a resin matrix. Some of these resin and marble-chip formulas can present some difficult-to-polish situations, but can normally be re-polished successfully with the right process and products. I have had personal experience with these engineered stones and many of them are beautiful.
So in essence, many of these difficult-to-polish marbles and limestones can require more steps in the refinishing process than Crema Marfil, for example, or something similar that is normally easier to refinish. In many cases, these easier-to-refinish stones can be totally restored by simply using the Majestic 5X Gold by itself. Fewer polishing steps is the ideal scenario, of course. However, the more difficult to polish materials can often be much more tricky.
Consider, for instance, the serpentine family of green marble: Normally, these require taking the stone to higher grits when honing, to at least 1,800 grit, before polishing can be successfully achieved. Because there can be little to no calcium content in many of the common varieties of serpentine and serpentinite, Majestic 5X Gold will probably not give the desired polish, even though it does work well on some. So a test area is definitely mandatory when polishing a green marble. I have found that once you get the stone to 1,800 grit finish, use of the Majestic Spray Polish Crystallizer, in combination with a fine steel wool pad, will usually provide the desired level of gloss.
At M3 Technologies, we have many types of polishing media that will work for marble, limestone, onyx and other difficult-to-polish materials. Some of our top products for marble and other calcium containing stones are Majestic 5X Gold (our #1 polishing product), Majestic Marble Polishing Compound (MPC is a wet and easier-to-use version of 5X–the wet formula keeps the powder from going airborne), Majestic XXX Shine (a unique and different blend of raw materials), and Majestic DiaBrite 10X (a more intense version of the XXX Shine). We also offer the Majestic Spray Polish Crystallizer for some particular applications – I'll share more information on that product, later.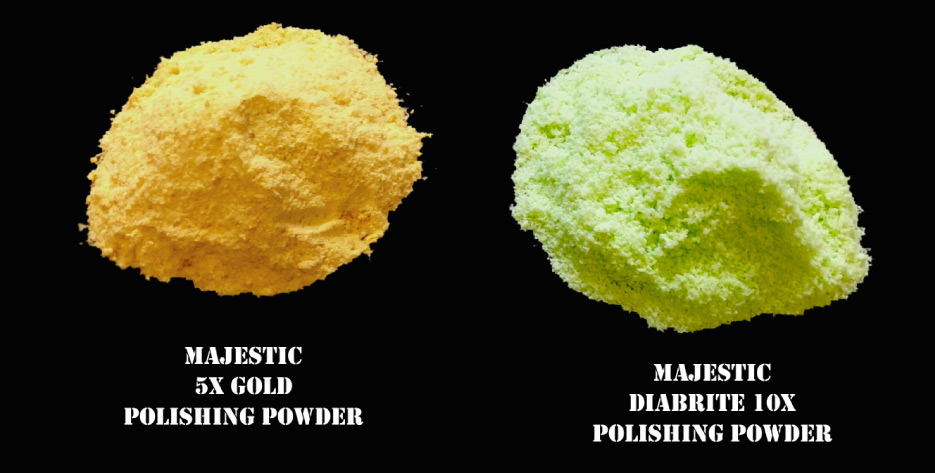 5X Gold and DiaBrite 10X: notice how fine both the 5X Gold and Diabrite 10X are – no rocks or chunks, thanks to the ball-milling process used in production.
As I mentioned earlier, the Majestic 5X Gold is our #1 marble polishing product. 5X Gold is comprised of the finest raw materials and ball-milled to be extra fine. Ball-milling increases the surface area, which helps the 5X Gold work faster, produce a higher shine, and go further than other competitive products on the market. It will work well on 85 percent of the marble and limestone on the market, and has a 100 percent satisfaction guarantee.
The Majestic XXX Shine is also an extra-fine powder product, but composed of a different formula, although it works and is used much the same as 5X Gold. XXX Shine will produce a high sheen, but doesn't have the ability to remove heavier etches and light scratching like the 5X Gold. It is more for adding that "pop" to already good-looking stone. XXX Shine is a green-colored powder.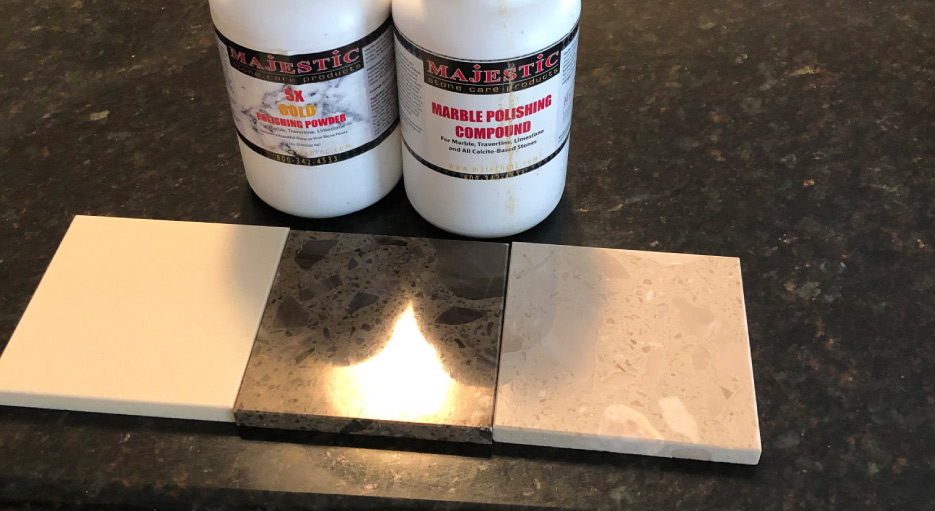 Polishing results after using Majestic 5X Gold.
DiaBrite 10X is another green-colored powder and is more aggressive then the XXX Shine. The term "hotter" is often associated with the DiaBrite 10X.
Majestic Marble Polishing Compound is an old favorite. It is 5X formula-based with added special conditioners, which make it a user-friendly paste. It does not easily go airborne and provides a very consistent performance. It works especially well on cementitious terrazzo.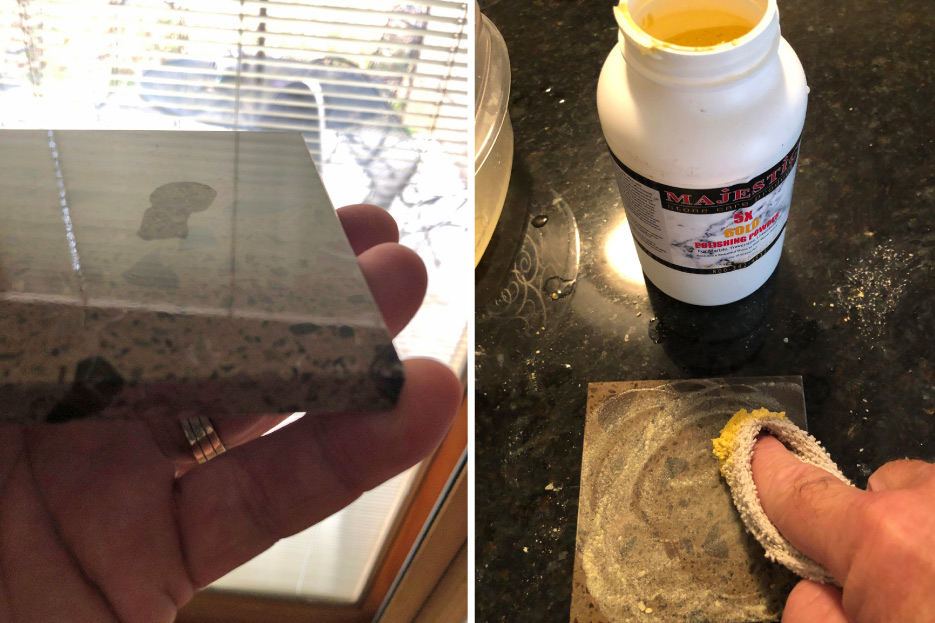 Above, left: A sample of etched engineered marble, before polishing. Above, right: Polishing engineered marble using Majestic 5X Gold.
All of these above products are used much the same way.
Do a 25 square foot to 40 square foot area at a time. Wet the floor with clean water. Use about a heaping tablespoon to ¼ cup of the product, apply to the surface in about an 8 inch line so that it will be oriented like the spoke of a wheel when the pad is lowered to the floor. Using a natural or hog hair type pad, buff the area with your slow speed machine (175 rpm) at a nice, slow moving pace. After about four to eight passes, use a window squeegee (keep in your back pocket or in the solution tank of your machine) to pull back the slurry and check your progress. If the floor looks good, wet vacuum the area, floor rinse with more clean water and wet vacuum again. Move to the next area, completing large areas in a checker-board fashion, overlapping to blend.
Typically, I tell contractors to work the powder or compound until it begins to resemble whipped cream in consistency. Variables that you can adjust are the amount of time or number of passes, the amount of product and/or water, and the weight of the machine. I like to use my machine at about 125 pounds. Adjust any of these variables to get the polish you need. If you still have no luck achieving the desired results, try using one of the other polishes. They are all slightly different, so if 5X Gold isn't quite providing the finish you need, try DiaBrite 10X.
Many use the Majestic No-Rinse Neutral Cleaner in their rinse solution and as a barrier to avoid splatter marks/etches. Remember, all of these products do contain acid and will etch if left to dry on the stone. Another trick to avoid splatter or heat marks is to use warm water when rinsing. I tell contractors that they can also use a 12,000 grit diamond impregnated pad to help clean up the floor after polishing. That will typically reverse any heat marks. I'll cover using Majestic Spray Polish Crystallizer and some other specialty polishing products, like Granite's Gloss, in a future article.
So: the most frequent question I get is, "Which product do I want?" My answer to this is always the same. I personally like the Majestic 5X Gold as my go-to product. However, I would always keep some XXX Shine, DiaBrite 10X, MPC, Crystallizer, and some other good stuff in the van. It is better to have it with you and not need it than to have to go back to the office to get it. Once you have completed your test area, you will know which product provides the performance you need.
As always, I recommend submitting a test area to confirm both the results and the procedure prior to starting a stone or hard surface restoration or maintenance project. Also the best way to help ensure success is by partnering with a good distributor, like Braxton-Bragg, that knows the business. They can help with technical support, product purchase decisions, logistics, and other pertinent project information.

Bob Murrell has worked in the natural stone industry for over 40 years and is currently the Director of Operations for M3 Technologies.