Stone Services Group Adds Two New Offerings for the Stone Industry
Stone Services Group (SSG) is excited to announce two new services available to the stone industry.

Granite Gold® Countertop Protection Plan
Stone Services Group has partnered with Granite Gold Inc. to market and sell its unique Granite Gold® Countertop Protection Plan. The plan is sold nationally through fabricators and gives consumers the confidence that accidental damage to their countertops will be fixed at no additional cost for a period of five years and is backed by a well-known national brand in Granite Gold®. The advantage to the fabricator, in addition to increased profit, is that all post-sale service calls will be handled by Granite Gold's customer service and nationwide network of repair professionals, allowing them to focus on new work.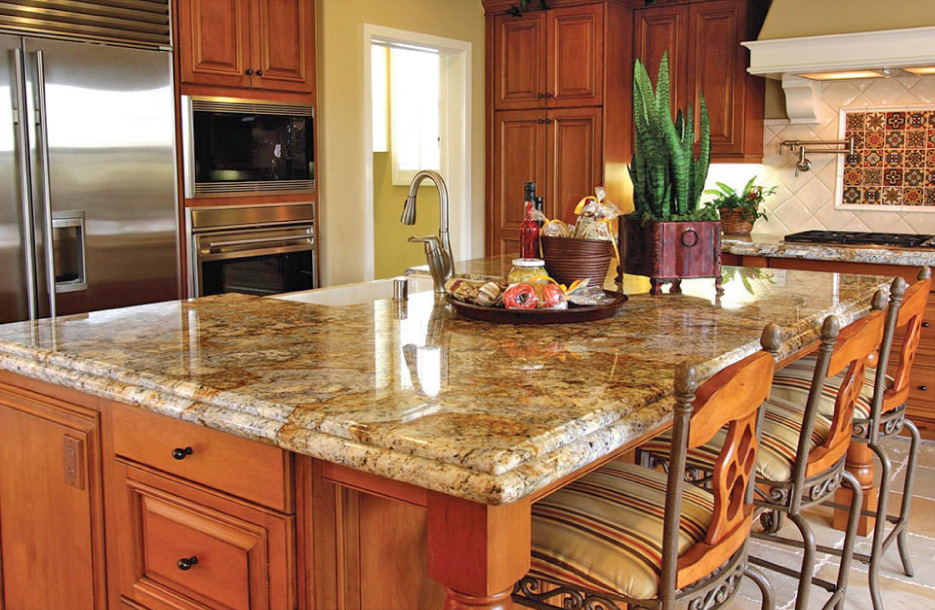 The Granite Gold Countertop Protection Plan is sold through fabricators and offers a five year coverage policy to repair accidental damage including stains, chips and etching. There is no start-up cost for fabricators to launch the Granite Gold program.

SSG and its national network of selling professionals was selected by Granite Gold, manufacturers of industry-leading stone-care maintenance products available in retail stores nationwide, because of SSG's deep industry knowledge and connections. Upon the formation of SSG at the end of last year, Granite Gold was targeted by SSG as a partner because of its exclusive position in the market and the unique features of the plan, including the coverage of accidental damage such stains, chips, scratches, etches, seam expansions and more that may negatively affect the consumer's investment. The product is very inexpensive relative to the cost of the countertop and gives five years peace-of-mind protection.
The plan covers granite, quartz, quartzite, marble, limestone, slate, soapstone and travertine countertops in both kitchens and baths. All the fabricator needs to do is collect the payment and fill out a simple online form. Every sale yields a commission to the fabricator.
"We are very excited to be working with Lenny Sciarrino and his team to drive this product into our industry. It just makes so much sense that for $299, which averages to just less than $5 per month, consumers can feel the security that their investment will look as good at year five as it did when installed." says Rich Katzmann, partner at SSG, "There is no cost for the fabricator to launch this program and we'll provide all training and literature. This is big win-win for our industry."
"We have implemented an aggressive growth plan for the Granite Gold Countertop Protection Plan and strongly feel SSG is the best partner to help achieve it," said Sciarrino, Granite Gold Inc. president/CEO and co-founder. Our partnership with SSG will help us to continue rolling out the plan nationwide to any size fabricator."

Stone Services Group Adds StoneApp ERP System to their Portfolio of Best-in-Class Solutions
SSG also announced a partnership with StoneGrid, LLC to offer and implement its powerful business software, StoneApp. The partnership combines the marketing and sales strength of SSG with the preeminent enterprise resource planning software company. The strength of the partnership is elevated even higher as both companies come from and solely focus on the stone industry.
The StoneApp system performs every major business task needed for small to large shops to effectively manage their jobs with an interface that is simple to understand and use. No other product in the industry has the features and functionality of this system. It is relatively inexpensive and is used to communicate and manage jobs from customer leads all the way through installation and every function in between. It can replace many current, individual programs that may not be integrated and are limited in scope.
Fabricators need StoneApp for the following reasons: 1) Constant downward pressures on margins require a company to accomplish more with less resources; 2) Constant upward pressures on salaries in order to attract and retain competent workers; 3) The need to stay ahead of the competition, with respect to items 1 and 2. StoneApp allows fabricators to accomplish more in less time and with less resources.
SSG and its national network of selling professionals was selected by StoneGrid because of their deep industry knowledge, countertop fabrication process understanding, and network.
From its inception in 2019, SSG has had a strong interest in providing an ERP solution to fabricators and through its research of current offerings, it selected StoneApp. The system provides management of the entire selling and fabrication process through its unique communication hub, mobile app and modules that focus on leads, quotes, orders, scheduling and routing, inventory, purchasing, and fabricating.
StoneAPP's open architecture allows the system to exchange data with industry software packages, such as SpeedDRAW/SpeedLABEL and Slabsmith, plus non-industry packages like QuickBooks and Home Depot's IconX.
"We can't overstate how impressive the StoneApp software package is and how committed to the industry Raj and his team are," says Rich Katzmann, managing partner at SS. "For essentially the same price as other less broad products, this package does it all. Every function and command in the software was developed with our industry in mind. You can really tell these guys have fabricated thousands of countertops in their lives."
"Our partnership with SSG is a major step forward in our plan to provide the most comprehensive business management software in our industry and has been so desperately needed," said Raj Katta, co-founder and director of development at StoneGrid. "Our development and management team all come from the industry, so working with SSG has been a no-brainer and will yield immediate sales growth."

For more information about Stone Services Group, visit stoneservicesgroup.com or call 815-210-1006.
For more information about the Granite Gold Protection Plan, visit granitegoldservices.com .
For more information about the StoneApp, visit stonegridusa.com or call SSG at 815-210-1006.

Founded in 2019, Stone Services Group is a fabricator-focused firm offering growth, placement, training, scheduling and technology services to the countertop industry by utilizing over 50 years of expertise across many key areas of a shop. SSG is currently working with best-in-class software brands such as Hot Sauce, Quote Countertop, Granite Gold Protection Plans and SpeedDRAW/SpeedLABEL. The company is anchored by Rich Katzmann, who in addition to formerly running Laser Products, has been CEO of the nation's largest templating and programming firm, an active member of Women in Stone and a Director of NSI's Foundation, focused on giving back to the industry. Mr. Katzmann is joined by stone professionals having worked for all-sized fabricators throughout the country.