The Webco Story: From Stained Glass to Granite
by Joel Davis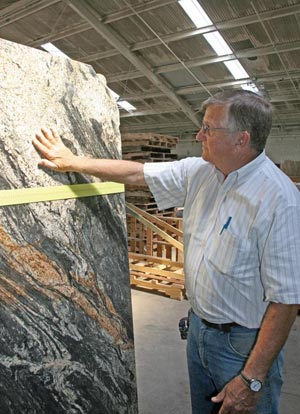 What a thorough web he weaves.
Kirby Webb, owner of Soddy-Daisy-based Webco Inc. and Craftstone Products LLC, has spent his career expanding his business interests into the stone industry and beyond.
Webco Inc. began in 1982 as a stained glass company called "Web of Glass" in Hixson, Tenn. As it grew, the company began expanding its product line—leading to an extensive variety of offerings from custom leaded stained glass windows and entryways, custom solid wood doors and sidelights with stained glass inserts, build-up sticks for laminate countertops, and post-formed countertops. The company also offers fabrication and installation of granite, quartz, and solid surface countertops and also a variety of sinks, including an innovative gravity sink.
"It's been a hoot," Webb said. "I like to do this. I just like dealing with people. I like selling stone. I like the machinery. I like being able to buy big machines," he said with a smile.
Speaking of big machines, Webb bought a GMM Sirio, an automatic bridge polisher for marble and granite, that can process four slabs at a time. "It's the largest one in North America–that includes Canada, Mexico, and the United States," he said.
The Sirio can texture polish slabs as well as surface polish. Webb said that a very popular option is giving the slabs an antiqued texture. "People just love it," he said. "They think (the texture) makes it look more like real stone."
Other tools used in the Webco Inc. shop include a 60,000 psi Flow Waterjet, three CNC machines, and a LVP-p Flat Edge Polisher by Marmo Meccanica.
Craftstone Products is strictly a wholesaler. A selection of granites are housed at its facility on Bean Street in Soddy Daisy where customers can visit and inspect the material they want to use in their projects.
The more-than-50,000 square foot facility is housed in the former Daisy Mills building in Soddy-Daisy, which was built in 1918.
"I bought this building initially so I could display granite and sinks," Webb said.
Walking through the cavernous building on a bright spring day, Webb grinned as he pointed out the transformation the facility was undergoing. "I've got a dream," he said.
In addition to transforming a section of the building into various themed show rooms, Webb plans to build a Victorian streetfront called "Fauxth Street" complete with streetlights and storefronts. Another section would be converted into offices. There are even further plans. "If I live long enough, my wife and I want to put a restaurant in back," he said.
Webco Inc. started out with rather smaller facilities. Web of Glass bought land in the New Soddy-Daisy Industrial Park in 1989 to house its manufacturing facilities and within the year made its home in a 10,000 square foot building. "I said, 'Wow, I'll never have to move,'" Webb said.
The company incorporated in 1990 and Web of Glass officially became Webco Inc. Now it has two separate facilities in a local industrial park. It has a 20,000 square foot manufacturing facility and show room and its corporate headquarters.
Above: The Marmo Meccanica SIRO Polisher is the newest addition to the family.
It is the largest slab polisher in North America. The SIRO can polish up to 4 full slabs at a time.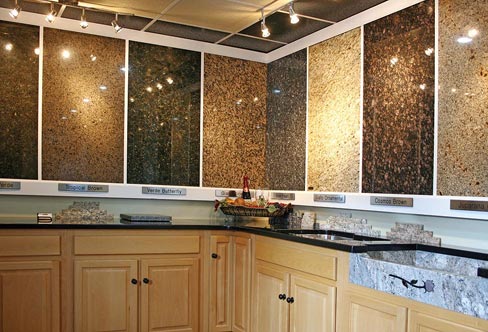 There are more changes planned. Webb would like to consolidate all his operations to the Daisy Mills property although that would involve new buildings to keep the businesses separate. "Eventually, we're going to move everything here from the industrial park," he said. "I'll have the fabrication here also. It's going to take me awhile, but that's what my plan is."
Prior to founding what became Webco Inc., Webb was assistant plant manager at a metallurgical coke plant, Chattanooga Coke and Chemicals, which manufactured a carbon material by the destructive distillation of various blends of bituminous coal. "I was in the steel industry," he said. "I did that for 18 years."
How did Webb move from metallurgical coke to making stained glass? "The same way you get into everything–my wife said why don't you learn to do it, and then you can teach me," he said.
"Web of Glass" started out as a side business. "I'm sort of a fidget," Webb admitted. "I do a lot of things."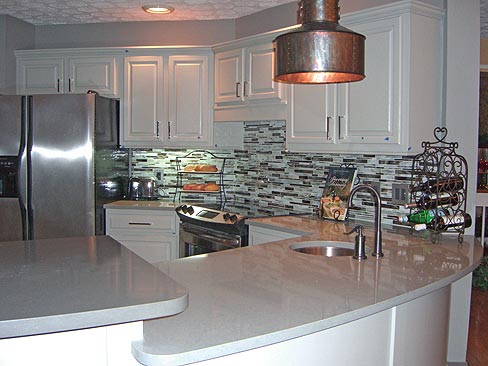 Although the focus started as stained glass, Webb found himself drawn into other endeavors. In 1986, he was asked to produce build-up sticks for laminate countertops.
Then in 1988, friends who owned a large local cabinet shop asked if he would manufacture and sell laminate countertops. They liked the workmanship of the stained glass cabinet door inserts that Web of Glass had been selling them and promised to purchase all their countertops from the company.
Jumping into manufacturing an unfamiliar product did not phase Webb in the least. "I never cut a top in my life, and I went to Albany, NY, and bought a post-form countertop shop," he said. "Those were the Formica-type tops."
In 1998, Webco Inc. expanded into the manufacturing of stone countertops. The company became the fourth distributor for Silestone Quartz surfacing. After customers began requesting granite and marble, the company started purchasing stone slabs from distributors in Georgia and Tennessee.
With its natural stone business growing, Webco Inc. began purchasing granite imported from Brazil. It is something in which Webb takes pride. "We specialize in exotic granites," he said. "They cost us more, but they bring (in) more money."
Finding new varieties of stone to offer is important to Webb, who travels abroad on a regular basis to scout prospects. "I've been going to Brazil one or two times a year for the past six years," he said. "I've got a guy on the ground, and I actually go to all the different quarries. There are hundreds and hundreds."
Webco Inc. is a family business. Webb operates it along with his wife, Sue, his son, daughter, and a host of other relatives. The business serves eastern Tennessee, northern Alabama and Georgia, western South Carolina, eastern North Carolina, and southern Virginia and Kentucky.
Employing about 16 people currently, Webco Inc. is down from its pre-recession workforce. "We used to have 65 before the recession, but we're starting to grow back just a little bit at a time," Webb said.
At 64 years old, Kirby Webb is still full of plans for Webco Inc. and Craftstone Products. He shows no signs of slowing down. "I'll probably work forever," he said. "I like working, and I like people."
For more information about Webco and the custom slabs and products available through Craftstone Products, visit their websites www.webcoinc.net and www.gravitysink.com or call 1-888-299-3226.